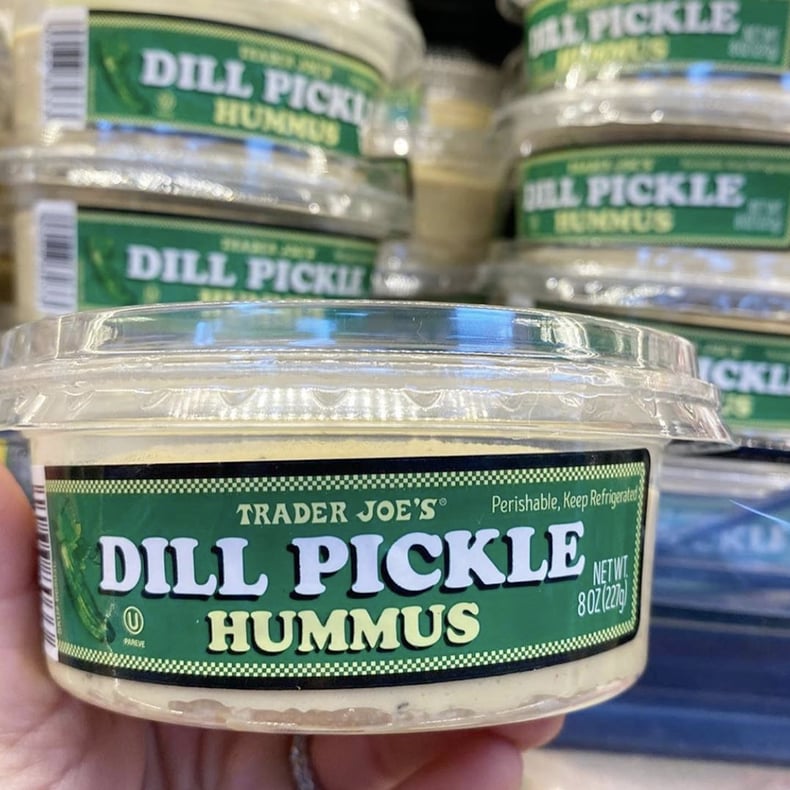 Gather 'round, pickle-lovers: Trader Joe's has a new product that sounds dillicious for dipping! (See what we did there?) The grocery giant is constantly rolling out amazing new additions every month, and its latest has us questioning how many pickles is too many pickles? The limit does not exist, and Trader Joe's Dill Pickle Hummus has us going all in. The product started hitting shelves in the beginning of May, and since then, the positive reviews have been flooding social media. One avid Trader Joe's fan called it a "game changer" and said it "tastes so fresh and vibrant."
Despite not having the crunch of a regular pickle, Trader Joe's Dill Pickle Hummus has the same tastes of vinegar, sea salt, and savory spices as the vegetable but in a creamy variation. After obsessing over Trader Joe's Chocolate Hummus and Buffalo Style Hummus last year, we are so ready to add another option to our dipping regimens.
Now, as for what we'll be dipping to get our fix . . . we can't go wrong with carrots, crackers, or cucumbers, and we definitely won't judge if the hardcore pickle-lovers go all in with sliced pickles. Many Instagram users are also suggesting spreading it on a sandwich! Check out how people are enjoying the Trader Joe's Dill Pickle Hummus ahead, and be sure to pick up a container on your next grocery run.