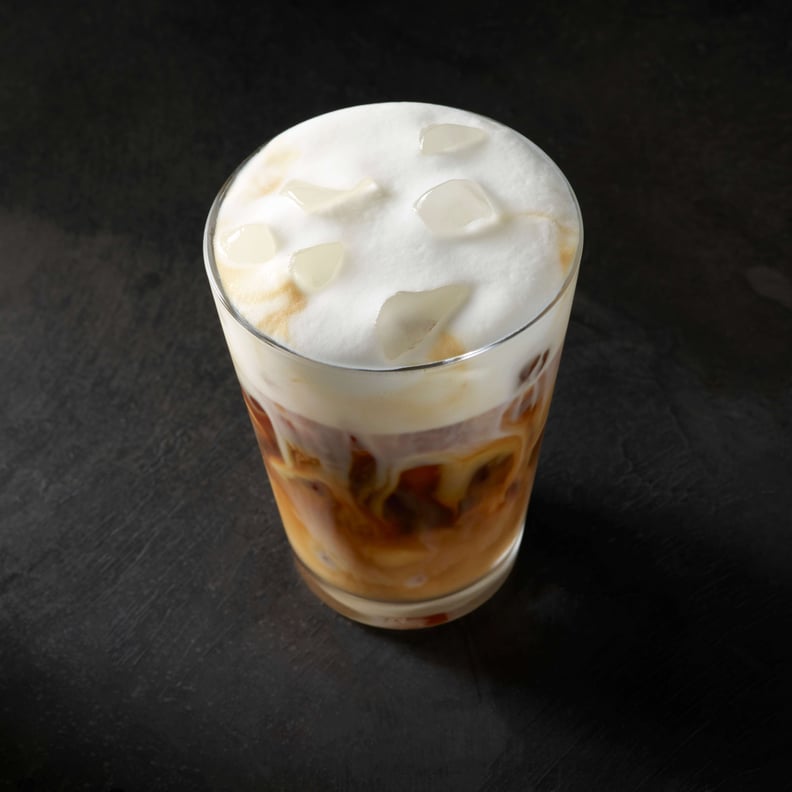 Frothy foam is usually only an option for hot coffee drinks like lattes and cappuccinos, but Starbucks has just introduced "cold foam" for iced drinks. Since foam is steamed milk and therefore inherently hot, you're probably wondering what exactly cold foam is. It's pretty interesting — Starbucks baristas use a special blender to blend nonfat milk until it's thick and smooth. It lends a slightly sweet flavor and a creamy texture (without cream), and it floats at the top of the cup in an eye-catching way. Drinks with cold foam are even served with a special lid without a straw so you can get maximum foaminess in every sip. Intrigued? Same!
Starbucks has added the cold foam to the menu at many locations nationwide along with two drinks that feature the topping: a Cold Foam Cascara Cold Brew (which comes with Nitro cold brew where available) and a Cold Foam Starbucks Blonde Iced Cappuccino. You can also, however, choose to add a dollop of cold foam to any iced beverage when you order at the register. If you want to get a closer look before deciding if cold foam is right for you — coffee money is precious! — then read on to see photos of the latest Starbucks offering in its various forms.
Starbucks Cold Foam Cascara Cold Brew
The Starbucks Cold Foam Cascara Cold Brew starts with Starbucks's regular cold-brew coffee and it's sweetened with vanilla syrup. The coffee is topped with cascara cold foam (a là the Cascara Latte) and a sprinkle of cascara topping, which tastes like brown sugar and maple.
Starbucks Cold Foam Cascara Nitro Cold Brew
Starbucks Cold Foam Blonde Iced Cappuccino
This iced cappuccino is made with Starbucks Blonde Espresso shots poured over ice with a splash of nonfat milk and topped with cold foam.
The Starbucks Cold Foam "Sippy Cup" For Easy Drinking
The Bigger the Size, the More Cold Foam You Get
Cold Foam Makes Starbucks Vanilla Lattes Even Creamier
Cold Foam Means You Don't Have to Wait For Your Hot Drink to Cool Down
The Nitro Cold Brew With Cold Foam Is Extra Smooth
You Can Even Add Cold Foam to Tea
The Stripe of Cascara Sugar Stays Right on Top