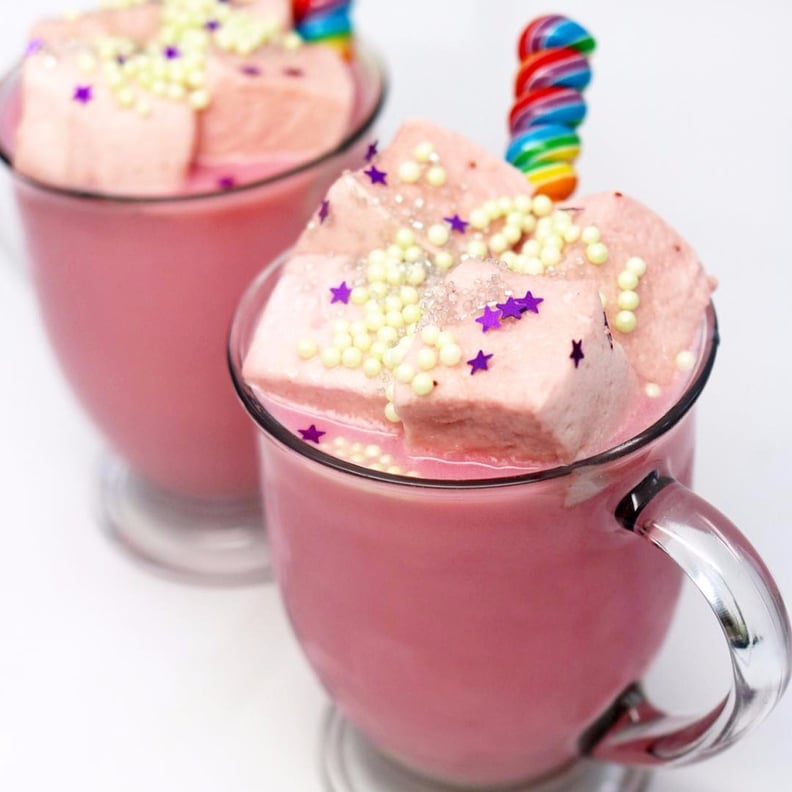 As someone who puts marshmallows in her coffee and has a full-fledged marshmallow addiction, I'm personally invested in this news: Chicago is about to get its first marshmallow cafe called XO Marshmallow that will serve s'mores, toasted marshmallow lattes, unicorn hot chocolate, and more marshmallow-y treats. The badass, female cofounders, Kat Connor and Lindzi Shanks, raised the funds in a Kickstarter campaign, and since they exceeded their goal, the shop is scheduled to open in July. From the looks of XO Marshmallow's Instagram account and the insane lineup of marshmallow flavors (bourbon, Champagne, rose, lavender honey, etc.), this storefront is bound to be as magical as the edible cookie dough shop in NYC.
The Store Design
The cafe will feature a s'mores bar and full-service coffee bar. The design has a Mr. Holmes Bakeshop feel, with white subway tiles and a neon pink "We Want S'more" sign, ready for your Instagramming pleasure.
Unicorn Hot Chocolate
The menu will feature a unicorn hot chocolate, complete with homemade strawberry marshmallows.
Toasted Marshmallow Latte
Lattes will be topped with toasted marshmallows and possibly salted caramel sauce, if you so dare.
S'mores
The shop will let you build your own s'more, whether in a taco waffle shell or on homemade graham crackers. There are some unusual offerings too like marshmallow cones (waffle cones filled with marshmallow fluff). Fingers crossed you can get your hands on one of these doughnut s'mores too.
Mars'halo Doughnuts
Yes, the shop even makes doughnut-shaped "Mars'halos" to dunk or float on the top of your hot beverages.
Mars'halo Flavors
Pick your Mars'halo: vanilla, salted caramel, and cocoa-dusted.
Hot Chocolate For All
In addition to frozen hot chocolate, the store will serve up hot chocolate in unique flavors like lavender, white peppermint, and salted caramel.
Packaged Goods Too
The cafe will double as a storefront so you can pick up gift boxes of marshmallows.
More Swag
As well as hot chocolate, coffee, mugs, and shirts.
More Marshmallow Treats
Crispy treats, whoopie pies, marshmallow pops, and more fun treats will be served. Here's hoping marshmallow macarons make the list too!