Custom Ikea Slipcovers
The 1 Company That Is Making Old Ikea Furniture Look Fancy and New
There's an Ikea hack for every style, thanks to Swedish company Bemz. The slipcover company, founded by Lesley Pennington, has over 300 fabrics for customers to choose from. "We want to take people on a journey that will allow them to do something creative with their home," Pennington says.
When you buy a Bemz product, you're buying something created by a pretty impressive female entrepreneur. Pennington, originally from Canada, studied Fine Art at the University of Toronto and worked at Apple in Silicon Valley before moving to Stockholm. She has called Sweden her home for over 20 years now. It was in Stockholm that she came up with the idea for Bemz in 2005. While re-furnishing her family's home, she looked for an easy way to re-cover her Ikea sofa to match her style. When she couldn't find any good options, she created a company that would do just that.
Choosing a slipcover for an Ikea piece comes with many practical benefits. For one, they're machine washable. Bemz slipcovers are also custom made on demand, which helps cut down on waste, making them eco-friendly. In addition, the company uses quality, natural fabrics, like linens and cotton. "We think our products are extremely affordable for something that is custom made," Pennington says.
Best of all, for home decor-lovers, slipcovers make it possible to indulge in new trends. "Because it's just a sofa cover and you're not making a huge commitment to buy a piece of furniture, people are more willing to experiment and have fun with colors and designs and mixing and matching textiles," Pennington explains. Recently, Bemz introduced a line of velvet covers. And they often team up with designers like Designers Guild, Romo, and Christian Lacroix to create pieces for the adventurous decorator.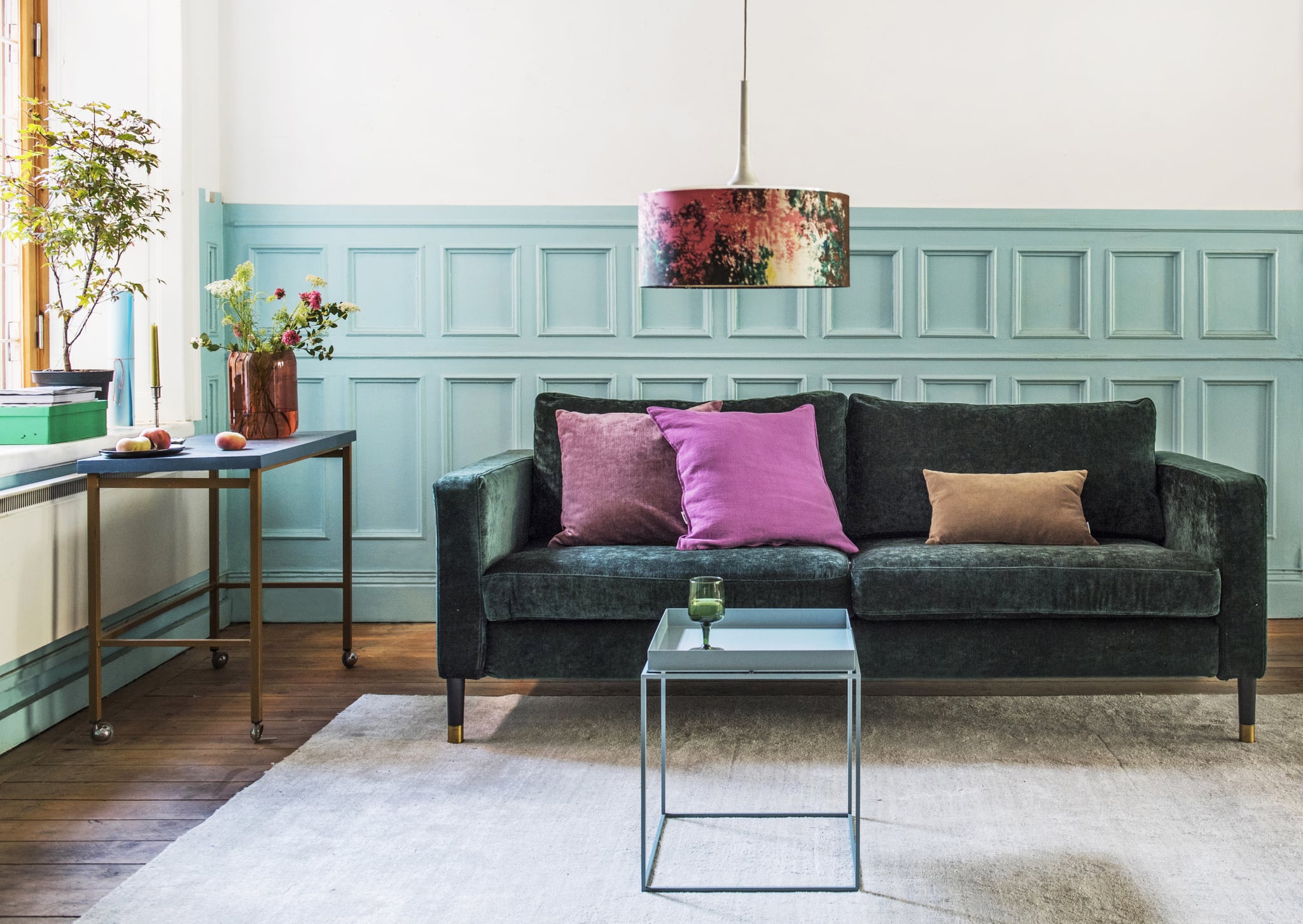 The Karlstad three-seater velvet cover starts at $569.
While many people use slipcovers to add patterns or texture, white is the most in-demand color among Bemz customers. Maybe because you can throw slip covers in the laundry, making white fair game. "White will always be popular," Pennington believes, noting that it's also a staple of Scandinavian design. "We've seen dark gray and all shades of gray in the last couple of years that have become very popular." Any gray connoisseur knows there are endless shades to love, whether you're building out your wardrobe or home style. Bemz will help you find the perfect one for your sofa.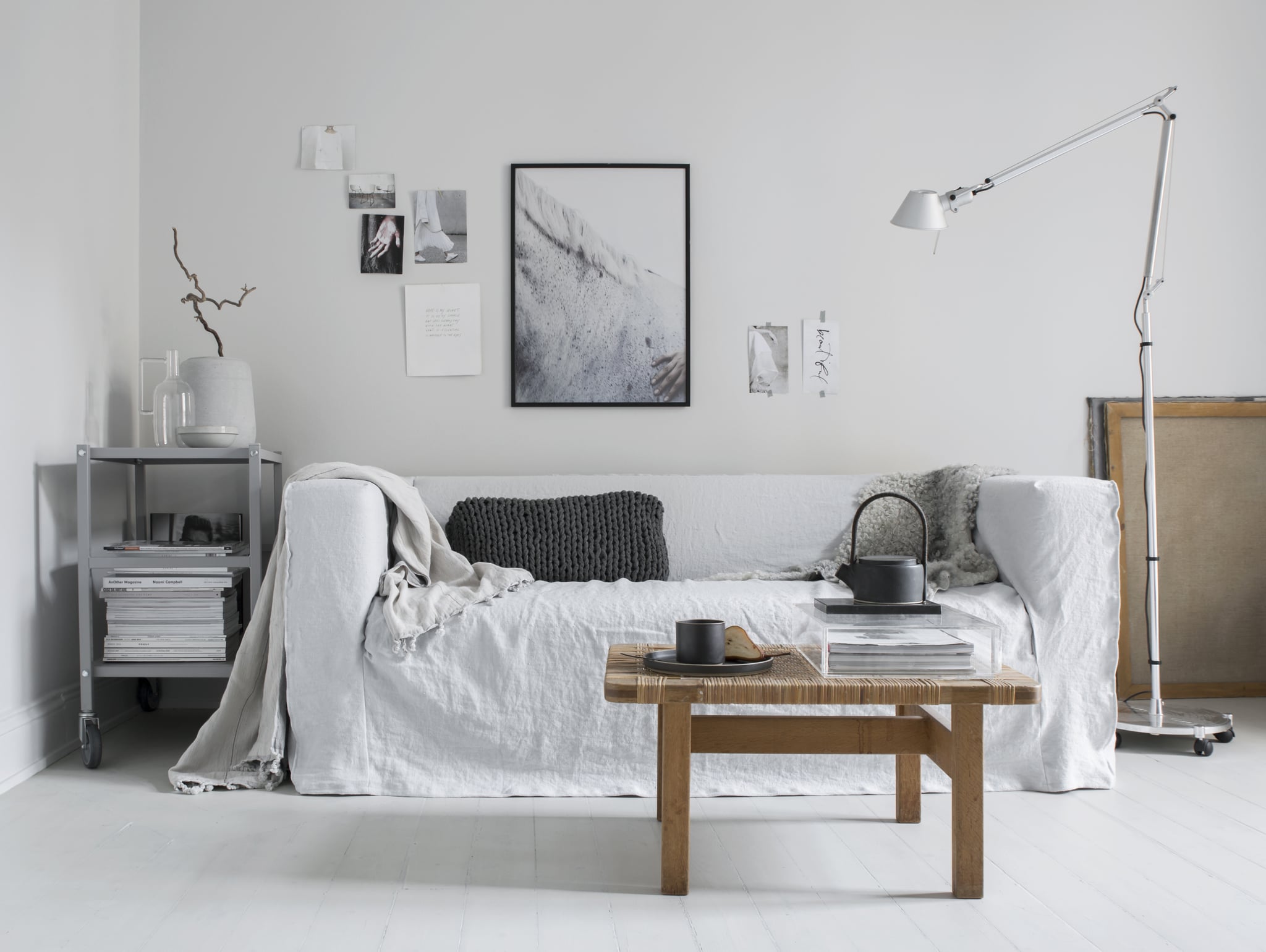 The Klippan two seater sofa loose fit urban in a silver grey linen cover.
The concept of slipcovers might sound dated, but with innovative designs, Bemz is appealing to a modern customer. Pennington says her products fall in line with the trend toward personal expression: "People want something that's unique and individual and a reflection of themselves." In other words, you don't want your Ikea sofa to look exactly like your neighbor's Ikea sofa.
"The new consumer who is interested in creating something personal is also interested in putting things together themselves," Pennington believes. They don't mind a good hack. That's why business like Bemz or Superfront, which make it easy to upgrade basic Ikea pieces, are thriving. Pennington says her customers might mix an Eames chair with something from their grandparents. "They're not afraid to to put an Ikea sofa in the mix, but then do something to enhance that sofa."
To help you do that, Bemz makes hundreds of textiles, as well as pillow covers and drapes. Prices range from $249 for a two seater Karlstad in Panama Cotton to $549 for a two seater Karlstad in Brera Lino linen, and ship to the US and 41 other countries. "We could never compete with Ikea on price" Pennington admits. But she maintains that her products are extremely affordable for something that is custom made. To judge for yourself, here are 14 photos of Ikea sofas transformed by a simple slipcover.