Luxurious Bathroom Updates
An HGTV Star Reveals the 6 Upgrades That Will Make Your Bathroom Feel Like a Spa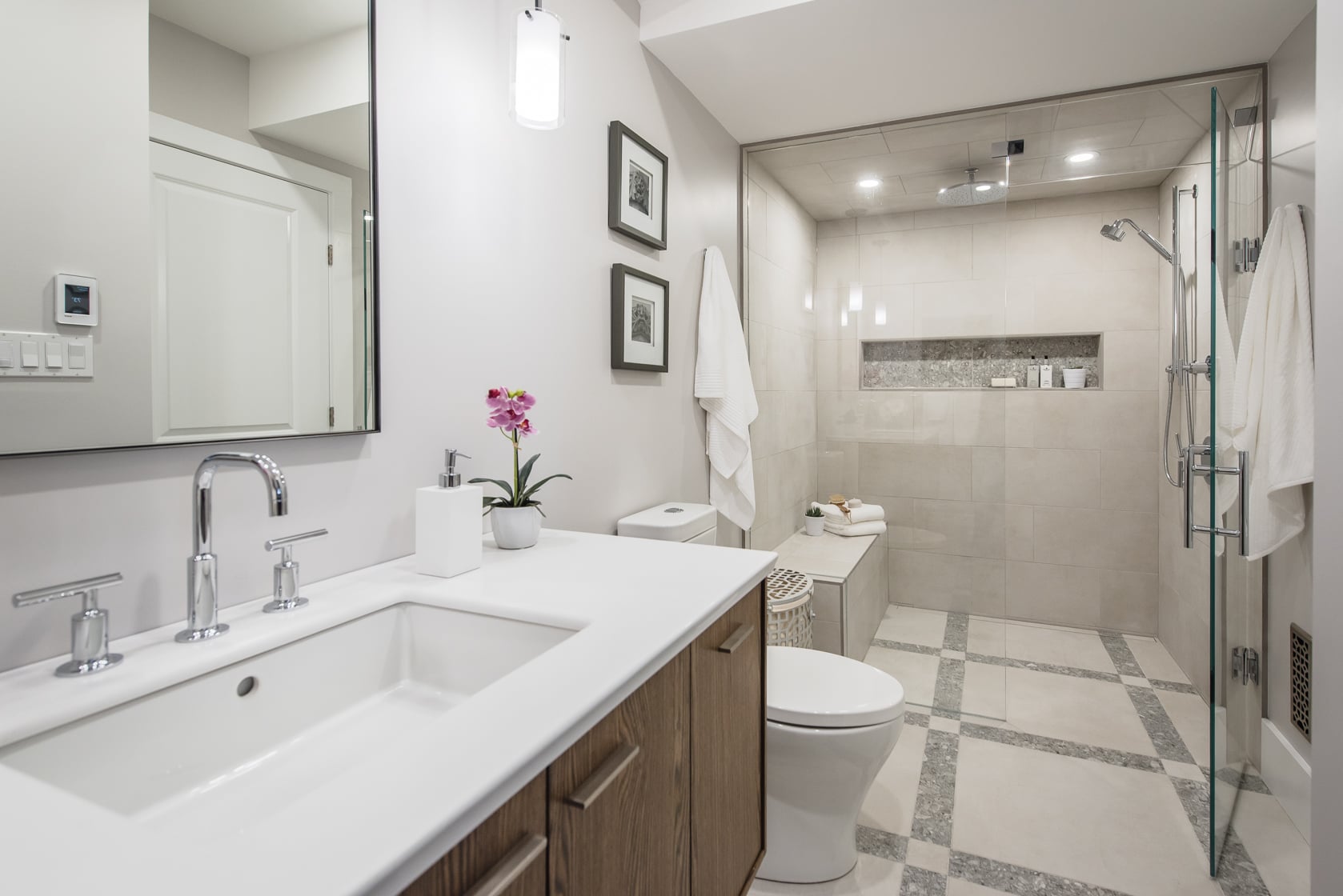 If pampering yourself is high on your list of priorities (and if it isn't, it should be), a luxurious bathroom is exactly what you need. In Scott McGillivray's latest Reno to Reveal project — follow along on social media using #Reno2Reveal — he turns a small basement bathroom into a spa-like retreat fit for a king or queen. Read exactly how he did it below.
Love what you're reading? Head over to our Snapchat for more awesome, bite-sized content!


Curbless Glass Shower Enclosure
"If you want your bathroom to feel more open, there's one sure-fire way to do it. Install a glass shower enclosure. It's way more luxurious than a shower curtain, and it removes the visual obstruction," said Scott. "In addition, I also designed the shower to be curbless, which has a significant impact. It opens up the sight lines and, when combined with the frameless glass, makes this small room feel huge."
Makeshift Steam Shower
"Within the glass shower enclosure, I added a special feature. The glass goes all the way to the ceiling and has a vent at the top that can be opened and closed. So if you feel like indulging in a steam shower, you can close the vent and allow steam to gather, and when you want a regular shower, you can open it up and allow the steam to escape," Scott explained. "Steam generators can be very pricey, but this solution allows you to get a similar experience at a fraction of the price." And don't forget that if you're creating a steam shower, you'll want to tile the ceiling so it's properly waterproofed.
Shower Bench
"No decent steam shower can be without a bench," said Scott. "To up the luxury factor, I installed a custom bench directly in the shower and tiled it to match the rest of the space. While you can bring in another type of waterproof bench, nothing looks as good as a custom built-in unit." Scott also added a built-in tile niche to hold toiletries, such as shampoo and soap.
Handheld and Rain Shower Head Options
"This bathroom is all about indulgence so I added both rain and handheld shower options. Rain showers provide full coverage when you stand underneath, so every inch of you gets to enjoy the sensation. It would be silly to have a spa bathroom and not include one. But that said, sometimes you need to wash and go so I included the handheld option for the ultimate in convenience," said Scott.

Heated Floors
No luxurious space is complete without heated floors! Scott explained, "the worst thing would be to step out of a great steam shower only to put your feet down on an icy floor. While heated floors can be expensive to install in an existing room, it's well worth considering when you're going through a renovation."
Vanity Storage
"Nothing kills serenity like clutter," declared Scott. "To avoid the problem of bottles, jars, and toothbrush holders taking over the space, I installed a large vanity with plenty of storage. Above it I hung a nice big mirror that reflects light along with two hanging pendants." As a pro tip, Scott added that you should never install lights over a mirror in a bathroom because it will cast unflattering shadows on the face.