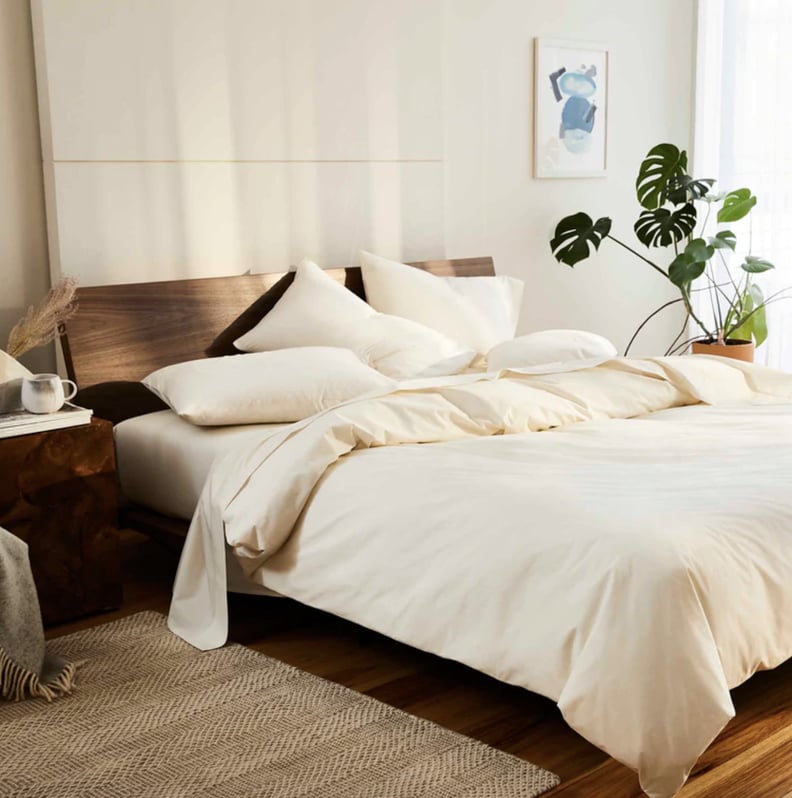 Brooklinen
Brooklinen
As POPSUGAR editors, we independently select and write about stuff we love and think you'll like too. If you buy a product we have recommended, we may receive affiliate commission, which in turn supports our work.
Shopping for the perfect sheets is challenging, to say the very least. There are so many options on the market that it can be hard to understand the key differences between the different types of fabrics, let alone settle on just one set. Our typical rule of thumb when shopping for sheets, or new bedding of any kind, is to look for soft, good-quality, and reasonably priced options. Ahead, we spoke with Karin Sun, sleep expert, textile-industry veteran, and founder of Crane & Canopy, for insight into the need-to-know details when shopping for sheets.
How to Shop For Bedsheets
One of the most important things to consider when buying your bedsheets is your climate and sleeping preferences to ensure you get the best sleep possible. Sun recommends either linen or bamboo sheets for hot sleepers or those in warm climates. Both are natural fibers that are breathable and moisture-wicking. If you don't run warm and prefer to stick with one set of bedsheets year-round, she advises you to look into cotton sheets, particularly a sateen or percale weave. She says the former "is most commonly used in cotton sheets and results in an incredibly soft, silky, and smooth feel." In contrast, the latter is "more crisp, cool, and luxurious, similar to a classic, high-quality white button-down shirt."
While many bed sheets are made of synthetic materials like polyester, Sun notes that she "typically recommends avoiding synthetics and opting for natural materials." She says, "polyester fabrics are far less breathable, tend to trap heat, and often stick to the skin, causing sleep interruptions and overheating." The reality is that a large majority of bed sheets are made of synthetic materials, though. If you're not deterred by these potential limitations and are on a budget, there are still plenty of highly rated options to choose from.
Which Bedsheets Tend to be Most Affordable? What About Most Expensive?
"Microfiber and cotton-polyester blends are the most affordable as they cost less to manufacture," Sun explains. "Quality often suffers in synthetic materials, though, so saving on cheap sheets in the short term means you'll usually run into pilling and damage sooner than with natural material. Alternatively, many sheets made with cotton, bamboo, and linen are still pretty affordable and more likely to maintain their quality and last for years to come, but the slightly higher price point reflects the cost of sourcing and producing with natural fibers."
As for more expensive sheets? Those ones "often boast ultra-high thread counts, but a higher thread count," says Sun. Just note that "doesn't necessarily result in a better sheet." The expert says the ideal range for cotton and most fabrics is 300 to around 430. "Beyond this, additional thread count isn't worth the cost, as it's only achieved via creative manufacturing methods and won't provide a noticeable difference in feel or quality."
Ahead, we curated a list of eight top-selling choices that'll no doubt help you get a good night's sleep.
Our list includes everything from crisp and cool cotton choices to luxe linen sets that feel straight out of a Pinterest board. The best part about these picks: they're all customer favorites, so no matter which one you decide on, you know you're getting something good. Keep reading to shop our 10 favorites.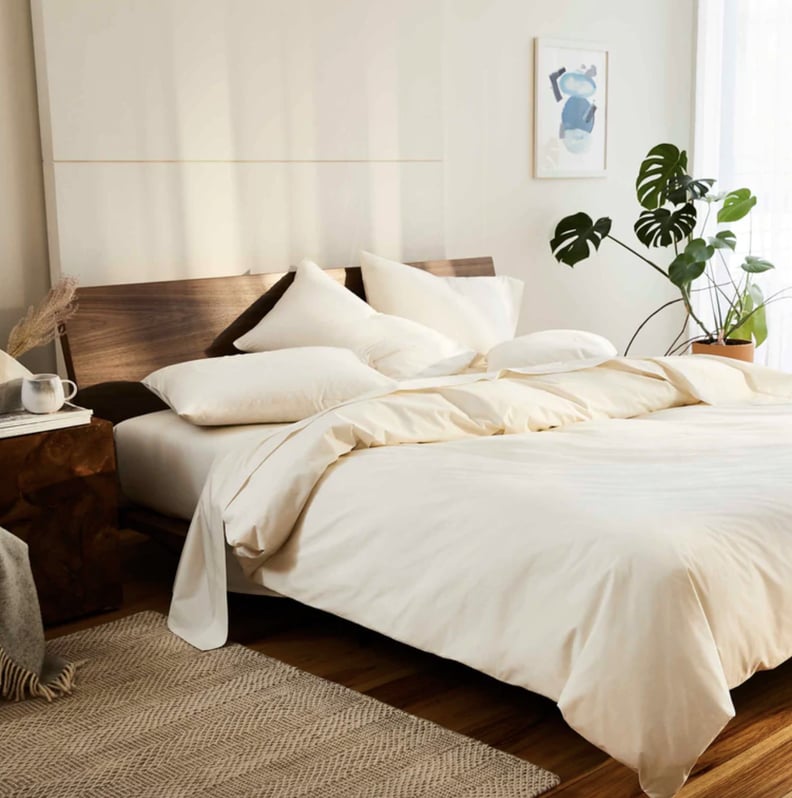 Best Cotton Sheets: Brooklinen Classic Core Sheet Set
If you're looking for quality sheets that won't cost you hundreds, Brooklinen is a great brand. The Classic Core Sheet Set ($111-$167, originally $139-$209) is a brand bestseller with thousands of five-star reviews, starring Sun's recommended percale-weave cotton. The set has a crisp and cool feeling that's both relaxing and cozy. In short, if you want something simple and of great quality, this set is a winner. Read more about the Brooklinen Classic Core Sheet Set via our mini review.
Editor Quote: "While I love sheets that have an edge or special feature, I also just love a cotton set that always feels good. This classic set is exactly that. Made with 100 percent long-staple cotton, it always has a crisp and cool feeling that is both relaxing and cozy. Plus, it keeps me cool and doesn't wrinkle when I sweat, which is a big pro for me as a sweaty sleeper." — Krista Jones, former editor, Commerce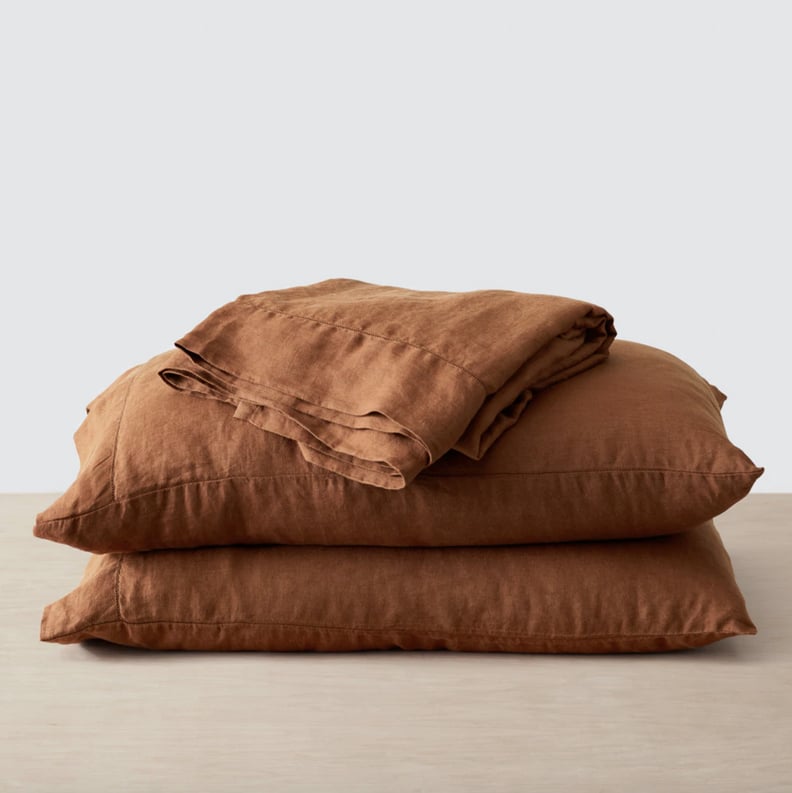 Best Sustainable Sheets: The Citizenry Stonewashed Linen Sheet Set
The Citizenry deploys sustainably sourced fabrics and fair-trade workers. The sheets are made with the finest French flax and woven in a family-run linen mill in Portugal. While the price is on the higher side, it's a purchase you can feel good about. Not only does the quality speak for itself, but it's also a great brand to support. The Stonewashed Linen Sheet Set ($246-$288, originally $289-$339) is an editor favorite for its comfortable feel and overall chic look. Read our full review of The Citizenry Stonewashed Linen Sheet Set.
Editor Quote: "The soft, lightweight fabric is breathable and, honestly, just looks really chic. What sets these ones apart for me is the feel. They are buttery soft yet still have that crisp and cool linen feel. The first time I slipped into them, I could hardly believe how comfy they were." — Krista Jones, former editor, Commerce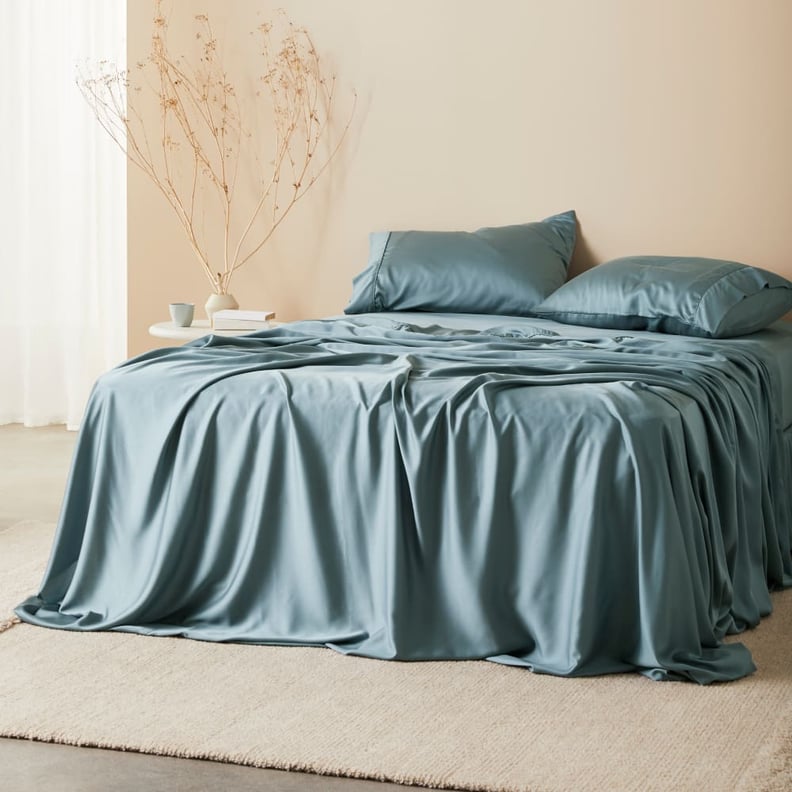 Best Sateen Sheets: Ettitude Signature Sateen Sheet Set
The Ettitude Signature Sateen Sheet Set ($169-$259) feature another one of Sun's favorite fabric weaves: sateen. It's typically asociated with cotton, but in this case, it's 100 percent bamboo lyocell and "feels smooth like silk," per the brand. Choose from 10 colors, our favorite of which is this blue hue named "Sea."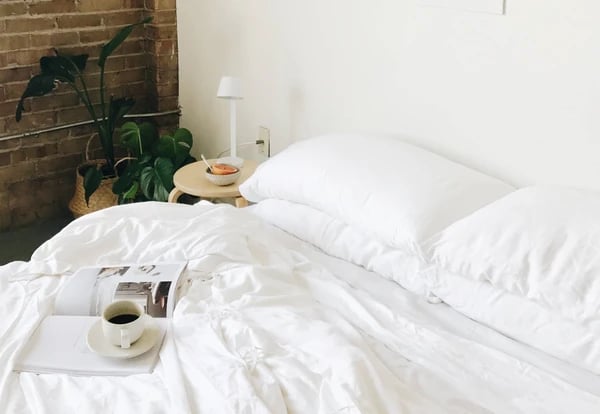 Best Bamboo Sheets: Cozy Earth Bamboo Sheet Set
Made of 100 percent bamboo viscose, Cozy Earth's Bamboo Sheet Set ($255-$351, originally $319-$439) is another great pick if you want to stay cool at night. It features an oversize fit that makes making your bed a breeze, and they're warranted against pilling and abnormal rips and tears. Our favorite detail of all? They come packaged in a chic tote bag that you can reuse day to day.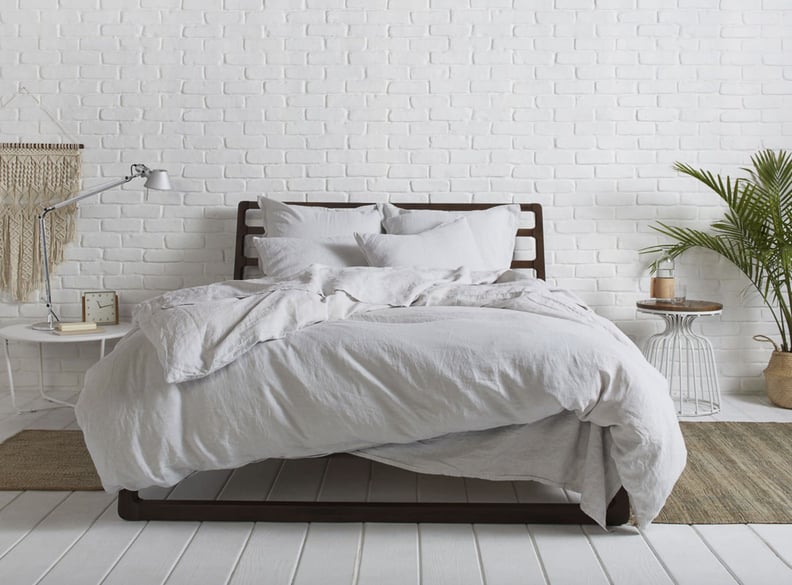 Best Linen Sheets: Parachute Linen Venice Set
A true customer favorite, the Parachute Linen Venice Set ($469-$569) is made from 100 percent European flax linen, so it feels soft and cozy to the touch. Not only is the breathable material great for keeping you cool, but you can just feel the quality on this set with one touch. We also love the color choices that it comes in. The colorways range from classic whites and beige shades to pretty pinks and even deep greens and blues. Learn more about the Parachute Linen Venice Set via our mini review.
Editor Quote: "These sheets feel like pure luxury. Made from 100 percent European flax linen, they feel soft and cozy to the touch. While I love both cotton and linen choices, this is hands down my favorite linen option. Every night when I slip into bed while using this set, I feel like I'm transported to a five-star hotel." — Krista Jones, former editor, Commerce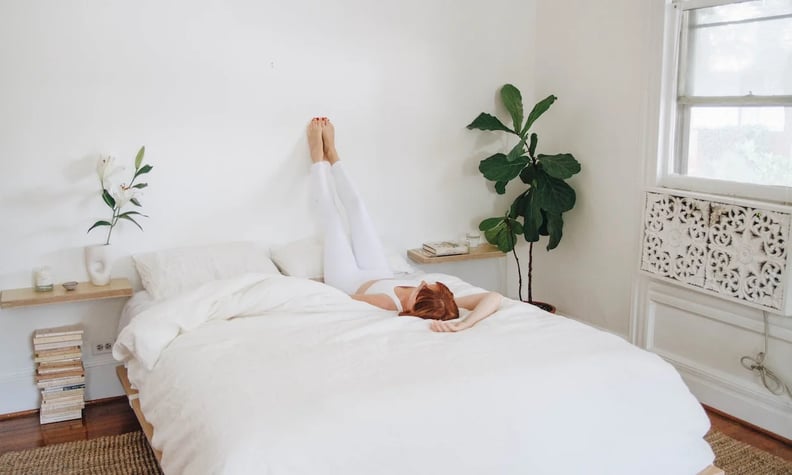 Best White Sheets: Sea Me Linen Sheets
Sea Me Linen is a Ukrainian-owned company dedicated to making quality linens. If you're looking for crisp white sheets, the Linen Sheets ($160-$270) are a great match. Each sheet is hand-sewn individually with medium-weight 100 percent European Oeko-tex certified linen that's both comfy and cooling. Free of harmful chemicals, they're made right after you order. You'll feel like you're getting a true quality and hand-made service.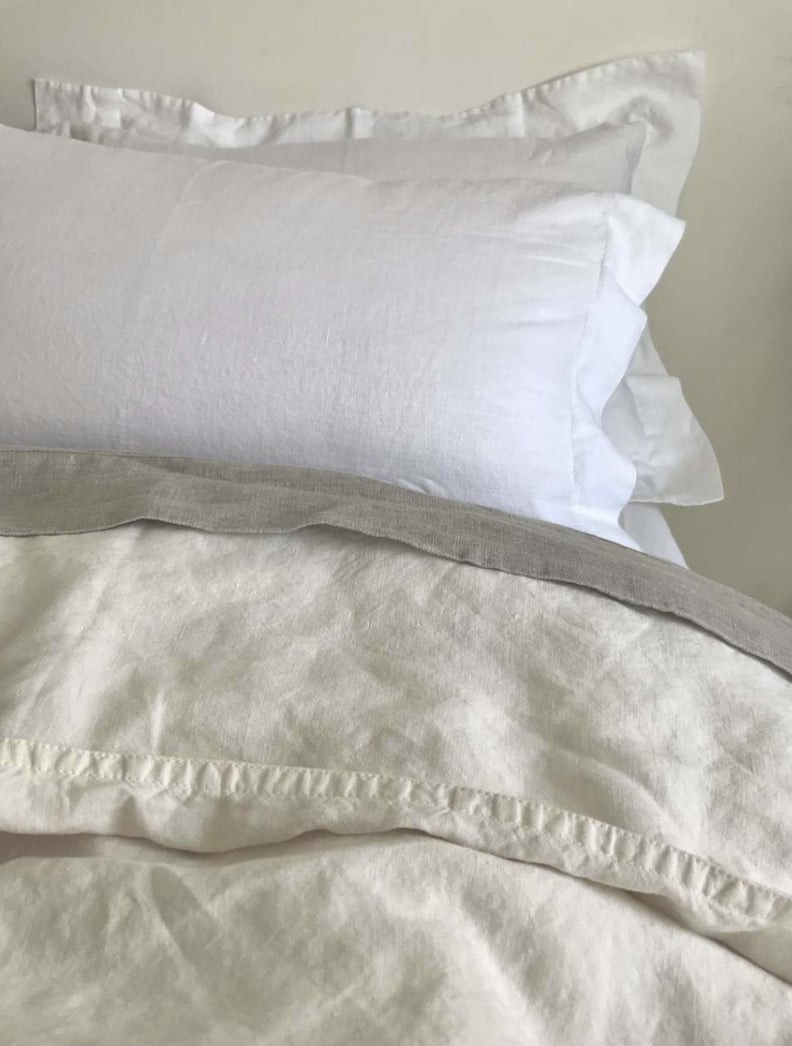 Best Luxury Sheets: Linoto 100% Linen Sheet Set
Linoto is one of our favorite brands, as it offers quality linens in a number of seriously impressive color choices. Every piece is thoughtfully made and sourced in its workshop in Westchester County, NY. Inspired by high-end European linens, the brand wants to bring the luxury of Europe home without the over-$1,000 price tags and month-long shipping times. The easy-to-shop 100% Linen Sheet Set ($269 and up) is made with a soft linen material that has natural temperature-regulating qualities, so you know you'll feel at ease sleeping. Our favorite thing about the brand is that it offers the set in so many amazing colors — 29 choices, to be exact. You can also choose your pillow size and style and sheet style and depth, making it a truly luxe and custom experience for a price that's highly competitive.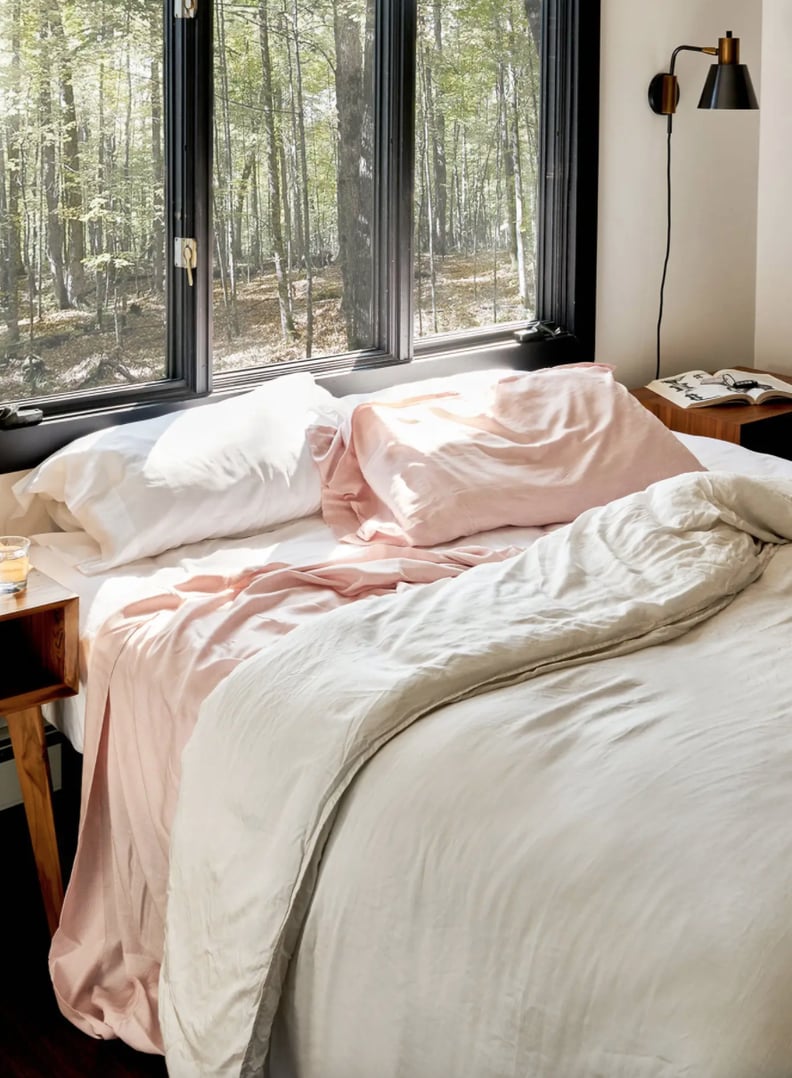 Best Eucalyptus Sheets: Buffy Eucalyptus Sheet Set
Buffy is famous for its cool eucalyptus line, and trust us, the Eucalyptus Sheet Set ($149-$249) is worth a try. It's made from 100 percent eucalyptus fabric and cool to the touch, making it a great choice for sleepers who get hot at night. It's also a smart choice for the environment because eucalyptus is grown with 10 times less water than cotton. It comes in a handful of fun colors, so snag your favorite.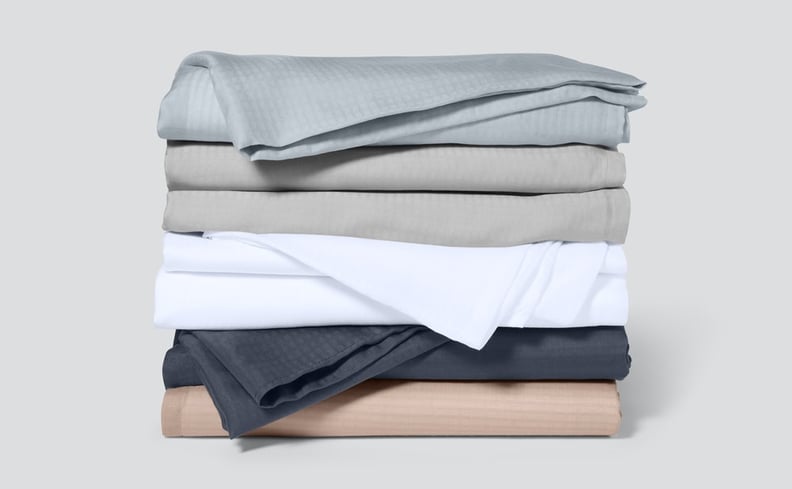 Best Lightweight Sheets: Casper Hyperlite Sheets
We love Casper's mattresses and pillows, but its sheets are also worth adding to your linen closet. If you're an extra-hot sleeper and all the linens and cottons you've tried just feel too heavy, then the Hyperlite Sheets ($55-$144, originally $109-169) are for you. The sheets truly feel like air, and you'll spend all night feeling like you're sleeping in a cloud. For more, read our review of the Casper Hyperlite Sheets.
Editor Quote: "My bedroom gets unseasonably hot in the middle of the night, and I normally wake up feeling as though I've slept in the Sahara. These sheets are kind of a game changer, in that they really help keep me cool, but the material still feels cozy and inviting, which was important to me." — India Yaffe, former associate editor, Commerce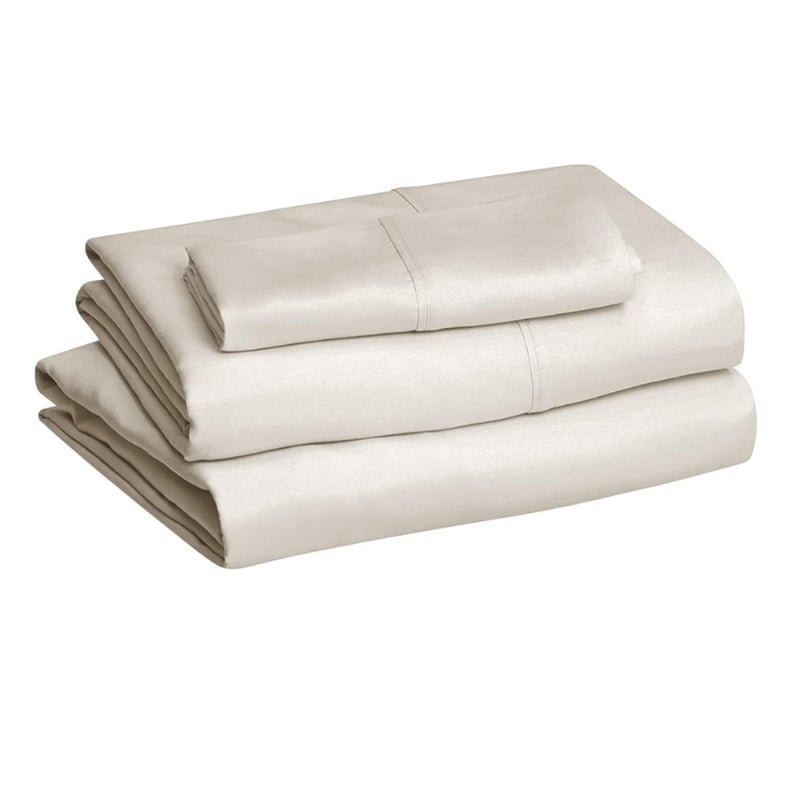 Best Amazon Sheets: Amazon Basics Lightweight Super Soft Easy Care Microfiber Bed Sheet Set
The Amazon Basics Lightweight Super Soft Easy Care Microfiber Bed Sheet Set ($28 and up) are so popular that they frequently sell out. They're crafted from 100 percent polyester, described as "ultra-soft with a peach-like finish." In the set, you get a flat sheet, a fitted sheet with a 14-inch pocket depth, and a pillowcase (or two, depending on which size you order).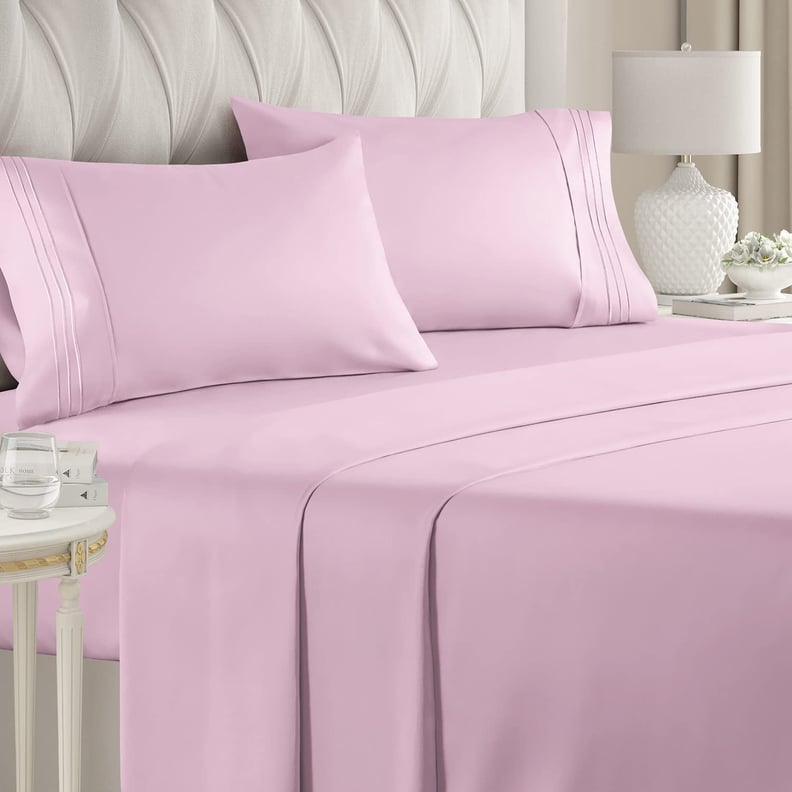 Best Wrinkle-Resistant Sheets: CGK Unlimited Store Breathable & Cooling Sheets
The CGK Unlimited Store Breathable & Cooling Sheets ($28 and up) have over 150,000 five-star ratings, a testament to how well they get the job done for their price point. Made from polyester, shoppers are obsessed with the fact that they come out of the dryer wrinkle-free, not to mention that they're silky soft, lightweight, and come in 40 colors.