10 Toasters That Will Elevate Your Kitchenware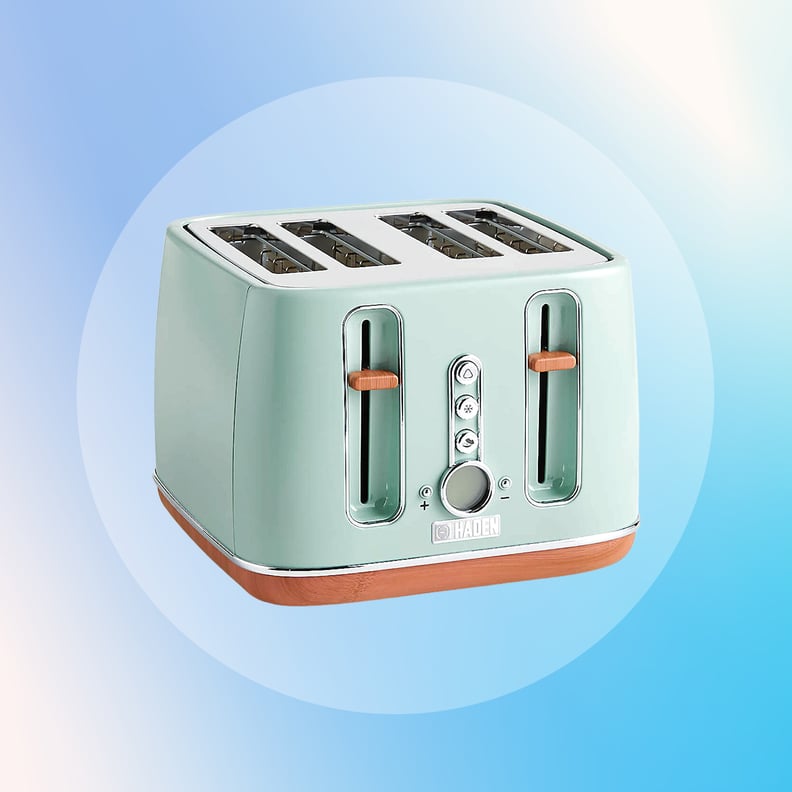 crateandbarrel.com
Photo Illustration by Michelle Alfonso
crateandbarrel.com
Photo Illustration by Michelle Alfonso
As POPSUGAR editors, we independently select and write about stuff we love and think you'll like too. If you buy a product we have recommended, we may receive affiliate commission, which in turn supports our work.
Our kitchen appliances are an integral part of our culinary adventures, whether it's a nifty blender or a toaster. However, we're not always keen on displaying them on our countertops for one petty reason: they're ugly. Luckily, the kitchen appliance game has gotten an upgrade in recent years, and not just in terms of its functions. Brands are coming out with a wide variety of chic toasters suitable for every type of kitchen aesthetic. To help your kitchen counters look less cluttered and more curated, we went on a mission to find the most stylish toasters on the market. From colorful options to sleek and modern aesthetics, these toasters combine style with functionality, enhancing the overall appeal and experience of your kitchen.
We found several with functionalities that go above and beyond making just toast, including options that have slots that accommodate bagels, artisanal bread, and more. We even included a smart toaster that is equipped with 17 different settings and even a panini option. Whether you prefer a retro, contemporary, or classic design, there is a stylish toaster on the market that will perfectly suit your taste and complement your kitchen decor. So why settle for a plain toaster? Elevate the way you toast by investing in one of these stylish options you won't want to hide away in your cabinets. Shop our top ten picks ahead.
— Additional reporting by Krista Jones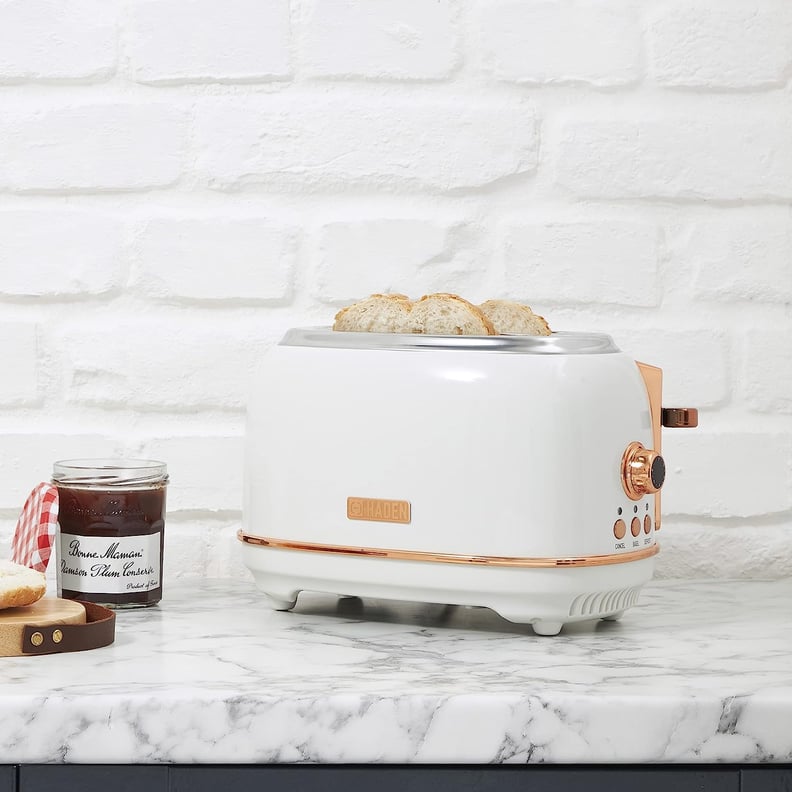 A Retro Toaster
Haden Heritage Toaster ($65)
The retro style of this lovely Heritage Toaster from Haden. This two slice toaster has extra wide slots to accommodate thick breads, bagels, buns, and more. There's a browning dial to get the perfect toast as well as dedicated settings for bagels, defrosting, and a cancel button. It comes in a variety of colors and styles like steel and copper, turquoise, black and copper, and more. Plus, it comes in a four-slice version as well.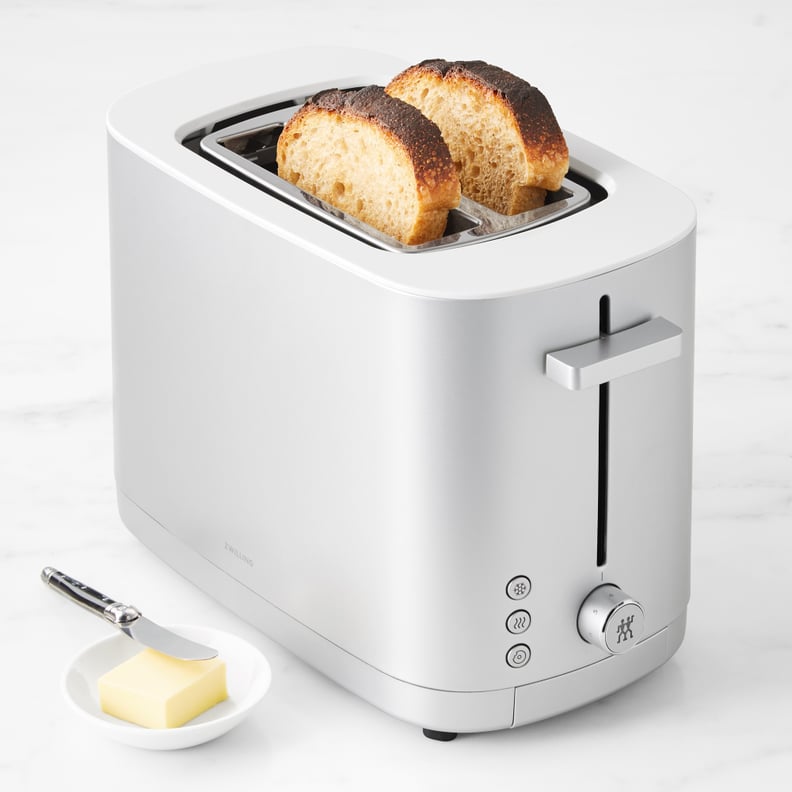 A Modern Toaster
Zwilling Enfinigy 2-Slice Toaster ($110)
This compact and sleek toaster from Zwilling is perfect for modern or contemporary kitchens. Its minimalist look will look elegant and clean on your countertop, especially with its brushed, semi-matte finish. Plus, it also comes in black. This toaster has seven browning controls, dedicated programs for defrosting, warming up, and bagel, and a smooth operating soft lift.
You can also get the Enfinigy 4-Slice Toaster ($180), for even more toasting goodness.
A Colorful Smeg Toaster
Smeg '50s Retro Style Two-Slice Toaster ($200-$250)
There's nothing more playful and stylish than Smeg's lineup of kitchen appliances, and if you're into the retro, diner-inspired look, you need a Smeg toaster. It comes in a ton of different fun colors like a bright red, pastel blue, pink, and yellow. The toaster has a dial for controlled browning, bagel, reheat and defrost functions, and two wide and long slots to accommodate varying sizes of breads.
Looking for something that accommodates more slices? Get the '50s Retro Style 4-Slice Toaster ($280-$300).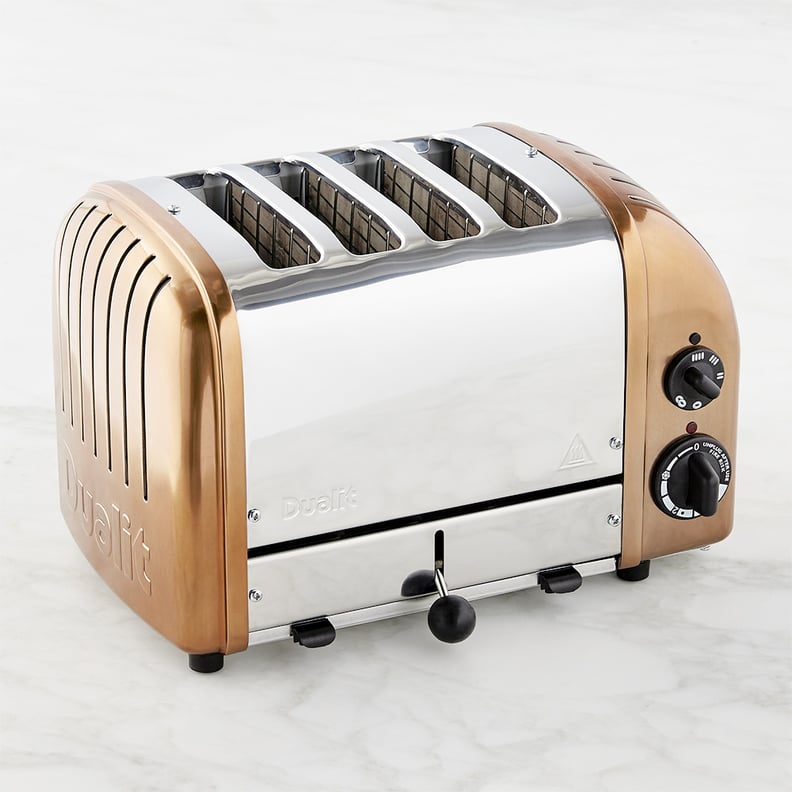 An Industrial Toaster
Dualit New Generation Classic 4-Slice Toaster ($380)
This stunning Dualit New Generation Classic Toaster is perfect for those with industrial aesthetics. The toasters are hand-assembled in England with durability and quality at the forefront. This one lets you select how many slices to heat up, regulate the temperature of your toasting, and has dedicated defrost and bagel/bun settings. Plus, the toaster has extra thick slots to accommodate English muffins, bagels, and more. Get it in eight different finishes.
Looking for something smaller? Go for the New Generation Classic 2-Slice Toaster ($300).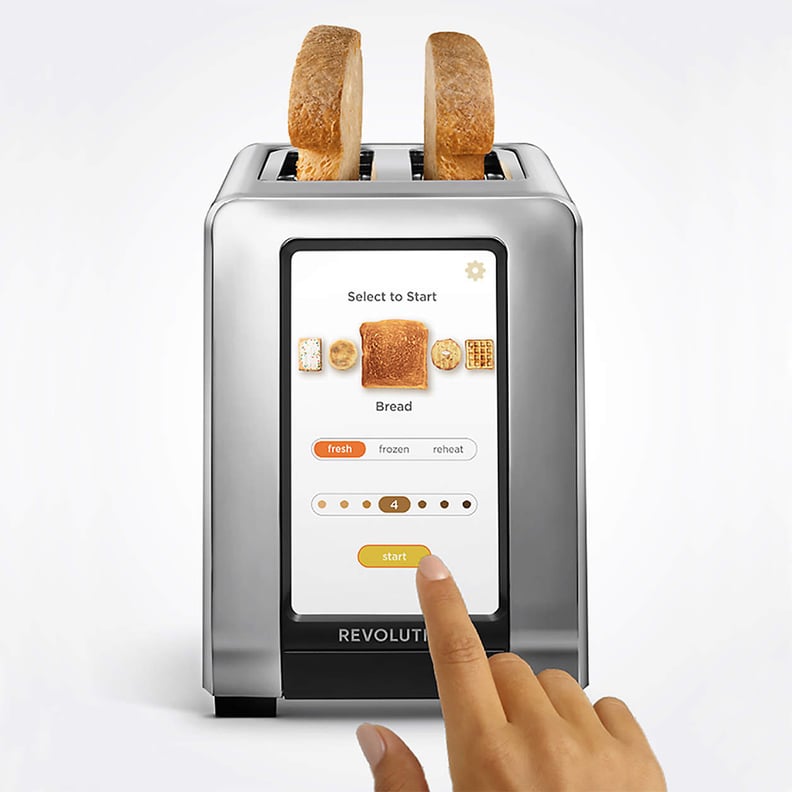 A Smart Toaster
Revolution R270 Touchscreen Toaster ($320, originally $399).
If you're looking for something minimal but also tech-savy, then get the Revolution R270 Touchscreen Toaster. This smart toaster delivers the ultimate toasting experience. It has around 34 settings, so you'll be able to toast any sort of grain or bread to perfection. You can toast sourdough bread, gluten-free breads, bagels, and english muffins, and you can even make paninis! It has seven different browning options and the ability to choose between fresh, frozen, or reheating as well. Check out our in-depth review of the Revolution InstaGLO R270 Touchscreen Toaster here.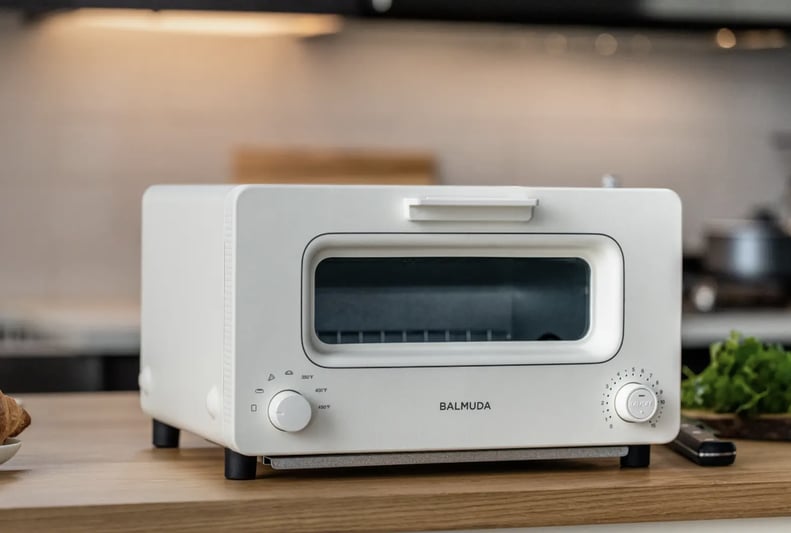 A Stylish Toaster Oven
Balmuda The Toaster Steam Toaster Oven ($299)
If you aren't already vying for a Balmuda toaster, the brand's The Toaster Steam Toaster Oven will elevate your kitchen countertop. Available in white or black, the toaster has a sleek frame with a contemporary design that makes any space look luxe. This toaster oven has a steam function that enhances flavor, aroma and texture, for the perfect balance of crisp and fluff. It has five distinct modes including, sandwich bread, artisan bread, pizza, pastry, and an oven function with three temperatures: 350°, 400° and 450°F. It comes with a removable oven tray and baking rack.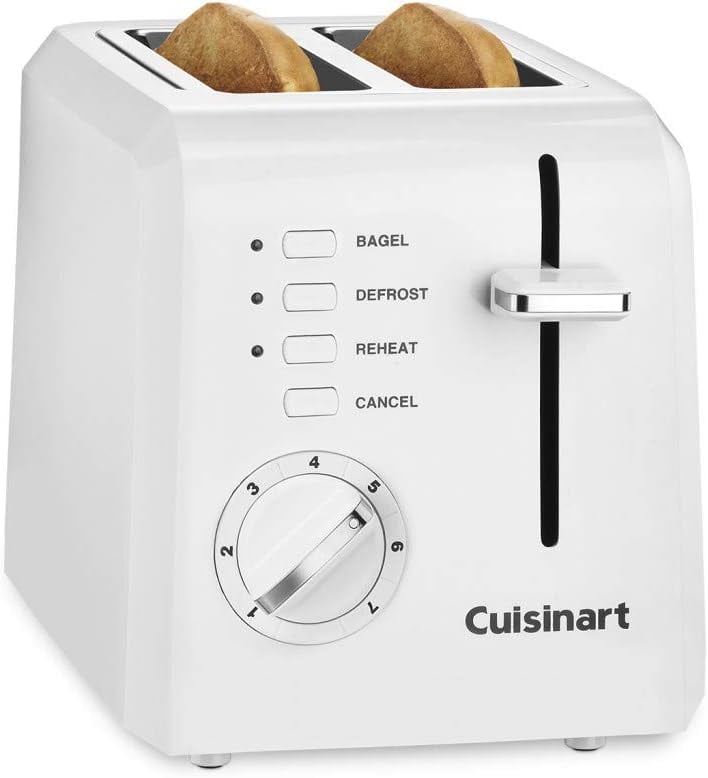 An Affordable Toaster
Cuisinart 2-Slice Toaster Oven ($30, originally $55)
Looking for something stylish and doesn't break the bank? You can always rely on the durability and the simplicity of the Cuisinart Toaster Oven. This two-slice option fits perfectly against corners and slim countertops, but has slots wide enough for breads of varying sizes. It has seven browning settings, and dedicated functions for bagels, reheating, defrosting and a cancel option. Get it in white or black as well as a four slot option.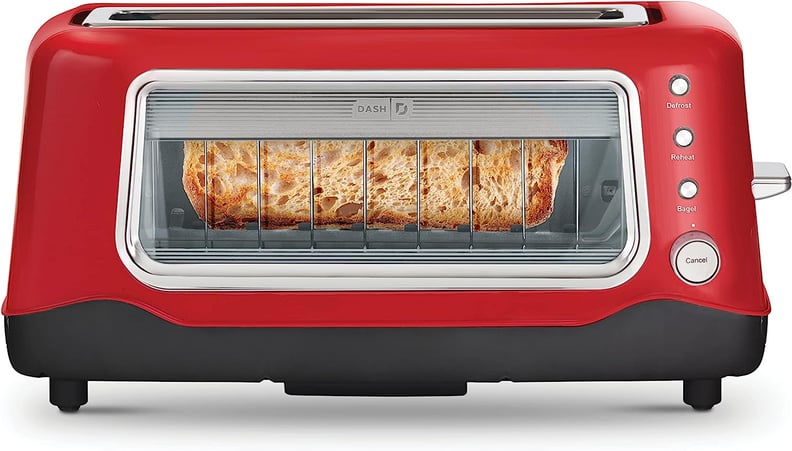 A Toaster With a Viewing Window
Dash Clear View Toaster ($45, originally $50)
Dash's Clear View Toaster lets you see your breads brown in real time with its nifty viewing window. It has seven browning levels and one-touch buttons for defrosting, reheating, and bagels. If you see your toast at the perfect shade of brown, you can also cancel the toasting process. This toaster can fit two slim slices or one long slice. Get it in a variety of fun colors like red, yellow, cream, black, aqua, and more.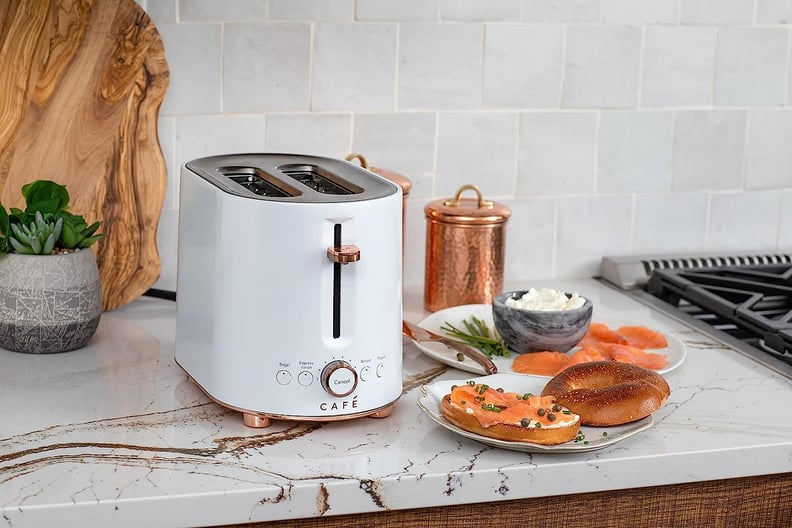 A Toaster With Luxe Accents
Café Express Finish 2-Slice Toaster ($128)
If you're all about that glam aesthetic, we adore this Café Express Finish 2-Slice Toaster that has luxe metal accents. From artisanal breads to bagels and english muffins, this toaster can handle it all with its extra wide slots. It has four preset functions including, express finish, bagel, reheat and frozen, and eight shade options to choose from. Get this rose gold accented toaster in white, black, or stainless steel.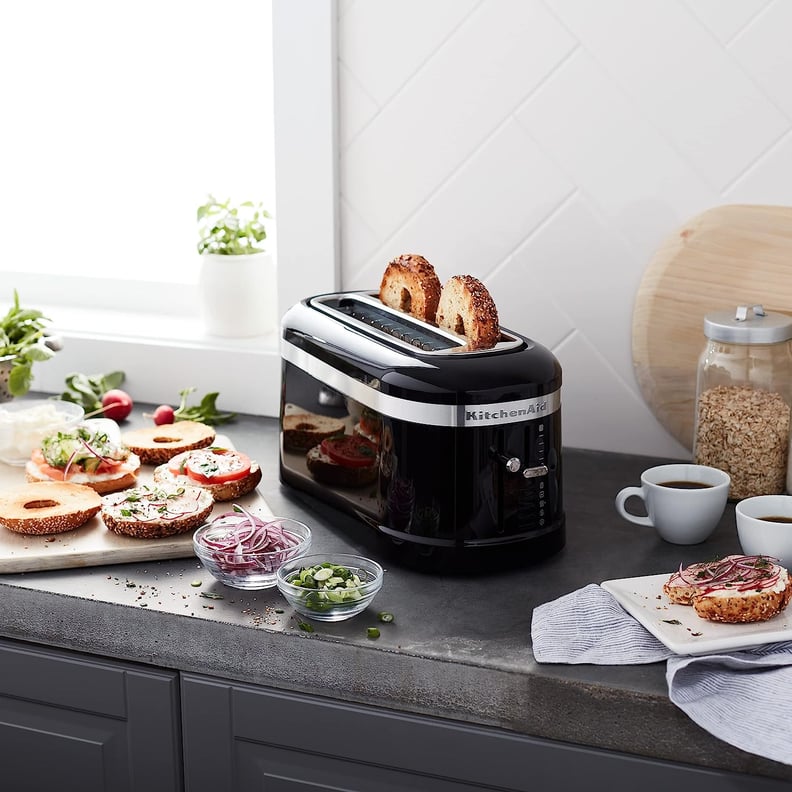 A KitchenAid Toaster
KitchenAid 4 Slice Long Slot Toaster with High-Lift Lever ($80, originally $100)
Although a KitchenAid stand mixer is the creme-de-la-creme of stand mixers, the brand's toaster is also pretty impressive. This long slot toaster can fit four slices, or two longer artisanal bread slices like sourdough. This has dedicated settings for defrosting, bagels, canceling, or extra crisping, as well as an adjustable lever for browning. If you already have the, this toaster will be the ideal companion to your stand mixer, if you already have it — either way it'll shine on your countertop.