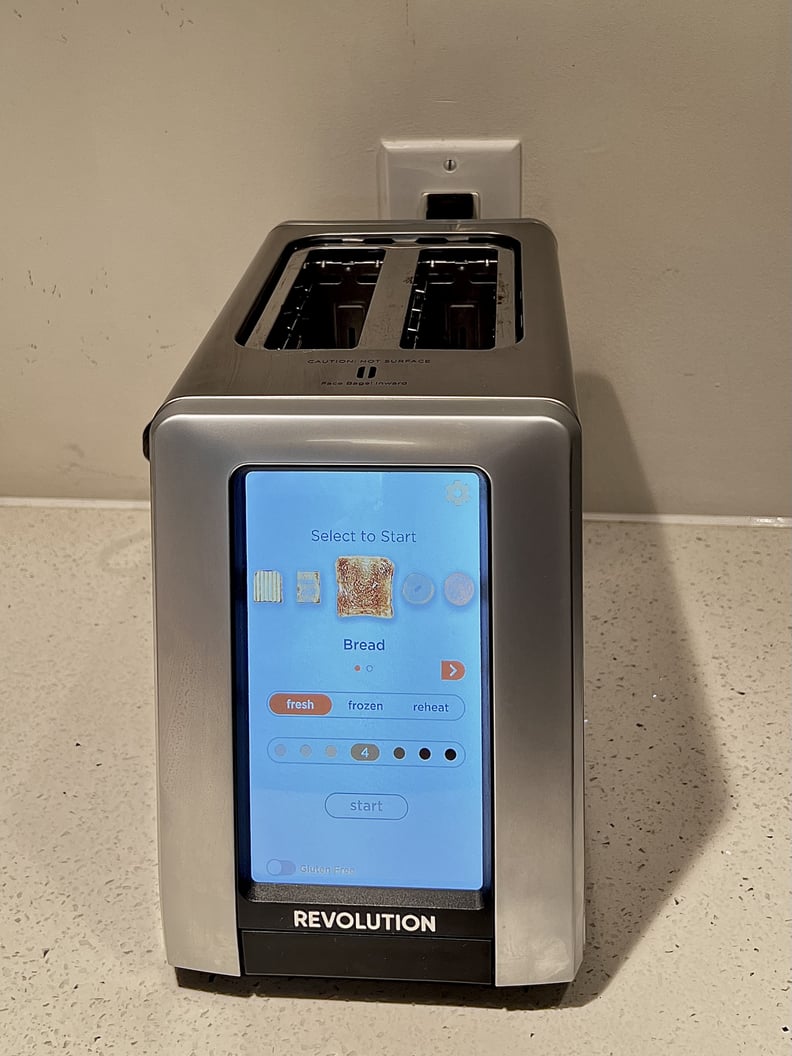 POPSUGAR Photography | Anvita Reddy
POPSUGAR Photography | Anvita Reddy
As POPSUGAR editors, we independently select and write about stuff we love and think you'll like too. If you buy a product we have recommended, we may receive affiliate commission, which in turn supports our work.
Like most millennials, avocado toast has been my tried and true breakfast for as long as I can remember. But, I never really had a dedicated toaster in my kitchen. It was either a toaster oven, a pan on the stove, or an air fryer to crisp my bread; if it wasn't multifunctional, it was a waste of counter space. That was until I got the chance to try out the Revolution R270 InstaGLO Toaster ($400), featured on this year's Oprah's Favorite Things List. I had to see what all the hype was about and put it to the test. After using the two-slot smart toaster for some time, I realized that this is way more than just a toaster!
What I Like About the Revolution R270 InstaGLO Toaster: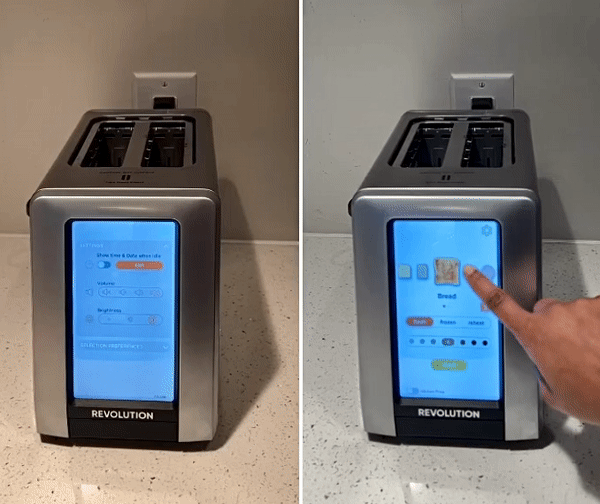 With around 34 toasting settings, including seven toasting shades, and three toasting modes, it's no wonder the Revolution R270 InstaGLO Toaster made it onto Oprah's must haves this year. It's the ultimate toasting experience and then some. For starters, it can toast everything imaginable: white bread, bagels, large bagels, waffles, iced toaster pastries, English muffins, large bagels, wheat bread, multigrain bread, sourdough bread, cinnamon swirl bread, toaster pastries, pancakes, toaster strudels, protein waffles, sandwich thins, and even artisan bread. On top of all that, you can choose between toasting something fresh or frozen or reheating an item and toasting anything that's gluten-free as well.
This toaster is very easy to use; it is more difficult to choose what to toast. Simply select what you want to toast, if it is fresh, frozen, or in need of a reheat, and the brownness level or crispness you desire. If you're eating something gluten-free, be sure to check that off on the bottom left side of the screen. Place your bread in the toaster, press start, and watch the countdown begin. Or, do whatever else is needed for your meal because once it's done, you'll hear a chime.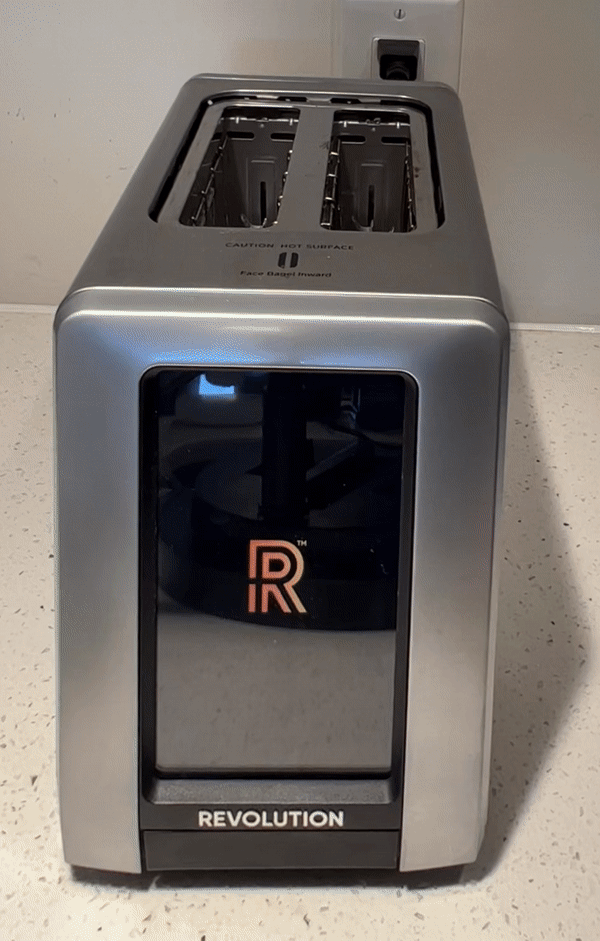 The Revolution R270 InstaGLO Toaster creates the perfect blend of crispness and crunch while keeping the inner layers soft and moist. No matter how you like your toast, this smart toaster will deliver with chef's kiss perfection. Other cool features, include reminders to clean the crumb tray and a customizable home menu that lets you choose your top 10 favorite foods for quick and easy daily toasting. Plus, the touchscreen is so easy and seamless to use.
What's Worth Noting About the Revolution R270 InstaGLO Toaster:
The Revolution R270 InstaGLO Toaster can toast and warm up around 16 types of bread and pastries, however, its versatility is unlocked with the panini press and warming rack accessories. The panini press lets you create all sorts of paninis (using the panini mode on the toaster), and the warming rack (using the warming rack mode on the toaster) lets you warm up cookies, croissants, pastries, and other baked goods. However, I use the panini press as a warming rack sometimes.
I made the brand's Toasterdilla by using the panini press. All you have to do is place your desired ingredients onto the tortilla without overstuffing it, fold the two sides inwards to create a long roll shape, then fold that in half horizontally, then place it in the panini press and lock it.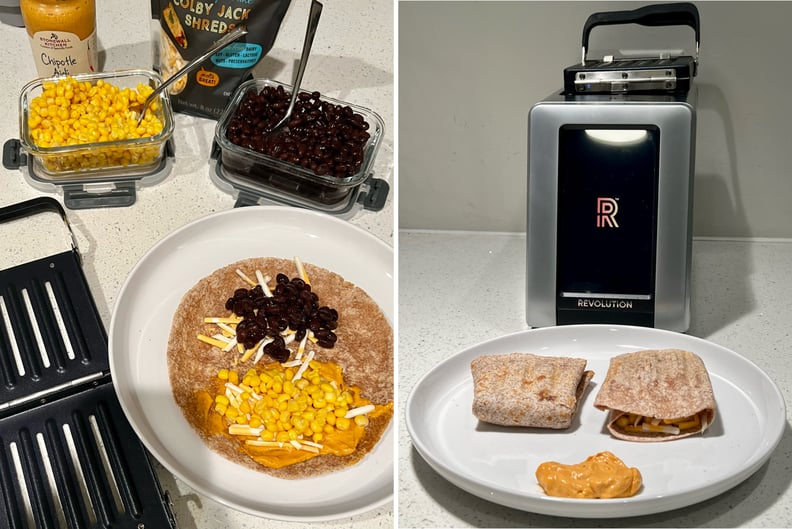 Then, place the panini press into the toaster, select the "panini mode" setting and customize it to your toast level. Press start and watch the magic happen. When making anything with cheese in it, whether it's a panini or the Toasterdilla, I like to put it back into the toaster after the first round at a level two or three to really give the cheese a melted consistency.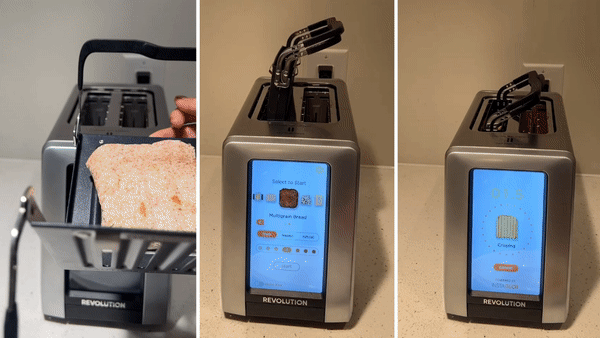 One thing I noticed about the smart toaster is that it is pretty conservative when it comes to the heating levels, so if you prefer a crispier or browned slice, I'd suggest toasting at the five to seven range. Although it's dubbed as a "smart toaster," there is no phone app to remotely control it (which might be a good thing for safety concerns).
Who the Revolution R270 InstaGLO Toaster Is Best For:
The Revolution R270 InstaGLO Toaster is best for those who love to eat toast, bagels, Toaster Strudels, frozen waffles, paninis, croissants, and other baked goods; basically, anyone who lives for brunch! If bread and pastries are an integral part of your meals, why not make toasting them an elevated experience delivering the ideal shade of brown and perfectly crisp, every time? It makes for a fun gift as well, especially for those who are self-proclaimed foodies.
Is the Revolution R270 InstaGLO Toaster worth the splurge?
When it comes to splurging on big-ticket items or pricey picks, I have one major philosophy: nothing is a waste of money as long as you make use of it. My roommate and I use the Revolution R270 InstaGLO Toaster at least once a day, if not more. We even changed the way we grocery shop just so we can truly experiment with it. We buy products for paninis, pastries and croissants, English muffins, bagels, and more. With the addition of the panini press and warming rack, we're able to get creative with our meals and utilize the smart toaster to the fullest.
Although it is costly, I can honestly say that the smart toaster has made me enjoy eating all sorts of bread and pastries. It has proved to be a useful and functional addition to my kitchen. The Revolution R270 InstaGLO Toaster is worth the splurge as long as you actually use it and don't let it collect dust in your cabinet.
Additional Details:
Product Dimensions: 11.6" L x 6.1" W x 8.4"
It comes with the Revolution InstaGLO Smart Toaster, a quick start guide, a user manual, and a postage-paid warranty registration card.
There is a one year manufacturer's warranty.
Where is the Revolution R270 InstaGLO Toaster Available?
The Revolution R270 InstaGLO Toaster is available on the brand's site, Amazon ($400), and Williams-Sonoma ($400).
We recommend getting this bundle set ($408), so you can get the versatility that the panini press and warming rack have to offer.
Rating:
★★★★★