16 Design Features That Prove Gal Gadot's Real-Life House Is a Wonder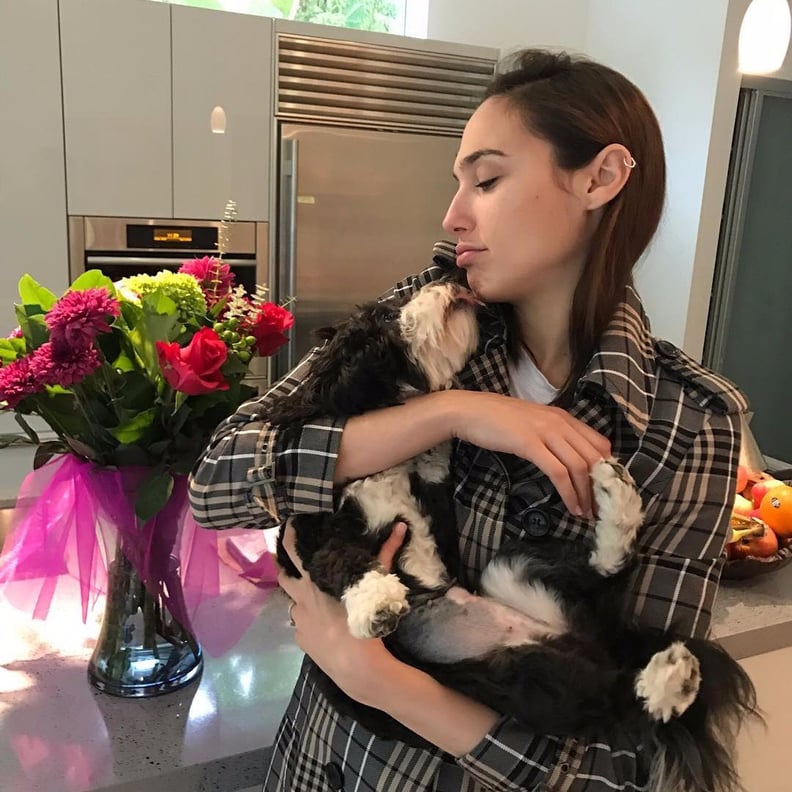 When Wonder Woman star Gal Gadot isn't kicking butt on screen or looking flawless on the red carpet, she's spending quality time with her adorable family in Israel. And while her real-life home might not be as exotic as the Amazonian island of Themyscira, we think it's its own kind of paradise. Contemporary and stylish, she resides in the perfect abode for a modern-day superhero. Check it out ahead.
Elegant Holiday Entertaining
Gal's Rosh Hashanah feast looks especially nice served on simple dishes atop a crisp white tablecloth.
Green Door
The olive green door to Gal's Tel Aviv apartment is so on trend, especially next to the matte black lighting fixtures.
Wide-Plank Wood Floors
The beachy wide-plank, light wood floors look flawless in Gal's family-friendly home.
Stylish Kitchen
A glossy blue-based gray marks the color scheme of Gal's modern kitchen. And we're loving the coordinating gray quartz countertops.
Bright Plates
When your kitchen is monochromatic shades of gray, the best way to spice it up is with colorful dishes. We love this playful blue print Gal chose.
Inviting Outdoor Dining Space
Gal's al fresco dining game is on point, from the slate table to the beautiful stone patio and lush green lawn — and that's to say nothing of the home-cooked meal and that adorable baby!
Themed Board Games
Of course Wonder Woman has the superhero edition of Monopoly!
Contemporary Office
From the frosted glass desk to the gray chair, Gal's office is modern and minimalist. We love the playful art as well as the office's sunny view of the outdoors.
Flower Market
Gal doesn't just pick up the occasional bouquet at her local grocery store — she wakes up at the crack of dawn to get first dibs on fresh blooms from the flower market.
Bright Red Sofa
A modern, neutral apartment needs a pop of color. And Gal nailed it with this cherry red sofa.
Wardrobe-Slash-Kitchen
There's a lot to love about this photo — the hundreds of pairs of designer shoes, for example — but we're focusing on the expanded view of Gal's kitchen, including the white drop lights and the framed abstract art.
Velvet Bench
Not only is a blush upholstered bench an on-trend piece of furniture to have in the bedroom, but it also makes for very useful seating.
Local Flowers
When Gal doesn't make it to the flower market, she makes sure her stems come from a local florist.
Walk-In Closet
Ah, celebrity closets. So big and so covetable. Gal's is no exception.
Kids' Activity Table
A home with young children isn't complete without a place to do arts and crafts! Gal's table is the perfect spot, and we're loving the cute rug beneath it.
Mix of Open and Closed Shelving
Open cabinets seem to be all the rage these days, but we think Gal strikes the right balance with a mix of open shelves for frequently used appliances (what a great way to get them off the countertop!) and larger pantry-type cabinets whose contents can be concealed with doors.