Holiday Decorating Tips From HGTV's Tiffany Brooks
Deck the Halls! HGTV Designer Tiffany Brooks Shares Her Best Holiday Decor Tips and Tricks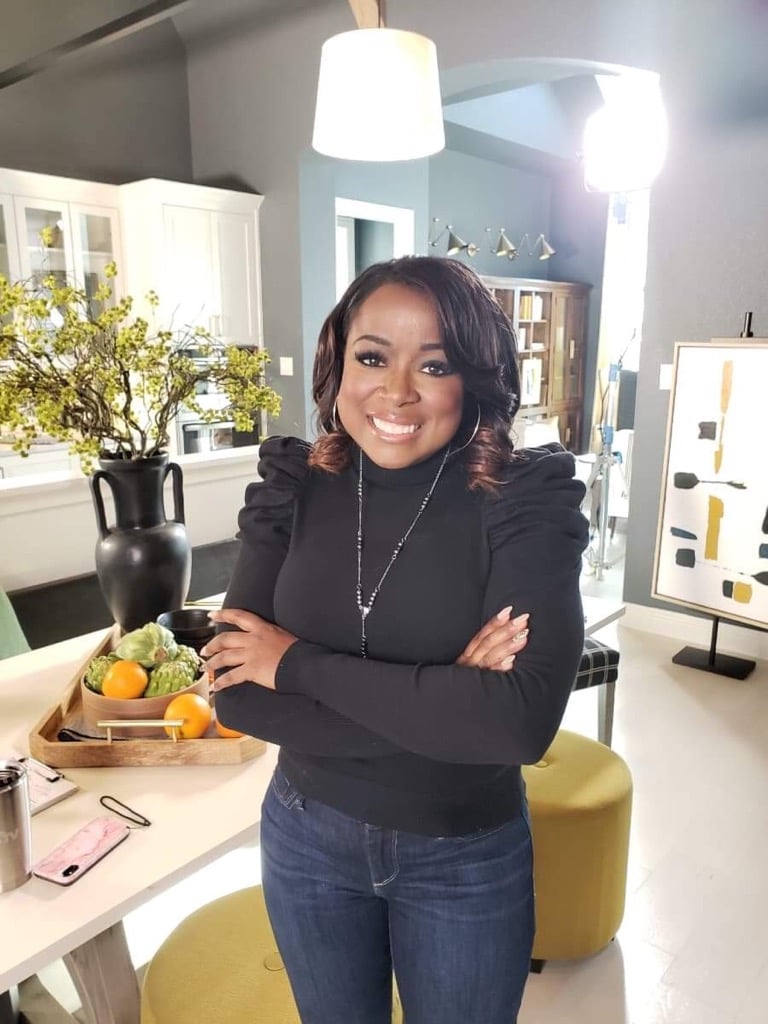 If you're an HGTV fan, you've probably heard of Tiffany Brooks. The Chicago-based interior designer made her first appearance on the network back in 2013 when she was named the winner of Design Star and has since appeared on numerous HGTV shows such as Dream Home and Smart Home. Tiffany's warm and vibrant personality (which I can attest to) combined with her amazing eye for design has made her a top industry go-to over the years. So much so that she's now in the production process of her own show called 50k Three Ways, which is set to premiere on HGTV in the summer of 2021.
Whether you have been a fan of Tiffany's for a while or are new to her design expertise, one fun fact you're going to love about her is that she's very into the holidays! To celebrate her new holiday collaboration with Shutterfly, which is available now, POPSUGAR recently spoke to Tiffany about all things holiday decor, including her favorite tips and tricks for personalizing small spaces, getting that perfect tablescape, and making your home stand out from the rest.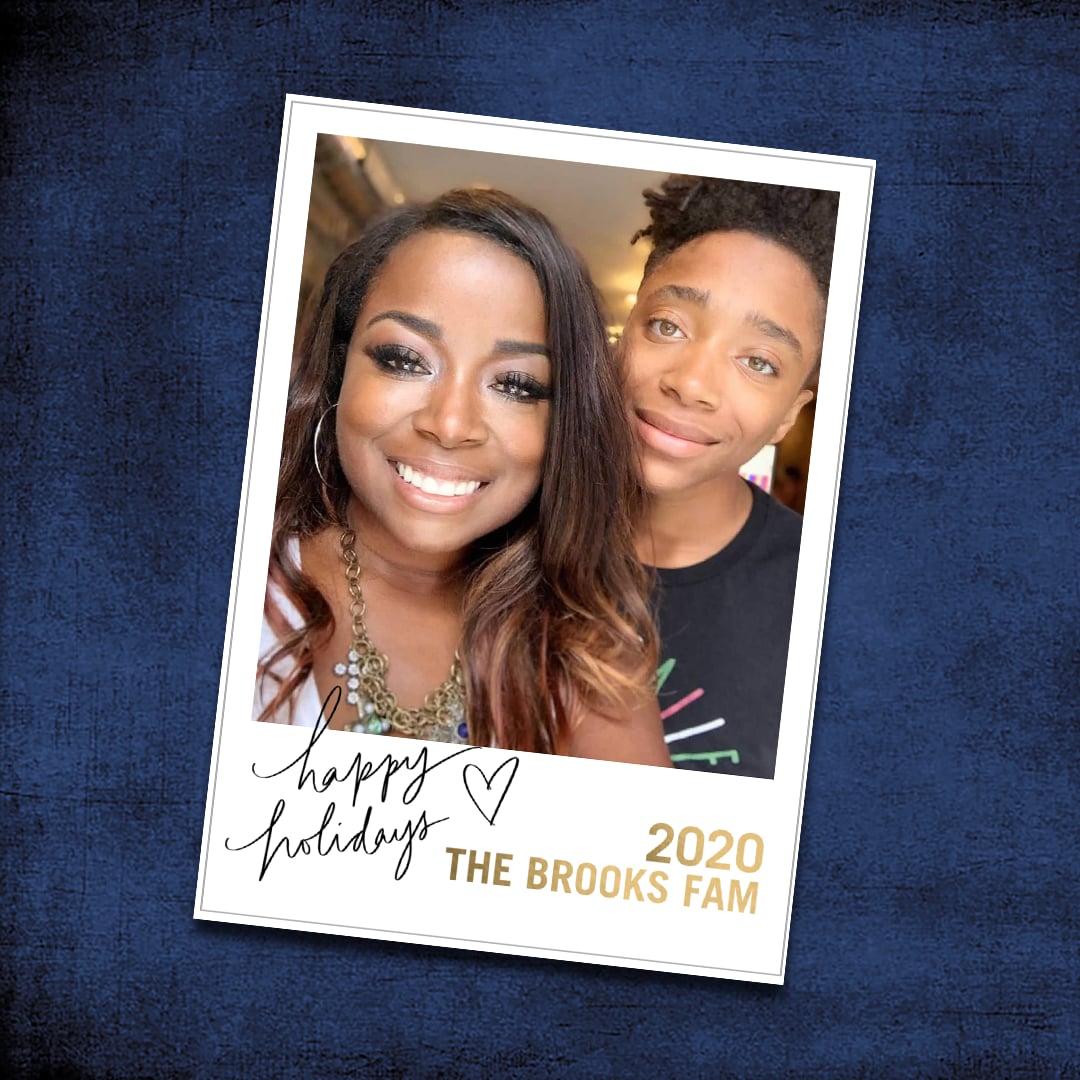 POPSUGAR: Your designs lean more on the abstract and modern side — is that the vibe you usually go for when decorating for the holidays?
Tiffany Brooks: Yes, I try to find ways to make my house look different than my neighbors'. Everyone reaches for the greens and the golds and things like that — I do still have touches of metal, but I like to come up with unexpected colors and really cool patterns so it feels like a distraction from the norm.
PS: How do you make sure each room in your home carries the same holiday theme without it looking too matchy-matchy?
TB: I'd suggest picking a color scheme that you're going to design your tree with. This year, my color scheme happens to be a lot of icy blues, navy, and gold. Once you get your tree down, you'll want to bring in touches of other items so that you can carry different patterns throughout . . . you can use pillows and candles, and once you have multiples of items like that, you have a scheme that will travel from room to room.
PS: If someone wants their tree to look professionally decorated, where should they start?
TB: I'd suggest putting together a color palette of no more than two to three colors. Think different, go into different colors that inspire you, and try not to reach for the theme that we're typically given in the big-box stores.
PS: Because so many people will be spending the holidays away from home this year, do you have any tips for decorating a smaller space, such as an apartment or dorm room?
TB: I definitely do! Personalization. Surround yourself with those memories through photos that remind you, subliminally of course, of when things were different. Of when we were able to be around our families. I feel that this year, your design for the holidays has to be a lot more thoughtful than it was last year, because a lot of people are alone — so why not have those memories displayed beautifully in your apartment or in a small space? Don't just deck the halls with meaningless things you use year after year — add in some personalization. Bring in a photo pillow, display those candles, get some photo tiles and wall art made. Really bring in memories of family to make your house feel personalized.
PS: For people who don't have a large budget to decorate, what are some ways to deck the halls while keeping the price down?
TB: Lighting. Hands down, lighting. I would suggest using candles, a ton of Christmas tree lights, and personalized ornaments. For a smaller tree or even a large tree, ornaments should be meaningful, and once you throw in the candles, turn down the [room] lighting, add the Christmas tree lights, and you'll get a home run.
PS: What's your favorite room to decorate for the holidays?
TB: Hands down my breakfast room because that's where everyone convenes, and then my family room. We sometimes decorate our hallways, but our family room feeds right into that. So I would go for those two rooms first — they make the biggest impact. You're always in your kitchen slash breakfast room, and you're always watching television in your family room.
PS: When decorating a breakfast room or kitchen for the holidays, it usually involves a tablescape. What are your suggestions for building a tablescape from start to finish?
TB: I typically start with the base, which is usually a table runner. Then I layer it with plants or greenery and bring in really cool stuff by adding placemats, plates, glasses, and silverware with napkins. Starting with a base and ending with those more intricate details — while keeping layering in mind — usually gets you to where you want to go. If I'm having a formal dinner and I want to dress up a tablescape, I've started adding photo frames with people's names on them, or a cool picture of them, so they know where they're sitting. If it's more casual, you can do photo frames spread throughout the entire table.
Image Source: Photos Courtesy of Tiffany Brooks