If you've ever seen an episode of Fixer Upper — and who hasn't? — then you know that Chip and Joanna Gaines specialize in creating dream homes for people on a tight budget. We recently had a chance to talk to the couple on their home turf of Waco, TX, where they were promoting their Magnolia Homes by Joanna Gaines paint line, and we couldn't let the opportunity pass without asking them their tips for how to renovate a kitchen affordably. They enthusiastically filled us in on what their years of updating kitchens in other people's homes as well as their own have taught them on the topic. Keep reading to check out these HGTV superstars' step-by-step guide to creating your dream kitchen when you're low on cash.
01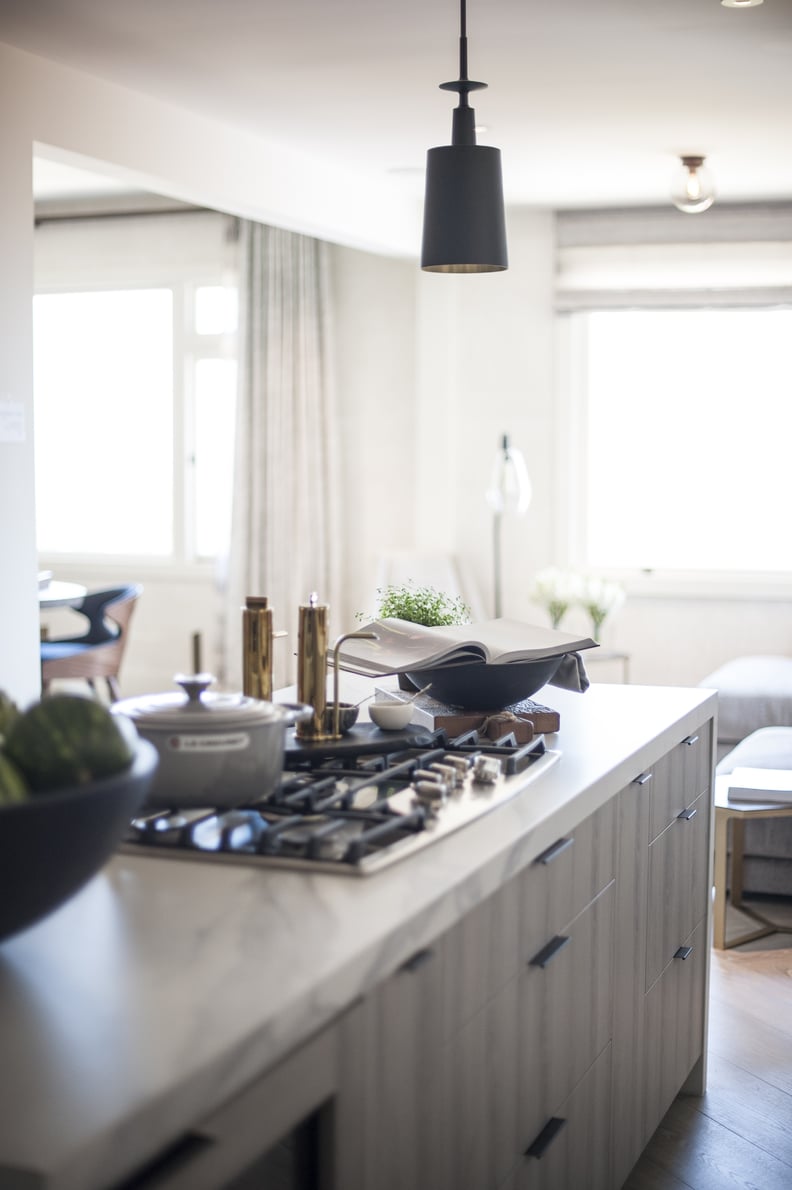 Get Real About What You Can Renovate
You may walk into your new kitchen on move-in day and think you absolutely hate everything in it, but take a deep breath and get realistic. Joanna told us to first consider that a bare, empty home leaves all the flaws exposed. "When you walk in and there's nothing in the kitchen, it's really easy to like say, 'Oh gosh, I hate the floors; I hate the countertops.'" But before you get out the sledgehammer, imagine what it will look like decorated and filled with your things.
Once you can visualize this, Joanna advises focusing on only the very worst elements and consider which of them you can afford to fix right now. "Find your top two or three things you just can't live with. Then on everything else, you layer and you almost cheat it a bit," Joanna shrewdly advised. By tackling the renovation in layers, a few projects at a time, it becomes more financially manageable.
02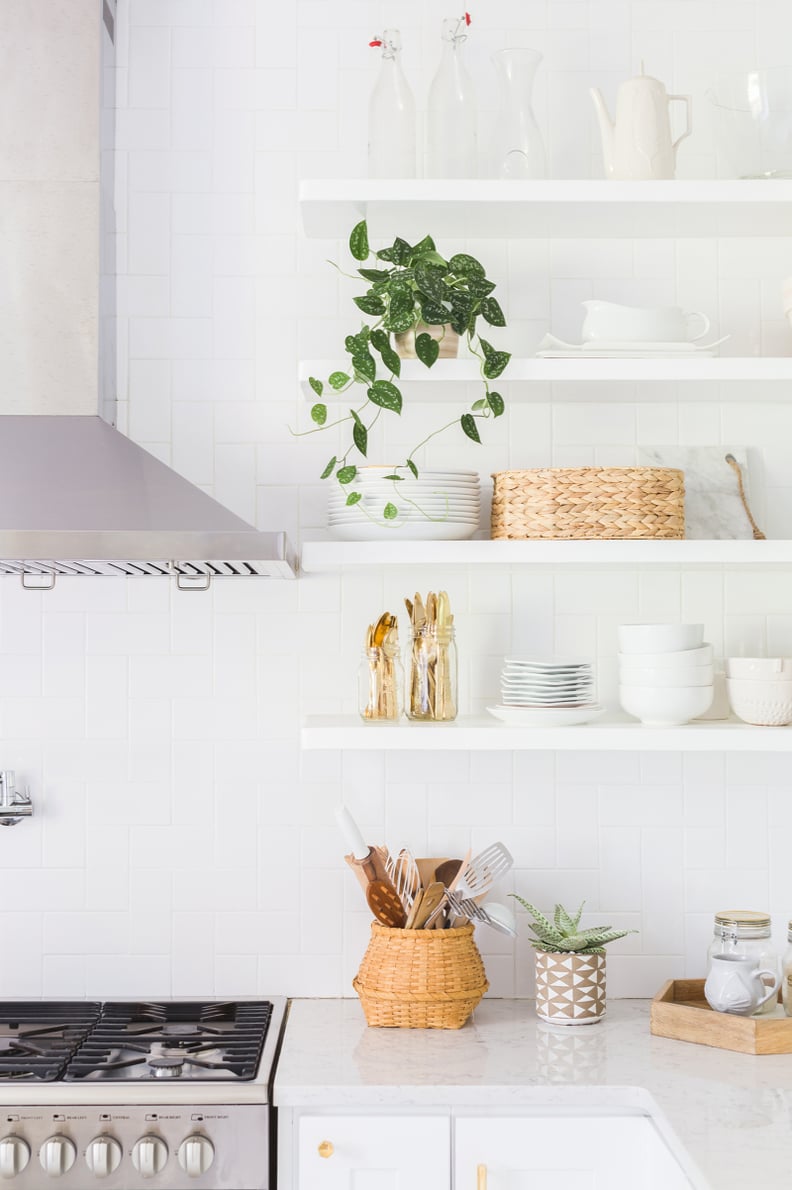 Hide What You Hate
After designating your urgent renovation projects, you can begin covering up everything else you dislike but aren't overhauling right now. Or, as Joanna says, "cheating it." What does that mean? She explained, "If you hate the backsplash but the countertop is OK, keep the countertop, because when you put your canisters on there, your tea towel, that kind of stuff is what people will notice when they walk in. Not, 'oh, look at the countertops!'" Ugly kitchen floors she said can easily be covered with a rug until you're able to update them.
03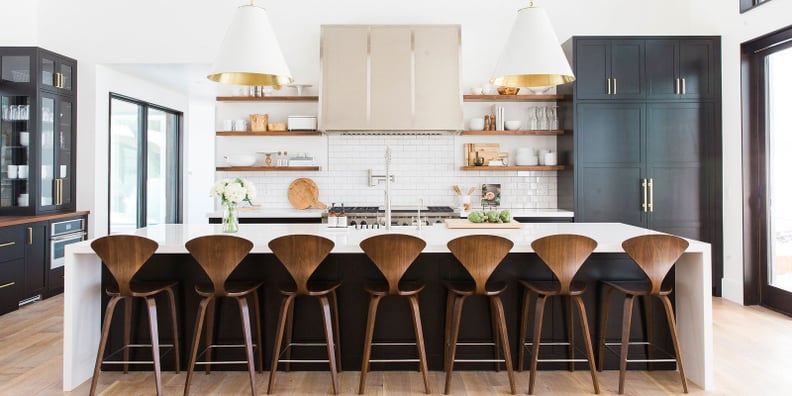 DIY Wherever You Can
While Chip and Joanna disagreed over what qualifies as a "novice" DIY project, they both suggested looking for opportunities to do kitchen renovation work yourself. Joanna suggested cutting costs by tackling low- to medium-skill-level projects yourself, such as installing your own kitchen backsplash, painting cabinets, and swapping in new hardware.

Chip advocated for more challenging projects, like pouring your own concrete countertops (which Joanna cautioned was risky for beginners) and installing new lighting fixtures, though he emphasized that it's important to study up on these projects before embarking. Thanks to the internet, it's never been easier to teach yourself. "Fifteen years ago, Google wasn't a thing, so I had to figure all this crap out on the fly and literally at the library, looking at an encyclopedia, but now with Google and YouTube, watching somebody do this isn't hard," Chip told us.
04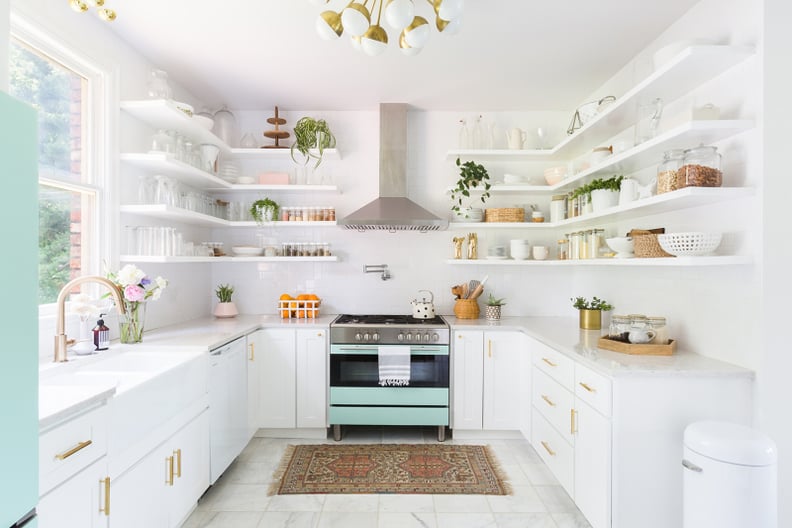 Creatively Improve Everything Else
After you've renovated what you can afford and hidden what you can cover, Joanna suggests finding creative ways to improve what's left. "One of the things I loved the most when we were on a budget was just the research, finding different ways. How could you paint a backsplash? How could you find new ways to work with what you have?" she explained to us. There's an endless amount of creative kitchen renovation workarounds; you just have to dig a little to find the ones perfect for you.
Travel and expenses for the author were provided by KILZ for the purpose of writing this story.