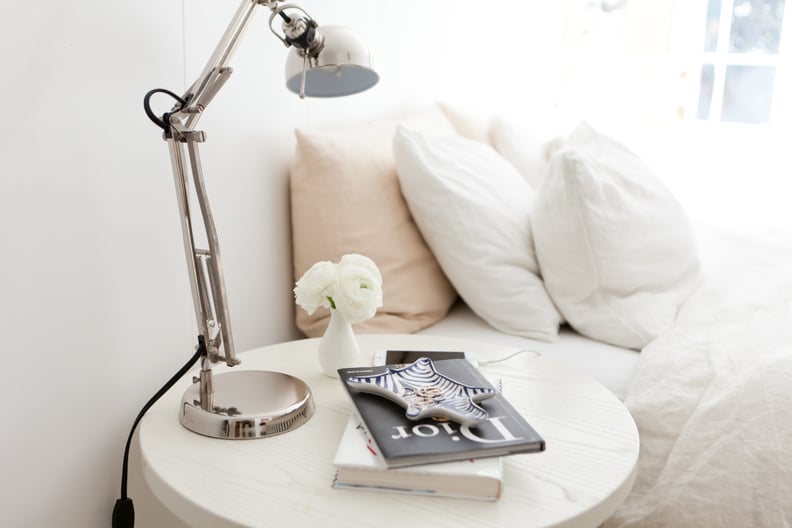 POPSUGAR Photography | Mark Popovich
POPSUGAR Photography | Mark Popovich
Real question here (and be honest): When was the last time you cleaned your mattress? Your pillows? Whatever your answer is, it probably isn't as often as you should be refreshing them. Most of us wait until laundry day to throw in our pillowcases and towels when in fact, those items require their own midweek load. Read on for your guide to how often you should be washing your linens and things — it might even make you change up your routine.
Bed Sheets (every 1-2 weeks):
Washing your bed sheets every week is ideal since sweat and oils are being absorbed by them daily. But you could stretch it to biweekly depending on how clean you are when you get into bed and if you're the only body rolling around in there.
Mattress (every 6 months):
Your mattress can become a home for allergens, sweat, and dust, so cleaning it twice a year (at least) will do you good. Using baking soda and a vacuum will allow for a nice deep clean.
Pillows (every 3-6 months):
You probably wash your pillowcases routinely, but we often forget about the actual pillows. Your sweat seeps down into your pillows, making it necessary to throw them in the wash or dry clean two to four times a year.
Pillowcases (every 2-3 days or weekly):
If you're acne prone, you should be washing your cases as often as every couple days to avoid breakouts. Your face is in direct contact with them daily, which equals built up dirt and oil. If you're skin isn't too bothered by dirty pillows, you can go by your laundry cycle.
Bath Towels (every 3-4 uses):
Since you're drying off after a shower, you'd think that the towel is clean, too. Wrong. Bath towels are highly absorbent, as you know, which means they trap moisture and odors. Disinfect them after a few uses.
Hand Towels (every 2 days):
Your hand towels can get dirty pretty quickly since they're used multiple times throughout the day. If you have a lot of people in your household drying off their hands with the same towel, even a daily wash is necessary.
Comforter (every 4-6 months):
Going without washing your comforter for a few months at a time is totally fine. Give it a clean two to three times a year or every seasonal change to make a routine out of it.