Think your dresser would do really well on an episode of Flea Market Flip or in the hands of fixer-upper extraordinaire Joanna Gaines? If you're changing up your aesthetic, revamping a room, or just doing some reorganization, buying brand-new furniture doesn't always have to be the only option. When it comes to dressers, there are plenty of ways to transform it into something you actually like and can fully utilize. The best part? You don't have to be a master in the art of DIY to do so. Whether you're tired of the outdated drawer knobs or want to make space for a built-in cat cozy, here are the 10 best ways you can transform a dresser into a one-of-a-kind statement piece.
Add a Fresh Coat of Paint
If you're working with a vintage dresser, it only takes a few coats of pink paint to Coco Chanel it up. After sanding down the surfaces, TikTok user @FancyFixDecor recommends using an all-in-one primer spray paint in the color Gloss Pink Blush. To prevent dripping and patchiness, just make sure to remove the drawers beforehand and spray gradually in light coats. For an extra elegant touch, spray-paint the knobs metallic gold.
Make It Your Cat's Hangout Spot
If your litter box is a total eyesore or you just want to give your fur baby a luxurious nook to chill in, you can turn your dresser into a little cozy home for them. TikTok user @A.Dabbled.Dwelling says all it takes are a saw and a few screws. After you make the adjustments, there should be plenty of space for a litter box or cat bed and a hidden side entrance for you cat to enter and leave as they please.
Use a Decor Transfer
Using a decor transfer on your dresser is a must if you want to commit to a cottagecore aesthetic. You can find decor transfers from any home-goods or craft store, and according to Hometalk, they're easy to apply, too. You simply press it against the surface of your dresser, rub it until it detaches from the film, and peel away.
Add Glass and Wallpaper
Want a dresser with a marbled countertop but can't quite afford one? According to TikTok user @JazzKatie, glass and wallpaper are an affordable way to mimic the look. The process is even easier if your dresser already has a glass top, because once you stick a sheet of wallpaper underneath, it looks just like a marbled countertop or beautiful tiling depending on what wallpaper you choose.
Cover It in Mirrors
Mirrored dressers are trendier than ever, but there's no point in buying a new one if your current one is perfectly functional. According to Dalya Graves, it only cost her $65 to give her dresser the same look. Just measure out the surfaces you want to add a mirror to, and head to a home-improvement store. Graves says Lowe's has a mirror- and glass-cutting section where they'll cut your materials for free. To make things even easier, nails or screws aren't required since Loctite mirror adhesive works just as well.
Install Lights and a Mirror
Your dresser can easily double as a vanity with the installation of lights and a mirror. If you need an extra space to store and do your makeup other than in a bathroom, TikTok user @ChloeVMitchell suggests giving an old dresser a glamorous, Hollywood dressing room feel by adding a sleek mirror and rows of lights.
Fill It With Dividers For a Baby Changing Station
Not only will transforming your dresser into a super-organized baby changing station eliminate extra stress, but it'll also make your nursery look a whole lot neater. Chelsea Hernandez recommends filling each of the dresser drawers with separate dividers for diapers, onesies, and everything and anything you might need for your baby. The extra dividers save space and keep your countertops clear, making it the perfect setup for a changing table.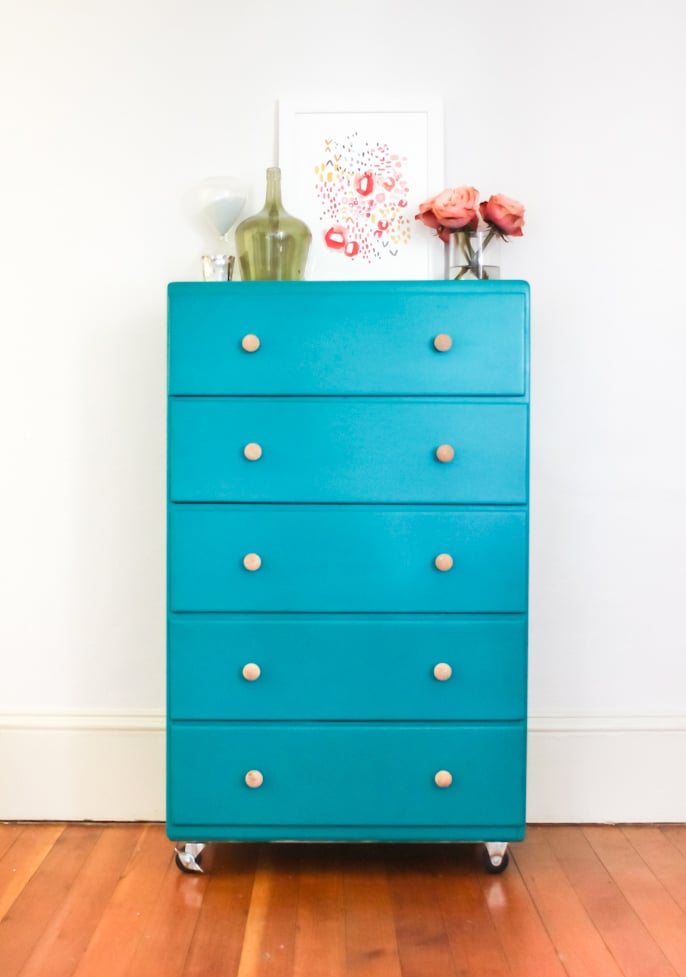 Add Wheels
Putting feng shui into practice has never been easier. If you're always rearranging your furniture or you live in a tiny apartment where you often have to make space for guests, a dresser with wheels is a total game changer. This DIY from The Crafted Life has all of the instructions you'll need to copy this dresser hack in your home.
Add a Wine Rack
Whether or not you keep this dresser in your bedroom is up to you — either way, Vintage Statements says a basic dresser works just as well for storing wine as it does for storing clothes. For this transformation, you might need a few power tools, but you're essentially just removing the faces of the bottom drawers and adding wine shelves on the inside.
Swap the Knobs For DIY Drawer Pulls
Metal drawer pulls can modernize an outdated dresser, and TikTok user @_MiaVolk says the DIY kind is even better than the store-bought kind. All you need are copper bell hangers and 4-inch dowels, and you'll have an industrial-chic dresser in no time.