The Truth Behind Rumors Joanna Gaines Is Leaving HGTV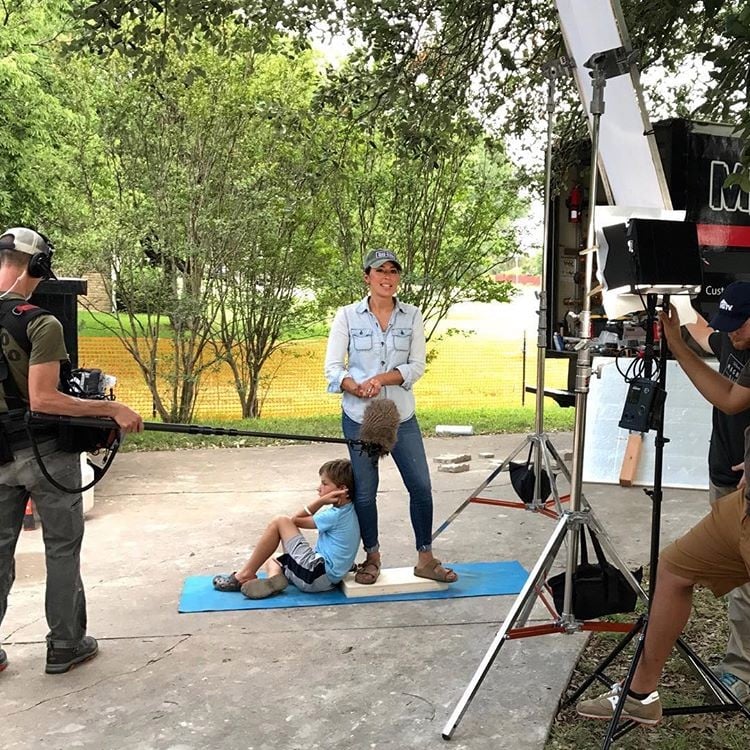 Joanna Gaines can't seem to shake rumors she's leaving HGTV, the network that made her a household name. In fact, the Fixer Upper star has been plagued with rumors she's departing home design all together to enter the beauty business. Common sense tells us that this doesn't make any sense. After all, Joanna's business endeavors don't stop at Fixer Upper. They include Waco, Texas, home and garden mecca Magnolia Market, several collections of home decor, paint, and a wallpaper line. The list goes on.

In short, Joanna's love for interior design runs deep. We would be shocked if she walked away from it for an industry we've scarcely heard her mention. But if logic isn't enough to assuage your fears that Joanna is leaving Fixer Upper, we have more concrete proof the show is going on ahead.
Joanna shared behind-the-scenes season five footage.
There's no doubt Fixer Upper season 5 is filming when you see this funny video Joanna posted. Along with behind-the-scenes video footage, Joanna wrote "Fixer Upper is rollin' right along . . . #seasonfiveiscoming"
Fixer Upper's executive producer is also posting from the Fixer Upper set.
Their producer Michael Matsumoto corroborates news of season five filming. He's been posting up a storm from the set of Fixer Upper's upcoming season.
Chip and Joanna's rep denied the beauty biz claims.
A rep for the Gaines spoke to People Magazine and said that claims Joanna is showing up late to set and is pursuing a second career promoting DermaFolia Renewal Anti-Aging Serum are completely false.
Joanna directly addressed the rumors on her blog
"Don't believe everything you read," begins a recent blog post from Joanna Gaines. She then goes on to say that she and Chip are busy entrepreneurs moving so quickly that it can be hard to keep up with all their projects, but if they haven't announced a new endeavor themselves on their social media accounts, don't believe it. "And just in case you were wondering, YES! We are currently filming season 5 of the show. No! I am not getting into the business of facial creams . . . In summary, don't buy the facial cream, friends." Well, that settles it. Joanna is committed to Fixer Upper!