12 Times This Is Us Star Justin Hartley's Offscreen Home Looked as Good as He Does on Screen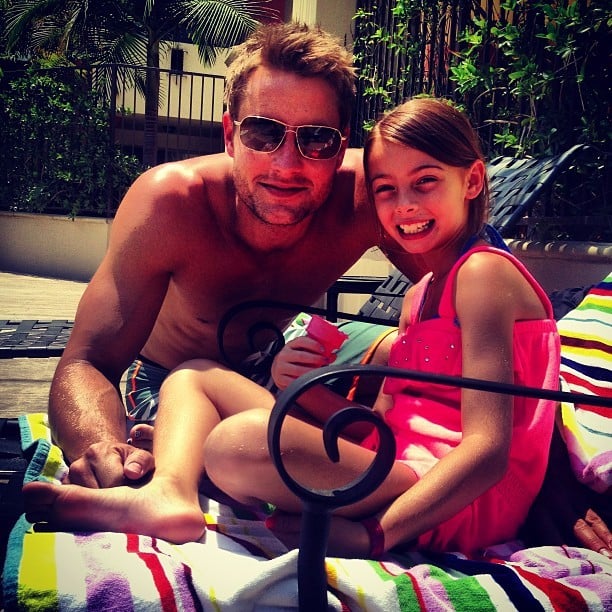 Justin Hartley is easy on the eyes as Kevin in the hit show This Is Us, but where does he go when he's off set? The busy actor and dad to 13-year-old daughter Bella lives a stylish SoCal life. From his contemporary abode to his sexy getaway spot, Justin gives us a peek inside his home life ahead.
His backyard looks more like a resort.
We love the cool and contemporary outdoor furniture.
He's got the trendiest pool float.
And he really knows how to use it.
His gym is on point.
Extra points if this gym is in his house.
He believes yard games are a must.
Who doesn't love an oversize Jenga game?
His modern digs are also cozy.
So cozy, in fact, that his dog can't help but snuggle in for a quick nap.
He knows a simple wine glass is the best kind.
Especially when it's full of red wine and overlooking a vineyard.
Even his pool towels are vibrant and fun.
As is his adorable daughter.
He reveals his on-set home isn't all it seems.
There are plenty of stage markers on this hardwood floor, making sure everyone knows exactly where to stand in a crowded group scene.
Pretty stone pavers surround his pool.
But his sweet pup only cares about finding a soft spot to snooze.
Dark cabinets and silver cookware keep his kitchen classic.
And what's more classic than cooking up some Bisquick pancakes on a Saturday morning?
He appreciates a thoughtfully designed view.
Like this gorgeous downtown LA pool he overlooked during shooting.
Even his vacation spots are picturesque.
A hot tub overlooking the Grenada shoreline? Yes, please!