The 10 Best Office Chairs For Addressing Back Pain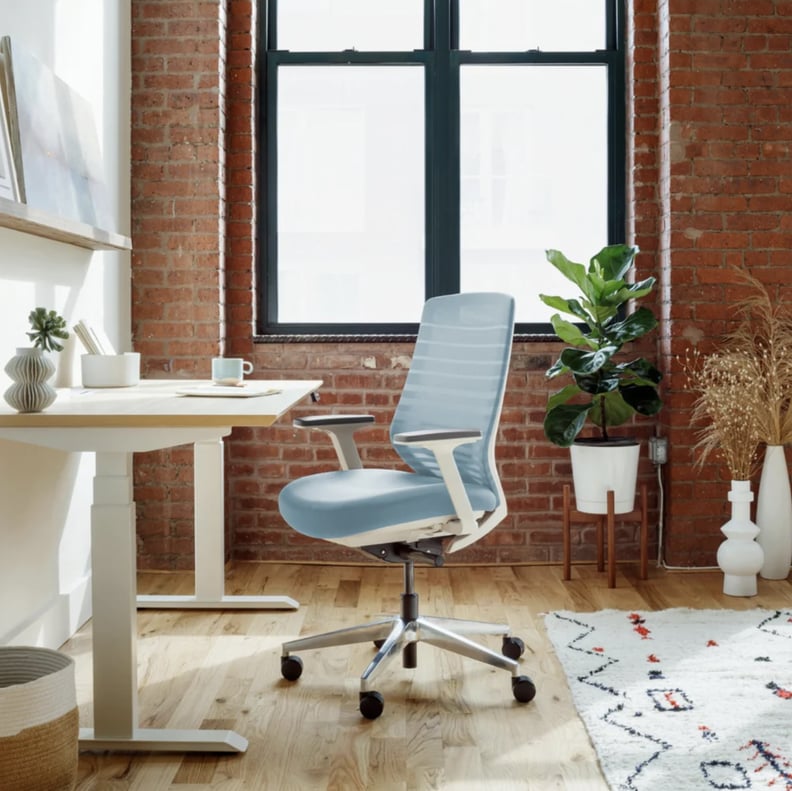 Branch
Branch
As POPSUGAR editors, we independently select and write about stuff we love and think you'll like too. If you buy a product we have recommended, we may receive affiliate commission, which in turn supports our work.
Whether you work from home or spend a lot of time curled up and studying at a desk, you know the struggle of creating a practical workspace that's both comfortable and stylish enough to enhance productivity. Some of us don't have a dedicated office space at home, so we're making do with what we have. No matter what surface you may be using as a makeshift desk, having a comfy office chair is perhaps the most critical part of any home setup — especially if you spend endless hours on your computer. Before you upgrade your office space and splurge on a more supportive desk chair, there are several factors to think about.
What to Consider When Shopping For a New Office Chair
If you struggle with more concentrated back pain, it's worth it to invest in an office chair with more cushioned support, specifically one that will feel comfortable on your hips or the lower portion of your back. There are certain orthopedic chairs that provide targeted relief and are highly recommended by doctors and physical therapists. Additionally, ergonomic office chairs are great investments for those hoping to create a more cohesive and streamlined home office that prioritizes comfort across the board, from the chair to the desk keyboard and beyond.
To help you narrow down the best office chairs for back pain — and upgrade your WFH setup heading into the fall school semester — we shopped out options from brands like Amazon, Branch, and Wayfair. Whether you're looking for the best office chair for lower-back pain, a new office chair with back support, or the best ergonomic office chair, these picks all have the potential to be your new work-from-home best friend. They'll always have your back (literally) and are available to shop at a range of price points.
— Additional reporting from India Yaffe
01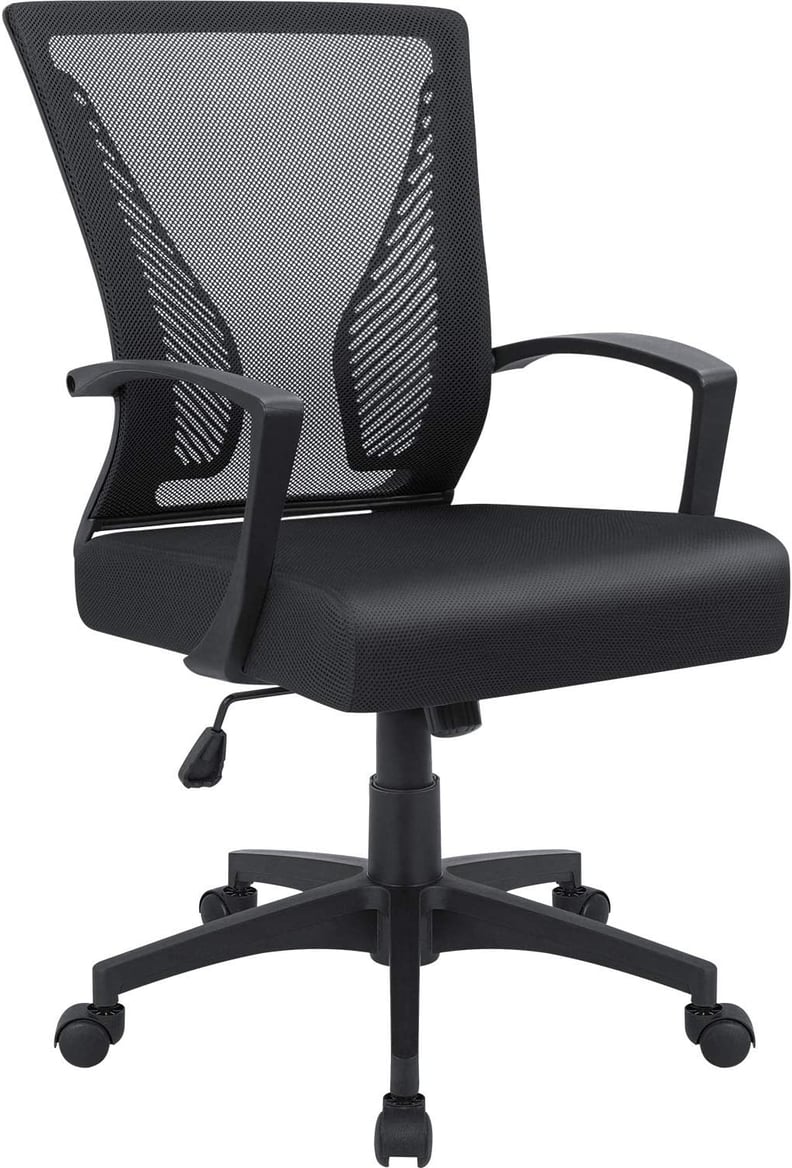 Best Budget Office Chair For Back Pain
Furmax Office Chair ($39)
Upgrading your office setup doesn't have to come at a hefty cost, and this bestselling office chair is proof. The supportive desk chair is great for those who spend hours on end perched in front of a computer because it has an ergonomic design, breathable mesh backrest, and a medium-firm cushion that's made of an elastic sponge material. I love its affordability and the fact that it's available to shop in more than five different colors — though I do wish the model also had adjustable arm rests.
02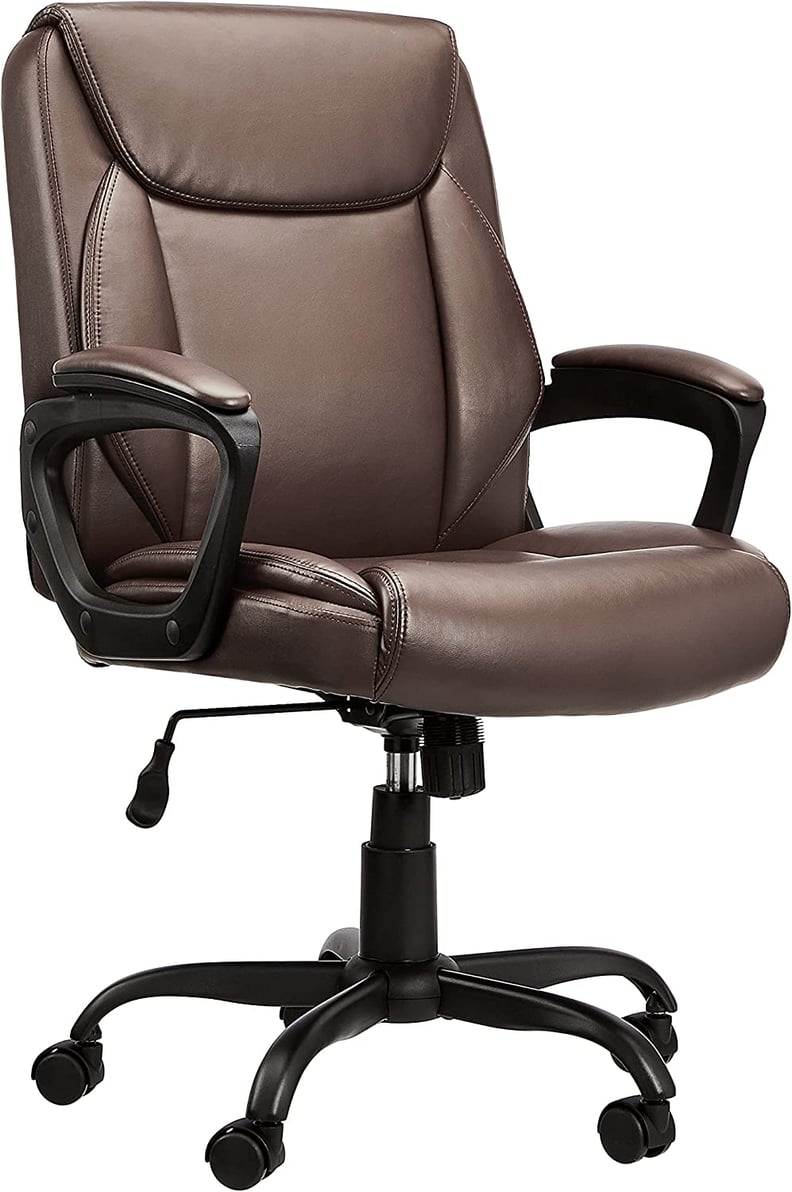 Best Overall Office Chair For Back Pain
Amazon Basics Classic Puresoft Padded Mid-Back Desk Chair ($84, originally $89)
If thousands of five-star Amazon reviews are any indication of what's worth buying, then I'd venture a guess that this is one of the best chairs for back pain on the market. This desk chair provides maximum comfort with its padded armrest, ergonomic design, and movement-friendly caster wheels. Whether in a home office or conference room, this is a piece you'll be glad to sink into during the workday.
03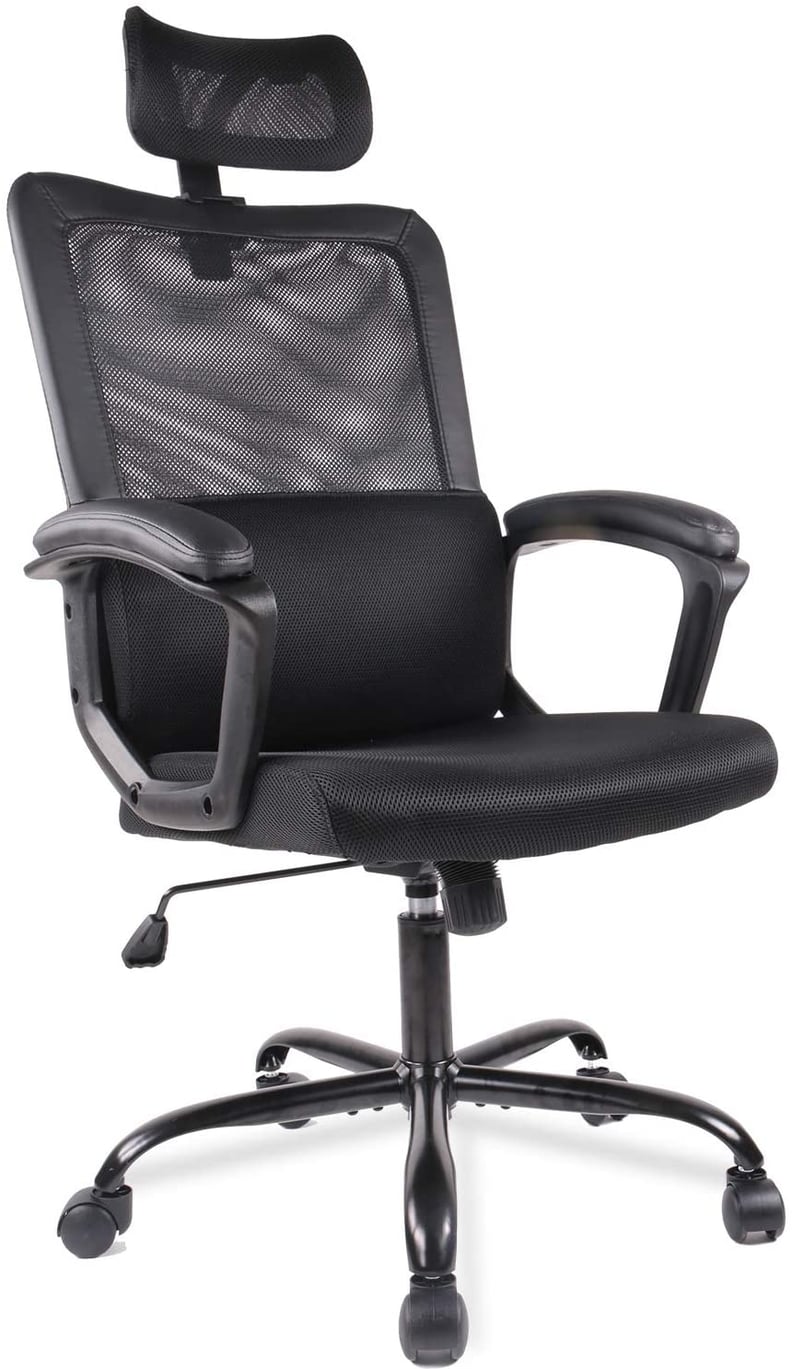 Best Office Chair For Long Hours
Ergonomic Office Armrest Chair ($140, originally $147)
This Amazon bestseller boasts more than 4,000 near-perfect reviews that all speak to the product's supportive nature. This is a great computer chair for back pain because it has plenty of cushioned support on the backrest, plus the model's arm rests and adjustable seat allow users to make it their own.
04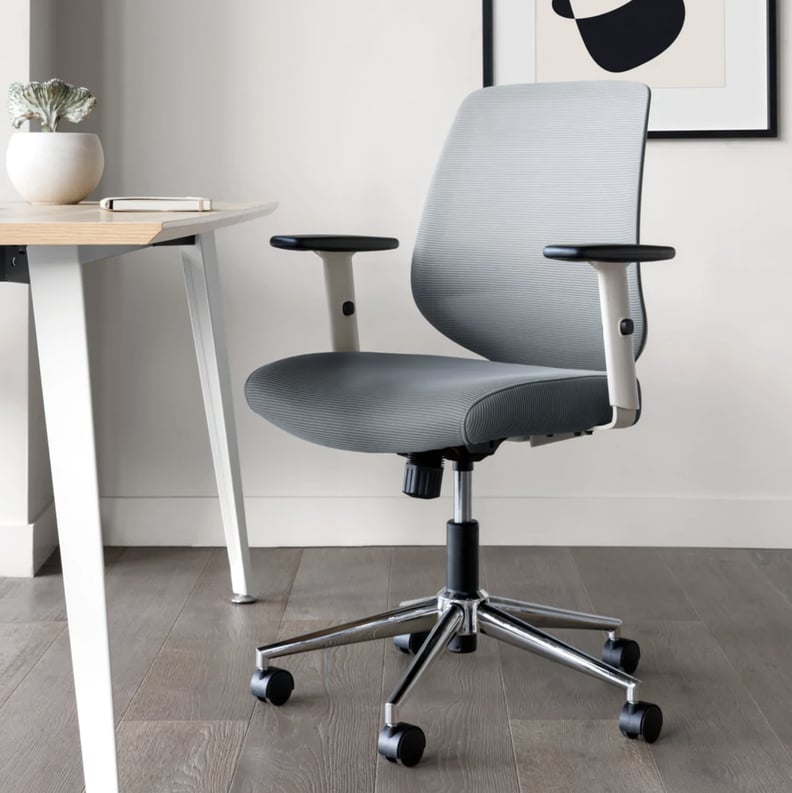 Best Lumbar-Support Office Chair
Branch Daily Chair ($249)
Whether you're working from home full time or a couple days a month, this lumbar-support office chair is a great investment. It has a medium-firm cushion, which is ideal for a few hours of consistent work. The contoured backrest also allows for more natural movement throughout the day, so you can readjust your position and posture with ease. It's a bit shorter than other models, so if you're looking for a piece that can support the upper back and neck, I'd recommend shopping other styles with a taller backrest.
05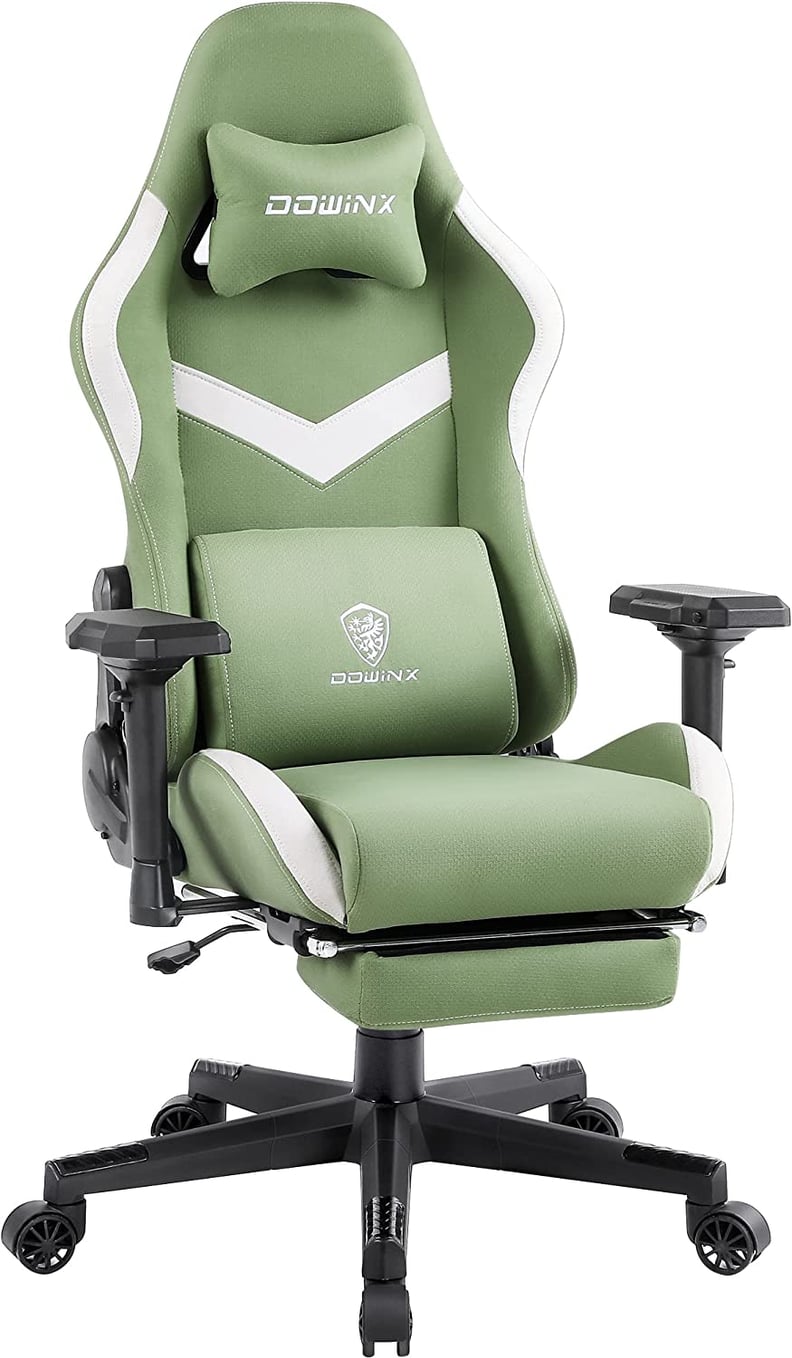 Best Posture Chair For Back Pain
Dowinx Gaming Chair ($190, originally $250)
If you're looking for an office chair that comes equipped with all the fancy bells and whistles, this model is definitely your best bet. The rolling desk chair has wheels that glide across hardwood floors, thick carpeted spaces, and more. The furniture piece is made from a sleek nylon material that's cooling and breathable, allowing you to feel comfortable in warmer temperatures or stuffy office environments. The sunken-in pillow accent and extra cushioning up top provide an extra layer of support for your body's most vulnerable and pain-prone areas.
06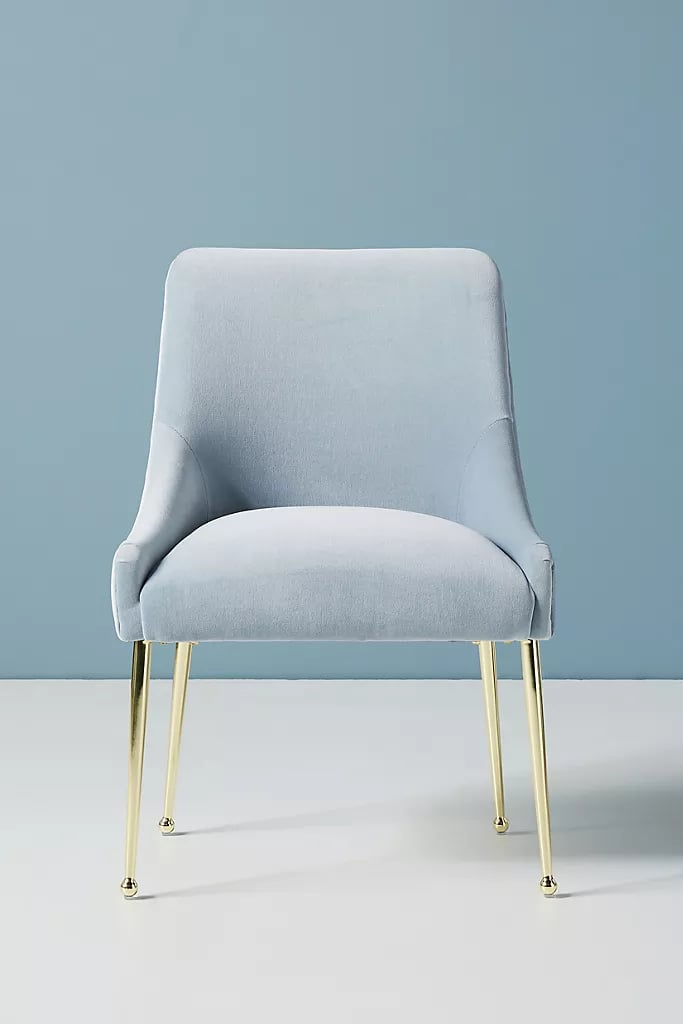 Most Stylish Office Chair For Back Pain
Valencia Velvet Elowen Chair ($498)
Anthropologie might not be your go-to for chairs with lumbar support, but this gorgeous piece proves it should be. Crafted from a buttery-soft velvet material, the accent piece feels luxe from the moment you first sit in it. The product's seat is made of a foam material that feels firm yet comfy on your lower back. The baby blue color is so dreamy and versatile, making this a piece that can fit in with your home office space even if you switch up the design aesthetic.
07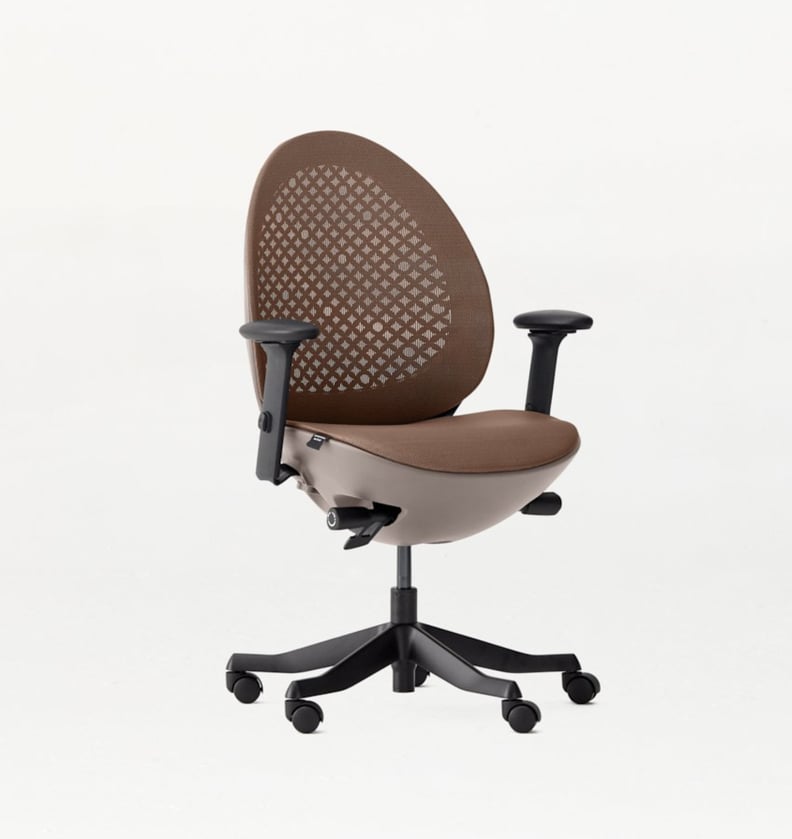 Best Office Chair For Lower Back Pain
Autonomous AvoChair ($499)
This unique desk chair is so comfortable, you'll actually feel excited to log on for work each day. Nearly every aspect of the product is adjustable, from the height and armrest to the back tilt and overall tension, making it a great office chair for those who need to address a wide range of needs. I also love that it's manufactured from recycled materials, so it's a product that I can feel good about having in my home office.
08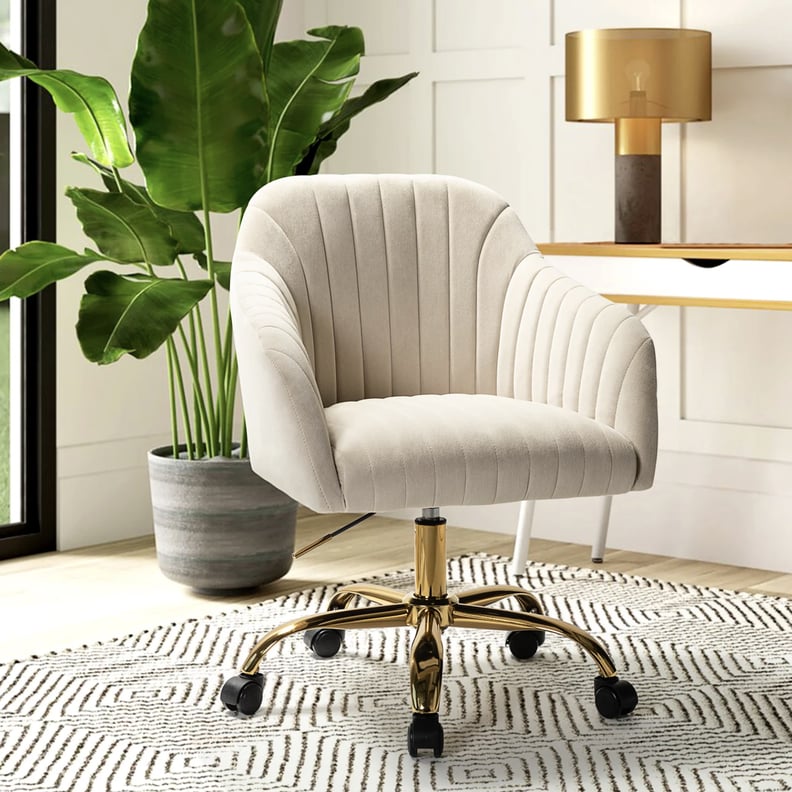 Most Comfortable Desk Chair
Etta Avenue Adan Task Chair ($185)
A lot of desk chairs with lumbar support feel like they cater to comfort while skimping out on style, but this swivel piece is the best of both worlds. The chair has a soft velvet upholstery that's so chic and won't irritate skin, and its wheeled base is easy to move around, even on carpet surfaces. Unlike other supportive office chairs, this model has a lower design that's less likely to provide support for your entire back. If you're looking for the best office chair for upper-back pain or neck discomfort, it might be worth seeking out something taller.
09
Best Home Office Chair For Back Support
BestOffice PC Gaming Chair ($45, originally $50)
You don't have to be a bonafide gamer to love the look and feel of this comfortable desk chair, but according to the thousands of five-star reviews, it certainly helps. This ergonomic office chair has built-in lumbar support, upholstered leather cushioning, a supportive head rest, and height-adjustable capabilities. If you're looking for the best office chair for long hours, this is it.
10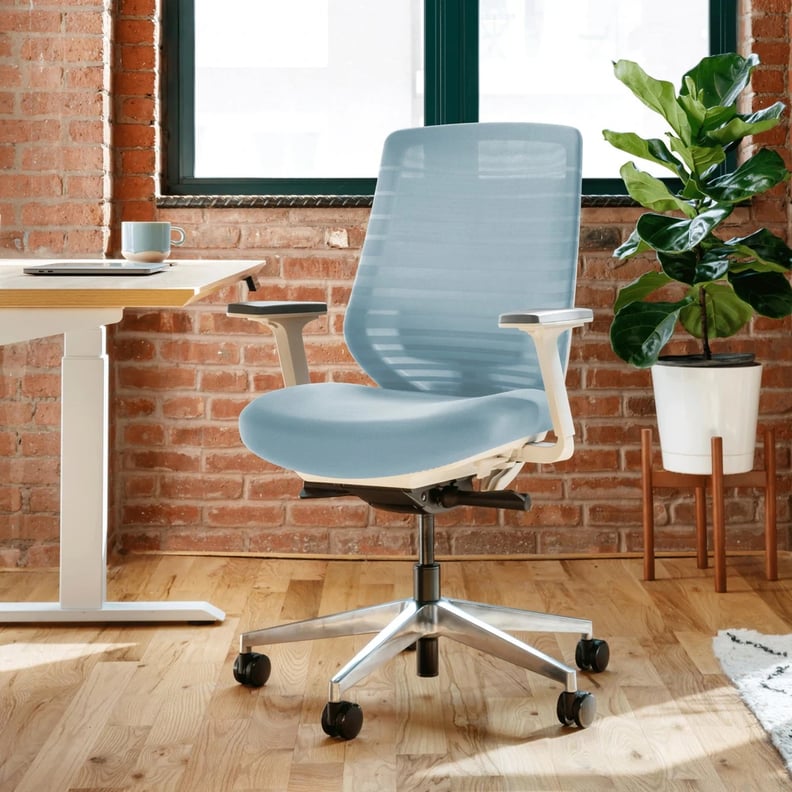 Best Ergonomic Chair For Back Pain
Branch Ergonomic Chair ($296, originally $329)
With more than 3,000 positive reviews, this model from Branch is one of the best ergonomic office chairs you can buy online right now. Unlike other styles, this chair is great for your back because it features eight different adjustment points, providing a more universal range of support for all users. Besides the piece's functionality, I love that it's also more compact versus a traditional gaming chair, meaning it could fit underneath a lower desk or even in a more confined office space. With more than eight different color options, there's so much to love about this comfortable office chair.