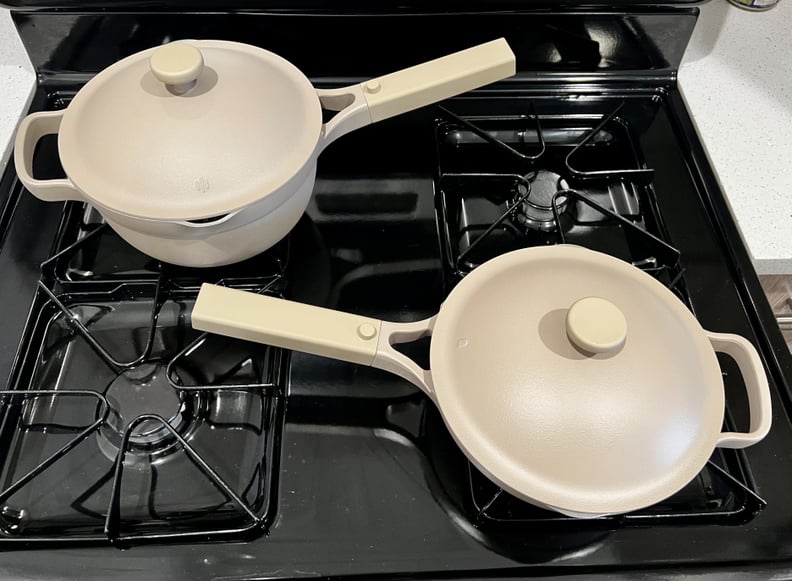 POPSUGAR Photography | Anvita Reddy
POPSUGAR Photography | Anvita Reddy
As POPSUGAR editors, we independently select and write about stuff we love and think you'll like too. If you buy a product we have recommended, we may receive affiliate commission, which in turn supports our work.
My fellow POPSUGAR editors and I can't stop raving about the original, internet-famous Our Place Always Pan — and the new Cast Iron Always Pan has made quite the impression too. Even Selena Gomez is a fan of the cookware brand. The singer–actor/beauty-brand founder has her own collection with Our Place. (You can even spot some of it on her HBO Max cooking show, "Selena + Chef.") Our Place has found a home in my kitchen cabinet. I use my Always Pan regularly to cook my meals for the week. However, once I got my hands on the mini version, it's been my go-to for almost every meal. The only exception is when I need to use the Mini Perfect Pot ($93, originally $125). The Mini Always Pan ($86, originally $115) and Mini Perfect Pot are the cooking duos that made my kitchen adventures (and cabinet storage) streamlined and convenient.
What I Like About the Our Place Mini Pan Set:
With the Mini Home Cook Duo ($179, originally $240), I have most of my cooking needs taken care of. It's ideal for personal-size meals. With bigger cookware, I make more food than needed and, as a result, have a fridge stocked with leftovers. I'm only cooking for myself at the end of the day, so having something smaller is a better fit for me than something bigger. Plus, I live in an apartment with limited storage space, so anything that can fit in the constraints of a narrow kitchen is a win for me.
The nonstick coating is just as good as the original version. The slip makes my food glide across without much oil or butter. The nonstick is so good I haven't had to deal with stuck-on food issues with this cookware. I was hesitant to get a lighter color because of how turmeric can easily stain, but I've used the duo for several weeks now, and they look good as new. The set comes in six fabulous colors, including a beige oatmeal shade, a muted earth-green shade, a dusty gray–blue shade, a warm dusky-coral shade, a dark charcoal-gray shade, and a soft light-purple shade.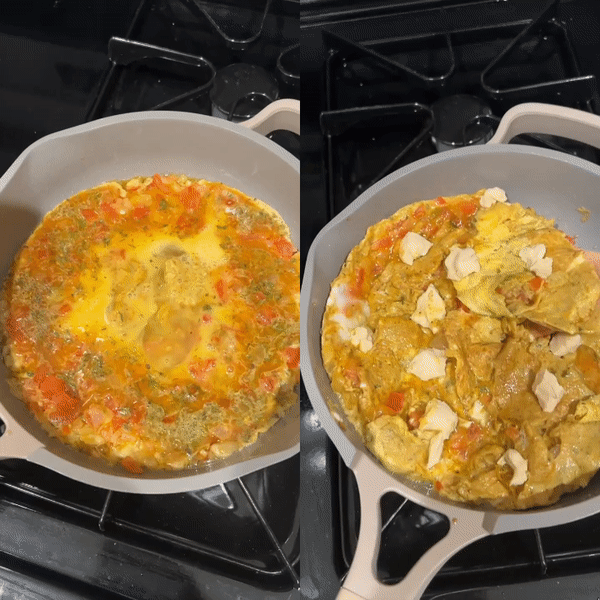 The Mini Always Pan and Mini Perfect Pot ensure that I never cook too much or too little; I get to make the right amount just for myself. With the Mini Always Pan, I can easily whip up morning eggs or a cheesy omelet just for myself without worrying about the egg being spread too thin.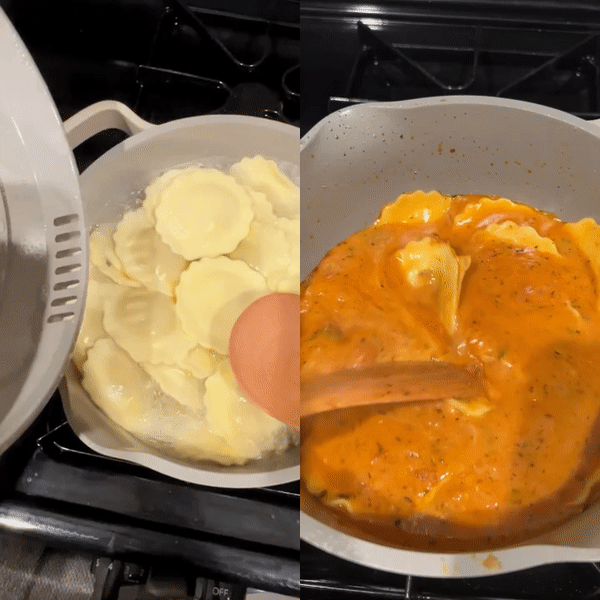 With the Mini Perfect Pot, I can make a one-pot pasta with just the right amount of ravioli and sauce ratio, perfect for dinner and lunch the next day. The lid of the mini pot has a built-in strainer that makes it easier than ever to strain out pasta water. Both the mini pot and pan have functional lids that make the cooking experience so much more convenient, including a gap that lets out steam when needed and serves as a place for a spatula or spoon to rest. From providing the right serving sizes to the lightweight feel, cooking for myself has never been easier.
What's Worth Noting About the Our Place Mini Pan Set:
The Our Place Mini Pan and Pot set are very similar to their original counterparts. The nonstick surface is one of the best on the market with incredible slip, and both the pot and pan can do it all, whether it's frying, boiling, braising, searing, sautéing, or more. Both come with beechwood spoons along with an integrated spoon rest. Unlike the original counterparts, the mini versions do not come with the nesting steamer basket and colander or roasting and steaming rack. The Mini Perfect Pot has a long handle, just like the original and Mini Always Pan.
The biggest difference comes down to the sizes. The original Always Pan is 10 inches in diameter with a 2.6-quart capacity, whereas the Mini Always Pan is 8.5 inches in diameter with a 1.2-quart capacity. The original Perfect Pot is 10 inches in diameter with a 5.5-quart capacity, whereas the Mini Perfect Pot is 8.5 inches in diameter with a 2.5-quart capacity. The mini versions are great for those who only have one to two mouths to feed.
The best part about Our Place's cookware is the nontoxic, nonstick coating. To make it last longer, you have to care for it properly. It's best to use nonmetal utensils when stirring your food to avoid damaging the coating. You should also hand wash gently with a soft sponge and soak if necessary to avoid being abrasive. The pot and pan heat up quickly, so I tend to cook on low to medium heat, especially since I have an open-flame gas stove.
Who the Our Place Mini Pan and Pot Set Is Best For:
The mini versions of the Our Place Always Pan and Perfect Pot are the ideal sizes to make just enough for two people or myself and next-day leftovers. Whether you're a new cook or a bona fide chef, the mini versions are so convenient for everyday use. I recommend them to anyone who is just starting out in their cooking adventures since they're so versatile. The set pretty much covers all your bases, so you can save space and have a consolidated kitchen.
Is the Our Place Mini Pan and Pot Set Worth the Splurge?
I use the mini versions pretty much daily. It's pretty rare that the cookware is stored in my cabinet and not on a drying rack at this point. Whether it's a cheesy omelet with toast in the morning or a spicy one-pot mushroom ravioli for dinner, the mini versions can help you cook up a storm just like the original Always Pan and Perfect Pot. The only major difference is the portion sizes. I cook for myself for the most part, and if I'm not batch cooking for the whole week, there's no need for me to use something larger than these mini versions. They're worth the splurge if you're looking to invest in quality cookware that you'll use all the time. Plus, they're cheaper than the original Always Pan and Perfect Pot. So, you can see what the hype is all about without having to pay that much.
Where Is the Our Place Mini Pan and Pot Set Available?
The Our Place Mini Always Pan and Mini Perfect Pot are available on the brand's site as well as the Mini Home Cook Duo.
Rating:
★★★★★