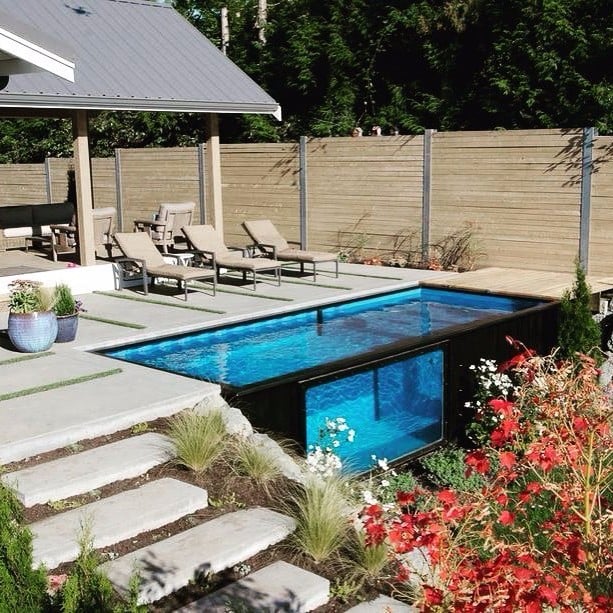 During these hot Summer months, what could be more convenient than taking a dip in a cool, refreshing pool located right in your backyard? We know, the idea sounds pretty amazing, but you might be thinking about one very common issue: "I don't have enough space for that!" And while we agree that having enough square footage is a totally valid concern, what if we told you that there is a way to beat the heat with pools that are made for smaller outdoor areas? Read on as we break down our eight favorite pool ideas that are perfect for those of us with smaller yards.
Patio Pool
Want to maximize your small patio space? Consider this clever-as-can-be option. Not only will the pool be great for taking a swim, but the remaining patio space is perfect for housing a few loungers, a bench, or even a small table. This is nothing short of a win-win.
Palette Pool
A cool palette pool is definitely the way to go when you have both style and affordability in mind. You can even construct steps out of palettes to make it easy to dive into this ultimate backyard oasis.
Plunge Pool
Get resort vibes every day when you install a plunge pool in your backyard or patio. These exotic tiny water holes are just big enough to take a dip and cool off.
Stock Tank Pool
If you are daydreaming of a pool for your small backyard but don't want to spend an arm and a leg, a stock tank pool might be your best bet. With an affordable price tag and a galvanized farmhouse-look to boot, you could be chilling in your own personal pool by the weekend.
Stock Tank Pool With Built-Ins
The original stock tank pool is smart and accessible, but if you wish to turn up the volume, consider a stock tank pool with a surrounding built-in. This option still works fabulously in smaller outdoor spaces but offers a little bit more of a cozy feel — not to mention, you'll have a convenient place to put your drink.

Shipping Container Pool
If you wish to leave a smaller footprint, consider investing in this quirky option. A shipping container pool is not only a green alternative to more traditional models but can also be set up in minutes. Plus, think of the Insta pics you could get with that side window!
Inflatable Pool
Inflatable pools definitely aren't just for kids anymore! These days, there are tons of adult-friendly options that are a quick fix for even the hottest Summer days. Plus, if you are concerned about space, this option is super convenient with setup and breakdown.
Traditional Pool
A traditional pool might seem like it is out of the question for your small yard, but since this option is super customizable, it can be tailored to many different spaces and needs. And while it might be one of the more costly options, you will be guaranteed a lifetime of cool Summers ahead.