Letting your family's football-lover take over the television this Thanksgiving (and every Sunday and Monday for the next few weeks) can have its perks — and no, we're not talking about futbol, we're talking about American football for once! Some of the players from your favorite NFL teams are not only proud Latinos worth cheering for but also happen to be extremely easy on the eyes. Keep scrolling to discover a few more hotties . . . eh, reasons to tune in to football this season. Warning: some players may cause extreme temperature rises.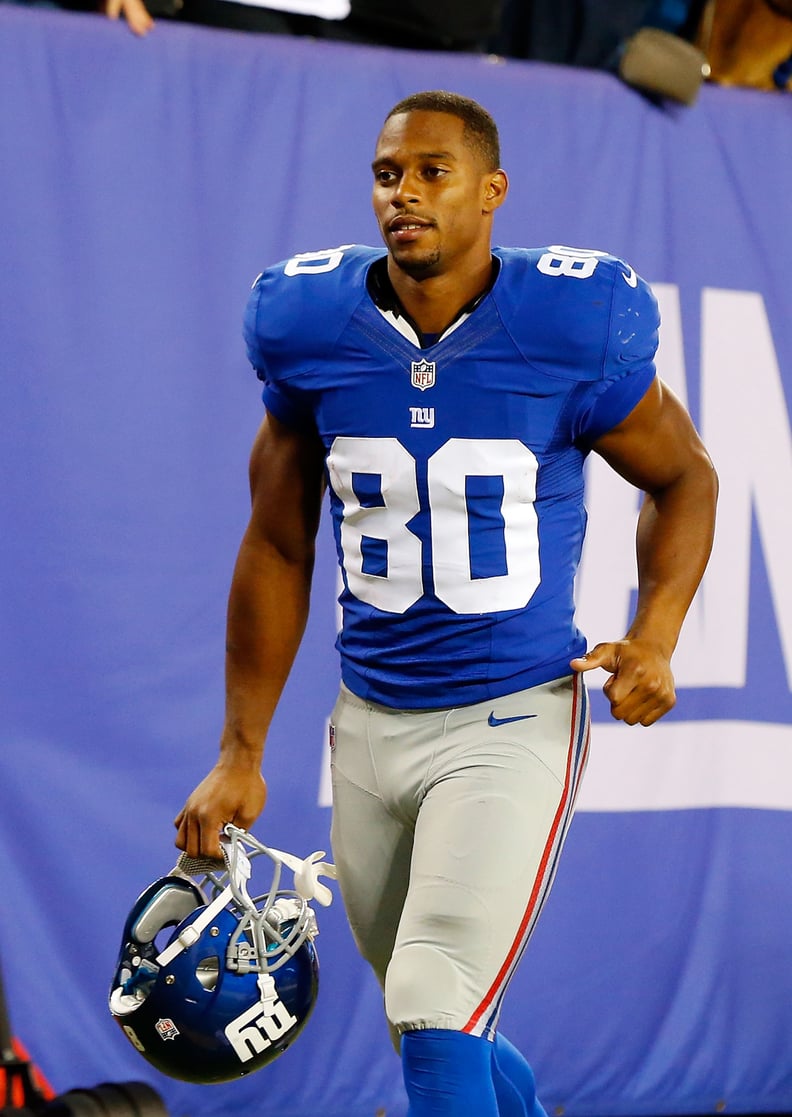 Victor Cruz
The Giants wide receiver is both talented and adorable — but we love him most for proudly displaying his Latino pride whenever he scores a touchdown, showing off his now-famous salsa dance in the end zone. "It's embedded in me," the Puerto Rican baller told NJ.com in June of his Latino background. "From the food that I eat, to the way I carry myself to the way I speak Spanish. The pride that I have in it is indicative everywhere you go, most importantly on the field, which is where you see it."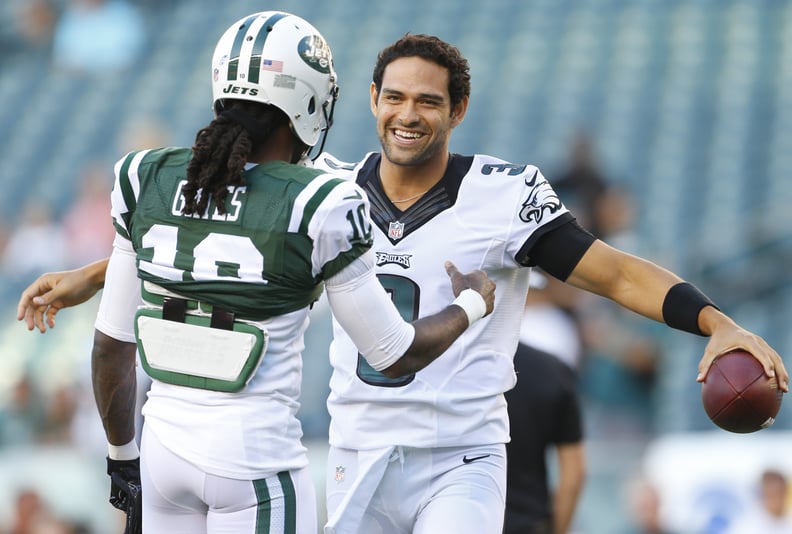 Mark Sanchez
A quarterback for the Philadelphia Eagles, Sanchez has earned the adoration of female fans everywhere thanks to his dreamy eyes and Hollywood hair (oh right, and he has a great arm, too). The player once told the NFL Network about encountering racism as a Mexican-American football player at the University of South California: "I got hate mail at school, saying, 'Go back to Mexico. We don't want you here.' Yes, I'm Mexican, but I'm an American — a place where we can celebrate our culture. Whether we're German or Italians or Chinese — everybody can celebrate their own culture."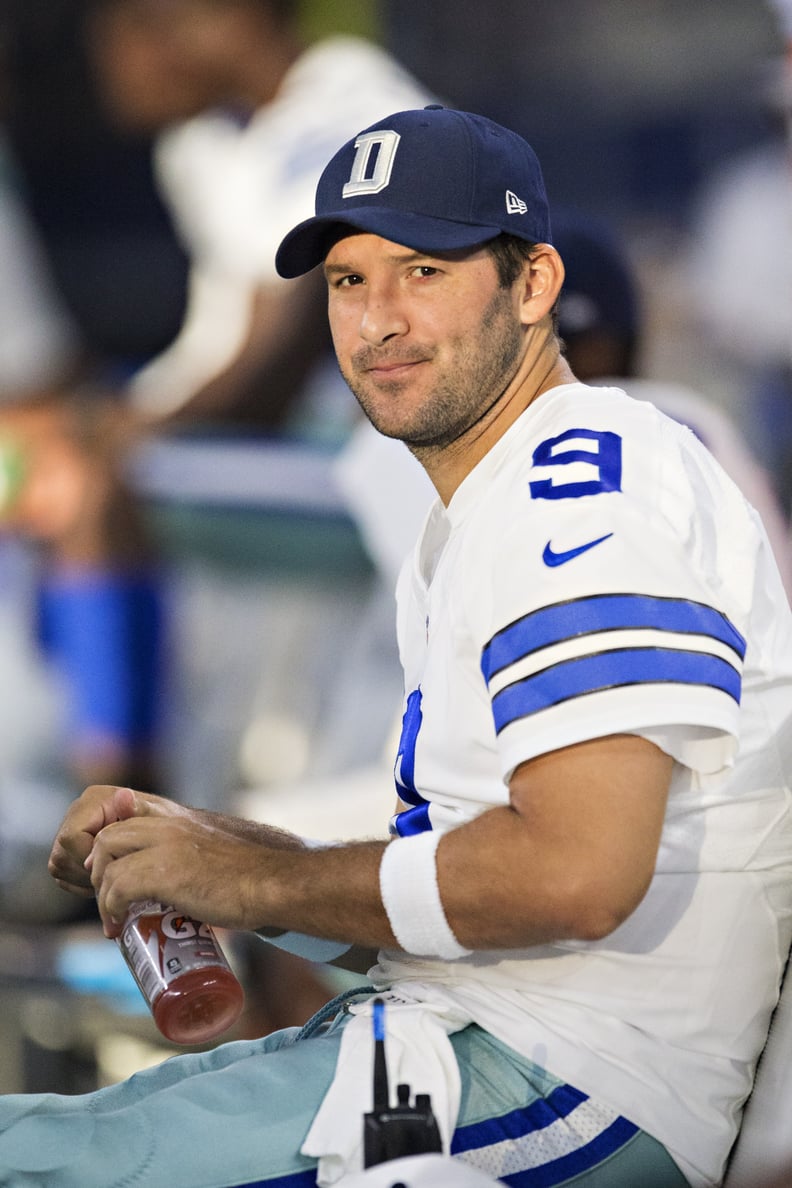 Tony Romo
Did you know that the quarterback for America's team is third-generation Mexican? Aside from his quarterback skills, the tall drink of water ended up with the Texas franchise partly because of his background. "[Then-coach] Bill Parcells and I thought he was Italian," general manager Jerry Jones told a local radio station in 2013. "Then we found out that his grandparents were from Mexico. We couldn't have a better quarterback with a background of Hispanic for the Dallas Cowboys."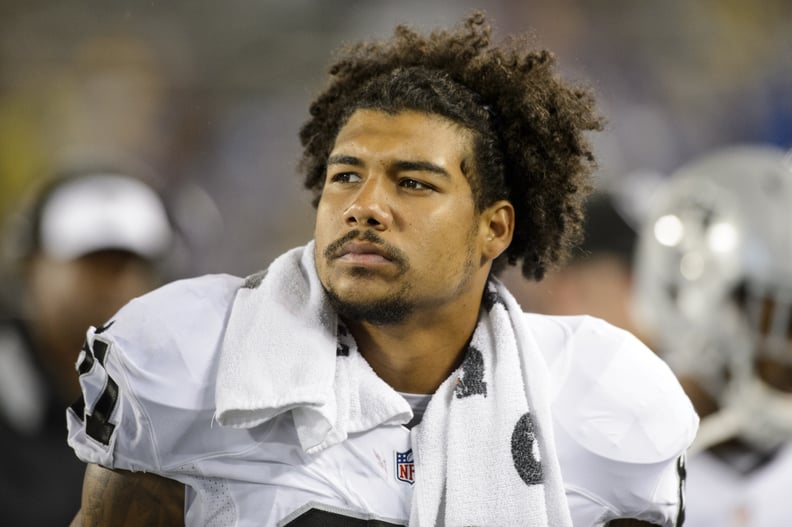 Mychal Rivera
Rivera is a tight end for the Oakland Raiders — and if his last name and adorable baby face seem familiar, it's because the Puerto Rican baller is the younger brother of Glee and Devious Maids alum Naya Rivera. The duo's mom is African-American and German, and their father is full-on Boricua. While Naya was singing on TV, Mychal was drafted by the NFL in 2013. Now that's a talented family!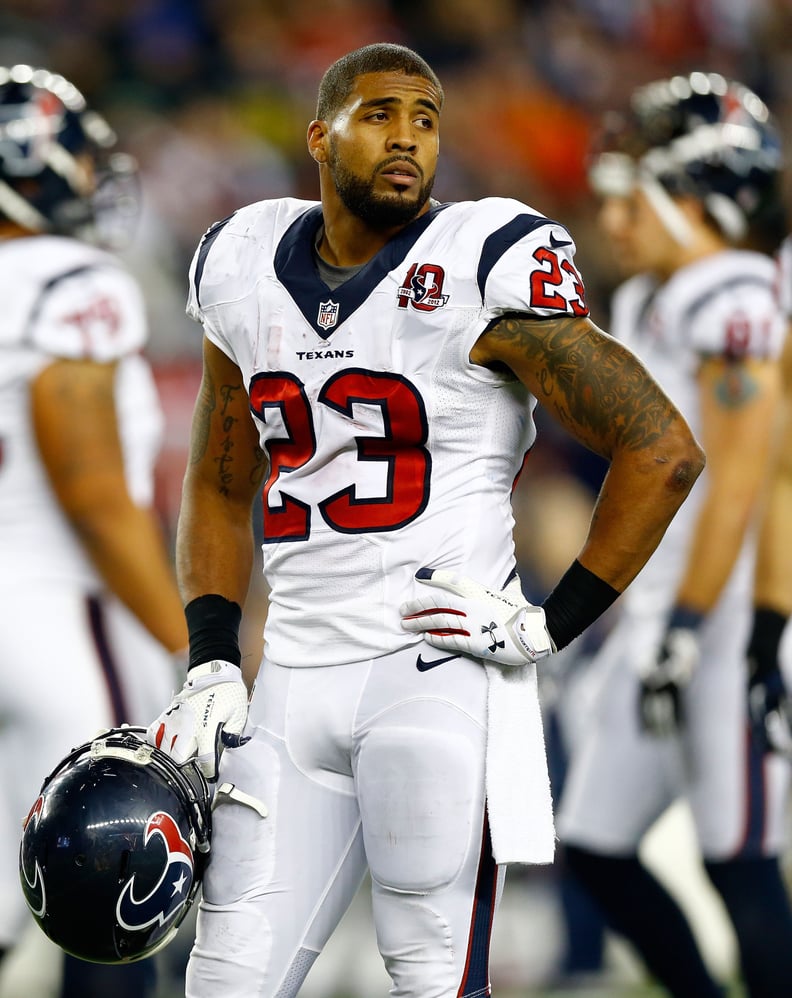 Arian Foster
The Houston Texans running back is known for his charm and megawatt smile. But not every football fan knows that Foster is half African-American, half Mexican-American. His mixed background caused a few hurdles for him growing up, he told ESPN in 2011: "I remember having an identity crisis and always swaying back and forth on what crowd should I be a part of because most of my friends were Mexican." But Foster turned out just fine, now considered one of the best players in the league and holding the Texans franchise records for most rushing yards and touchdowns.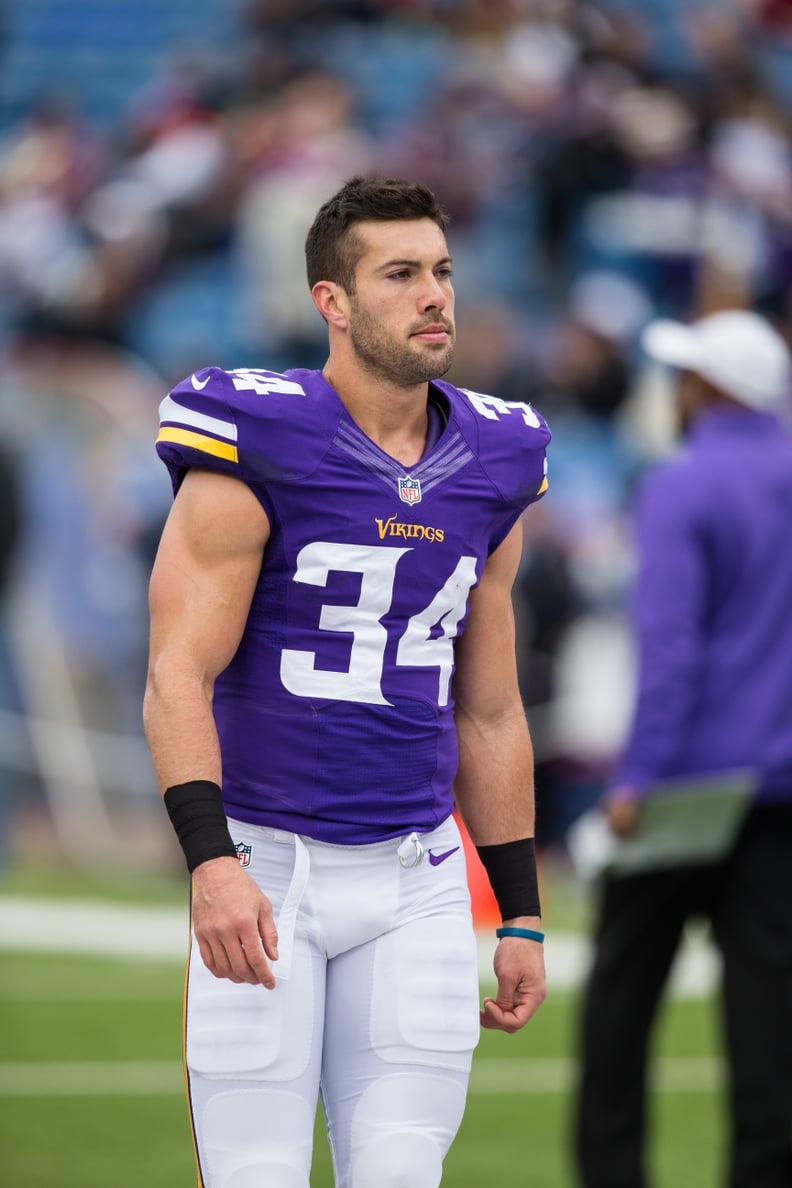 Andrew Sendejo
The Minnesota Vikings' strong safety is of Mexican descent. While we're obsessed with the fact that the San Antonio native is proudly Latino — supporting his team yearly by participating in Hispanic Heritage month events — we have to admit we're a liiiitle bit distracted by those muscles. And that beard. And those muscles. (Bonus: he's been photographed with Channing Tatum. You're welcome, readers.)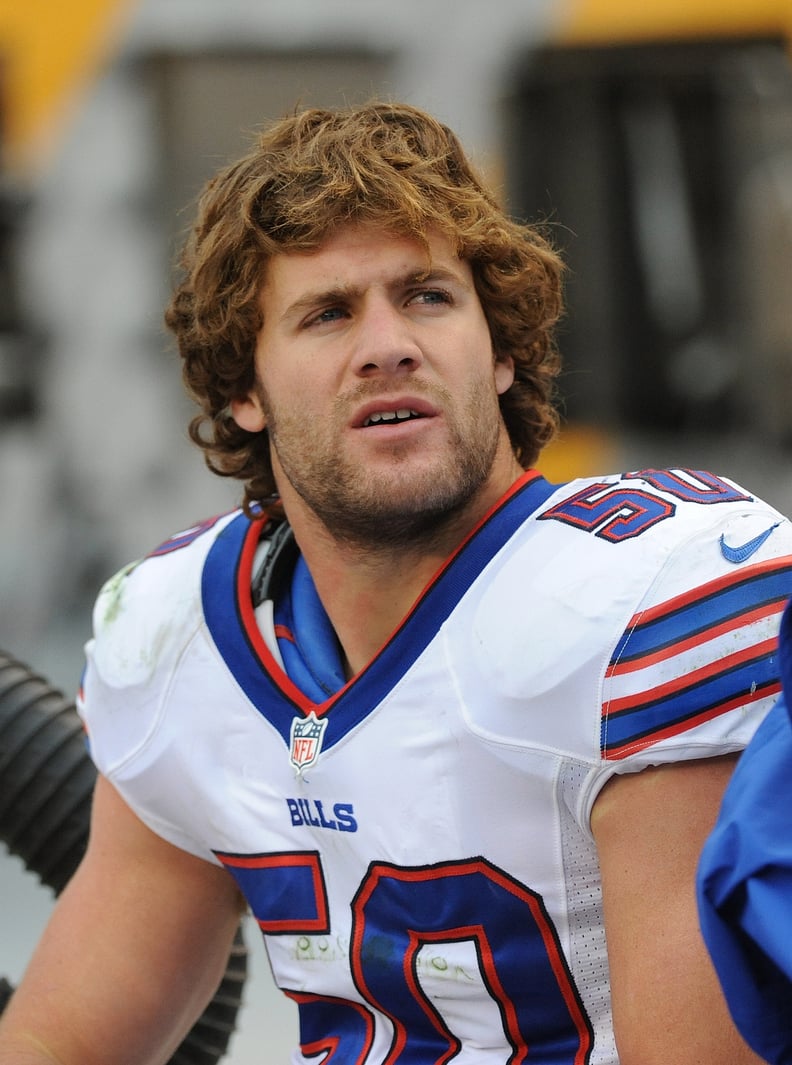 Kiko Alonso
The son of a Colombian mother and a Cuban father, Alonso is a linebacker for the Philadelphia Eagles (with fellow Latino Mark Sanchez). The Spanish speaker and Los Gatos, CA, native often makes it a point to give time to Spanish media and even tweets and Instagrams in Español. "My parents' first language was Spanish," Alonso said to Fox News Latino in July. "They thought it was important to have me growing up speaking both, and they didn't stray from that." Oh, and according to his Insta, he's just as obsessed with plantains and avocado as we are. A man after our own hearts.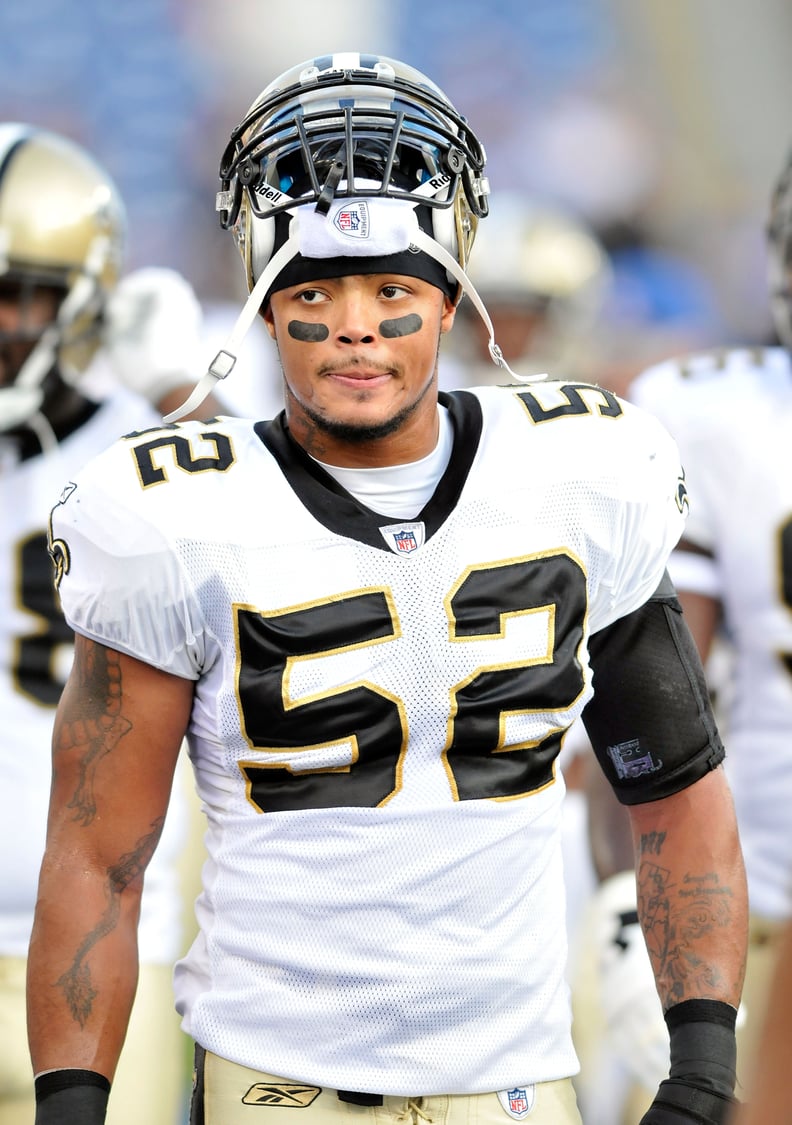 Jonathan Casillas
This Puerto Rican cutie joins fellow Boricua Victor Cruz on the New York Giants roster. Aside from football, his adorable kids, and shirtless yoga (see for yourself!), one of the linebacker's passions is giving back to his community. Last year, the half African-American, half Puerto Rican Giant visited New Brunswick, NJ — where he grew up — to speak to high school students. "I'm Hispanic and I'm in the African-American community," he said to the Asbury Park Press. "Right now, New Brunswick needs as much help with those two cultures. I am trying to do as much as I can."