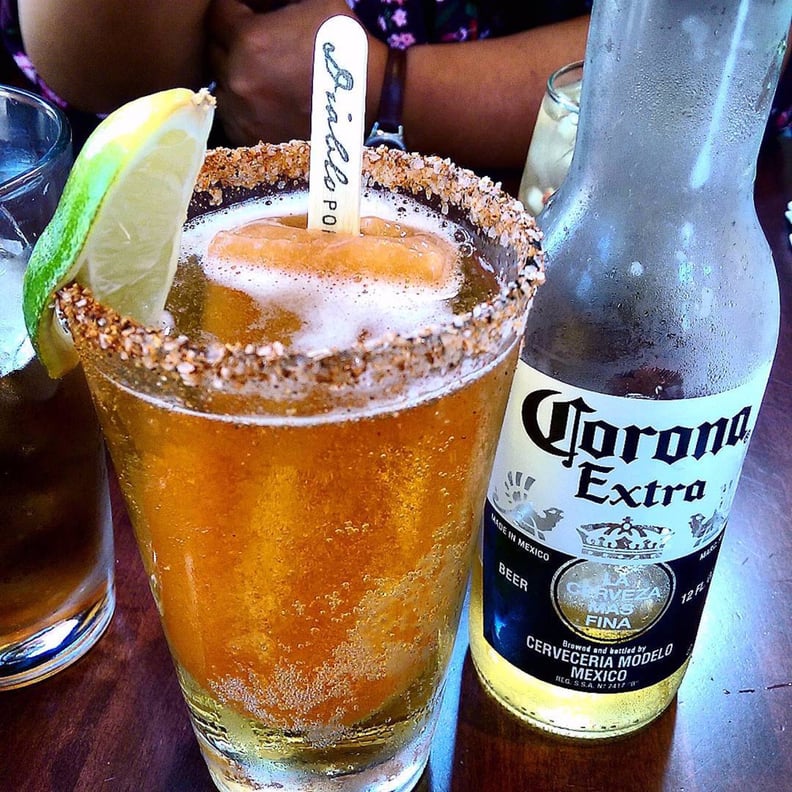 Our favorite hair-of-the-dog cocktail to make even the most dire of hangovers disappear? A michelada, of course. The spicy Mexican drink — typically made with beer, tomato juice, hot sauce, and Tajín — is perfectly tasty as is, but we've just discovered the gloriousness of michelada popsicles, and we're never turning back.
These mouthwatering treats aren't your average pops, as they swap the usual fruity flavors for hotter notes of chili and peppers. If you're already craving michelada popsicles, you're in luck, because they're super easy to DIY in your own kitchen. To make a classic version, blogger Jonathan Melendez of The Candid Appetite suggests mixing Clamato juice, Tajín seasoning, worcestershire sauce, hot sauce, soy sauce, lime juice, and horseradish before pouring the concoction into popsicle molds. Once frozen, your red pops are ready to be dunked in your favorite beer (our personal go-to is Tecate!).
If you don't have a popsicle mold handy (or if you're just too lazy to DIY them and would rather get to sippin' ASAP), we still have you covered — if you live in Southern California, that is. Diablo Pops is a Cali-based company that crafts one-of-a-kind frozen treats in three flavors, one of which is Tomato Lime. These savory pops are sold at a handful of restaurants (including Uva Bar & Cafe in Downtown Disney!) and grocery stores (including Whole Foods and Costco) throughout California. It looks like the founders of Diablo Pops are the first ones to break into the michelada popsicle game, and we think they're pretty freakin' genius for doing so.
If you're not convinced yet that michelada popsicles are about to change up your Summer happy hour, read on to check out a handful of mouthwatering pictures that'll certainly seal the deal (and maybe make you drool a bit, too).