Jordana Brewster's Best-Kept Secrets Will Become Your Life Guide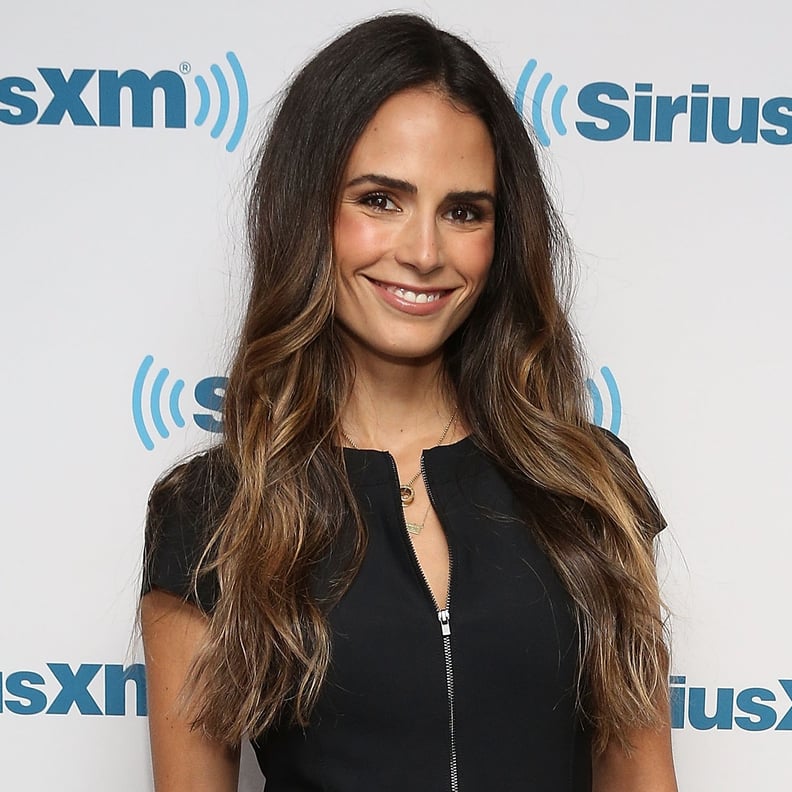 As POPSUGAR editors, we independently select and write about stuff we love and think you'll like too. If you buy a product we have recommended, we may receive affiliate commission, which in turn supports our work.
Every time we meet up with Brazilian actress, mom of two, fitness enthusiast, beauty ambassador, fashion star — we could keep going — Jordana Brewster, we feel like we're chatting with our best girlfriend. It's almost like a life coaching session from the moment Jordana stars delivering her best advice; a life-coaching session in which we actually get easy to follow tips on how to be an overall badass with amazing skin and hair, a happy family, and a growing career. She's so real and, therefore, so are her words of wisdom.
This time, when we caught up with Jordana at a Pond's event in New York City, we were determined to go deeper and really get Jordana to spill the top secrets she swears by but usually keeps to herself. The mission was a success (though, to be honest, she didn't put up a fight) with Jordana sharing the frequent flyer trick we will now always turn to, the organizational must we're already using, and much more. Scroll ahead for her must-read quotes.
The 1 Thing Her Fans Don't Know About Her
"I have a big ol' potty mouth. I think I do. A lot of people don't expect that. A lot of people are like 'what?!' because I look a certain way and I seem delicate or whatever. Having grown up in New York, I just picked it up somehow. I'm like a trucker."
Her Favorite Skin Care Product
"My love for Pond's Cold Cream. It's something that has been in my family for generations. My mom told me about it when I was younger and I would see it in her vanity. The reason I love it so much is that it's so hydrating; it's made of 50 percent moisture so I love it. Sometimes I don't even need to put cream on afterwards, it's like a one-stop shopping and with the kids and being so busy every day I just love it."
"I use it in the morning or I'll use the towelettes that contain the cold cream technology, especially after working out, I just use it to wipe off the sweat and gunk off my face. And then at night, I'll use the cold cream to take off my eye makeup, and it'll take it off, all those layers of makeup that I have on during filming of Lethal Weapon. It takes everything off which is really nice."
Her Multitasking Makeup Trick
"I love mixing a lightweight sunscreen with a little bronzer. I like Dr. Hauschka's bronzer, and Armani makes beautiful foundations that make you look glowy and tan. I think looking glowy and tan year round is so important. I just love it."
"Sunscreen keeps my skin looking great, but like last night I got out of the plane and I was like I've been looking a little blah, so I used self-tanner and then instantly made me feel like 'Aaaw, better.'"
The 1 Thing She Doesn't Do to Her Hair
"I just got highlights so I asked the hairstylist that did them, Nina [Kairouz] at Mare Salon [in West Hollywood], and she recommended Shu Uemura Art of Hair Color Lustre and Urban Moisture collections, so I got everything. I got this deep-conditioning mask [Shu Uemura Art of Hair Urban Moisture Hydro-Nourishing Deep Treatment Masque, $68], which I love and I use once a week."
"I think not washing your hair and not drying it more than like two or three times a week, so then the natural oils just soak in. If you get a good blow out, you really don't need to wash your hair that often. Dirty hair is good to style. If you're going to do a ponytail, dirty hair is great. When I'm working out a lot I do have to wash it more often, but dry shampoo works so well, too."
The 1 Thing She Brings on Every Flight
"I drink a ton of water in flights. Staying hydrating is so important. I also pack my own food for the plane. I never eat their food. I just think there's so much sodium in airplane meals and the last thing you want to feel is groggy and bloated the next day. So I pack oatmeal, nuts, and bars. They are always like 'You're so low maintenance, you don't want anything?' and I'm like no, I really don't want salty food, thank you."
The Trick to Keeping Her Fitness Routine Fresh
"Switching it up. I love, love, love running on the treadmill. I love doing intervals. I love weight training, which is very old school, but then I like mixing pilates-types moves for abs. I work with a great trainer called Harley Pasternak, who I adore."
"I have no choice but to incorporate my kids into my workout. Julian will fully come into the gym and I'm just like 'OK, we're going to put a cartoon on and and he'll sit near me and my husband. It's good because we're giving him a good example. He's so cute."
How She's Adapting to Having 2 Kids
"Having family in town helps me immensely, because my mom can babysit. My sister is like down the street with her kids so we're like 'come over for bath time.' We'll make mealtime communal, and it's just so much easier to handle four boys when you're together. You have a united front. That helps me a ton."
"I'm working on just being easier on myself, because there are some weeks when I feel like an amazing mom, but not such a great professional, and then some weeks I feel like a good professional, but then not the greatest mom. So just being able to navigate those waters and taking it in strides."
"I try to spend as much time with the kids as possible, but I kind of love being busy, like when I'm idle it's not great. I don't know, I think it's great for kids to have working moms and I'm so lucky in that my career when I'm working it'll be 12 hours at a time, but when I'm not working I get to be completely devoted to home."
The Tool That Keeps Her Organized
"I was really into planners when I was in school and then I was a little laid back, but now I have to be that way again. I have a calendar in the kitchen with everyone in a different color. I'm pink, Julien is red, Rowan is green, Andrew is blue, and all our appointments are in the calendar. And right now I have a mini datebook. I don't like electronic reminders. It needs to be tangible."
The Secret Behind Her Instagram
"When I'm not inspired, I don't post, but then all of a sudden I'll be really inspired and I'll post a lot. I didn't post for a week, and today I posted like 5 pictures. I never post just for the sake of posting. That helps keep it fresh."
"I love Snapchat filters because they are super fun, but I never FaceTune. A filter is enough or I just make sure I take a picture at a good angle."