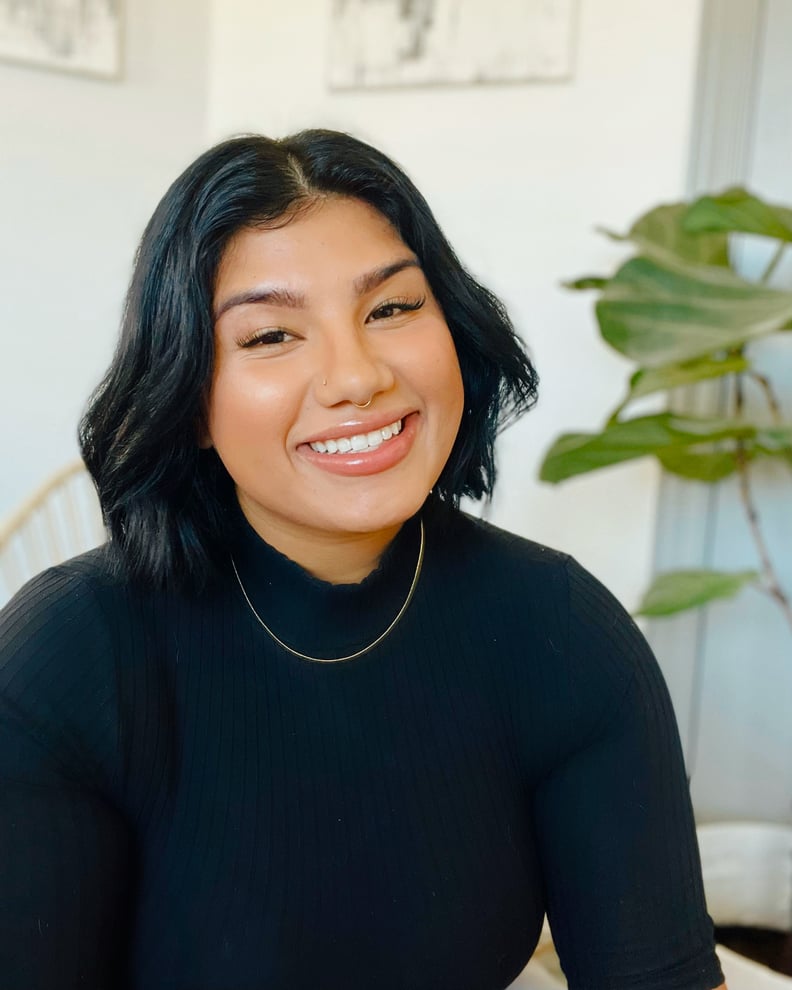 Lea Landaverde
Financial conversations aren't necessarily easy to approach and can feel intimidating. Between investing (in an IRA, Roth IRA, or 401K — even stocks and properties) and creating passive income streams to pay down debt and accrue wealth, money-management tips can overwhelm even the savviest spender. However, for certain communities, the hesitancy that comes with diving headfirst into financial literacy is warranted.
There's a number of reports showcasing wage and income disparities among Latinxs, which are tightly connected to systemic issues like gender-based discrimination, racism, and xenophobia, to name a few. According to the Federal Deposit Insurance Corporation, 30 percent of low-income Latinx households are unbanked, meaning they don't have access to a traditional bank account. Around 30 percent are underbanked, which means they have a bank account but use alternatives such as check cashers or payday lenders. These obstacles prevent them from obtaining financial stability, let alone building generational wealth.
Meanwhile, Latinas earn $0.57 for every dollar paid to white, non-Hispanic men, according to the National Women's Law Center. The wage gap translates to a shocking loss of $1,156,440 over a 40-year career. While the gaps impacting the community will take an overhaul of the system, there's a growing number of Latina financial educators who are determined to authentically share their financial hiccups and show the community step by step how to overcome generational financial trauma and generate wealth. Here, we're sharing six wealth-building experts to follow.
Carmen Perez
Carmen Perez knows firsthand what it's like to live paycheck to paycheck — and the heavy debt load that comes with it. After accruing approximately $57,000 of debt, the founder of the financial education platform Make Real Cents implemented a zero-based budget, meticulously allotting every dollar of her pay to a budgeting category. She took on a side hustle for extra income and created a plan that led her to pay off her debt in two years and nine months. Her "been there, done that" approach to financial literacy provides a real dose of money management.
Delyanne Barros
Former-attorney-turned-money-expert Delyanne Barros, widely known as Delyanne the Money Coach, is a leading voice in the world of money management. Not afraid to transparently share her financial journey — $150,000 in debt to self-made millionaire, corporate cog to an investor, and on track to retire early by 45 — Barros is encouraging (and educating) Gen Z and millennials to bet on themselves to reach financial freedom. She boasts thousands of students enrolled in her Slay the Stock Market course. The entrepreneur hosts the CNN-produced podcast "Diversifying," a candid conversation about cash and the systems that impact its flow.
Jannese Torres-Rodriguez
All it takes is one situation to place you on your aligned path. Shortly after launching her food blog, Delish D'Lites, Jannese Torres-Rodriguez was laid off. Though unexpected, it allowed the accidental entrepreneur to immerse herself in all things blogging, which would eventually be her ticket out of her 9-to-5 as an engineer eight years later. Torres-Rodriguez, whose side hustles paid off over $39,000 in student loans in 17 months, has begun implementing FIRE (Financial Independence/Retire Early) strategies into her finances. She touches on a number of topics related to wealth building in the Latinx community on her well-known podcast, "Yo Quiero Dinero." You can visit her site for gems on thriving financially.
Katia Chesnok
When Katia Chesnok couldn't find wealth-building resources that resonated with her experiences or were powered by educators that looked like her, she taught herself how to reach her financial goals. Chesnok's process to financial freedom, paying off nearly $40,000 in debt in 18 months, is documented on economikat.com. She continues to share money-management insights and practical investing advice regularly. In a recent Instagram Reel, she shared, "When I realize I'm the oldest daughter, first-gen, & the one in charge of generational wealth & breaking generational curses . . ." We can relate!
Lea Landaverde
A first-gen queer Latina, Lea Landaverde began her career in finance at 15 and, now at 24, has her own financial coaching practice, The Riqueza Collective. With a core focus on people of color — even more so women of color — Landaverde is committed to breaking generational curses to build generational wealth. In addition to sharing financial literacy via her social media platforms, the self-proclaimed Master of Finance is also providing money tips on her podcast, "Mi Riqueza Podcast."
Rita-Soledad Fernández Paulino
As an avenue to create community around financial goals, Rita-Soledad Fernández Paulino created Wealth Para Todos. The former math teacher turned personal-finance enthusiast candidly shares how their upbringing has impacted her mindset around money and the work they've done to pay off roughly $23,000 in student loan debt and map out her family's early retirement plan, among other investments in their future. She and her husband are on track to become work optional at 47 and show BIPOC, women, and LGBTQ+ people how to do the same. "I wanted to prove that the children of immigrants could reach financial independence. I sought to become the representation I lacked growing up," Paulino shared.