It Took Me a Whole Weekend to Process Maluma's Show at MSG, Because It Was Just Too Much and J Lo Showed Up!
It was Friday night, and for the first time in a while, I actually put on decent clothes and a significant amount of makeup for a man — I usually do that for myself. But when you're going to see Maluma at Madison Square Garden, you have to pull out all the stops. It was the second time he had sold out the venue and the second time a Colombian artist had sold out MSG in less than a week, after J Balvin's show the Sunday before.
It was a night of celebration. From the moment you got to your seat, you were greeted by a mix of some of the best Latin hits that had everyone dancing right from the beginning. On the screens, you could see a recap of Maluma's time at the Hennessy Maison in France, as he became the newest ambassador of the world's finest cognac, since he's an artist who embodies the "never stop, never settle" mantra that Hennessy is known for. It was hard to take my eyes away from the screens because Maluma was wearing an all-white ensemble that made him look like the father of my future children.
But what made me realize he was really "the one" (sorry, Natalia Barulich, his actual girlfriend!) was when he came out on stage and you could see his face light up with gratitude and humility, like he couldn't believe he had actually sold out Madison Square Garden, even if he had done it before already. He began his show with "Mala Mia," accompanied by an all-female dance troupe who deserve their own recognition because they were moving like there was no tomorrow while still looking hot AF with not a single hair out of place.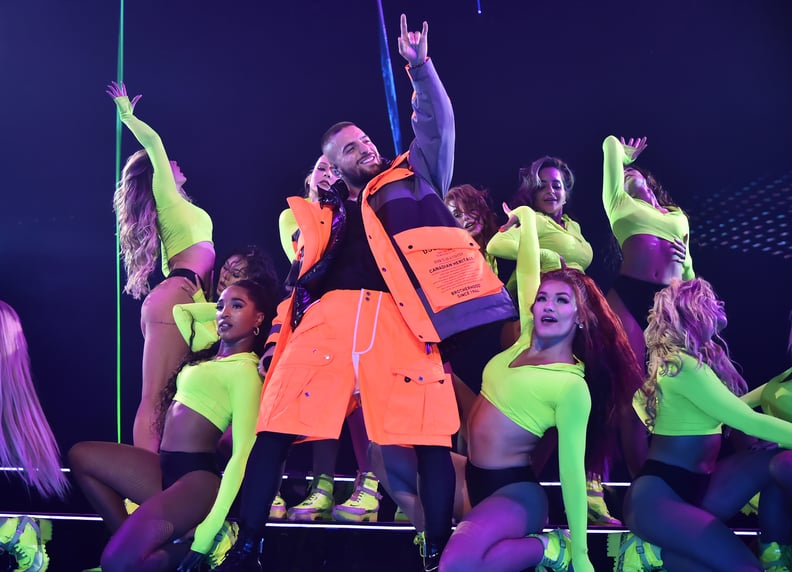 Maluma then delighted the crowd with hits like "Corazón," "Vente Pa'Ca," "Chantaje," "No Se Me Quita," and "Borro Cassette," before he had a whole interaction with his audience, reading some of the signs his fans brought, congratulating many birthday girls, and shouting out a woman who was celebrating that she beat cancer. He also cheered the guys who were there, congratulating them for going to the concert with their wives or girlfriends instead of staying home watching TV. Maluma went on to sing "11:11" and "Sin Contrato" before surprising his audience with a major guest: Jennifer Lopez.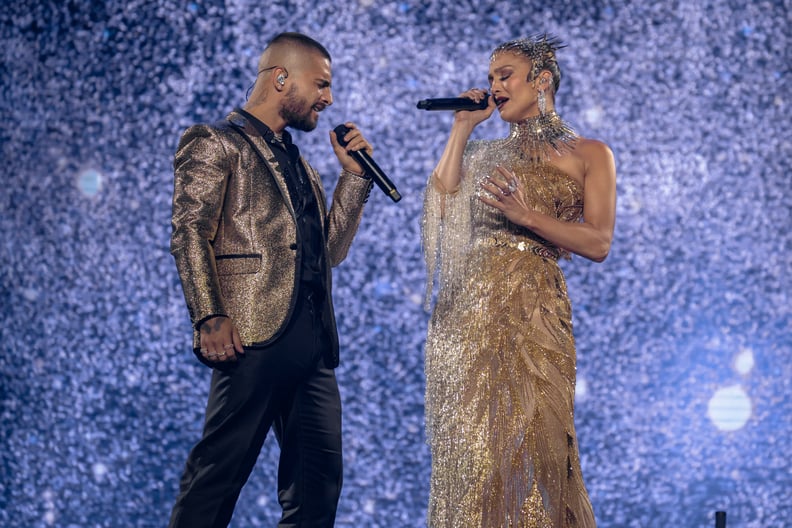 After passing out for half a second, because that's just my natural reaction when J Lo and I share the same room, I came back to my senses to realize the band was playing "No Me Ames" and Maluma was about to hit that Marc Anthony part. It was su prueba de fuego, because it was an actual ballad, and because Marc Anthony originally sings it. After the song was over, both Maluma and J Lo revealed they were shooting some scenes for their upcoming movie Marry Me and they were going to repeat J Lo's entrance a few more times in order to get the right shot.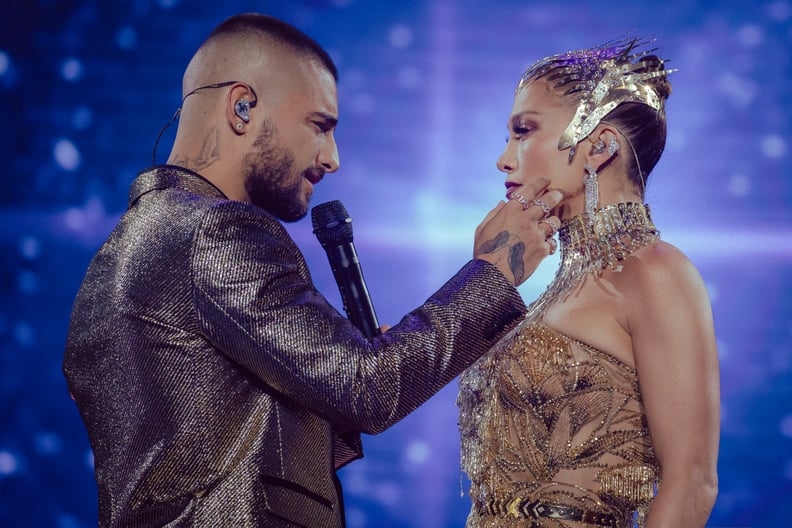 That meant I passed out four more times for each time J Lo appeared on stage, and I lost half my voice because I was really committed to having a cameo in the movie as "hysterical fan #1652." Once J Lo said goodbye for good, Maluma resumed his show, singing "HP" and "Hola Señorita (Maria)," where we exchanged intense eye contact as he sang the line "Se rumora que su nombre es Maria" and I kept screaming and pointing at myself because I wasn't going to miss that opportunity.
He followed with "Que Pena," "X (Remix)," "Cuatro Babys," "El Préstamo," and "Carnaval" before he reiterated how grateful he was to be there performing, joking that he talks too much but he felt like talking because this was a huge moment for him and he wanted to express it. Maluma went on to thank his mom, saying he wouldn't be where he is without her, then recognized his dad as well, who were both sitting on the first row.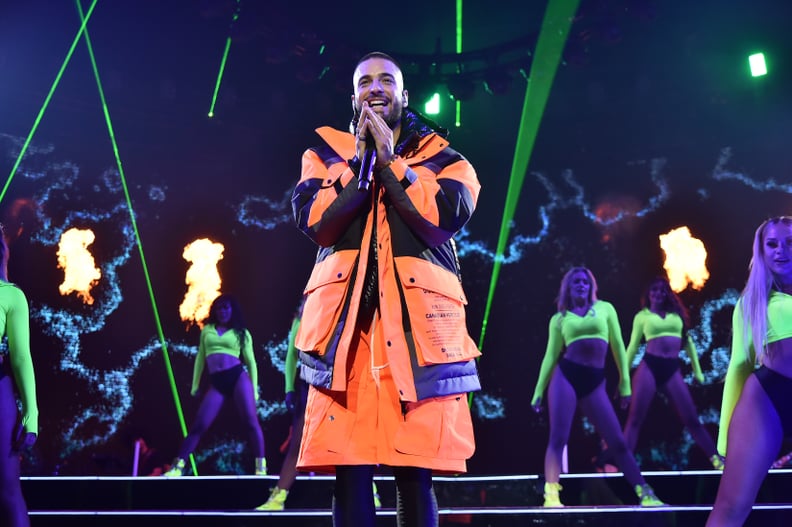 The show ended with "Felices los Cuatro" salsa version, which had Maluma moviendo las caderas in a way that made me sit down and take a deep breath because it was just too perfect. I gotta give it to him, while the show had amazing lighting and lasers, as well as perfectly timed fire blowing up in key moments, it was all about Maluma, his dancers, and the band. There weren't crazy set designs or extravagant outfits — except for the oversize DSquared2 coat he wore at the beginning — and he carried a whole sold-out show by himself.
I have to mention the fact that Maluma had an actual band on stage, while most urbano artists these days have prerecorded tracks they use and a very skilled DJ that makes the magic happen in case of an encore or if the artists miss their cues. Something that really caught my attention were the arrangements the band made to the songs, giving a rock-'n'-roll treatment to some, making others into soulful ballads, and proving their skills as musicians with a few salsa moments that had the crowd pumped up, because who doesn't love bailar una salsa?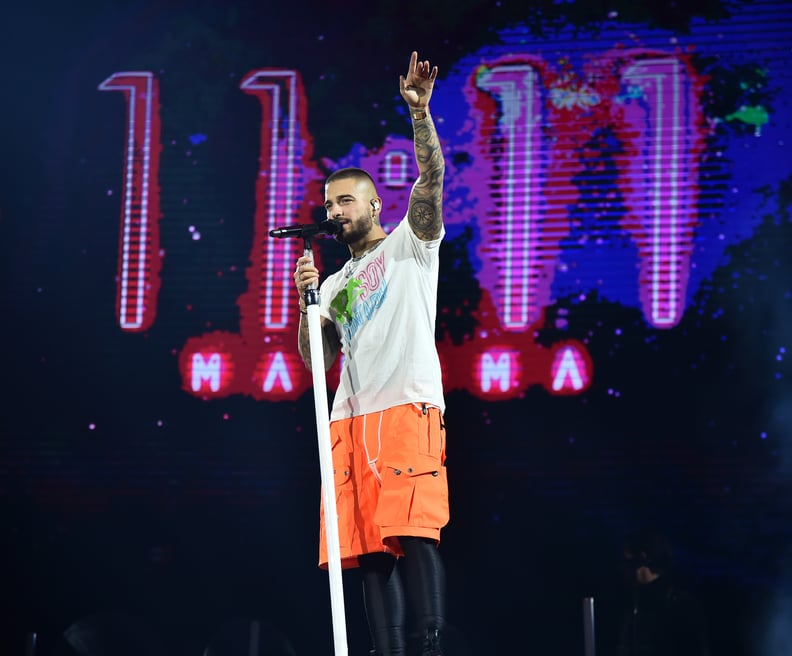 Maluma poured his heart and soul into this concert, as I'm sure he does in every single stop of his 11:11 Tour, which I highly recommend if you are up for a good time and want to get a glimpse of how multifaceted he is as an artist. The only thing I can't promise you is J Lo making a special appearance again — but I do promise you that Maluma will make you feel like he's having a one-on-one moment with you the whole night, which makes the show a lot more special.