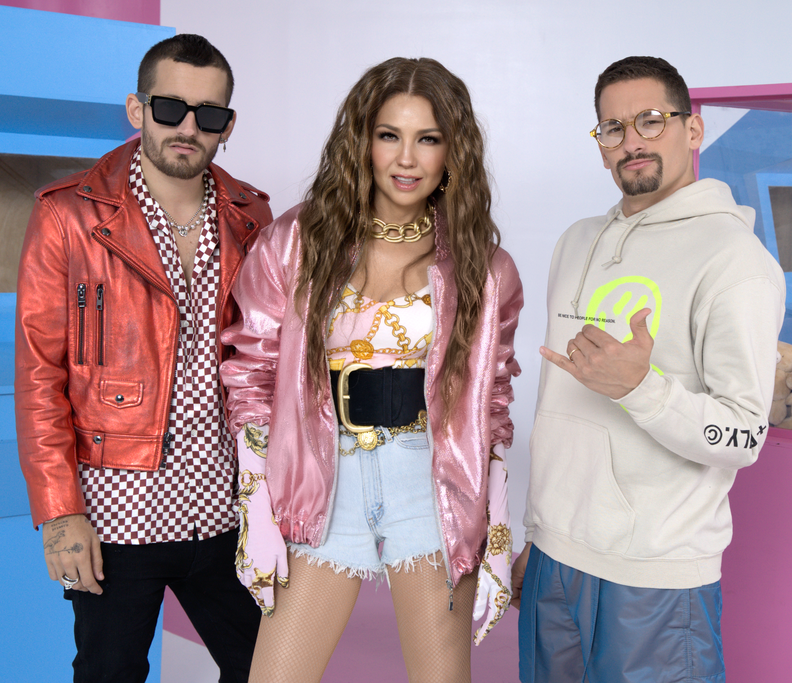 YouTube
Sony Music
YouTube
Sony Music
If you had to name a Latinx artist who was relevant in the '90s and is still relevant today, you'd probably name Thalía. You either grew up watching her telenovelas, listening to her music, or both, and you know no karaoke is complete without some "Amor a la Mexicana," if you're into the classics, or "Equivocada," if you want to get the crowd in their feelings.
It doesn't matter if you're in your 20s, 30s, or 40s — if you're Latinx, Thalía has most likely influenced your life one way or another. Try not to yell "ow!" whenever someone starts singing "Marimar," or jump along when "Seducción" comes on, or clap twice after she sings, "No me acuerdo, no me acuerdo."
Thalía keeps reinventing herself — both as an artist and as an entrepreneur — and she's starting 2020 not just by celebrating five years of her Thalía Sodi at Macy's collection, but by dropping a new single and music video with Mau y Ricky. "Ya Tú Me Conoces" is a fun, infectious pop track influenced by urban sounds that tells a relatable story about the clever games people can play with a romantic interest.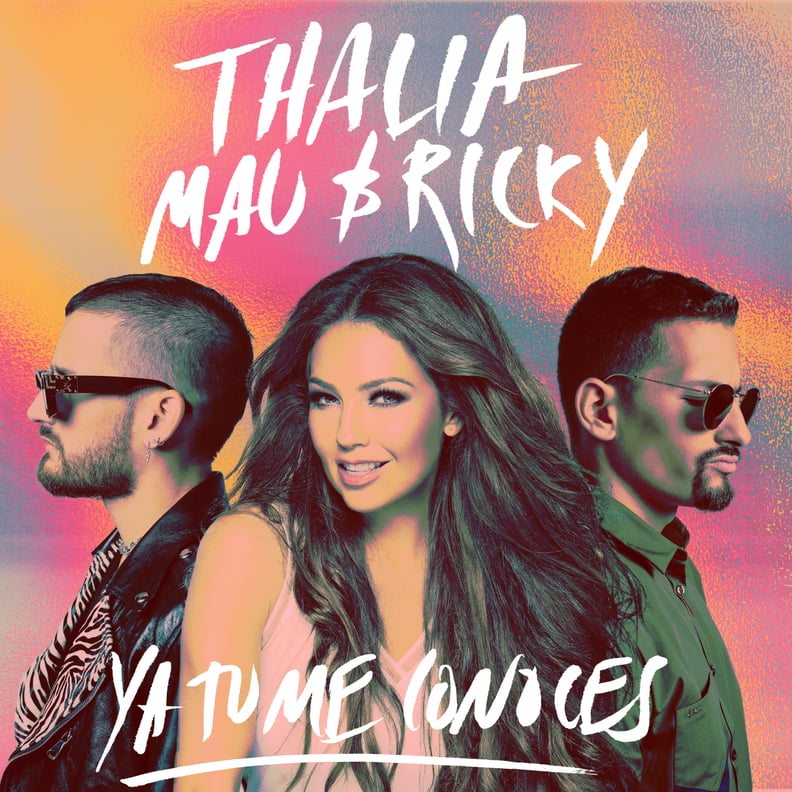 When I first heard the song, I wasn't necessarily surprised Thalía has continued sprinkling some of those urban beats into her songs. After all, it's proven to be a success for her, with songs like "Lindo Pero Bruto" with Lali receiving gold and platinum certifications and "No Me Acuerdo" with Natti Natasha surpassing a billion views on YouTube, making Thalía the first Mexican woman to accomplish the feat.
I was, however, surprised to see how this collaboration turned out, since Mau y Ricky and Thalía first teamed up back in 2014 by cowriting a power ballad, "Por Lo Que Reste de Vida." "That's when I fell in love with their style, their compositions," Thalía told POPSUGAR. "Now that I'm working on new music, they wrote this song for me. They sung this song in the demo and I said, 'You have to sing it with me because it's spectacular!' And that's how it all came together."
The bright and youthful music video reminds me of that of "Arrasando," and the comparison is not lost on Thalía. "Several fans made a meme comparing 'Ya Tú Me Conoces' and 'Arrasando,' and I love it because that confirms that I'm always in sync with my essence," Thalía said. "I actually wanted to give this music video a more '80s vibe with the whole look, the outfits, the skateboards. I wanted to make it super fun."
I think we can all agree after seeing the video that Thalía hasn't aged a second, and she holds her own next to two much younger stars. She's been doing that for a while now, as she's collaborated with the likes of Maluma, Ana Mena, Becky G, and more, which has allowed her to reach a new audience that was either too young or not born at all when she skyrocketed to fame in the late '80s and '90s.
She credited her ability to stay current with new artists and trends to her father's influence. "I'm an insatiable researcher," Thalía said. "My dad was a criminologist and he taught me to search, search, and search until I find the thing that solves the case. It's the same for my career, I'm always looking at the new acts, new artists, what's trending, who has the hottest sound, what's popular, and I become an investigator in my field. I love researching, and I find a lot of amazing artists!"
Not only has she managed to team up with artists who are changing the Latin music landscape, but she has also kept up with her fans through social media, interacting and engaging with them, continuously posting, and being her authentic self. One thing that I love about Thalía is how grateful she is for her fans. Once in a while, she will gather all the fan mail and packages she's received and do an unboxing on her Insta Stories. She will go through each present, mention the fan's name, and personally thank them. Not to mention all the times she's shared her fans' videos, photos, and memes.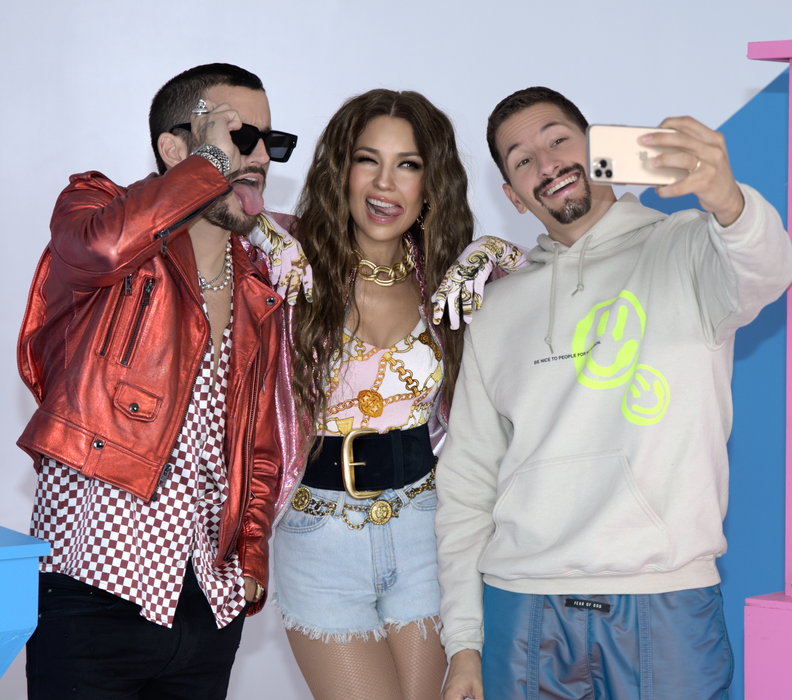 One time she even stopped a concert in New York City — which I attended — to highlight the beautiful necklace she was wearing. She then said it had been a gift from a fan, and how thankful she was to have amazing people supporting her and knowing her taste so well. What really struck me was that she mentioned the fan's name from memory. If that's not something that sets her apart as an artist, I don't know what is.
"My fans have given me so much," Thalía said. "They're so caring. They're an army of love, because they've believed in me since day one. They've been with me through all these years, and they have turned other generations into my music! The Thalifans are expanding and the Thalifamilia is growing, and that's a blessing, because it's what keeps me alive as an artist."
She added: "You can believe in a project, put it out there, and count on the media's support, digital distribution, the YouTube video . . . but if no one shares it, if no one likes it, if no one adds it to their playlist, it stays there. So, in the end it all depends on the people who believe in you."
Thalía continues to push Latin music forward, understanding and adapting to the new era. "Right now, I think the urban sound is the more global sound, it's the new pop," Thalía said. "I think it fuses so well with all the other musical styles. It's so easy to incorporate reggaeton beats into any song, and that has opened the door for other genres to fuse as well. I'm so happy because today's musical landscape allows you to blend genres, and people are also more accepting of that than in the past. We're living in a moment of musical liberation."