The Most Important Thing About Your Wedding
I've Been Married 11 Years and This Is What I Remember About My Wedding Day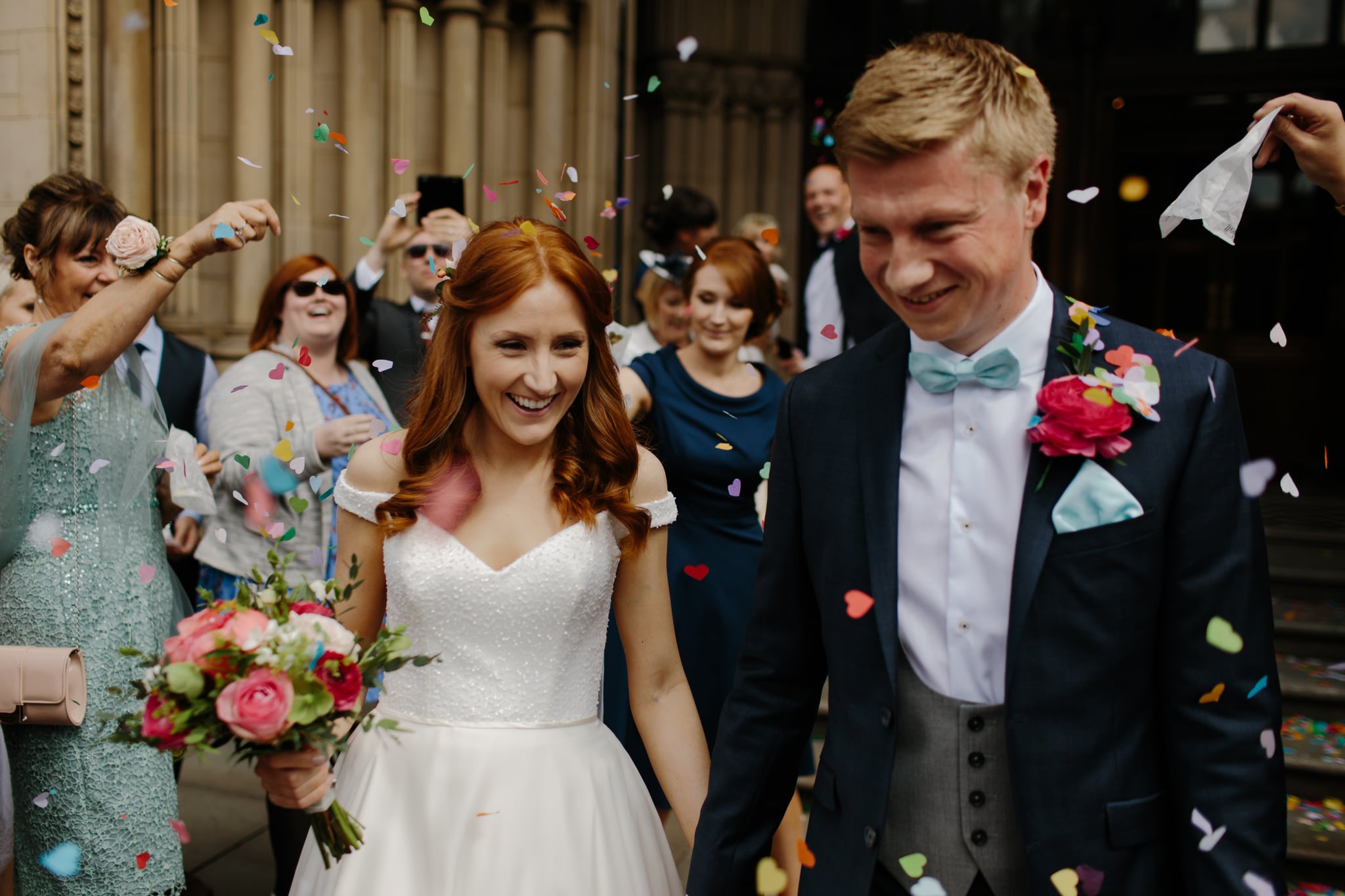 "If you see me shed a tear tonight, it's because they handed me the bill." Those were my father's closing words at my wedding nearly 11 years ago. That night was 15 months in the making. My mother and I pined over menus, flowers, cakes, and decorations. We wanted every detail to be etched into my husband's and my brain for as long as we both shall live. Four kids later, I don't remember any of that stuff.
For the most important day of my life, I chose a designer dress from a local boutique. It was beaded and gorgeous. I wore the dress for a total of six hours. Yes, less than your average workday. My dream frock ended up costing several hundred dollars an hour. Today, it is sitting in a Space Bag in my basement among Christmas decorations, old CDs, and baby clothes that I can't seem to part with. I have been busy this last decade and haven't had the time to get it preserved. Here's hoping my sewer line never backs up.
Even though I was terrified that I might drop something on my beautiful white gown, I was hell bent on having a meal that my guests would be talking about for years to come. My mother and I tasted several types of cuisine and put together the perfect menu. We started with a salad and then, hmm, might have been Prime rib, could have been White Castle. I have no idea. I may just put out a Facebook poll for my 200 wedding guests and see what they remember chewing on that night. Although I do remember devouring a $14 candy bar out of the minifridge in our honeymoon suite later that night because I was starving.
The cake was big and it was white, but I never had any of it. There would be none of that cake-smashing nonsense messing up my hair and makeup. There was, however, a for-the-wedding-album-only picture taken before the cake was whisked away. It was cut in the kitchen and never made its way back to me. Several bakeries, tastings, and endless selections were for naught. They could have thrown me a Twinkie that night and I would have been thrilled.
That one day of your life is about so much more than the details. It's about the big picture. If you can reflect on your wedding day fondly, even if you don't have every minute memorized, that's OK.
My mother and I visited dozens of bars, clubs, and music venues to see the best local wedding bands. I wanted a male vocalist and musicians who could play a variety of music. After months of listening to every group in the city, we chose the perfect band and paid them a ton of money. We even recommended them to family and friends and anyone who would listen. I swore that I would follow them to every casino and club in the bistate area for the next 20 years. If you offered me $1 million and 30 seconds to tell you the band's name right now, I'd be walking off with the $3 I have in my wallet.
As a little girl I spent hours looking at my parents' wedding album. There was feathered hair, pleated polyester, and more than one ruffled shirt. I couldn't wait until I had an album of my own to spend hours reminiscing over. I am sure that I'll get around to looking at the album someday, when I can find it. I am pretty sure that it is in the secretary, but I haven't seen it since we moved two years ago. Maybe one day my kids will want to take a look, too. I'll have to somehow convert it to a digital slideshow to view on their iPads, though. Touching actual books is so beneath them.
My parents did everything they could to ensure that my husband and I, their only daughter, had the most amazing wedding experience. And I assure you, we did. But I don't remember the details from my wedding any more than I remember details from last Tuesday. I may not know what my shoes looked like, but I know that my parents worked their entire lives to make sure that I was wearing them. The cake may have never made it back to me, but the guests who got a slice were smiling and laughing and enjoying themselves.
That one day of your life is about so much more than the details. It's about the big picture. If you can reflect on your wedding day fondly, even if you don't have every minute memorized, that's OK. If you can look at your spouse lovingly and say, "You are the best decision I ever made," you are doing it right. And if you can start saving your pennies today for the biggest day of your own daughter's life, you will shed fewer tears when it finally arrives.