11 Cannabis-Infused Bachelorette Party Gifts For Your Best Buds
Wedding season is here, which means you might be searching for exciting bachelorette party favors to spice up the bride's special weekend. Instead of the gifting the standard mini bottle of Champagne, skip the hangover, and look for something "greener" to celebrate the special occasion.
With so many fun and unique low-dose cannabis products available, there is something for every girl gathering. Whether you want to feel uplifted and energized, or wind down after a big night out, the bride and your guests will be thrilled to partake in these perfect party additions.
If you are new to cannabis, remember this golden rule: "go low, start slow." Start with one to five milligrams, and see how you feel. If you decide to eat an edible, remember to be patient. It typically takes one to two hours for effects to kick in, so don't double down if you don't feel anything right away. After gifting to the group, you'll also want to make sure the bride and your guests know how to consume the cannabis products correctly and how much THC is in each favor. It's also a good idea to gift products that contain cannabidiol (CBD) only for those that do not want a head change. CBD is nonpsychoactive, so it will not get you high. Instead, it's an excellent remedy to use for tired skin after a long night out, perfect for curing hangovers, and will help keep the bride tribe happy and balanced.
We've rounded up our top 11 favorite cannabis gifts to elevate a bachelorette party. Keep in mind that some of these products are only available in states where medicinal and recreational use is legal, but there are also products you can order online. Read on to discover some fun and festive party favor ideas.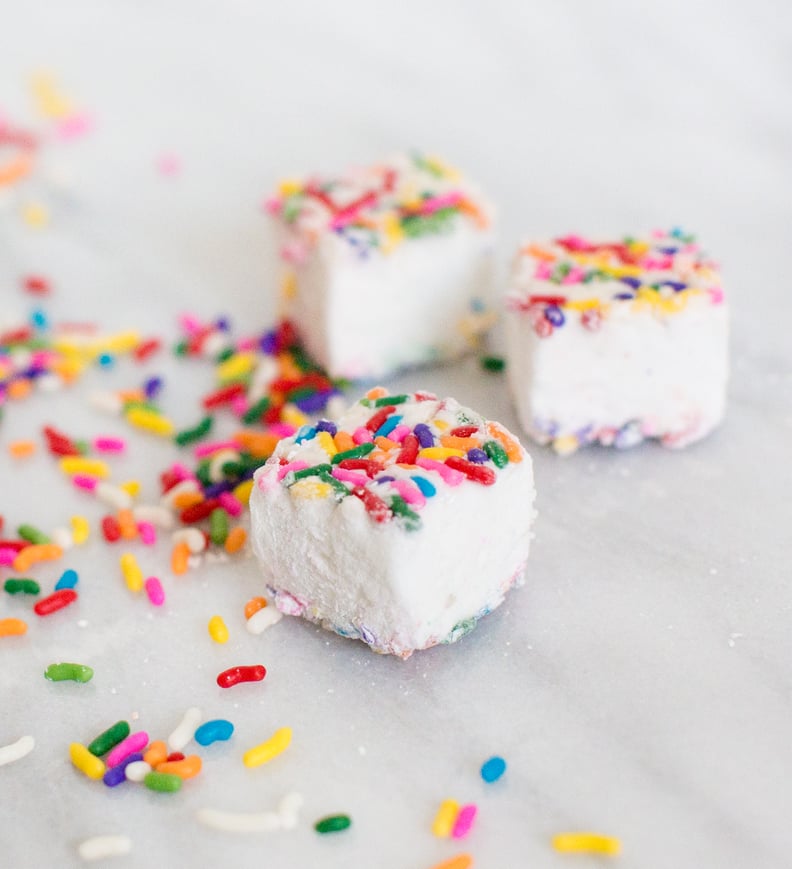 Mellows Gourmet Infused Marshmallows
Marshmallows aren't just for kids. Treat your bachelorette party guests to a delectable serving of Mellows, gourmet cannabis-infused marshmallows. Handcrafted in San Francisco and made with premium single-origin Red Congolese sativa, these heavenly bite-size pieces melt in your mouth, creating feelings of euphoria, laughter, and joy. Each box contains 12 artisanal marshmallows containing five milligrams of THC per piece. Some of the most popular flavors include birthday cake, brown butter sage, orange dreamsicle, raspberry rose lychee, and the classic s'mores. Buy a box and split them among the group for some extra giggles. For the adventurous bachelorette hostess, you can even try to make a batch at home by following Mellows' founder Stephanie Hua's recipes that can be found in her new upcoming cookbook Edibles: Small Bites for the Modern Cannabis Kitchen on shelves this fall. Click here to preorder.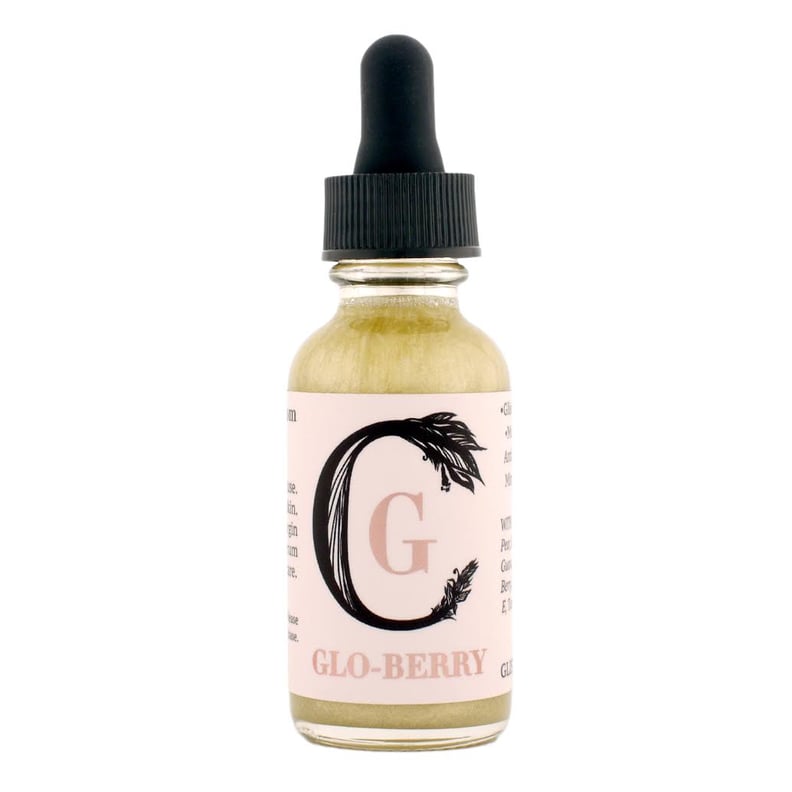 Crave Skincare Glo-Berry Glistening Skin Serum
Bachelorette parties often consist of many long nights out and lack of sleep. To naturally revive tired, sleepy skin, Crave Skincare's Glo-Berry Glistening Skin Serum provides a healthy golden glow that will make your gal pals sparkle again. This CBD-enhanced beauty essential is packed with antioxidants, vitamins, and polyphenols from prickly pear seed, guava, acai, red raspberry, and cannabinoid-rich hemp. These powerful ingredients work together to keep the skin wrinkle-free and radiant. With a touch of shimmering mica added to help diffuse imperfections, Glo-Berry is perfect for beach bachelorette parties or for low to no makeup days when your skin gets too shiny. Since there is no THC present, Glo-Berry can be purchased online here.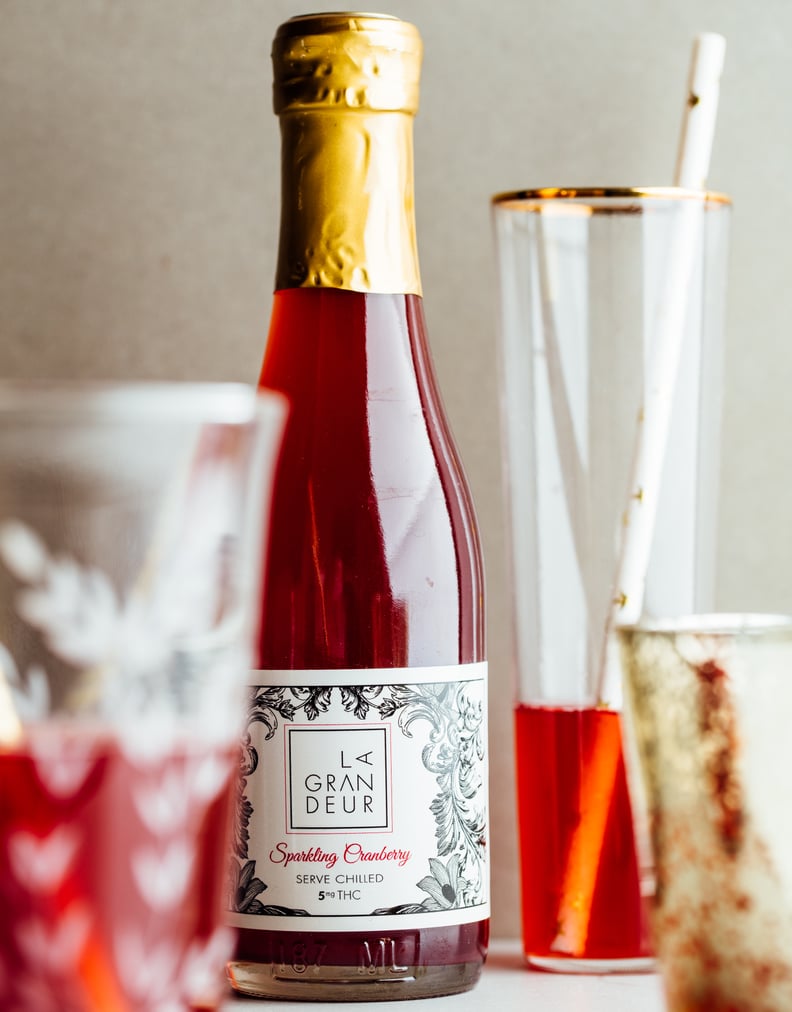 La Grandeur Sparkling Cranberry Infused Beverage
Not all festive bubbly drinks have to include alcohol. LaGrandeur Sparkling Cranberry is a fantastic addition to a bachelorette party. This delicious beverage contains only five milligrams of THC, perfect for elevating the occasion. Strictly a low-dose product, LaGrandeur is aimed at keeping social activities alive and is meant to be shared with friends. The back label is also educational and provides a full list of ingredients primarily sourced from organic products including organic cranberry juice, lime juice, and raw honey. It is the Champagne of cannabis beverages. Each bottle is a single serving. Serve chilled, add a straw for sipping, and let the party begin. If you live in Northern California, La Grandeur can be purchased online through Sava or Ona.Life.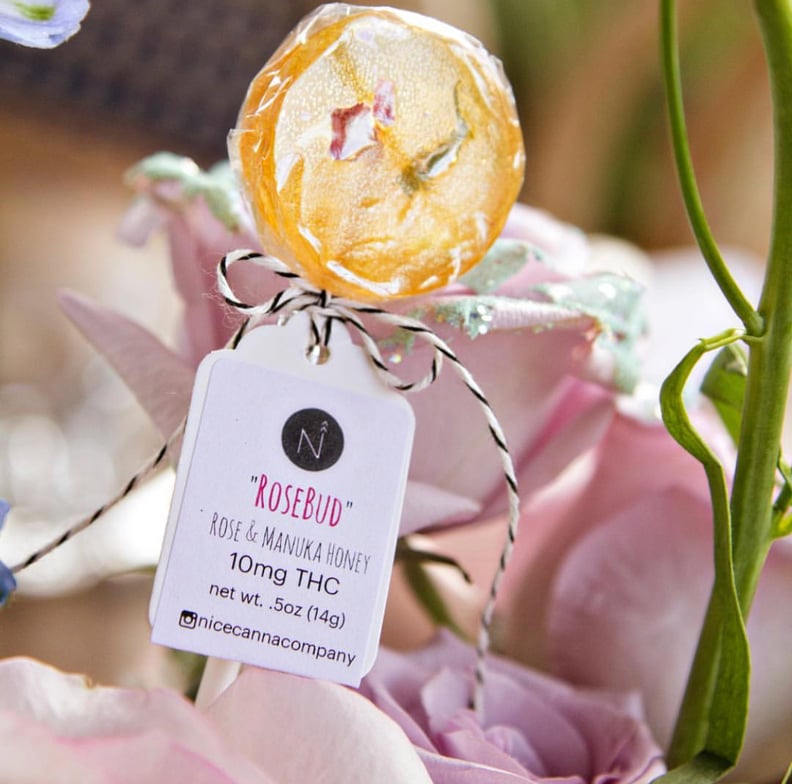 Nice Cannabis Company Lollipops
We are obsessed with Nice Cannabis Company's gourmet lollipops. Handcrafted in Los Angeles, these delicious sweet treats are the perfect gift for a bachelorette party. Made with organic ingredients, real fruit, flowers, and herbs, and infused with solventless rosin, Nice's lollipops are great for any girl group. Coming in flavors such as wedding cake, Champagne, rosebud, and bridal bouquet, these lollipops can be enjoyed for an extended period of time. Take a few licks, rewrap, and throw one in your purse for a night out on the town. With a background in the culinary arts and science, the founders of Nice are dedicated to sourcing the best ingredients for their products. You won't find any artificial ingredients and chemicals in their lineup, which equals zero hangover. Be sure to add this item to your shopping list if you live in California. Contact the company here for order inquires.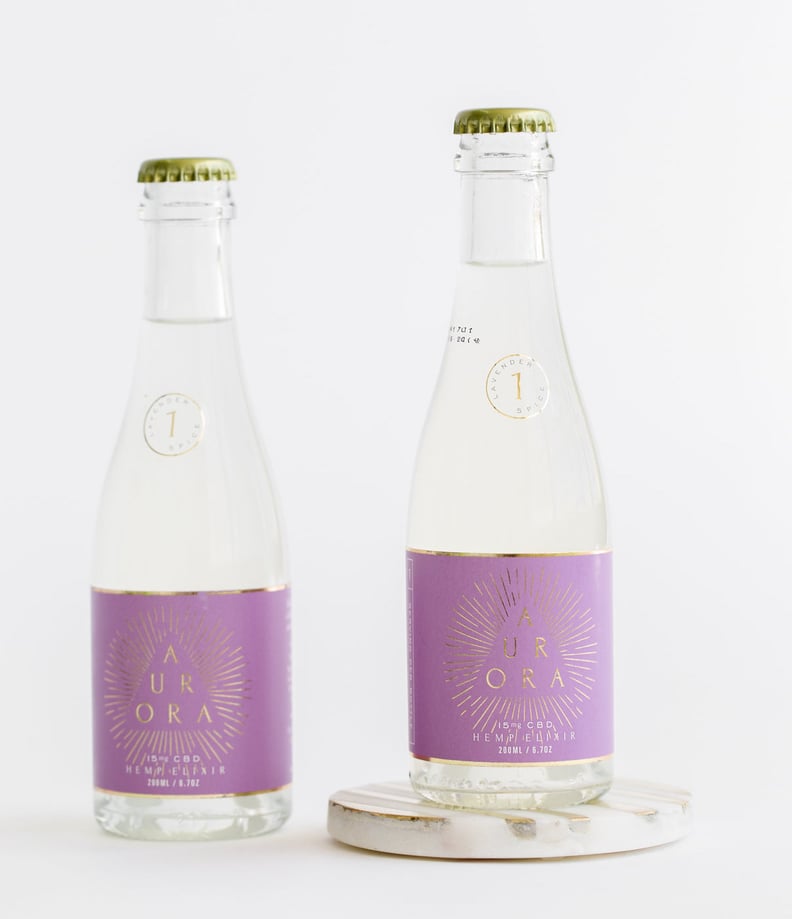 Aurora Lavender Spice CBD Hemp Elixir
If you are planning on making some delicious cocktails or mocktails at the bachelorette party, Aurora's Lavender Spice CBD Hemp Elixir is the perfect mixer. Infused with full-spectrum hemp extract that is high in CBD, this delicious beverage contains zero THC and delivers flavors of lavender, coriander, and citrus peel. Also available in grapefruit rosemary, Aurora's sparkling hemp refreshment contains 15 milligrams of CBD, the perfect amount for a calming yet arousing experience. Enjoy over ice, or with your favorite cocktail recipe. To purchase this product online, click here.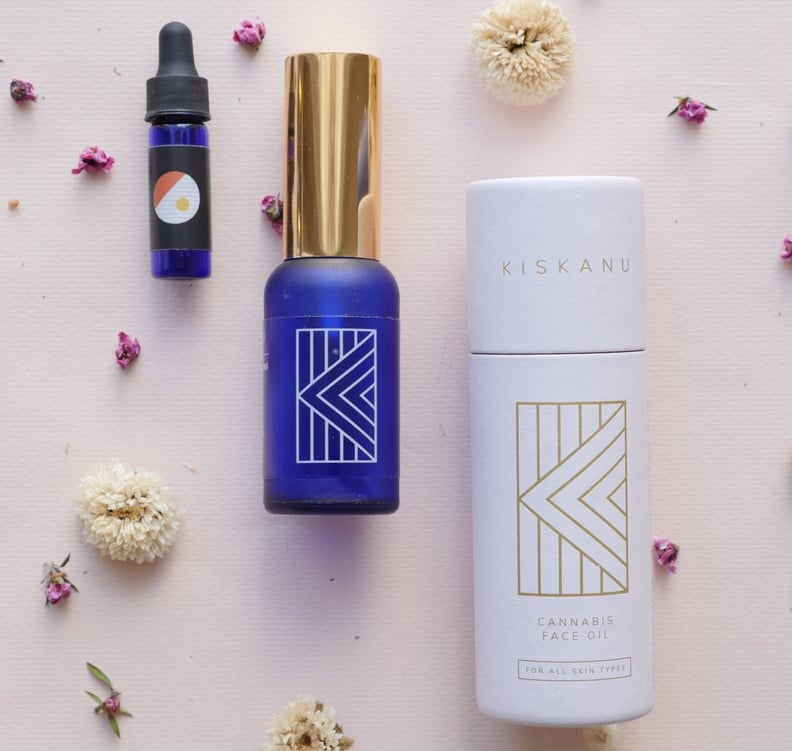 Kiskanu Cannabis Face Oil
For an ultraluxurious bachelorette gift, Kiskanu's Cannabis Face Oil is excellent for making the bride-to-be's skin look flawless. Blending together rose geranium, calendula, and wild carrot, Kiskanu's unique blend works synergistically with the antibacterial and antispasmodic properties of cannabis to bring balance and relaxation to the skin and muscles. High in vitamins A and E, this facial oil promotes collagen formation, for more bright and radiant skin. This is a minifacial in a bottle that works wonders for all skin types. To purchase in California, click here to find your nearest retailer.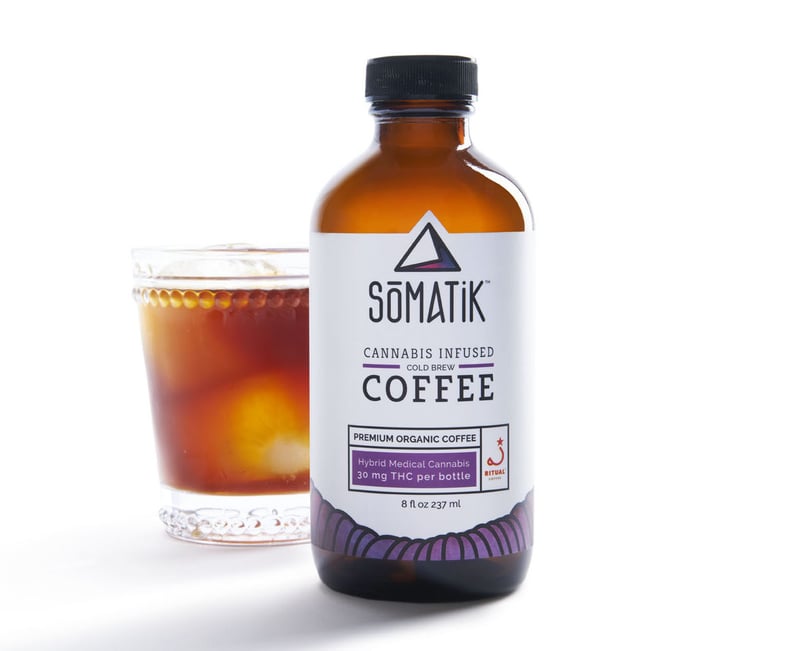 Somatik Infused Cold Brew Coffee
As most of us know, caffeine is a necessity at a bachelorette party. Combining all of the wonderful attributes of single-origin coffee and California cannabis, Somatik has teamed up with Ritual Coffee to produce their innovative cold brew. With just the right amount of THC, this uplifting drink will give the bride's squad a boost of energy while offering a mild euphoric effect and balanced experience to get the day going after a night out. Your gal pals will also love Somatik Cold Brew's flavor profile. Try combining it with some chocolate hazelnut milk, for an ultradelicious experience. To purchase Somatik in California, click here.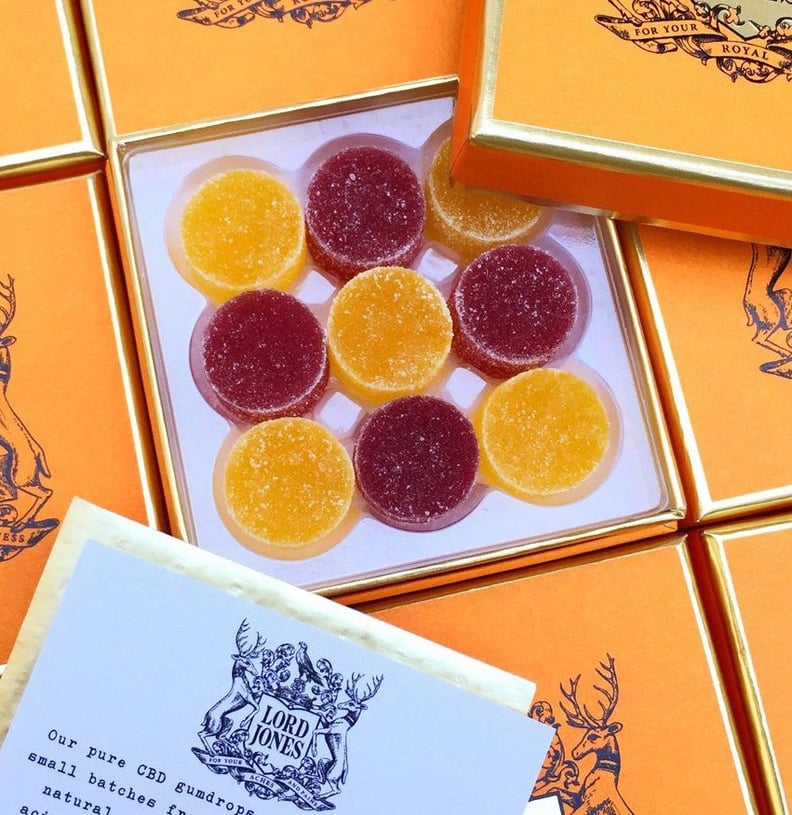 Lord Jones All Natural CBD Gumdrops
Lord Jones's All Natural CBD Gumdrops are the perfect chic gift to share at a bachelorette party. Tastefully packaged in a beautiful box affixed with a reflective gold crest, these delicious sweet treats promote a sense of well-being and relief after a long night out. Handmade in small batches of five simple ingredients, the CBD that has been infused into each gumdrop also provides relief for headaches, aches, and pains. With nine red and yellow pieces per box, each gumdrop contains 20 milligrams of CBD with no artificial colors or flavors. A very classy gift for your girl tribe! To purchase online, click here.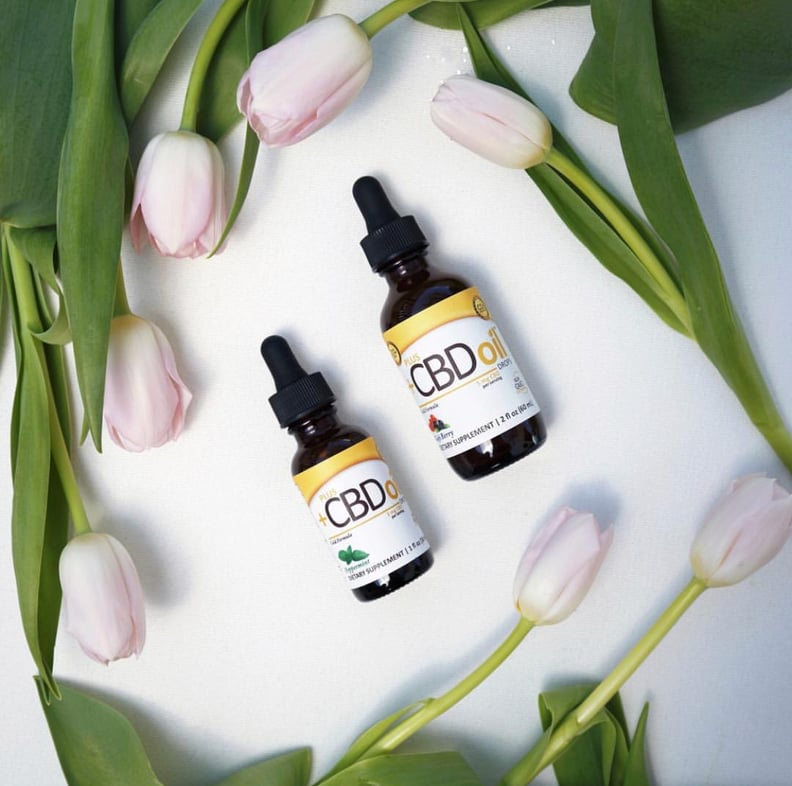 Plus CBD Oil Drops Gold Formula
A hangover is something you might encounter at a bachelorette party. One of the best remedies to help get your body get back in order is Plus CBD Oil Drops Gold Formula. This full spectrum hemp-derived CBD oil can help reduce headache pain from dehydration and reduce nausea, making it easier to have a full breakfast in the morning. Hemp oil will also help you feel balanced while providing energy, a perfect solution for recovery. Plus CBD Oil Gold Formula is also mixed with monk fruit, which delivers a pleasant sweet taste that can be easily blended into a healthy smoothie, green juice, or taken on its own. To purchase online, click here.
Cloud Confections Dark Chocolate Espresso Bean Bites
To jump-start your day or to get a boost of energy before going out, bring a tin of Cloud Confections Dark Chocolate Espresso Bean Bites. If the bride-to-be loves a subtle edible experience, this is the perfect gift that can be easily shared. Partnering with Four Barrel Coffee, Cloud's delightful low-dose edibles are made with the Ethiopia Qorema coffee bean, a fully washed heirloom variety that delivers bright, clean, floral notes providing uplifting effects. Cloud's edibles are ideal for anyone who wants to enjoy more than one treat without an intense high. These are also the perfect way to discover microdosing as each serving contains two milligrams of THC. If you live in California, Cloud can be purchased here and delivered through Eaze.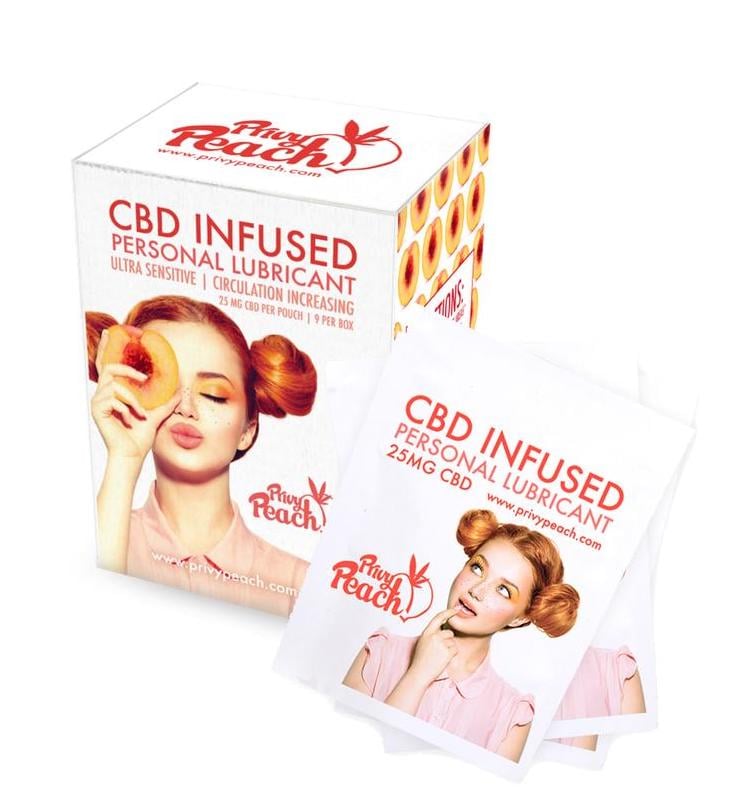 Privy Peach CBD Intimate Oil
Send the bride-to-be and your bachelorette guests home with Privy Peach's CBD Intimate Oil. This sensual product stimulates the body and increases circulation, so those intimate times are even more enjoyable. Because it is made with CBD, this must-have lubricant also triggers relaxation, so you can enjoy sex as it is intended to be. Dosed in single-use packets, Privy Peach CBD Intimate Oil is a perfect gift bag stuffer. Your gal pals will thank you! To purchase online, click here.
Any cannabis products referenced above are not intended to diagnose, treat, cure, or prevent any disease. The writer is not a medical doctor, and their experience is based on personal use, the results of which may not be typical or intended. The legality of cannabis products varies by state, and readers are encouraged to check their local laws before purchasing and using cannabis products. Nothing in this article should be construed as advice regarding the legal status of cannabis products. Any views expressed in this article by a third-party sponsor are those of such sponsor, and do not necessarily represent the views of POPSUGAR.