These Trendy Moissanite Engagement Rings Will Take Your Breath Away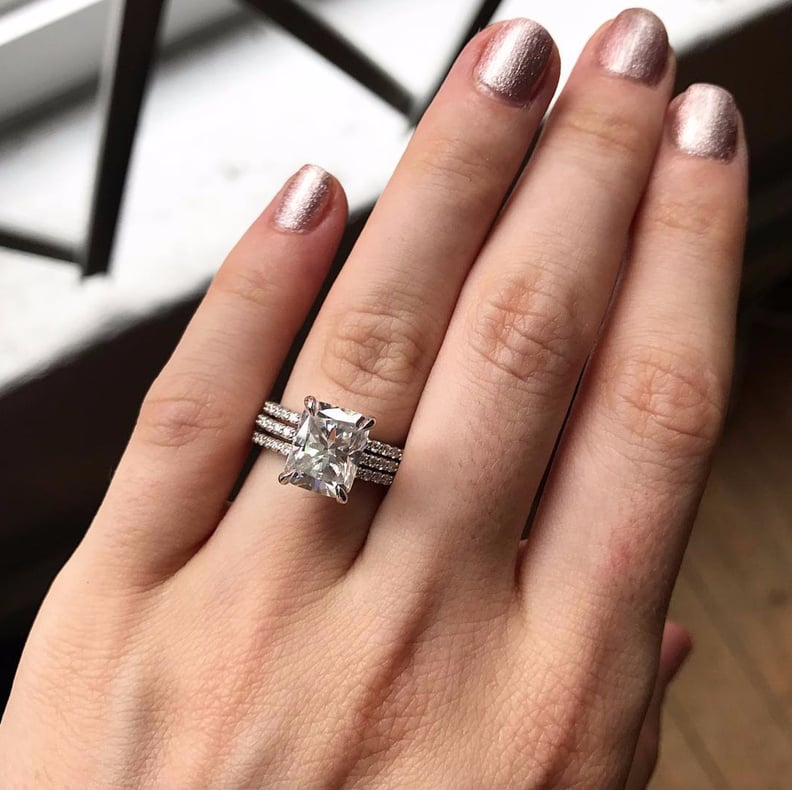 Whether you're looking for a nontraditional stone, a socially conscious ring, or a larger cut within your budget, there's a reason moissanite engagement rings are the latest trend.
Instead of the traditional diamond, many couples are opting for this mineral that was originally discovered in a meteor crater and now mainly produced in labs. Unlike diamonds, a moissanite stone isn't graded on color, but often has a more yellow or grayish hue and can be perceived as more vibrant than the beloved gemstone. Moissanites are also considered more brilliant than diamonds because they disperse less light and also sparkle longer because they don't attract as much dirt.
"The fiery, rainbow flashes emitted by moissanites are beloved by some, but others complain that moissanite's heightened brilliance can create a 'disco ball' effect, especially in sunlight," Brilliant Earth explained on its website. "The bigger the moissanite, the more likely it is that the difference will be noticeable."
As a lab-created mineral, moissanites require no mining and have minimal environmental impact. They are less expensive per carat than most other gemstones. "For example, a one carat moissanite can cost $650 depending on quality whereas a one carat GIA certified diamond can cost around $5,000 and up depending on quality," Lauren B Jewelry explained on its website. "A three carat oval moissanite can cost $1,500 whereas a three carat oval diamond costs at the minimum $30,000 for something high quality. This is a huge savings and gives everyone more options and possibilities when it comes to selecting an engagement ring design that works for them."
Let these jaw-dropping moissanite rings ahead inspire you!