This Newly Engaged Couple Just "Can't Keep Their Hands Off Each Other"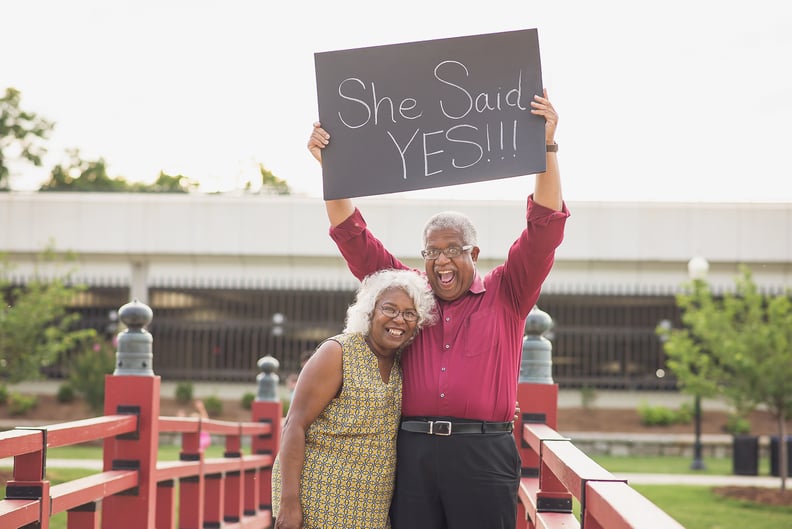 Gianna Snell Photography
For Murphy Wilson and Lucinda Myers, time doesn't define their love. This Alabama couple is newly engaged, and despite first meeting later in life, the soon-to-be newlyweds are the definition of relationship bliss.
Gianna Snell was able to witness their chemistry along with onlookers at a local park when she met up with the pair to capture engagement photos. "I was so excited because I've never done an engagement session for an older couple and I had a feeling it was going to be a special experience," Gianna told POPSUGAR. "I mostly photograph families and couples who have been together for a while and naturally with that, people tend to be a bit more withdrawn with their affection, but the irony of seeing this 70-year-old man and 67-year-old woman who couldn't keep their hands off of each other, it just kept me giggling the whole time."
At one point during the day, Gianna had to change her camera lens and this feisty couple decided to make the most of their momentary break. "I looked up and they were french kissing, just out of nowhere!" Gianna said. "It was just so cute seeing these two so excited and in love."
Gianna admitted that she arrived expecting to have to coerce the couple into showing public affection in front of the influx of strangers arriving for a concert in the park that evening. "But it was quite the opposite; I found myself trying to keep up with what they were doing next," she said. "One of the best things about the day was just how much they were into each other."
During the session, Gianna had Murphy hold up a sign and people couldn't help but cheer for the bubbly pair. "An audience started to gather around them and people began cheering and saying congratulations!" she said. "It was a real moment and that's when the excitement and glee on Murphy and Lucinda's faces grew even more visible!"