Love at First Sight Is Real — I Know Because It Happened to Me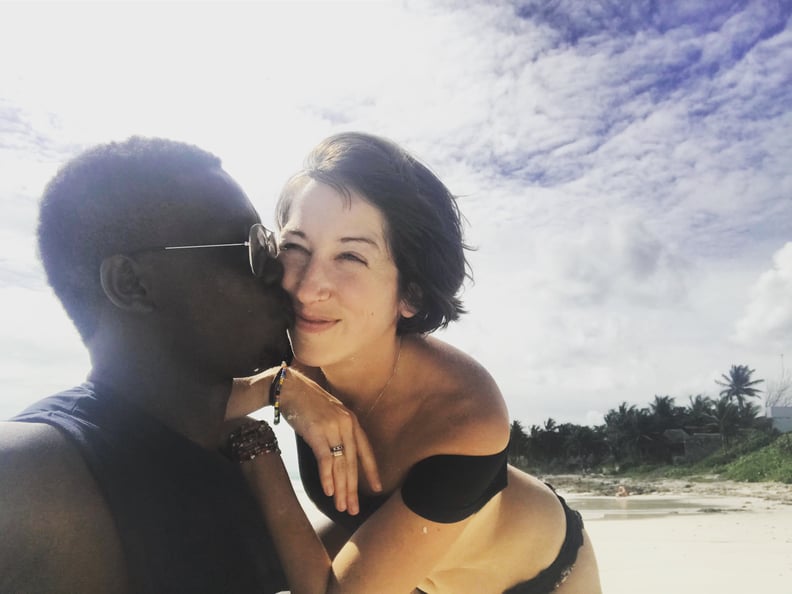 Jacquelene Amoquandoh
Jacquelene Amoquandoh
I was a non-believer. I may even go ahead and call myself a cynic when it came to love, fate, and the idea of love at first sight. Only a few months after a major breakup, I was so far from being a romantic that when I stumbled upon love and it hit me right in the face, I laughed a little. "OK, I get it, universe."
I remember exactly where he was standing. He was on the steps of the new restaurant the nonprofit organization I had moved to Ghana to work for had built. We had the same boss, and when that boss introduced him to me and my coworkers on the opening night of the restaurant, his smile and wave felt directed solely at me. He had this light and kindness that radiated from his smile. I was hooked.
Love at first sight is so real, but it is surely a complicated feeling.
Love at first sight is so real, but it is surely a complicated feeling. We were from different worlds, and I had only a few months in Ghana. How would I approach him? Would he even be interested knowing our days together were numbered? Was he even interested, period?
My doubts made me keep my feelings to myself, at least for a while. Most days when I arrived at the restaurant to do interviews for a book I was working on, I would scan the entire place for him, until our eyes met. If he didn't walk by my table or I didn't have a natural chance to interact with him while I was there, I went up to the counter to grab a water or ask a silly question just to get closer. He filled me up, made my stomach do flips and my heart race. The biggest crush I had ever had.
It wasn't until about a month after we met (or maybe a bit longer) that I finally got the guts to invite him over for dinner. I gave him my number but received no call. After waiting all night, when I saw him the next day, I felt a little broken. "I tried and tried, but the network was down," he explained, a common thing that happened to cell phone networks in Ghana. But I was leaving for a two-week trip to Tanzania the next day so, that was that, I thought.
Right before I left, I sat in my room overlooking Mount Kilimanjaro, one of the most beautiful places I had ever been, and I wrote about him. I wrote that I would return to this very spot in the hills that overlook the largest mountain in Africa married to him. It amazes me even now to think that on a solo journey, surrounded by such wildness and beauty, I found myself with my head in a cloud full of love.
And apparently I was not the only one in love. When I got back to Ghana from my trip to Tanzania, thinking it was done with him, I had several messages asking when I would return. Only a few moments after I turned on my phone after getting off the plane, I received a call from him. He had been waiting for me. From that conversation on, it became apparent that we were hooked on each other. The feeling was mutual and no amount of time apart, life curveball, or person could break us apart.
There are plenty of days when it is harder than I could imagine, but I always come back to that moment I first saw him, to that love at first sight.
We spent every single night together after I returned to him, learning about each other, our cultures, languages and hometowns. Life certainly tried to break us up. Time was not on our side and some people were not either, but we had this deep love that was unbreakable. When it was time for me to leave and I returned to the US, it didn't take me very long to realize I had to book a ticket back to him. It was an open-ended ticket that began this crazy journey we have been on for almost six years now.
Through immigration, distance, and parenting we have found our way. There are plenty of days when it is harder than I could imagine, but I always come back to that moment I first saw him, standing on the stairs of that restaurant, waving and smiling at me. I come back to that love at first sight that struck me so hard, there was no turning back.