Barack Obama Talks Trump's Inauguration With Prince Harry
Obama Reveals How He Felt at Trump's Inauguration, and It Might Not Be What You Expect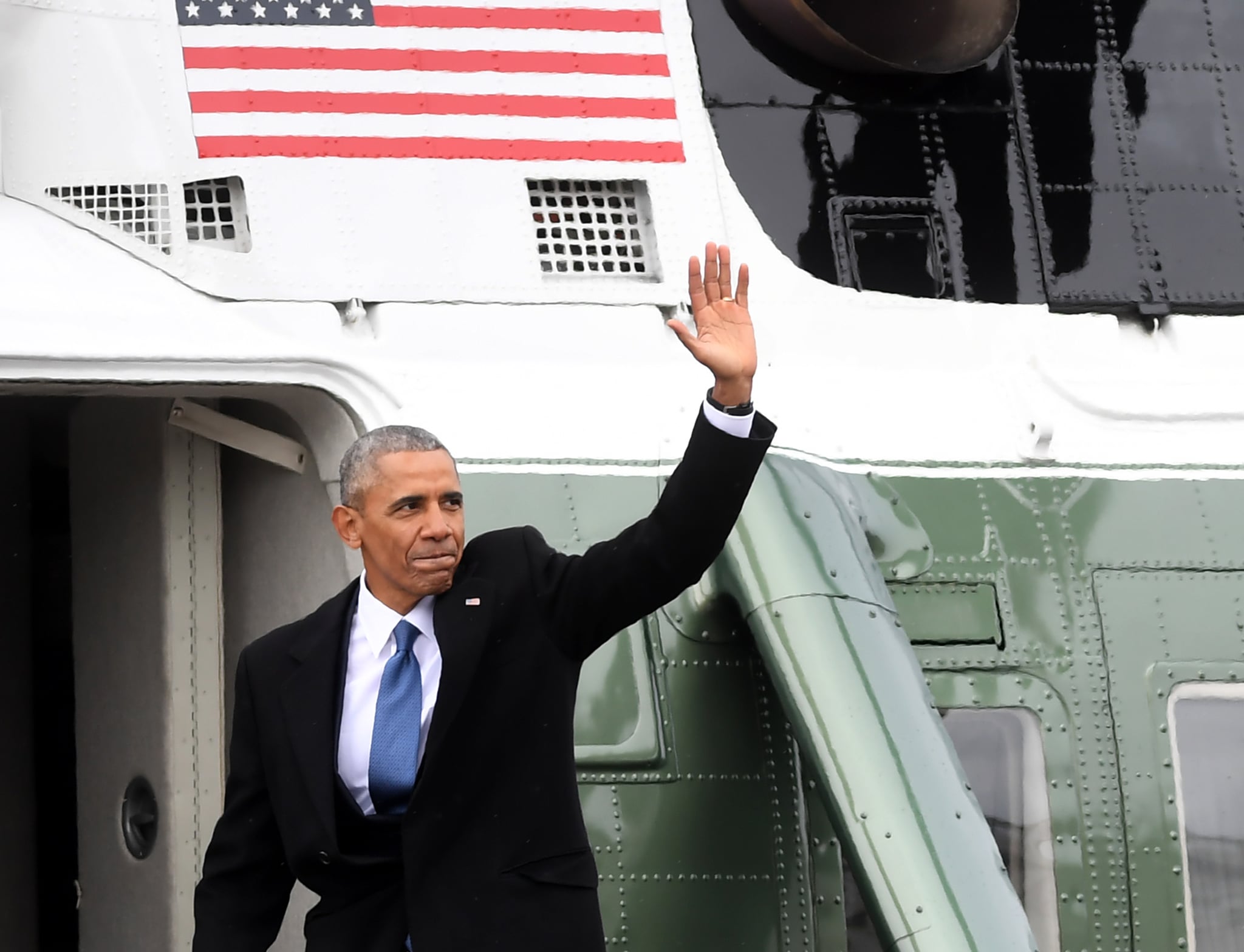 Barack Obama sat down with Prince Harry for an intimate interview that aired on BBC Radio 4 on Dec. 27, and the former president's words of wisdom are making us miss him even more than we already did. Before diving into a round of humorous quick-fire questions, Harry asked Obama to relive January, 20, 2017, the day he passed the White House keys to Donald Trump. "You sat through the inauguration with your game face on, not giving much emotion away — as we all saw. What's going through your mind?" Harry inquired.
Obama, being the truly eloquent gentlemen he is, didn't bash his successor; rather, he focused his recollection of that fateful day on his family. "The first thing that went through my mind was sitting across from Michelle, how thankful I was that she had been my partner through that whole process," he said, before describing her as a "spectacular, funny, warm person." Obama also noted that during Trump's inauguration, he felt grateful to be leaving the Oval Office with his marriage still "intact," adding that Michelle is still his best friend.
That, paired with the fact that his two daughters were in turning into "amazing young women," left the now-former POTUS filled with a sense of accomplishment. "You know, the sense that there was a completion and that we had done the work in a way that preserved our integrity and left us whole and that we hadn't fundamentally changed, I think was a satisfying feeling," he said. "That was mixed with all the work that was still undone and concerns about how the country moves forward," he continued, "but overall there was a serenity there — more than I would have expected." Heck, we didn't expect that either, Obama!
Listen to the audio clip below to hear Obama open up about how he really felt on that day when Trump took his presidential oath.
"Overall there was serenity there. More than I would have expected."@BarackObama on his feelings after @realDonaldTrump was inaugurated as US President #r4today pic.twitter.com/lNilKhml6D

— BBC Radio 4 Today (@BBCr4today) December 27, 2017
Image Source: Getty / Jim Watson