Complicit Is Dictionary.com's 2017 Word of the Year
Dictionary.com's Word of the Year Is a Not-So-Subtle Dig at Ivanka Trump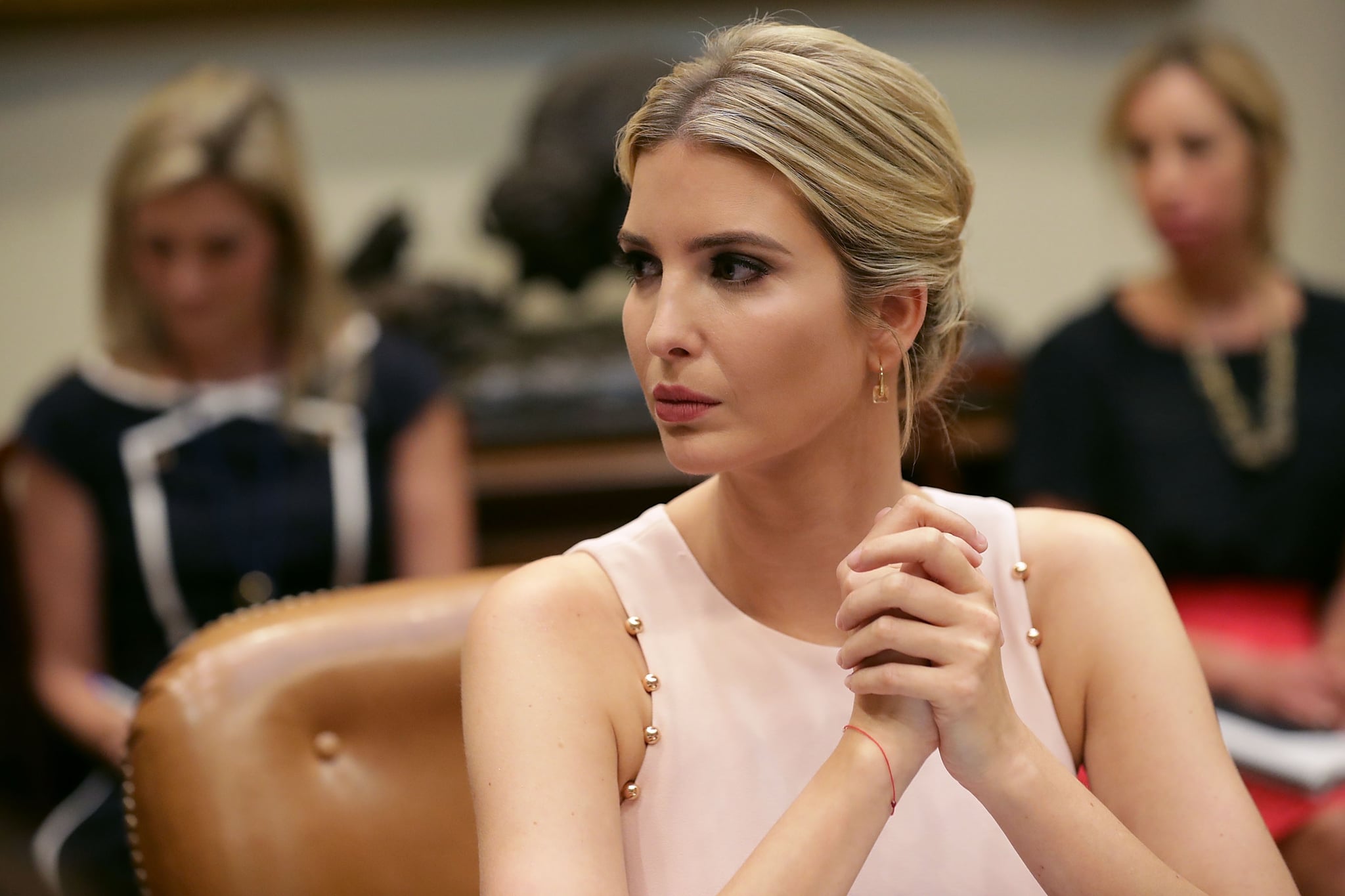 Dictionary.com sure as hell isn't afraid to put the Trumps on blast. Just one year after calling out Donald Trump's apparent desire to keep non-Americans out of the country by naming "xenophobia" as 2016's Word of the Year, the shade-throwing online dictionary is back at it again by granting "complicit" the Word of the Year designation for 2017. The choice may seem random at first, but boy is it relevant — and, for what it's worth, it not-so-subtly calls out Ivanka Trump in the most glorious way.
"Complicit means 'choosing to be involved in an illegal or questionable act, especially with others; having partnership or involvement in wrongdoing.' Or, put simply, it means being, at some level, responsible for something . . . even if indirectly," Dictionary.com explained in an official announcement about 2017's Word of the Year.
Searches for the word's meaning have spiked various times throughout the year, with the first of said spikes occurring in March after Saturday Night Live debuted a skit with Scarlett Johansson posing as Ivanka Trump to advertise her new fragrance called "Complicit." In the satirical ad, the product was marketed as: "The fragrance for the woman who could stop all this, but won't." Yet another spike in searches came the following month after Ivanka sat down with Gayle King and admitted she doesn't know what it means to be complicit. "If being complicit is wanting to be a force for good and to make a positive impact then I'm complicit," she said during the interview on CBS This Morning. Aaand *cue the facepalm*.
Dictionary.com, therefore, is totally calling out Ivanka's claim that the word can be used in a positive manner. "As many of you know from looking up the definition of complicit, there's nothing positive or good about it. In fact, being complicit is decidedly negative," the online dictionary explained in its 2017 Word of the Year announcement, referring to Ivanka's tendency to keep quiet about her father's disturbing rhetoric while still touting herself as a feminist and advocate for women's rights.
But calling out Ivanka isn't the real reason the dictionary chose complicit as this year's winner — it runs deeper than that. "It's a word that reminds us that even inaction is a type of action," it explained. "The silent acceptance of wrongdoing is how we've gotten to this point. We must not let this continue to be the norm. If we do, then we are all complicit." We couldn't agree more.
Of course, Dictionary.com couldn't resist stoking the fire a bit and added yet another hilarious jab at the Trumps while breaking the news on Twitter. The dictionary's account joked that our POTUS's beloved made-up word, covfefe, was the Word of the Year.
We're so excited to announce that the Word of the Year is covfefe!

JUST KIDDING! But it is complicit. https://t.co/duT1xbaA5D#Complicit #WordOftheYear #ScaredYouDidntWe pic.twitter.com/P8fIL5LKOk

— Dictionary.com (@Dictionarycom) November 27, 2017
Needless to say, people were beyond here for the shade.
I had to search and see this tweet for myself, daaaaaaaamn pic.twitter.com/eQSY74gTZF

— Novalinnhe (@novalinnhe) November 27, 2017
cc: @IvankaTrump

— ___📎___ (@ThinSkinTrump) November 27, 2017
🤓Y'all are #wildAF . 🤣 pic.twitter.com/CXf5zaowla

— Mom of All Capes (@MomOfAllCapes) November 27, 2017
Whoever runs this feed, you're my best friend. #shadyassdictionary #❤️

— swayllo (@swayllo) November 27, 2017
Lets hope word of the year for 2018 is Indictments or Impeachment.

— VeniceForHillary (@VeniceForHRC) November 27, 2017
Image Source: Getty / Chip Somodevilla