Donald Trump Endorses Roy Moore For Alabama Senate Dec. 2017
Trump Endorses Roy Moore For Senate Despite Sexual Misconduct Allegations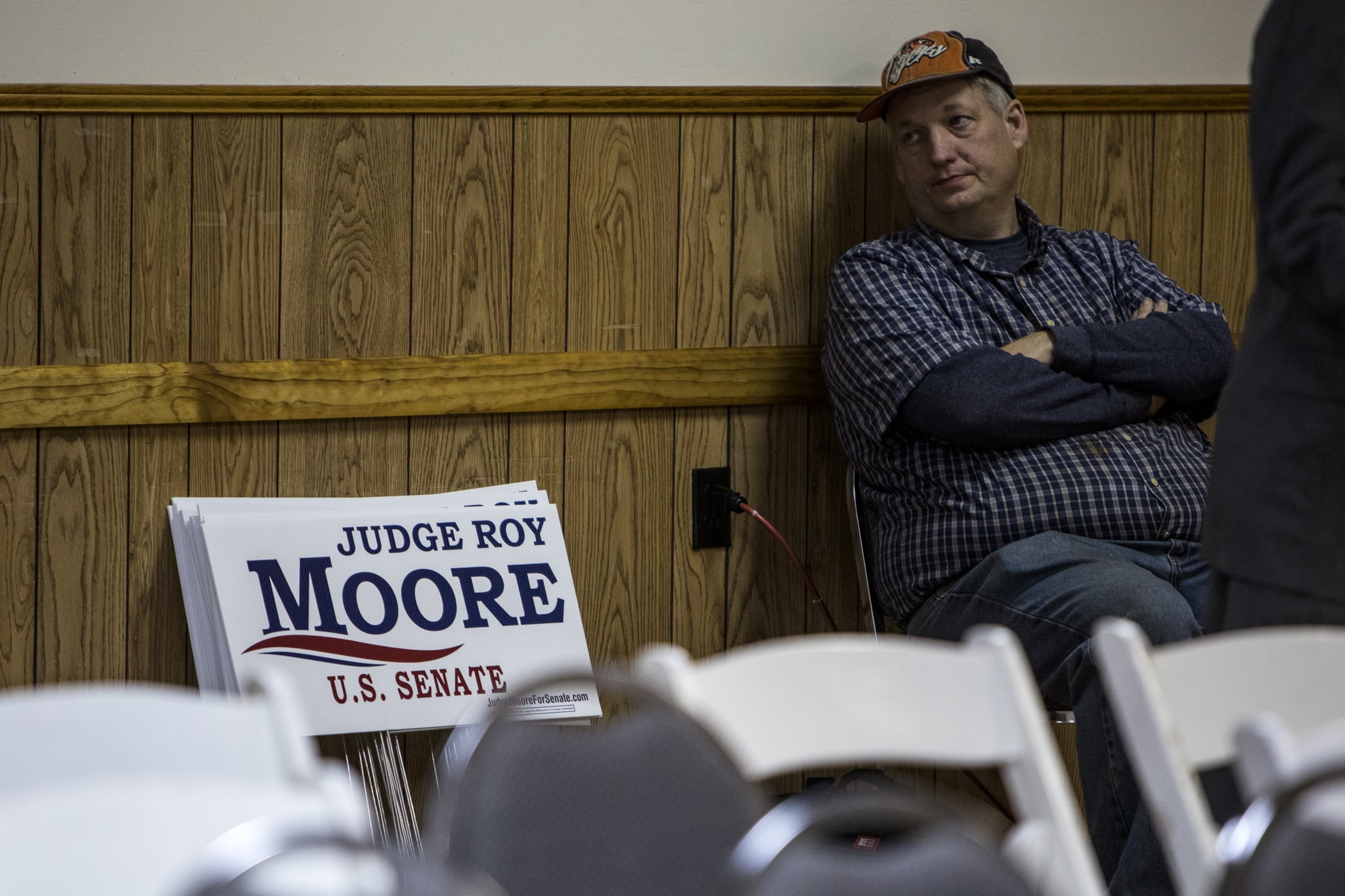 With the Alabama Senate special election on Dec. 12 fast approaching, it was only a matter of time before President Donald Trump came out with an explicit endorsement of Republican Senate hopeful Roy Moore, a candidate who has been marred by very serious allegations of sexual misconduct with one teenage girl, and of pursuing multiple teenage girls, while he was in his 30s.
In a tweet sent the morning of Dec. 4, Trump stated that "we need Republican Roy Moore to win" before listing a series of presidential campaign promises that Moore would, if elected, uphold in the state. Trump then added that Moore's Democratic rival, Doug Jones, is a "liberal puppet" who would "hurt our great Republican Agenda."
Democrats refusal to give even one vote for massive Tax Cuts is why we need Republican Roy Moore to win in Alabama. We need his vote on stopping crime, illegal immigration, Border Wall, Military, Pro Life, V.A., Judges 2nd Amendment and more. No to Jones, a Pelosi/Schumer Puppet!

— Donald J. Trump (@realDonaldTrump) December 4, 2017
Putting Pelosi/Schumer Liberal Puppet Jones into office in Alabama would hurt our great Republican Agenda of low on taxes, tough on crime, strong on military and borders...& so much more. Look at your 401-k's since Election. Highest Stock Market EVER! Jobs are roaring back!

— Donald J. Trump (@realDonaldTrump) December 4, 2017
In response, Moore tweeted his thanks to the president for the endorsement, saying that upholding the "America First agenda will #MAGA."
Thankful for President Trump's support.

The America First agenda will #MAGA. Can't wait to help him #DrainTheSwamp.#ALSEN https://t.co/pYu9h7TYVN

— Judge Roy Moore (@MooreSenate) December 4, 2017
While such off-the-cuff tweeting from Trump is entirely unsurprising, what is surprising is that the president is endorsing Moore for the first time since allegations that he initiated sexual contact with a 14-year-old surfaced. Trump also did this without any caveats or qualifiers regarding his misconduct, unabashedly upholding a problematic candidate at a time when sexual harassment and sexual assault have consumed the news cycle.
Moreover, the problems surrounding Moore highlight another big issue: the political sphere still hasn't handled abject harassment in its midst. While media figures from Harvey Weinstein to Matt Lauer have lost their jobs and faced public rebuke, those accused of misconduct on the Hill — like Moore and Trump along with Senator Al Franken and Rep. John Conyers — remain in their positions, unscathed. This is undoubtedly a problem — and needs to be handled sooner rather than later, regardless of how difficult it may be.
Trump's full endorsement of Moore is in many ways unsurprising given the possibility that Trump will campaign for the Alabama Senate hopeful. The Dec. 12 election will reveal a lot of things about both the political landscape and the mindset of American voters, but as of now, the public will eagerly await the results as the Alabama Senate race appears to be anyone's game.