Are Donald Trump's Teeth Real or Are They Dentures?
Are Donald Trump's Teeth Real? An Investigation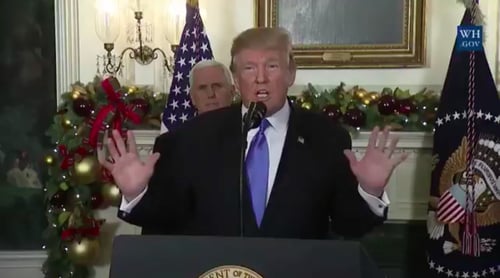 On Dec. 6, President Donald Trump took to his favorite medium outside of Twitter — television — to announce that Jerusalem would be recognized as Israel's capital. The decision will result in the relocation of the US embassy to the city, a controversial move that could violate international law.
Yet one of the biggest takeaways from Trump's speech wasn't actually related to what was said but how he said it: he slurred his way through his final thoughts. Many tweeted their thoughts on Trump's vocal issue, inspiring #DentureDonald and the new name of our country, "Unanasighs."
"God bless the Unanasighs." pic.twitter.com/KHwppBsKVq

— bobby finger (@bobbyfinger) December 6, 2017
What happened? Given Trump's age and diet, many factors appear to be at play. At 71, Trump is at risk for many vocal-affecting ailments from Parkinson's disease to dysarthria, a speech disorder resulting from weakened facial muscles as a result of brain damage caused by stroke, tumors, or chronic diseases like ALS or muscular dystrophy. Another factor is diet; an inflamed tongue — or glossitis — can sometimes cause slurring and can be attributed to "nutritional deficiencies" from a lack of iron, folic acid, and vitamin B12, according to the American Academy of Family Physicians. Given Trump's penchant for fast food, "nutritional deficiencies" that can inflame the tongue wouldn't be surprising. Another factor could be alcohol but, alas, Trump is a noted nondrinker.
Trump trying to keep his awful teeth in his mouth is whatever the opposite of ASMR is. pic.twitter.com/UcYp9H3g5b

— chris person (@Papapishu) December 6, 2017
The most probable reason is that his teeth just aren't real. As CNN found from speaking with speech language pathologist Michael de Riesthal, failing dentures were likely the culprit: de Riesthal noted the president's "working hard to speak" as the result of "having a denture fall or some other alternative explanation" related to a dental device or procedure acting out at an inopportune time.
Because this is a very pressing matter, White House spokesperson Raj Shah has spoken out on the matter in a conversation with the Los Angeles Times: Shah attributed the problem to a dry-mouth episode before noting that "the President is perfectly healthy." Take note, Trump teeth truthers.