Is FaceApp Safe?
Everyone's Using FaceApp, but Is It Actually Safe? Here's What You Need to Know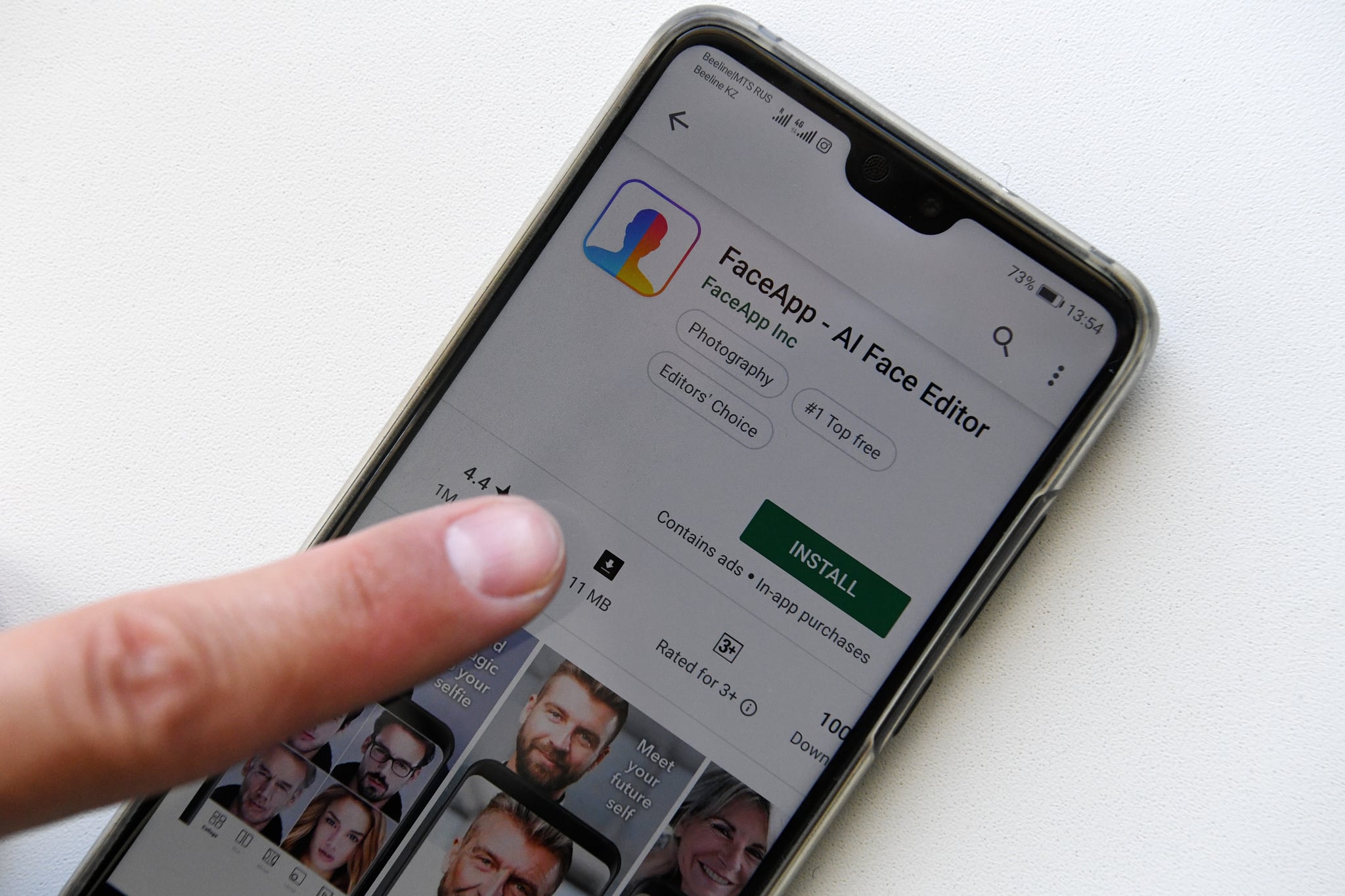 FaceApp has utterly taken over social media this week, with people far and wide sharing snapshots of themselves with the app's old-age filter. Celebrities galore added fuel to the fire by posting their own gray-haired, wrinkly faced transformations, catapulting the app to the top of the Google and Apple store charts. But now, growing concerns about the Russian-made app's potential violations of privacy may cause said popularity to plummet.
FaceApp, which was originally released in 2017, takes a user's photo, uploads it to its servers, and uses artificial intelligence to transform the user's face with one of its various filters — including the viral option that instantly makes you look older. The concerns surrounding FaceApp's safety boil down to both its country of origin and its muddy terms and conditions. The app was created by Russian developer and Wireless Lab CEO Yaroslav Goncharov, and many have expressed fear about their personal data possibly floating around on foreign government servers — y'know, especially considering that whole meddling in the 2016 election situation. Goncharov responded to these fears by assuring users that no one's data is being transferred to Russia — despite the fact that its research and development team is located there — as it uses Amazon servers located in the US, according to Forbes.
Still, FaceApp's terms of use are pretty vague, stating that anyone who uses it grants the app "a perpetual, irrevocable, nonexclusive, royalty-free, worldwide, fully-paid, transferable sub-licensable license to use, reproduce, modify, adapt, publish, translate, create derivative works from, distribute, publicly perform and display your User Content and any name, username or likeness provided in connection with your User Content in all media formats and channels now known or later developed, without compensation to you." In layman's terms: the app can pretty much do whatever it wants with the photos stored on its servers. According to CNBC, the company says photos are only stored in the cloud for 48 hours before apparently getting deleted, but hey, a lot can happen in two days.
Politicians certainly haven't been shy about airing their trepidation. Alarmed for the digital safety of FaceApp's users, Senator Chuck Schumer called on the FBI to investigate the "national security and privacy risks" associated with the Russian-developed app. The Democratic National Committee advised that anyone working on 2020 presidential campaigns should delete the app "immediately."
After noting the growing concerns spreading across the internet, FaceApp rolled out an update that provides a warning when you take a picture, now notifying users that "each photo you select for editing will be uploaded to our servers for image processing and face transformation." Users have the option to agree or opt out of uploading their selfie. If you're still not convinced of FaceApp's overall safety, don't just delete the app from your phone — request that all your data be deleted from FaceApp's servers, the app's CEO suggested to The Washington Post. You can do this by going into FaceApp's settings, clicking "Support," clicking "Report a bug," and putting the word "privacy" in the subject line to start the process of data deletion.
Image Source: Getty / Kirill Kudryavtsev