How Do I Use Alexa on Amazon Echo and Echo Show?
I Let Alexa Run My Life For a Day — Here's Why I'm Keeping Her Around Forever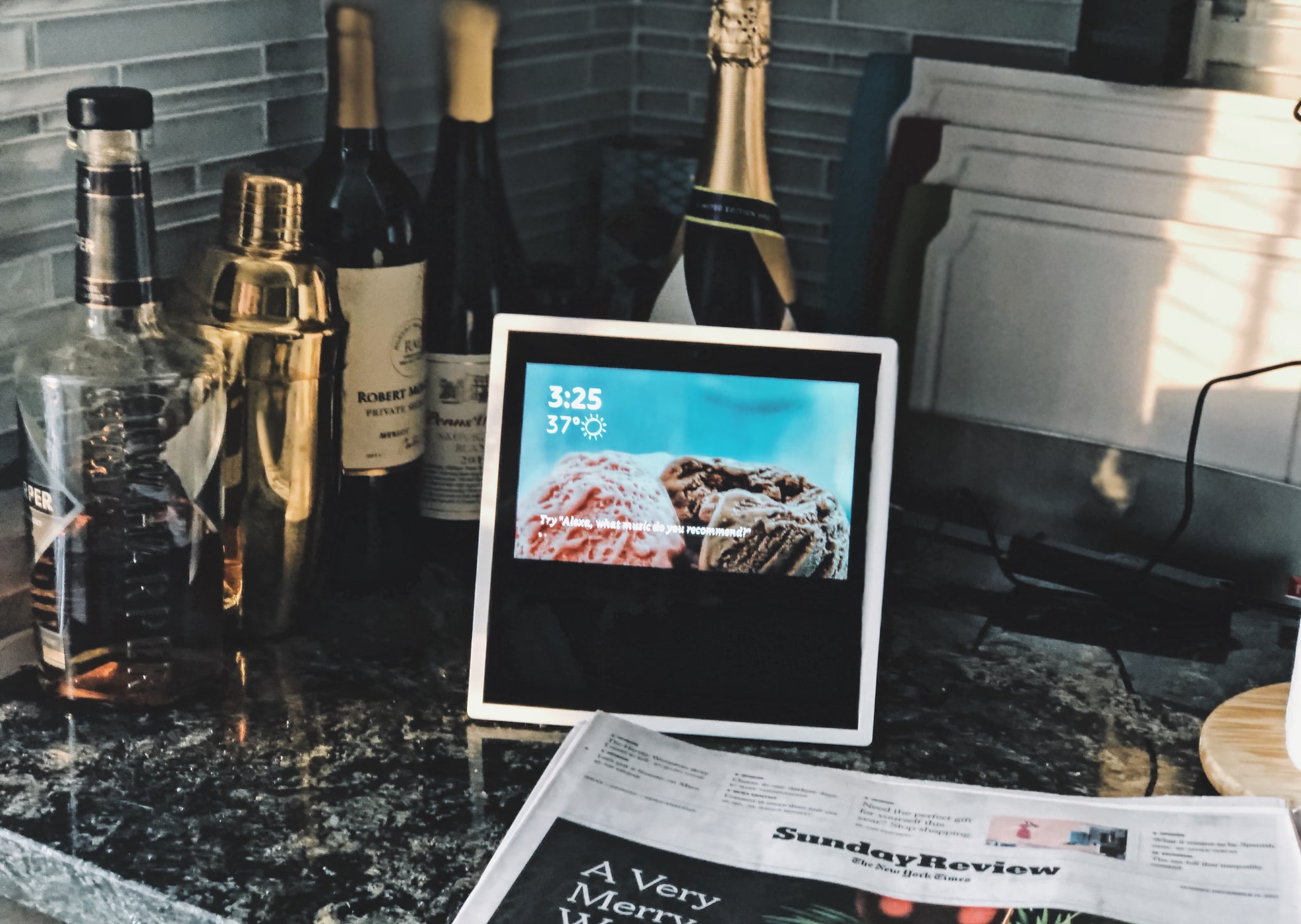 For me, 2017 will always be the year that I took the plunge and truly embraced the concept of a smarter, more helpful home. Back in November, after decades of quietly fearing a dystopian future in which our devices outlived us all, I unboxed a smart lamp that changed my entire outlook on digital assistants. But after two months of slowly upgrading each and every device in my household – from a smart thermostat to voice-activated lightbulbs, all the way through to adding smart adapters to each of my outlets – I still had one very pressing question in my mind: Was it truly possible to do everything that needed doing on a daily basis through the devices which now powered my home?
In early December, with the help of the lovely people at Amazon and armed with an Echo Show, an Echo Plus, and two all-new Echo devices, I set out to get to the bottom of what had rapidly become a near-daily ponderance. I relinquished control of all of the material objects in my Queens apartment, signing each and every item over to Alexa and formally giving her the power to do what needed to be done. In order to leave no stone (or obligation) unturned, I strategically placed Amazon devices in my sister's apartment and my childhood home where my parents still live. I secured a paper and pen, ready to write down every single thing that I did over the course of the experiment. Finally, I put all the phones, remotes, and tablets in my house in a box and hid it under the bed. If Alexa was going to change my life, I was going to make sure that it was in a way that enabled me to put those things aside when I was at home – a tall order, I know, but as I ultimately found out, one that was totally worth it.
The one-line summary of what went down? I discovered that a staggering 32 tasks could be accomplished with Alexa's assistance, and immediately knew that my life would never, ever be the same.
Ultimately, what I learned from letting Alexa run my life was that there are so many exasperating, trivial, and downright annoying things that can be taken care of in seconds – and as a result, I found that my general mood was greatly improved over the course of the day. More stunningly, I also came to the conclusion that many tasks that I thought had not yet been realized – like the ability to turn on my old TV without a remote, or finding my phone within the confines of my apartment, or turning off all the devices and lights in a room with one fell swoop – were not only completely within my reach, but could be set up and ready to go within a matter of minutes. This discovery is largely thanks to the insanely far-reaching compatibility that Alexa has with other devices, and by blocking out the use of different digital assistants in order to have one main power source who was calling the shots. By delegating power over all the rest of the technology in my home to one digital assistant, I essentially enabled the whole system to work in harmony. And boy, was that harmony oh-so sweet.
Below you'll find a complete rundown of everything Alexa did for me over the course of a day – Come on, do you think there would be this much build-up if I wasn't going to point out exactly what she could do for you, too? But first, it's worth noting was that there's a ton of stuff you can do with Alexa and smart home devices that can be discovered by trial and error. Sure, you can read oodles of documentation in order to know exactly what you're in for, but I found it way easier and more pleasant to just devote the time to trying things out for myself. I also can't recommend highly enough that you make sure that there isn't just one person in the household setting everything up, that it's done together – it will make it far, far easier to use what you've set up going forward if you don't have to essentially run training for each and every family member or roommate after the fact.
And finally, because if you're anything like me, at the end of the day it's all about getting an answer to the question at hand: yes, it is possible to have Alexa do everything that needs doing in your life on a daily basis. And now that I've discovered that's the case, I'm never going back to how things were before.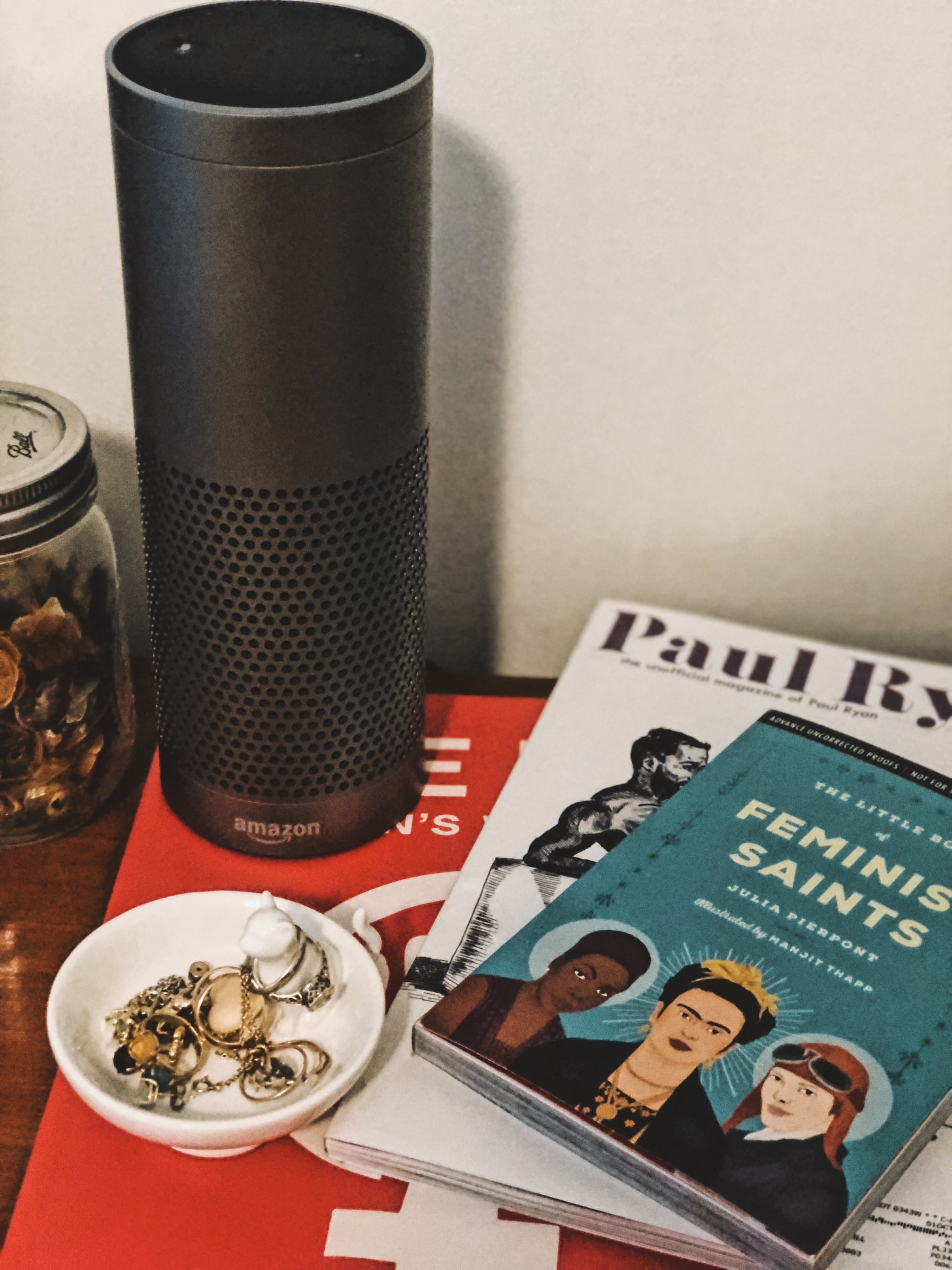 ALL THE THINGS THAT ALEXA DID FOR ME IN JUST ONE DAY
Alexa read me my calendar, and I canceled a double-booking.

The prompt: "Alexa, what's my schedule for today"
My notes: I love having Alexa tell me exactly what I can expect from the day ahead, and sometimes having it read aloud means I'm not distracted by incoming emails and can actually focus on getting my events sorted out. By asking her to delete something (and then, of course, asking her to email someone to move a meeting) I was able to get the day started on the right foot.

Alexa gave me the weather forecast.

The prompt: "Alexa, what is the weather going to be like today?"
My notes: She read me the forecast as I got dressed, helping me to figure out exactly what to wear so that I'd be comfortable not just when I left my bedroom in the morning, but when I went out later that evening as well.

Alexa turned up the heat in my apartment.

The prompt: "Alexa, turn up the heat to 72 degrees."
My notes: I have the Nest E thermostat, and once I'd integrated Alexa and discovered what the weather was like outside, I was able to ask her to turn up the heat before heading into my living room to start working for the day.

Alexa turned on the lights in my living room and kitchen.

The prompt: "Alexa, turn on the lights"
My notes: I've got a combination of smart bulbs set up throughout my home, but having them all linked up into one convenient bundle – labeled "lights," naturally – means I can turn everything on in one fell swoop, before I've even entered the other side of my apartment.

Alexa guided me through a quick workout.

The prompt: "Alexa, start seven-minute workout."
My notes: I'm a sucker for anything that claims to be quick, easy, and effective when it comes to workouts – and with the guidance of visuals on my Echo Show, those seven minutes are now a staple of my mornings.

Alexa turned on my TV and DVR, and put on the news.

The prompt: "Alexa, turn on the TV"
My notes: I have all of my TV-related devices hooked up into a Logitech Harmony Elite hub, and while that means I can control everything with one single remote, it also means I can ask Alexa to do it for me without touching a button. She can also change the channel – in this case, I asked her to put on MSNBC, which I have saved as a favorite channel.

Alexa played me ambient sounds after I muted TV audio.

The prompt: "Alexa, start Rain Sounds"
My notes: There is nothing as soothing as the sound of rain falling – and it's certainly a great backdrop to cable news. But it got me to wondering – how exactly does Alexa hear me over the usual chatter in my apartment? "Alexa is designed to get smarter every day. The more you use Alexa, the more she adapts to your speech patterns, vocabulary, and personal preferences," Amazon told me. "From a technical standpoint, here is how it works: Beam-forming technology combines the signals from the 7 individual microphones (8 mics on Echo Show) to suppress noise, reverberation, and even competing speech (e.g. another person, TV, etc.). This audio signal is then used by our cloud-based speech recognition system (that uses machine learning trained on a large amount of far-field speech data) to recognize an utterance from a distance. Enhanced noise cancellation allows you to wake up the device with the wake word even when it is playing loud music."

Alexa re-ordered my preferred breakfast food when I realized I was running low.

The prompt: "Alexa, order more Luna Bars."
My notes: All of those years of re-buying the same products on Amazon pays off – especially when you have an Echo Show. The device instantly gives you options on-screen of what to order, and then tracks your delivery and gives you updates on when the order will come. And, bonus, once the package gets to your house Alexa informs you that it's arrived via notifications on all of your Amazon devices.

Alexa gave me a voice message from my sister.

The prompt: "Alexa, play my messages."
My notes: My sister and I leave each other messages on our respective devices, which is a nice way to add a touch of real life into our existing text message conversations. You can also get and send these messages from the Alexa app, so you can always access the response regardless of where you are.

Alexa turned on my favorite writing playlist on my Sonos system.

The prompt: "Alexa, play 'work chill' in the living room."
My notes: Once I had gotten through my emails, I switched from ambient sound to more melodic jams to settle into the workday. With the new Sonos integration, I'm able to control the music with the sound of my voice – which means I've completely eliminated the need to fumble with remotes and can just sink into the couch and get to work.

Alexa told me the name of a song I had stuck in my head – and played it for me.

The prompt: "Alexa, what's the song that goes . . ."
My notes: OK, so maybe the music didn't work quite as I'd hoped, but that was partially because I couldn't stop thinking about a song I'd heard in a movie the night before. By just identifying a few key words of the song, Alexa was instantly able to pull it up and play it – and let's just say, I'm glad I headed that one off at the pass because I wasn't crazy about it once I'd heard it in full.

Alexa told me what to make for lunch.

The prompt: "Alexa, what should I have for lunch?"
My notes: I'm AWFUL at making decisions, as any of my loved ones or family members will tell you. So I was thrilled to discover that once I commanded Alexa to tell me what to eat, I could open the fridge and tell her what ingredients I had in there and she gave me a recipe that was totally up my alley (and super easy to make, too!)

Alexa added an item to my shopping list.

The prompt: "Alexa, add turkey, bread, and cheese to my list."
My notes: I used the last of my lunch prep when I made the "sweet and spicy" sandwich Alexa suggested, so I had her add the items to my shopping list. The best part about this is that the list populates on both my devices as well as my boyfriend's – so he can always pick up what we need if I don't get around to it.

Alexa set a timer for heating up my sandwich in the oven.

The prompt: "Alexa, set a timer for 15 minutes."
My notes: I love being able to set a timer and name it – in this case, I named it "Sandwich is ready!" – and it comes super in handy when I need to set multiple timers at the same time, and can visually see exactly how much time I have left on each component in just a quick glance.

Alexa called my boyfriend – without me having to use my phone.

The prompt: "Alexa, call Jared"
My notes: One of my favorite features of the Echo is being able to call someone right on the device without needing to touch my phone – remember, it was in a box under my bed so I couldn't use it, even if I wanted to – and I told him I had added some stuff to our shopping list and asked him to swing by the market on his way home from the office.

Alexa gave me a rundown on the news.

The prompt: "Alexa, give me my flash briefing."
My notes: I'm relatively plugged into what's going on in the world, but I do like having my Echo Show give me a quick rundown while I'm eating – especially when one of the highlights that populate on the screen when it's inactive has caught my eye. And just how do those stories come to live on the homepage of the Show? We use a combination of algorithms and hand-curation to surface interesting entertainment "trending" topics, Amazon said. "All of these topics come from top-tier global news outlets and news wires. If you ask Alexa to "learn more" or click into that trending topic, Alexa will read you the full synopsis, which is attributed to a named news outlet."

Alexa gave my cat a treat.

The prompt: "Alexa, give Popsicle a treat."
My notes: Real talk, I made it sound like I was being nice but in reality there were some construction workers outside banging pipes so I didn't know where the cat was hiding. I've spent a ton of time gushing about how much I love my Furbo Pet Camera but for things like getting him to come out and show me that he hasn't escaped into the city streets, it's totally worth gushing anew.

Alexa reminded me when my wine had been chilled.

The prompt: "Alexa, set a reminder to take the wine out of the freezer in three hours"
My notes: I'm one of those people who has had multiple bottles of alcohol explode in my freezer because I forgot I was chilling them – so being able to have Alexa set a reminder with the actual thing that needs to be done is a godsend.

Alexa made me laugh hysterically by being Baby Groot.

The prompt: "Alexa, ask Baby Groot what time it is."
My notes: If you haven't seen Guardians of the Galaxy, you probably will roll your eyes at this one, but for whatever reason I literally cannot keep it together whenever someone utters "baby Groot." I was on hold before an interview and the person I was waiting for picked up just as Alexa responded, so I explained the whole thing to her and we had a good laugh together, too.

Alexa helped me figure out where to go for dinner.

The prompt: "Alexa, what's a good Chinese restaurant in Manhattan?"
My notes: With locations, hours, and all the Yelp-able intel instantly accessible from an Echo device, it's super simple to narrow down your options and pick a place to chow down. You can also re-order from your fave delivery spots, though I didn't have a chance to test that out during my experiment and instead opted to eat out.

Alexa played The Wire on my Echo Show.

The prompt: "Alexa, watch The Wire."
My notes: Tired of music and definitely still needing some background noise as I finished up for the day, I had Alexa turn on an old standby on the screen as I sat with my laptop at the kitchen counter. The news was still in the background so I didn't feel guilty – and I've seen the show so many times that it's the perfect way to focus on what I'm doing on my computer.

Alexa let me have a little face time with my parents.

The prompt: "Alexa, drop in on the Hasslers"
My notes: Who doesn't love being able to quickly catch up from you kitchen counter? To be clear, this is a totally optional program that Amazon offers but I couldn't possibly recommend it more for anyone who doesn't live in walking distance of their family.

Alexa found my boyfriend's phone.

The prompt: "Alexa, find Jared's phone using Eero."
My notes: Once my boyfriend came home, he misplaced his phone. Instead of desperately searching for it and tearing the apartment apart, I asked Alexa to locate his phone and it directed me to the last room that it had pinged off my Eero WiFi system. How cool is that?

Alexa played holiday music for us as we had a cocktail before dinner.

The prompt: "Alexa, play holiday music."
My notes: It's the holidays, so why not? Again, the Sonos integration has made me so much more inclined to soundtrack my entire life.

Alexa called an Uber for me. Really.

The prompt: "Alexa, order me an Uber."
My notes: You guys! You can actually do Uber without a phone! It's a miracle . . . and I highly encourage everyone to try it out for themselves. I had no idea that Alexa could do this, and asked Amazon how it is that Alexa learns so many skills so quickly. "Similar to how the brain processes language, the technology that powers Alexa is multifaceted, yet interconnected, with pervasive use of deep learning," they said. "Because Alexa's brain is in the AWS cloud, she continually learns and adds more capabilities, every hour, every day. We are constantly adding new capabilities to Alexa's Brain to make her smarter. Every foundational machine learning component has become more accurate by use of more powerful algorithms and the ability to process large quantities of data on cutting edge AWS GPUs."

Alexa gave me a perfect cocktail recipe.

The prompt: "Alexa, give me a recipe for Bee's Knees."
My notes: One of my most favorite Winter traditions is the excuse to shamelessly drink bee's knees – and when we got back from dinner, I consulted with Alexa to find the perfect recipe and had her read me the directions as I mixed a pair up for me and my beau.

Alexa got me prepped for the next day.

The prompt: "Alexa, what do I have on my calendar for tomorrow?"
My notes: Once again I asked Alexa to tell me what was going on tomorrow – and added in an event that I had discussed with someone over dinner, and it immediately populated in my calendar. It also reminded me that I needed to be up early the next day for a meeting, so I knew to call it a day after just one of my favorite gin cocktails.

Alexa set an alarm to wake me up with Christmas music the next morning.

The prompt: "Alexa, wake me up with Christmas music at 6 a.m."
My notes: I told you that I was feeling festive! But that being said, I also know that if I have a device that I can shut off by fumbling around in the dark it is 100 percent likely that I will do just that – so having an alarm that's a safe distance from my bed and also makes me rise with a new type of music each morning keeps me in check.

Alexa picked up exactly where I'd left off in The Wire on my TV.

The prompt: "Alexa, play The Wire on my Fire TV."
My notes: I love being able to control my TV with my voice – and even better is the fact that I can switch between any of the TVs in my home as well as any of the devices to pick up at the very same spot. I asked Amazon just how it was that Alexa was able to understand what I wanted at a given point – how did she know what watch meant versus what play meant? "State of the art technology of deep neural networks, machine learning, and big data came together and those modern techniques have allowed us to move Natural Language Understanding forward faster than ever before. Not only do these systems get more accurate over time, they become more knowledgeable too," they told me. "The natural language understanding layer extracts meaning from the words in order to map the spoken utterance into an action Alexa should take on behalf of the user. Alexa then performs a suite of contextual processing to decide which skill to invoke, which entity to choose (e.g. Songs from a catalog), or whether she needs to clarify the user's intent because she didn't hear or understand the user completely."

Alexa turned on my second TV, and turned on my Xbox One.

The prompt: "Alexa, turn on the Xbox."
My notes: Now that I've outed myself as one of those people that has two TVs so they can have one for gaming, it's worth noting that this is one of the big surprises along the way given Microsoft isn't typically someone you associate as being BFF with Amazon. But thanks again to the Harmony Elite, I was able to hook that up so that it instantly sets me up for a good ol' relaxing gaming session before bed – and it's a truly glorious thing.

Alexa turned everything in my living room off, and turned on my bedroom lights.

The prompts: "Alexa, turn off the living room." "Alexa, turn on the bedroom lights."
My notes: Once again this is something that I have always dreamt about but never imagined was within reach – and by grouping all of the devices in a room, I enable a complete shutdown of a room in just six words. It's worth noting that this has been a huge money saver, since there's always something I neglect to fully turn off . . . and that in and of itself is a game-changer for me.

Alexa turned off my bedroom lights just as I was fading into sleep.

The prompt: "Alexa, turn off the bedroom lights."
My notes: Instead of having to rouse myself and turn off the lights, I told Alexa to do it for me. Once the lights had gone out, I added "Alexa, thank you" – because I realized at this point, as I was just starting to drift off, that yes - Alexa had my life easier that day, and done all the hard work for me. And the sleep that I had that night was the kind of sleep that one gets when they finally find the answer to the question that they'd been searching for so long: a smart home is an easier home, and an easier home lets you enjoy the good things just that little bit more.
Image Source: Chelsea Hassler