Furbo Dog Camera With AI, Selfie and Smart Alert Tech Review
The Furbo Dog Camera Is a Must Have For the Good Pup in Your Life
As POPSUGAR editors, we independently select and write about stuff we love and think you'll like too. If you buy a product we have recommended, we may receive affiliate commission, which in turn supports our work.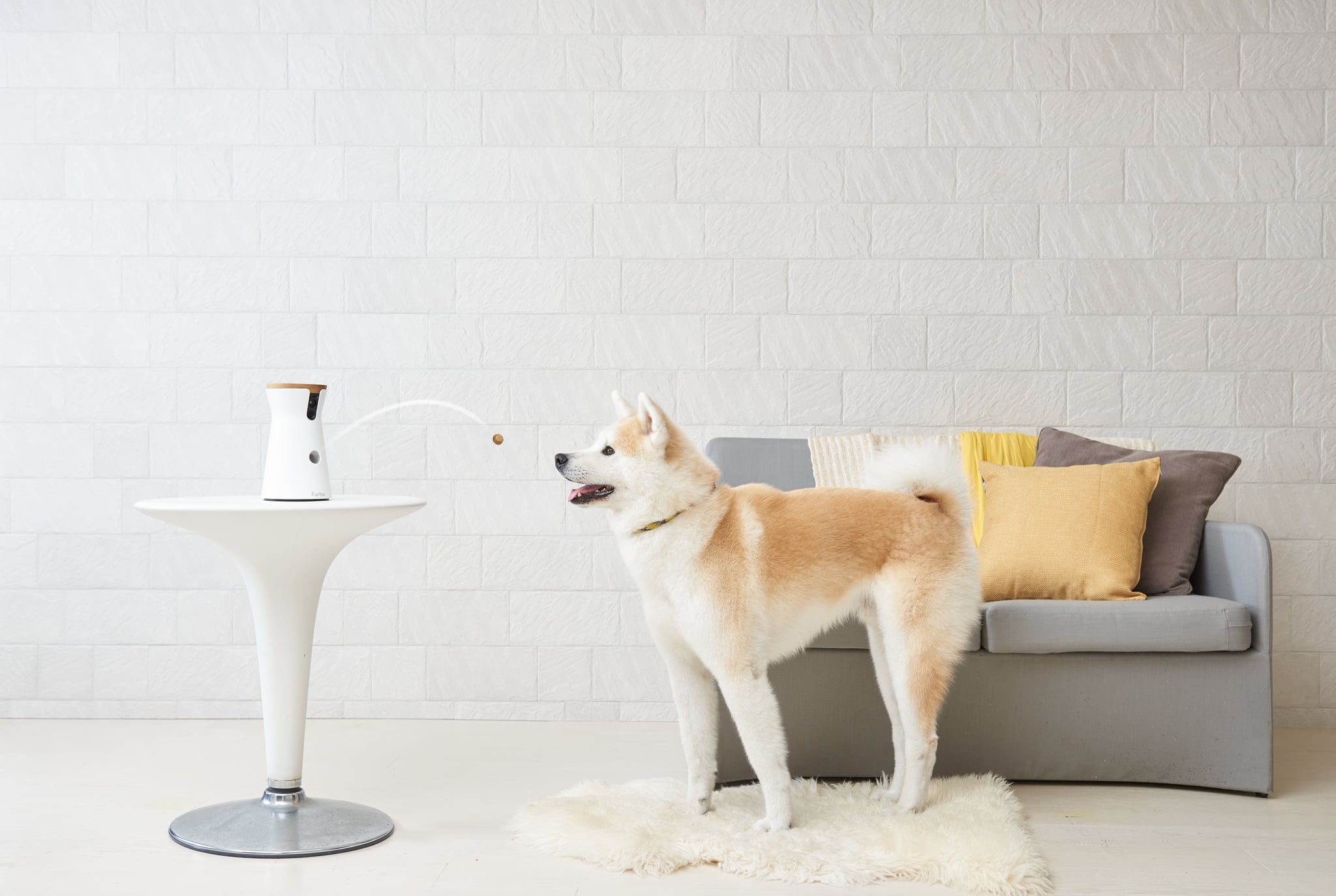 Stories about dogs and cats are a dime a dozen, but what's not often talked about is just how hard it can be to leave your furry loved one behind. Be it for a weekend getaway or just a long day at the office, you'd be hard-pressed to find a single pet owner who doesn't find themselves wondering how their four-legged friend is doing while they're away. But with the Furbo Dog Camera ($199), there's a quick and easy way to check anytime, day or night, and to show your pet how much you care.
The market for products that seek to fill the pet-shaped hole in your away-from-home life is huge and ranges from Uber-like dog walking services to impromptu pet selfie-snapping devices. But Furbo does a whole bunch of things — from sending you alerts when there's sudden movement to letting you shower your dog with treats. That makes it a whole hell of a lot easier to avoid separation anxiety, with just a few taps on your phone. I spent a week using the Furbo, and while I fully acknowledge that I'm in the minority and use the dog-focused device to look after my cat, I can unequivocally say that it's made me feel a little more connected to him when I'm not there to tell him he's a good boy.
For starters, Furbo is, at heart, a camera — and as a result, the Furbo app provides you with a real-time feed of the inside of your home. Just place the (surprisingly tasteful) device where your pet would normally reside, and you're good to go. Then there's the fact that there's a two-way microphone attached to the Furbo, one that listens in for unexpected noises (namely, if the dog starts barking, you'll get an alert) but also enables you to talk to the animal and soothe them when they get bent out of shape.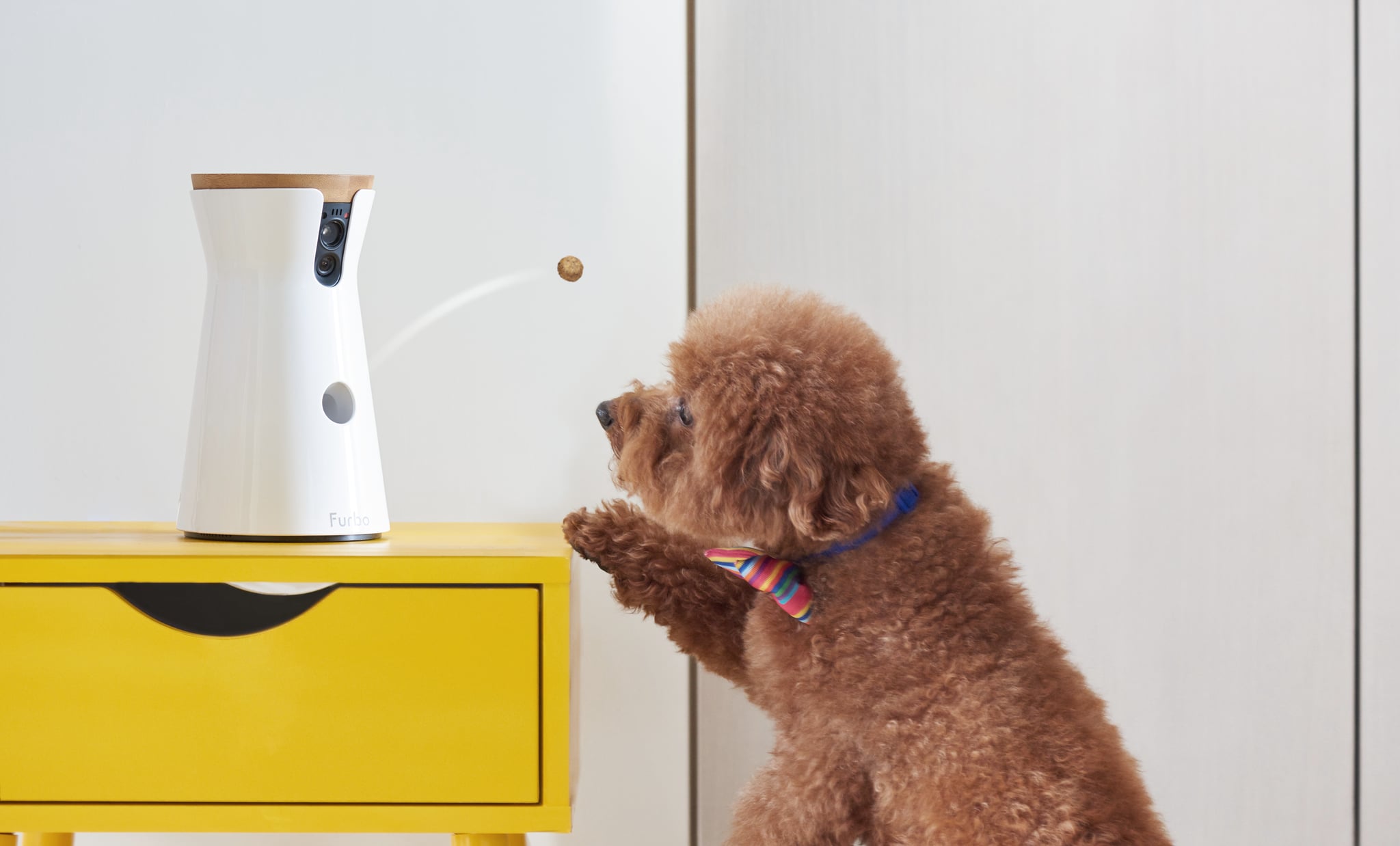 Then there are the more fun aspects of the smart home device. The Furbo base holds up to 100 treats to dispense for your pet remotely, which can be handy if your pet has run out of range or if you're out past his or her dinner dinner. Plus, when you open the app, it takes you instantly to the camera view — enabling you to snap a shot of your pet at rest or a video of what's going on at home while you're away. It also works with a smart AI system to take selfies when your dog is looking directly at the camera and send alerts directly to your phone if you so choose, allowing you to know exactly what's up no matter where you are.
It's worth noting that the Furbo was created with dogs in mind; the device was crafted with the advice of trainers and experts in order to make it the perfect dog companion and provide you with the most useful information about your pet. But that doesn't mean that you can't, like me, use it for your cat — or that they won't be responsive to the treat-flinging surprise. I recorded a message that plays directly before the Furbo shoots out a set of cat treats, and in the week that I've had it, there hasn't been a single time that my cat hasn't leaped up with glee to interact with the device.
Overall, if peace of mind with your pets is what you're after, you can't beat the satisfaction that the Furbo provides. And with the launch of the second generation of the device, there's a better-than-ever camera and a smarter-than-ever system behind the Furbo — and for our money, it's worth the price.