Olympian Ibtihaj Muhammad Interview on Trump Travel Ban
Muslim-American Olympian Ibtihaj Muhammad Says She Was Recently Held at US Customs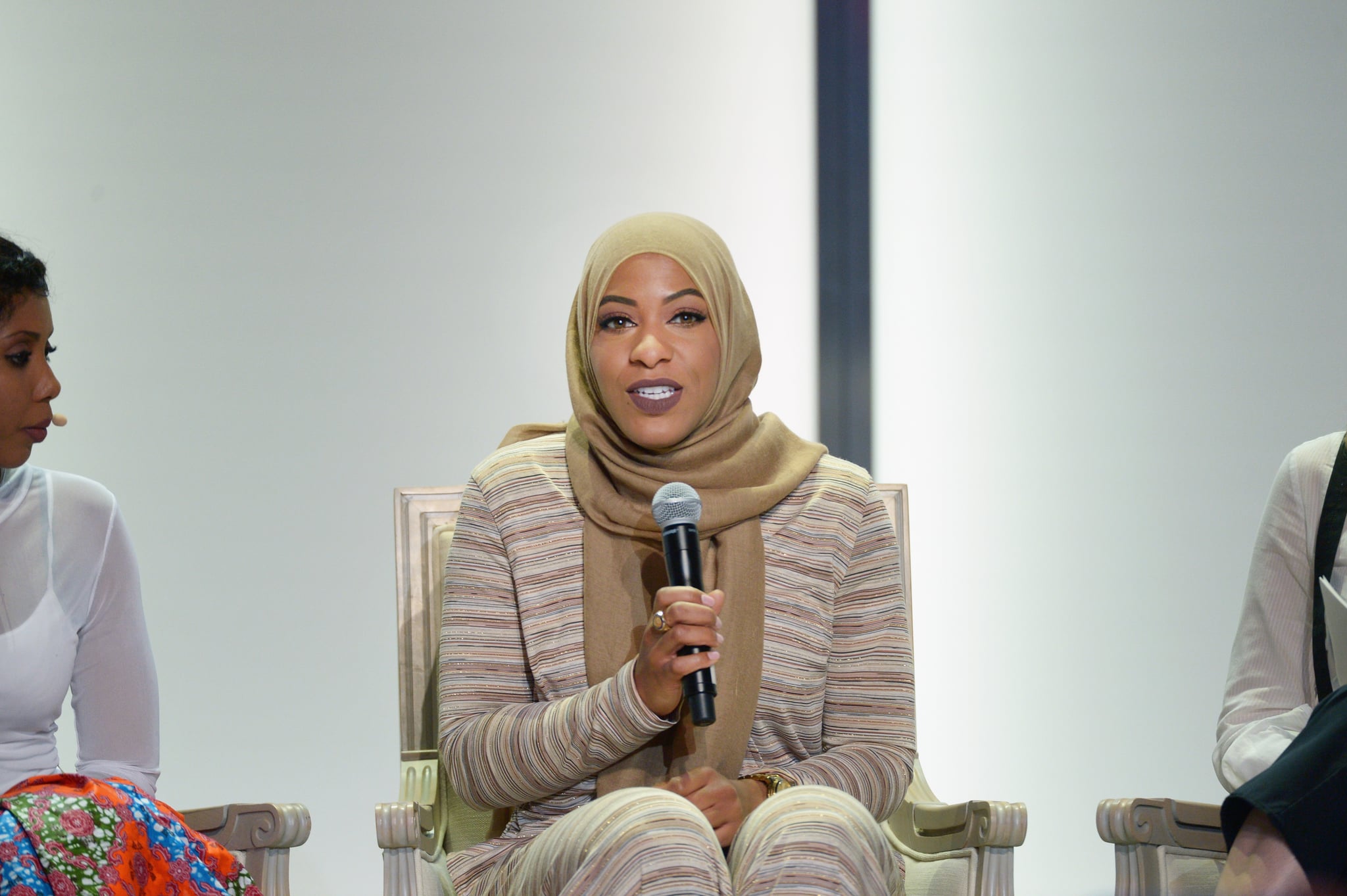 Update:
In a heartfelt tweet on Feb. 11, Muhammad thanked those who had reached out to lend their support after she shared her experience being detained. She also offered more detail on the incident, which she said occurred in December, and promised she will "continue to be a voice for all those impacted by profiling & bigotry."
Original story:
Fencer Ibtihaj Muhammad made history in the 2016 Olympics as the first female Muslim American to medal for the United States and the first American to compete in the Games wearing a hijab. But the athlete — who is an outspoken advocate for equality across gender, color, and religion — says her success doesn't insulate her from the struggles and discrimination that Muslims Americans face.
Muhammad took the stage at the MAKERS conference on Tuesday afternoon. There, she joined gymnast Gabby Douglas for a chat with blogger Luvvie Ajayi about empowerment, representation, and athleticism. In an interview with POPSUGAR just a few moments after that conversation, Muhammad spoke out about Trump's travel ban. The executive order blocked thousands of refugees, immigrants, and visitors from seven predominately Muslim countries from entering the United States before it was struck down by a judge many days later. Muhammad revealed that she recently was "disheartened" and tearful to find herself detained at US Customs without explanation. She also weighed in on how Americans can be better allies to the Muslim-American community during this uncertain time.
POPSUGAR: Do you know anyone who was directly impacted by Trump's travel ban?
Ibtihaj Muhammad: Well, I personally was held at Customs for two hours just a few weeks ago. I don't know why. I can't tell you why it happened to me, but I know that I'm Muslim. I have an Arabic name. And even though I represent Team USA and I have that Olympic hardware, it doesn't change how you look and how people perceive you. Unfortunately, I know that people talk about this having a lot to do with these seven countries in particular, but I think the net is cast a little bit wider than we know. And I'm included in that as a Muslim woman who wears a hijab.
PS: That must have been a scary moment for you.
IM: It's really hard. My human response is to cry because I was so sad and upset and disheartened — and just disappointed. At the same time, I'm one of those people who feels like I have to be strong for those people who may not be able to find that strength. I feel like I have to speak up for those people whose voices go unheard. It was a really hard two hours, but at the same time, I made it home. I try to remember to be positive and to try to leave all these situations, even if they may be very difficult, with love. I think that we will come out on top as women, as people of color, as Muslims, as transgender people, as people who are part of the disabled community — I think that we'll come out on top.
PS: If you were able to tell Donald Trump one thing, what would it be?
IM: If I could say one thing to Donald Trump, what would it be? I feel like that's a loaded question. I'm not really sure how to answer that. It's like, where do I start?
PS: I think there are many people out there who want to know how they can be allies to the Muslim community. What advice would you give to them?
IM: I think that when we stand in solidarity, we'll be stronger. For those people who fail to see the injustices that are occurring, in particular with the Muslim community, I think it's because you've sat in a seat of privilege for a long time, and you kind of choose to be myopic and not think of those people around you. This is a moment where we choose the moral high ground and we think of each other as brothers and sisters and speak up for those who may not be able to. How can you immediately help? I would say by donating to organizations like the ACLU, who can fight the ban and in real ways can help Muslims in this moment.
PS: There are so many incredible women at the MAKERS Conference. Is there anyone you kind of geeked out over meeting?
IM: I heard Octavia Spencer yesterday. She's such a talented speaker. I actually went to go see her movie last night, Hidden Figures, just in case I ran into her today. I think Muslims in particular are facing similar obstacles African Americans did, historically. I think it was a good time to see Hidden Figures, just to remind myself how resilient we can be as human beings. Even if we're facing bigotry or racism, we can still be successful.