Pope Francis on Climate Change
Pope Francis Wasn't Shy About Sharing His Climate-Change Message With Trump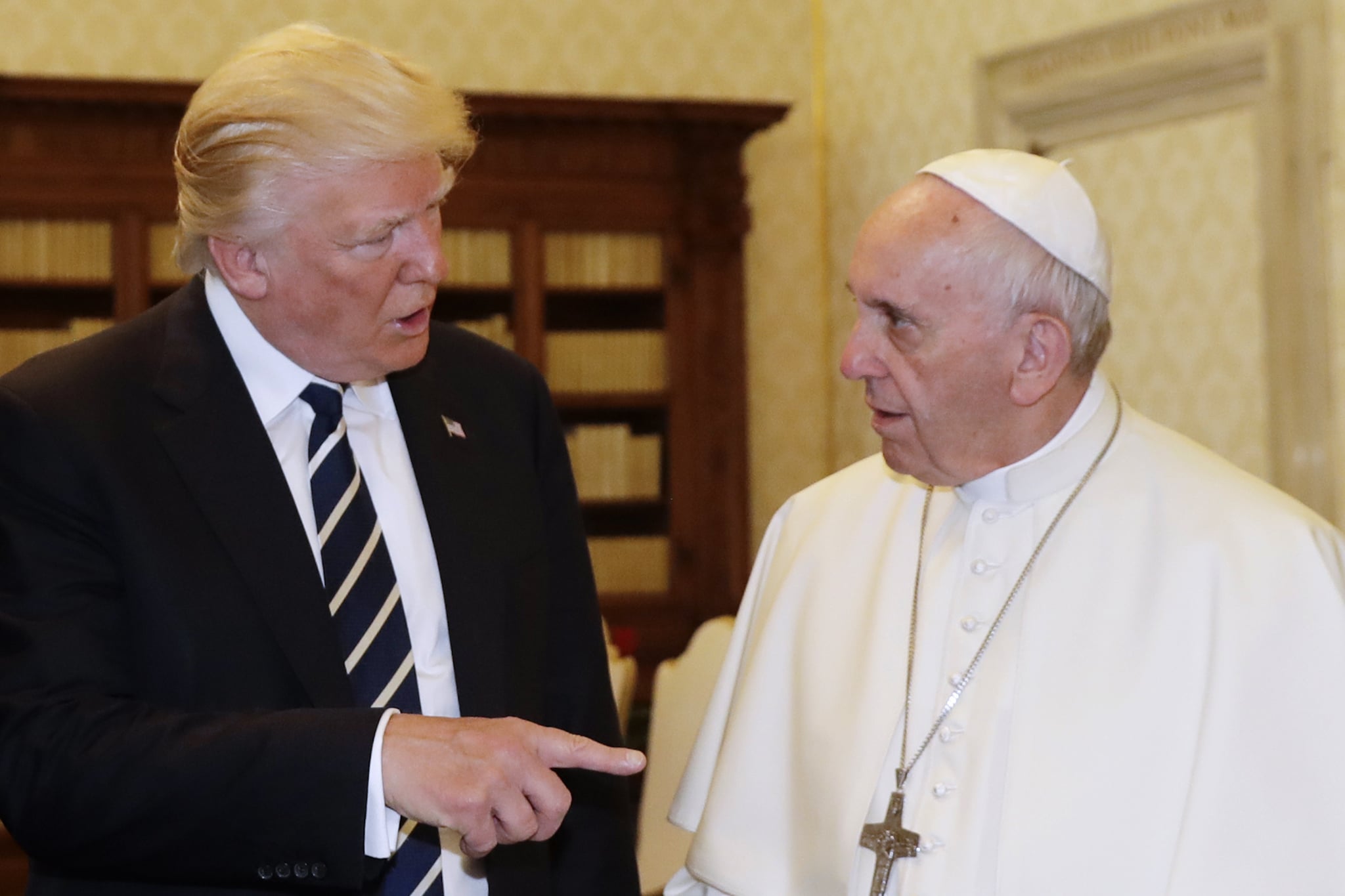 Pope Francis has long warned of climate change's inevitability and its perils. Given the pope's outspoken advocacy for a global, proactive response to climate change, his meeting with noted climate-change denier President Donald Trump was bound to be enlightening (at least for one party). When they met on May 24, the pope's ceremonial gift to Trump made his message abundantly clear — and he didn't have to say a word; Pope Francis gave Trump a copy of his 2015 encyclical on the environment.
Back in June 2015, the pope made history by becoming the first pontiff to speak publicly on climate change. But he didn't just comment on the global crisis; Pope Francis called for a unified response to the man-made phenomenon. In the 192-page encyclical (an essay sent to bishops), Laudato Si, Pope Francis encouraged a partnership with science and religion to find solutions to what he described as human-driven climate change.
According to the pope, climate change "represents one of the principal challenges facing humanity in our day." He elaborated on that thought, delivering his most explicit criticism of countries that exacerbate the problem to no end. "It represents one of the principal challenges facing humanity in our day. Its worst impact will probably be felt by developing countries in coming decades," the pope wrote. "Many of the poor live in areas particularly affected by phenomena related to warming, and their means of subsistence are largely dependent on natural reserves and ecosystemic services such as agriculture, fishing, and forestry."
In his essay, Pope Francis also decried the politicization of climate science and the lack of international response. "Politics must not be subject to the economy, nor should the economy be subject to the dictate of an efficiency-driven paradigm of technocracy," the pope wrote. "Today, in view of the common good, there is urgent need for politics and economics to enter into a frank dialogue in the service of life, especially human life."
Trump's administration has already attacked environmental protections implemented by several previous presidents in favor of the fossil-fuel industry. His Environmental Protection Agency administrator, Scott Pruitt, has iterated that the department will not study climate science, nor will it employ scientists who advocate for a response. Pruitt himself has a colorful history of denying climate change's existence.
It's strange to think we live in a world where Leonardo DiCaprio is more receptive and engaged with global warming than the president of the United States.