Protests Against Trump's DACA Decision in NYC
Dreamers Face Trump's DACA Decision: "My Entire Future Flashed in Front of My Eyes"
Sarai* says she was 4-years-old when her mother brought her to the United States from Mexico. They came on a tourist visa to join Sarai's father, who had already emigrated to New York City. The family did not want to be separated, so mother and daughter remained with Sarai's dad and began building a life in America: school, work, and paying taxes.

Today, Sarai (pictured above) is one of 11 million undocumented immigrants living in the United States. She is also one of the 800,000 DACA recipients who now faces a terrifying and uncertain future following President Donald Trump's decision to end the program, which was announced by Attorney General Jeff Sessions on Sept. 5. Sessions promised an "orderly, lawful wind-down" of DACA on Tuesday and said that the Department of Homeland Security will no longer process any new DACA applications. The program, first established in an executive order signed by President Obama in 2012, gives opportunity, safety, and a chance at legally building a life in America to undocumented immigrants brought to the United States as children — granted they meet a stringent set of requirements.
"Just not knowing what was going to happen to my job, how I would survive without having a valid work permit, and just how much hate there is against immigrants in this country . . . it's really hit home."
Congress has six months to come up with an alternative to DACA, and any DACA recipient whose status is set to expire in the next six months will be able to renew their permit in that time, the White House said. Immigration advocates say that the rollback of DACA — together with the likely repeal of Temporary Protected Status (TPS), which allows people from countries experiencing man-made or natural disasters, such as conflict or earthquakes, to temporarily stay in the US — means more than 1 million immigrant workers risk losing their jobs.
Protests against the decision mobilized quickly across the country the morning of Sessions's announcement; they included a protest at the White House in Washington DC and a walkout at a high school in Denver, where hundreds of students marched out of class to protest the president's decision. Sarai took part in a day of action in NYC organized by immigrant advocacy group Movimiento Cosecha. The 24-year-old told POPSUGAR that, nearly a week after hearing the first murmurs about Trump's decision, she's "in a much better place."
"When I first heard about the news Wednesday afternoon, that Trump was thinking about [ending DACA], it was an emotional roller coaster."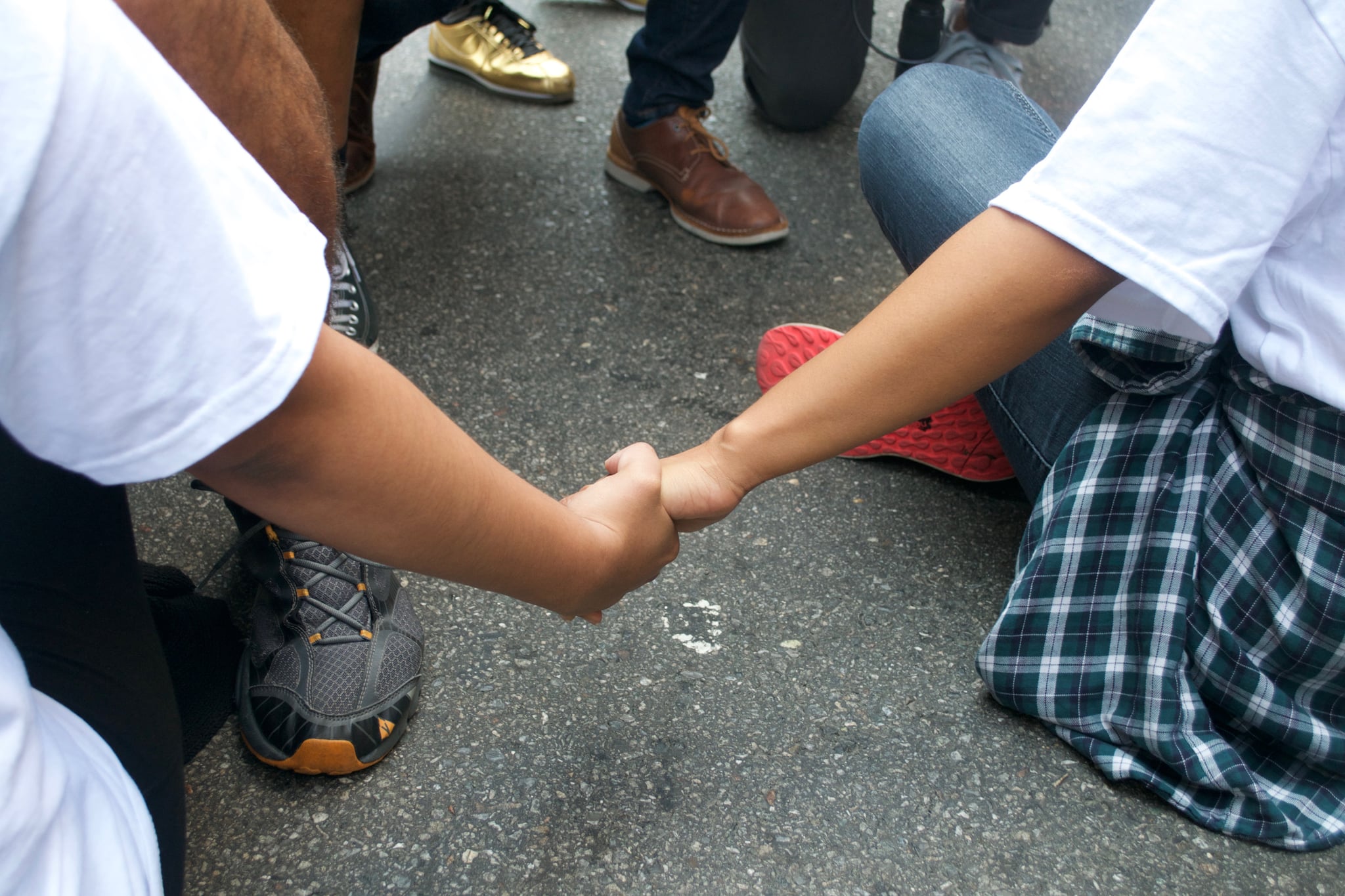 "I was at work, and I actually had to excuse myself for the day," she says. "My entire future flashed in front of my eyes. Just not knowing what was going to happen to my job, how I would survive without having a valid work permit, and just how much hate there is against immigrants in this country . . . it's really hit home."
Sarai's situation seems particularly cruel. She says her parents recently received permanent residency in the US after waiting more than 10 years for their case to be approved. By that time, Sarai was too old to receive residency as a child of her parents. Despite working hard, going to college, and contributing to society, Sarai says that none of that seems to matter anymore.
"Now that we've checked off all the boxes, we're coming to the reality that actually all that hard work is for nothing, because we're closing all the doors on you," she says. "All we want to do is give back to the country we call home."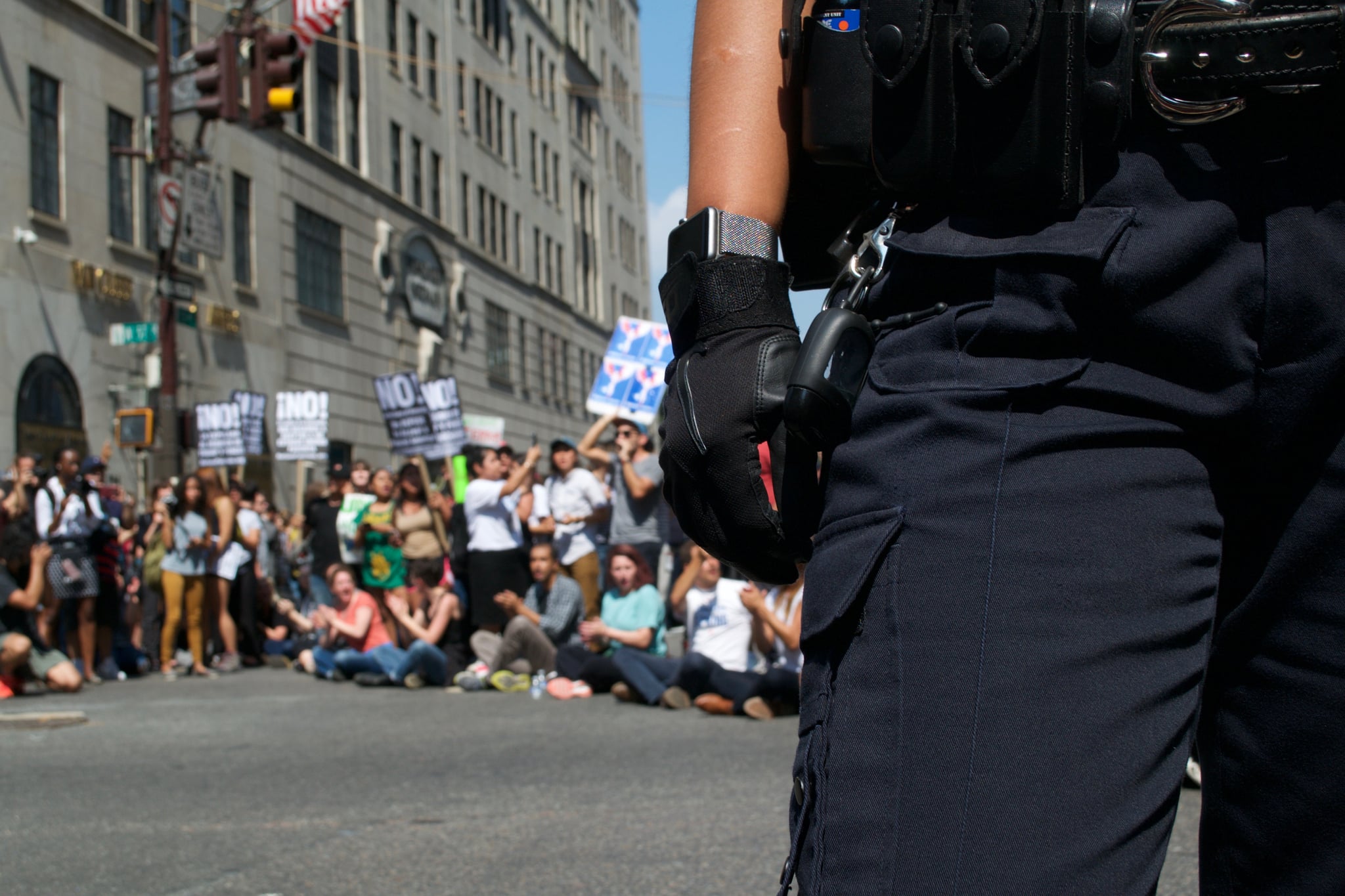 The NYPD watches over the crowd as a group of protesters prepares to be arrested outside Trump Tower on Sept. 5.

Hundreds of people marched three blocks from the William Tecumseh Sherman Monument at the southeastern corner of Central Park to Trump Tower on Tuesday morning, in an effort to "shut down" midtown Manhattan. That intersection and its surrounding streets have become an epicenter of protests since Trump was elected in November 2016. A group of people formed a traffic-blocking human chain across 56th Street, prompting the male driver of a white SUV limousine to jump out and threaten to "slap" the protesters. They stood firm. Meanwhile, a dozen people sat across the intersection of 5th Avenue and 56th Street, outside Trump Tower, chanting "Undocumented and unafraid," "No papers, no fear," and "Sin DACA, sin miedo" (or "No DACA, no fear" in English).
For many DACA recipients who took part in Tuesday's protests, life in the US is all they have ever really known.
Of the 12 people who took part in that sit-in — an act of civil disobedience — nine were undocumented immigrants, according to Movimiento Cosecha. All 12 were arrested by police around 11:30 a.m., shortly after the White House officially announced its decision to rescind DACA. There were no clashes between the dozen protesters and police, and we observed both parties acting peacefully and calmly as the arrests took place.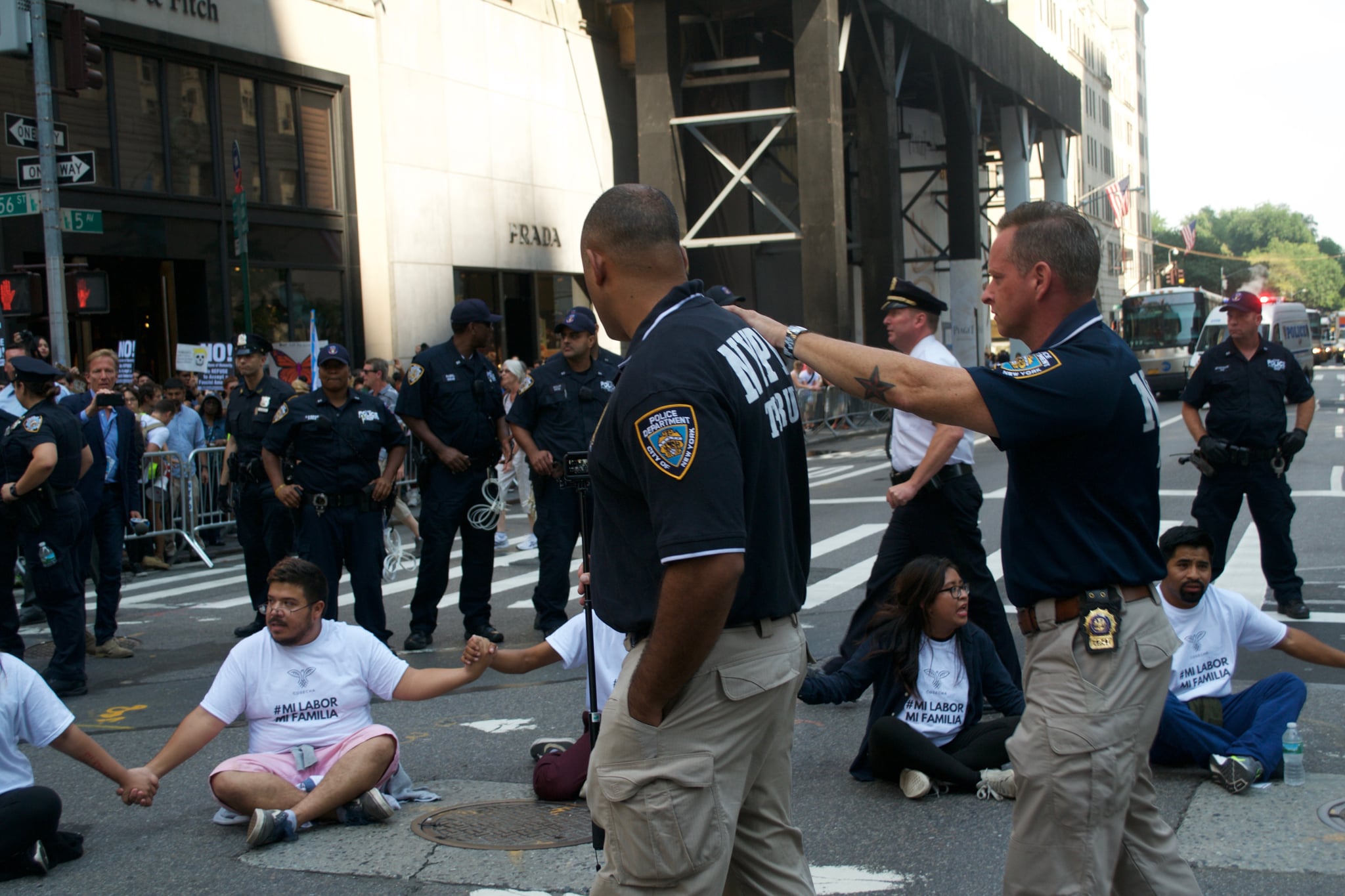 Protesters staging a sit-in outside Trump Tower on Sept. 5 join hands.
Following the arrests, protesters moved to the east side of 5th Avenue and remained outside the Dolce & Gabbana store, keeping the singing and chanting going strong. At around 1:30 p.m., activists and protesters moved once again, slowly circling the block past gawking tourists and hotel staff on their smoke breaks. During the slow walk, they stopped frequently to shout out their personal experiences under DACA — sometimes tearfully — whether it was the painful inability to return to their home country or missing the funerals of beloved family members. (DACA recipients and undocumented persons who leave the US cannot re-enter the country, as they lack the necessary documents.)
Earlier live video from second round of arrests in Midtown NYC #DACA #SinDACASinMiedo https://t.co/oYvvClWkoK

— Lucy Westcott 🌵 (@lvzwestcott) September 5, 2017
When the group reached Trump Tower once again in the afternoon, 22 additional people were arrested, bringing the total number of DACA protest arrests as of press time on Tuesday to 34. None of the additional 22 people arrested were DACA beneficiaries. According to Movimiento Cosecha, all nine of the DACA recipients have been released.
For many DACA recipients who took part in Tuesday's protests, life in the US is all they have ever really known. Standing under the William Tecumseh Sherman Monument, Piash*, 26, remembers when he discovered his undocumented status: senior year of high school, when he went to get his permit for a driver's license. Originally from Bangladesh, Piash says his parents brought him to the US when he was 9, in 2000.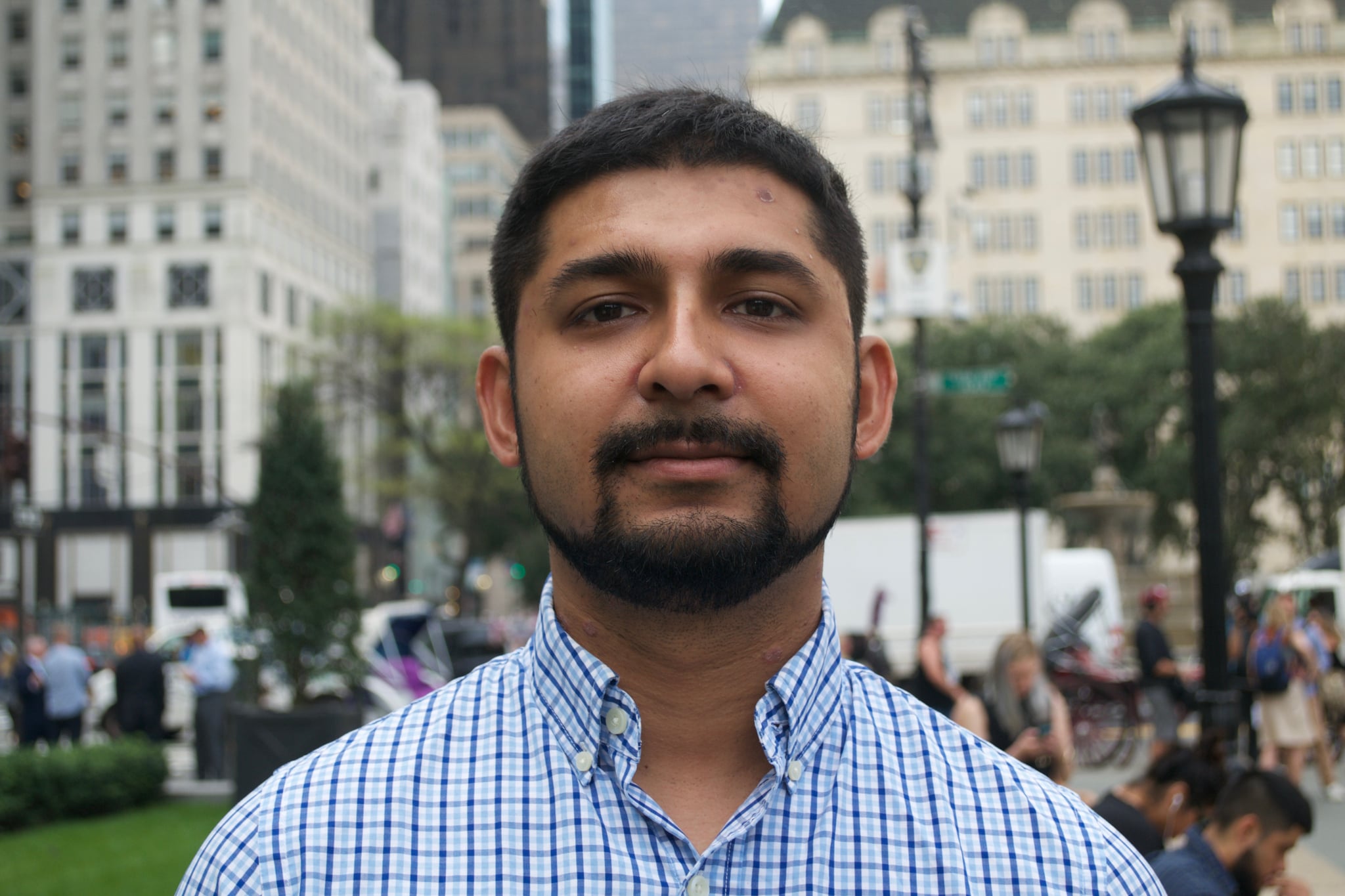 DACA recipient Piash, 26, first discovered he was undocumented as a senior in high school.
"It was very depressing. At the time, it was very taboo to talk about it; you didn't really share your stories or anything, like now," says Piash. "At first, I hid it from my friends, from everyone I knew. But slowly — as I couldn't go to school, I couldn't drive legally, I couldn't work legally — I told everyone. It was hard, but because of DACA, I can drive, I can work legally, I can go to school."
While Tuesday's decision wasn't that much of a surprise to him — "We kind of knew something might be coming since the first day of Donald Trump because he said he was going to cancel [DACA] on the first week and he didn't" — Piash says it's still a shock. His work permit expires in the middle of 2018, and only then, he says, will it feel real. Until then, the question of whether he'll have to return to the unfamiliar country of his birth remains uncertain.
"I speak the language, but I don't remember that much. I'm not going to go back. I don't really identify with the culture of Bangladesh," says Piash. "I'm Bengali for sure, but I live here and I want to live here."
*Last names of DACA recipients have been omitted from this story at their request.
Image Source: Photos courtesy Lucy Westcott