Rudy Giuliani Wears "Make Mexico Great Again Also" Hat
Donald Trump's New Slogan Instantly Became the Butt of Internet Jokes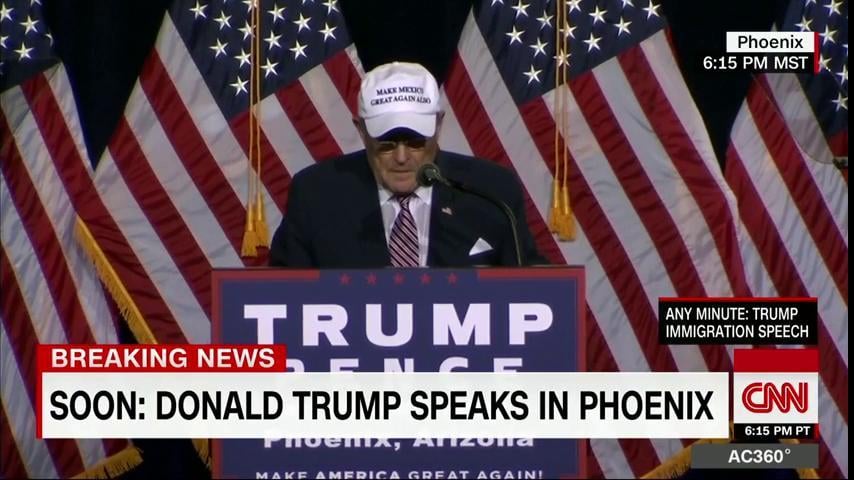 Former New York Mayor Rudy Giuliani and Alabama Senator Jeff Sessions wore hats reading "Make Mexico Great Again Also" last night as they introduced Donald Trump before his contentious immigration speech in Tucson, AZ. The new slogan was an apparent take on the campaign's notorious "Make America Great Again" catchphrase, but the new hats were immediately mocked online. Mostly people were trying to figure out if the new inspired slogan was a joke — even if it evidently wasn't. Journalist Joshua Green said an official confirmed that Trump himself came up with the phrase.
Rudy Giuliani's hat says "MAKE MEXICO GREAT AGAIN ALSO." pic.twitter.com/qydTO4ALdX

— Eric Bradner (@ericbradner) September 1, 2016
Campaign official says Trump came up with "Make Mexico Great Again Also" himself.

— Joshua Green (@JoshuaGreen) September 1, 2016
The incident happened hours after the GOP presidential candidate met with the president of Mexico and called Mexicans "spectacular, hard-working people" despite previously saying they were rapists and criminals.
People on Twitter could not handle the hats, and their jokes were riotous. Check out some reactions below.
MAKE MEXICO GREAT AGAIN ALSO 😂😂😂😂😂😂 how is this real life THAT IS AN SNL SKIT

— BLΛƆKPIИK (@lea__seydoux) September 1, 2016
Just as I predicted a year ago, this election has come down to Rudy Giuliani in a Make Mexico Great Again Also hat.

— Molly Ball (@mollyesque) September 1, 2016
Seriously? "Make Mexico Great Again Also" hats? 😂😂😂😂😂 pic.twitter.com/o5T6OVxQGN

— Gord Macey (@GordMacey) September 1, 2016
if this election were a script and you tried to write "make mexico great again also" they'd cut it for being too outlandish

— Mr. Jim Business (@TheYear20XX) September 1, 2016
Make Mexico Great Again Also Haha Don't Actually Put That Just Put Something Nice About Mexicans on the Hat

— Klaus Squirrelhammer (@brandomonium) September 1, 2016
The Derek Zoolander Center to Make Mexico Great Again Also

— Jill Krajewski (@JillKrajewski) September 1, 2016
I'm trying so hard but I can't think of a tweet funnier than just writing MAKE MEXICO GREAT AGAIN ALSO

— Alena Smith (@internetalena) September 1, 2016