Sean Spicer Hiding in a Bush Memes
Sean Spicer Hid in the Bushes to Avoid the Press and the Internet Roasted Him in Seconds For It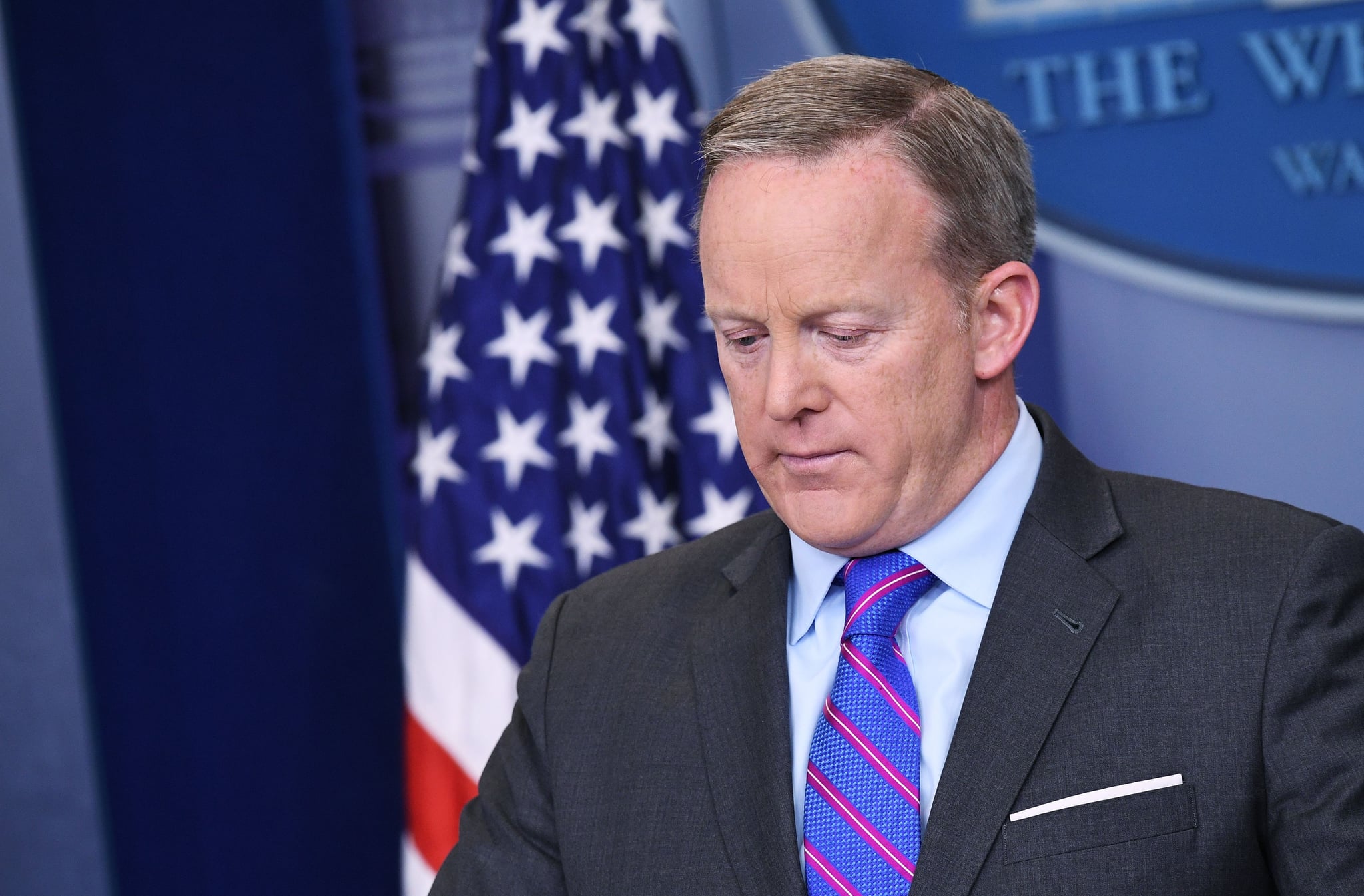 Update:
The Washington Post issued a correction to its story on May 11, stating that
"Spicer huddled with his staff among bushes near television sets on the White House grounds, not 'in the bushes,' as the story originally stated." Yes, that's the actual correction.
Original story:
Sean Spicer might be the most mocked White House press secretary in modern history. The internet loves to tease him about anything, whether it's about his chewing gum habits or him spewing alternative facts. Spicer's latest meme-worthy moment involves him literally hiding in the bushes to avoid talking to reporters.
Moments after Spicer wrapped up an interview with Fox Business about the firing of FBI Director James Comey, he hid behind some hedges, reports The Washington Post. Spicer reportedly stayed there with his staff for a few minutes, until an executive assistant in the press office, Janet Montesi, came out of the bush and told reporters Spicer would answer questions as long as cameras were off. So, in complete darkness, Spicer took questions for 10 minutes and then retreated back to the White House.
And though we wish this was a scene from an upcoming Saturday Night Live skit (though it probably will be this weekend), it's not. So of course, the internet created memes about the laughable situation.
.@seanspicer you: 🎥 🌳🌳🌳🌳🌳🌳🌳🌳🌳🌳🌳🌳🌳🌳🌳🌳🌳🌳🌳🌳🌳🌳🌳🌳🌳🌳🌳🌳🌳🌳🌳🌳🌳🌳🌳🌳🙈🌳🌳🌳🌳🌳🌳🌳🌳🌳🌳🌳🌳🌳🌳🌳🌳🌳🌳🌳🌳🌳🌳🌳🌳🌳🌳🌳🌳🌳🌳🌳🌳🌳🌳🌳🌳🌳🌳🌳🌳🌳🌳🌳🌳🌳

— Melville House (@melvillehouse) May 10, 2017
Sean Spicer is hiding in bushes from the press pic.twitter.com/UQTlt2Glpu

— Allison Kilkenny (@allisonkilkenny) May 10, 2017
this gif is overused, but in light of sean spicer in the bushes.... pic.twitter.com/FnLfVL1QYK

— marisa kabas (@MarisaKabas) May 10, 2017
White House reporters to the #seanspicer bush:"He knows that we can still see him, right?"
: pic.twitter.com/CIM2auXKkQ

— Blackonbothsides (@Biographer1986) May 10, 2017
A Tumblr blog, Find Spicer, has even popped up.


Source: Getty / Alex Wong
Some felt like the bush deserved recognition.
Find someone who will treat you the way a protective bush treats Sean Spicer

— Jesse Singal (@jessesingal) May 10, 2017
Others made a good point about how anyone would've felt in that situation.
Ok but wouldn't you also hide in the bushes

— Polly Mosendz (@polly) May 10, 2017
Hiding in bushes to avoid people and/or your job
- one of the only times I've related to Sean Spicer.

— Joe Goats (@joegoats) May 10, 2017