What Is DACA?
Every Question You Have About DACA, Answered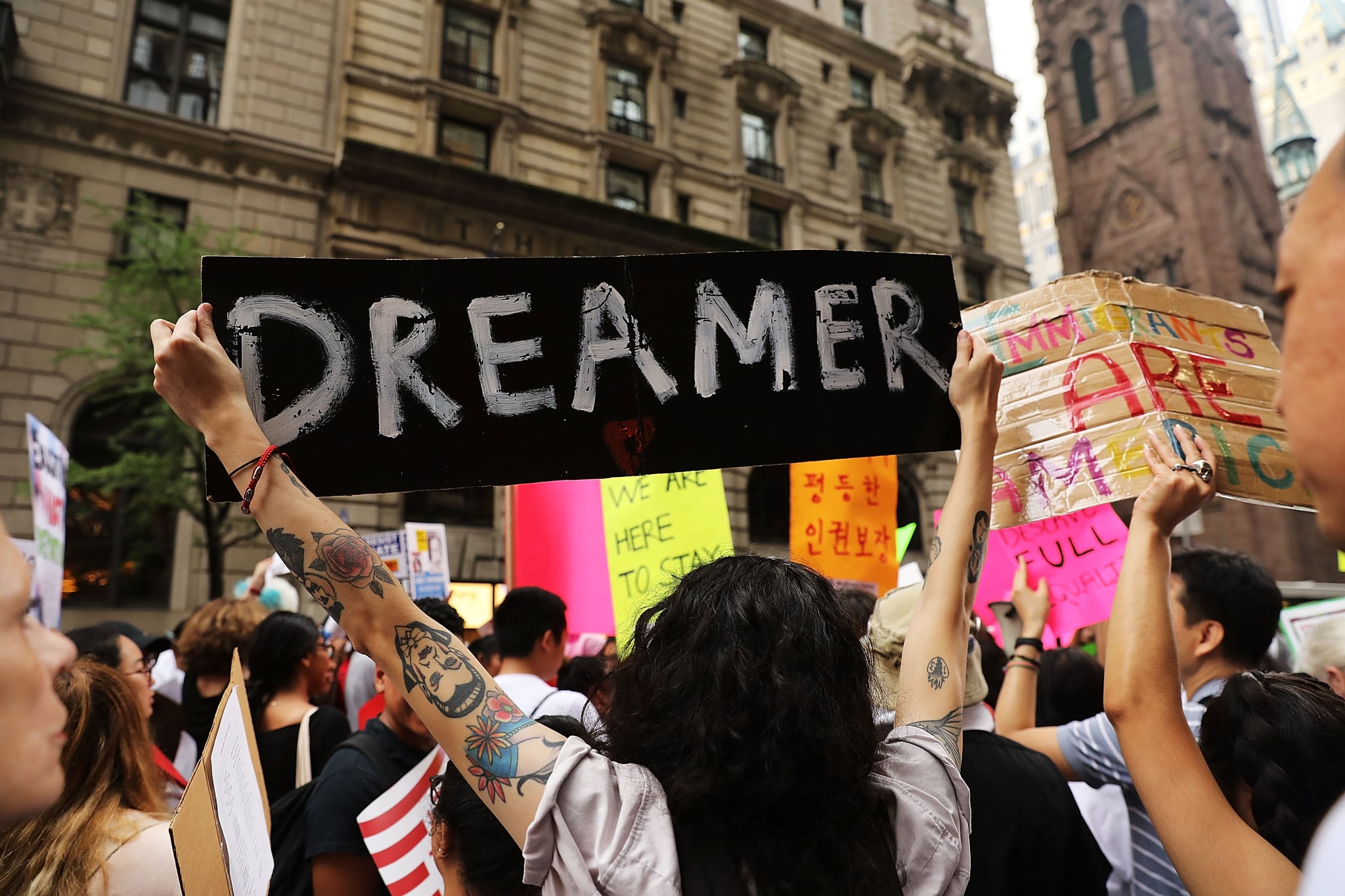 On Sept. 5, the White House is expected to hand down a decision that could affect hundreds of thousands of young immigrants when President Donald Trump announces whether or not he will continue the Deferred Action For Childhood Arrivals (DACA) program.
It's no wonder there is widespread concern that Trump will choose to terminate the program. Not only did he run on a platform that suggested America was under threat by "bad hombres" who needed to be kept out by a border wall, but since taking office, his institution of a travel ban and his pardoning of former Sheriff Joe Arpaio have turned that anti-immigrant rhetoric into real action. So what, exactly, does DACA provide for young immigrants and why does it matter? Read on for answers.
What Is DACA and What Does It Do?
DACA was created under President Barack Obama via executive order in 2012 as a means to protect people who were brought into the country illegally as children.
DACA status can be requested by people who fulfill a number of specific guidelines, which include coming to America before your 16th birthday, being enrolled in or having graduated from school, and being free of any felony or misdemeanor offenses, and grants "deferred action" from US Citizenship and Immigration Service actions like deportation.
Those who have been granted DACA status are eligible for two-year renewable employment permits and are given social security numbers and access to a driver's license in some states. DACA is only available to those who qualify for the program and it largely protects "Dreamers," immigrants of similar status who would have been protected by the Development, Relief and Education For Alien Minors (DREAM) Act, which was introduced to Congress in 2001. The DREAM Act failed to pass, but DACA's introduction in 2012 offered certain protections and advantages to would-be Dreamers.
The program is estimated to protect 800,000 young people and has been incredibly successful, as 91 percent of DACA recipients are currently employed. DACA also boosted recipients' incomes and economic impact along with pursuit of higher education.
Advocates point to the fact that DACA is widely supported by voters on both sides of the aisle as evidence it should be continued. "DACA has widespread public support even among Trump supporters," Rocio Inclán, director at the Center For Social Justice at the National Education Association (NEA), tells POPSUGAR. "Seventy-eight percent of voters support giving Dreamers the chance to stay in the US permanently — and that includes 73 percent of Trump voters."
Why Do Some People Want the Program to End?
Since President Trump won the 2016 election, the ending of DACA has been viewed as another potential means to advance his strict immigration policies.
Ignacia Rodriguez, policy advocate at the National Immigration Law Center, tells POPSUGAR that while President Trump has assured Dreamers that they had nothing to worry about, he also ran a campaign that suggested otherwise. "There are people out there who disapprove of the program, who believe it's beyond the power of the executive branch to have such a program in place," Rodriguez says. "Others have anti-immigrant sentiments."
Despite that widespread support, Texas Attorney General Ken Paxton (and 10 Republican officials from other states) sent a letter to Attorney General Jeff Sessions saying that they will sue the administration if they don't end DACA by Sept. 5 as a means of taking a harder line on immigration.
Sessions has regarded that effort positively, telling Fox & Friends that he likes that states are holding the federal government accountable. The attorney general's positive support of states suing the Trump administration has prompted the ACLU to investigate if this is a coordinated effort by the administration, a concern compounded by Sessions saying Dreamers and anyone in the United States unlawfully are "subject to being deported."
What Are the Chances DACA Will Be Discontinued?
"The likelihood of these protections ending or staying in place are not certain, no matter the rumors floating around," Sheridan Aguirre, DACA recipient and field communications manager at United We Dream, tells POPSUGAR. "Trump ultimately is the deciding hand on whether to strip away the legal status of 800,000 youth and make them deportable, or keep the program in place and allow families to remain together and cities and businesses continue to see a positive impact because of their ability to be integrated and thrive."
Similarly, lawmakers in the Congressional Hispanic Caucus are concerned with Jeff Sessions's involvement in this decision and have little faith that he will protect the program, noting that if the decision is up to him, "DACA would be ended."
Yet many are standing up for DACA to urge Trump to make the right choice: 1,850 bipartisan leaders, around 100 law professors, and 20 attorneys general have formally and publicly expressed concern and support of DACA.
What Will Happen If the Program Ends?
If Trump chooses to terminate the DACA program, the immigration status of nearly a million DACA recipients will be in limbo.
"DACA could be terminated outright or be 'sunset,' which means recipients would continue to be protected from deportation and authorized to work, drive, etc., through the end of their expiration date," Aguirre explains. But if it were ended completely? "Immigrant youth would be fired from their jobs, be at risk of losing their homes and apartments, and in most states, unable to drive or access affordable higher education."
For educators and students, DACA's disappearance would mean peers would be removed. Inclán of the NEA explains, "The contributions of our youth who have built their lives and livelihoods here is intensely personal to our 3 million educators and students and communities they serve — and of course our educators who are themselves DACA recipients."
Beyond the human rights issues at stake, the economy would take a substantial hit as DACA recipients are poised to contribute an estimated $433.4 billion to the gross domestic product over the next decade. As for personal cost, those who have recently applied for DACA, or who are seeking renewal, risk losing the nearly $500 required to apply for the program.

If the program does end, Aguirre notes that this would be an opportunity for local elected officials to implement policies to protect immigrant families. Families can also take matters into their own hands. "This means learning their rights in case they confront ICE, Border Patrol, or local police acting as deportation agents," Aguirre says. "Prepare power of attorney forms in order to transfer custody of children as a precaution and put aside savings as needed."
Rodriguez also notes that the end of DACA doesn't mean all is lost, as the added attention to these issues means many organizations inside and outside of immigration activism "want to fight back and do something."
"The fight over DACA may end, but it's only the beginning," Rodriguez says. "There will continue to be a push and a fight to ensure that this population is protected."