Alexandria Ocasio-Cortez Posts Hopeful Video After RBG Death
Alexandria Ocasio-Cortez Does Not Want Us to Lose Hope Right Now: "Not the Time For Despair"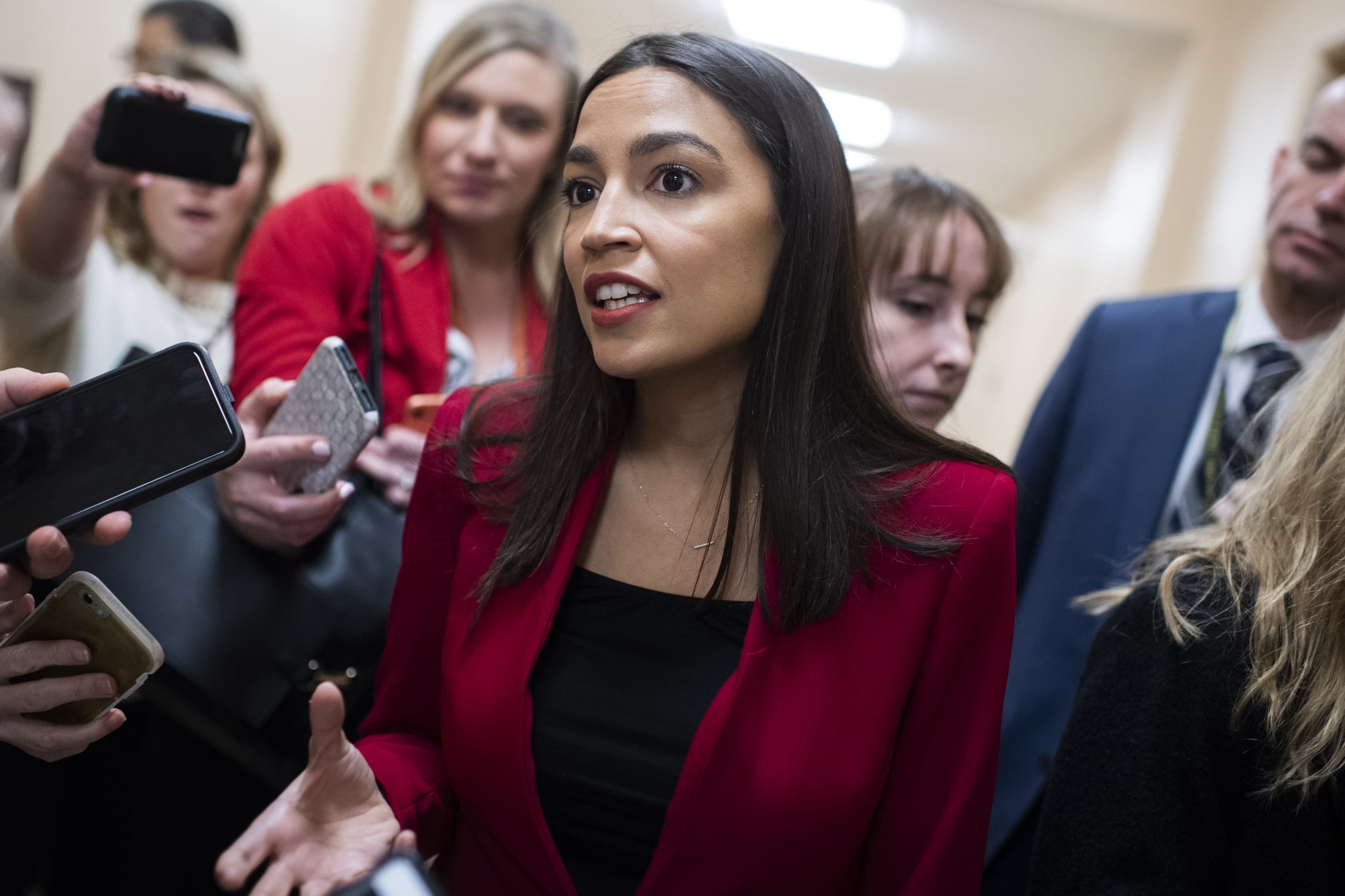 After Supreme Court Associate Justice Ruth Bader Ginsburg's death on Sept. 18, many Americans were overwhelmed with feelings of sadness and confusion. My own Twitter feed and texts were suddenly flooded with one-word messages, summing up a vacant Supreme Court seat: "F*ck." The idea that such immeasurable pressure and expectation sat solely on the shoulders of an 87-year-old woman is undeniably an issue — a burden she so unfairly carried as she battled metastatic pancreatic cancer. And yet, whether by faults of a flawed system or faults of our own, Ginsburg's passing signaled a moment of panic for many who fear an uncertain future.
Enter: Alexandria Ocasio-Cortez. The New York congresswoman started an Instagram Live on Friday night to address Ginsburg's death and to give hope to a scared public. "For those of you who don't know, this vacancy on the court is extremely, extremely significant. It's just earth-shattering," she said in the 40-minute video. "This kind of vacancy and this kind of tipping point is the difference between people having reproductive rights and the government controlling people's bodies for them. This kind of vacancy makes the difference between LGBT people having marriage equality and full rights and not."

"This moment is not the time for despair. It is not the time for cynicism. It is not the time to give up."
She added: "The timing of this vacancy is extremely unsettling and scary to a lot of people, and I want to hop on tonight to talk to you about this and to talk to you about why now, this moment, is not the time for despair. It is not the time for cynicism. It is not the time to give up. It is not the time for us to say, 'It's too late,' or 'It's too far gone,' or 'I don't know what to do.'"
But how is Ocasio-Cortez so sure that there's still hope? Well, she has a plan, and it includes all of us. She laid out the "ABCs" of political engagement, in which registering to vote (or checking your voter-registration status) takes priority. She used her own election to emphasize the importance of young people under the age of 40 getting to the ballot box — this group can make or break a race.
Ocasio-Cortez wants to see the passionate involvement in protests and rallies continue, but she also encouraged people to give their personal relationships extra attention. If there are family members or friends who still seem undecided about whom to vote for, or whether they're voting at all, talk to them. "Get through to that person that only you can get through to," she requested, adding another box to our pre-election checklist.
Finally, Ocasio-Cortez reminded constituents and politicians alike of Ginsburg's last request: That her Supreme Court seat remain vacant until "a new president is installed." Conservative officials, like Senate Majority Leader Mitch McConell and President Donald Trump, have already made it clear that they're going to pursue a nomination. Ocasio-Cortez's words of reassurance should also serve as a warning for them, "If Mitch McConnell is not going to honor RBG's final wish, we will." Watch her full IG Live video below.