AIM Is Signing Off Forever — but Don't Cry Because It's Over, Smile Because It Happened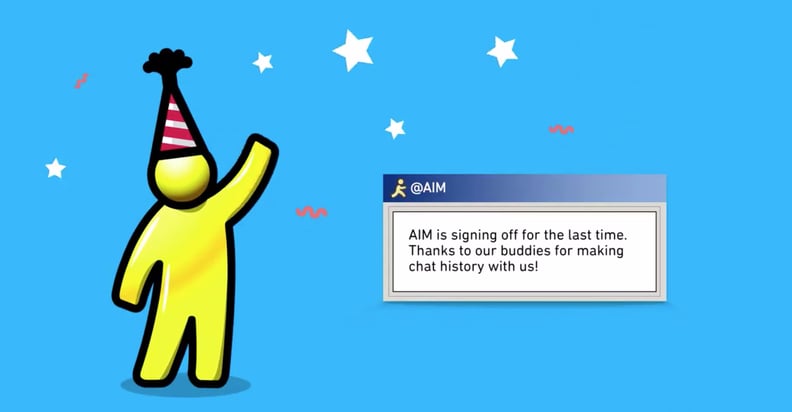 It has been a very strange few years for us '90s kids. While Lisa Frank and chokers may have made an epic return, we're about to say goodbye to one of the most iconic pastimes of our youth — and we're pretty upset about it. On Dec. 15, AOL Instant Messenger will cease to exist, putting an end to all the lyric-filled, passive-aggressive away messages of our past. Sure, it's been a while since we've signed on to the messenger platform . . . but it doesn't mean that we're not upset.
Before sliding in DMs and shady subtweets, AIM was there. It was social media before social media even existed. When it arrived in 1997, it made our awkward teenage years a lot more awkward. It was where some people were broken up with for the first time, where cliques were formed (were you even a clique if you didn't put your group name in your profile?), and it was home to some of the most embarrassing screen names on the planet. As we bid farewell, there's one last thing we have to say: ThAnX FoR tHe MeMoRiEz, AIM, TTYL.
Read on to see some of the most hilarious and spot-on reactions to AIM signing off forever, and then, reminisce on 375 reasons why being a '90s girl rocked our jellies off.