How shameful. Internet trolls have gone after legendary gymnast Gabby Douglas during the Rio Olympics, discrediting her tremendous talents and the fact that she was the first female of color to ever win an individual gold medal in gymnastics in 2012.
"Are you going to stand or are you going to crumble? In the face of everything, still stand."
Her offenses? Being "unpatriotic," her supposed lack of enthusiasm, and most absurdly, how she wears her hair. The internet backlash might have also affected Douglas's performance: she finished seventh in uneven bars, which was her only individual event.
Douglas first upset internet commenters when she didn't place her hand over her heart during the national anthem for the team's gold medal ceremony despite smiling and singing along. Apparently, not placing her hand across her chest equated to Douglas dissing her country, but let's remember that the Pledge of Allegiance requires people to place their hand over their heart, not "The Star-Spangled Banner." It also feels like a double standard when Michael Phelps laughed through the national anthem for one of his medals and people found it cute rather than disrespectful.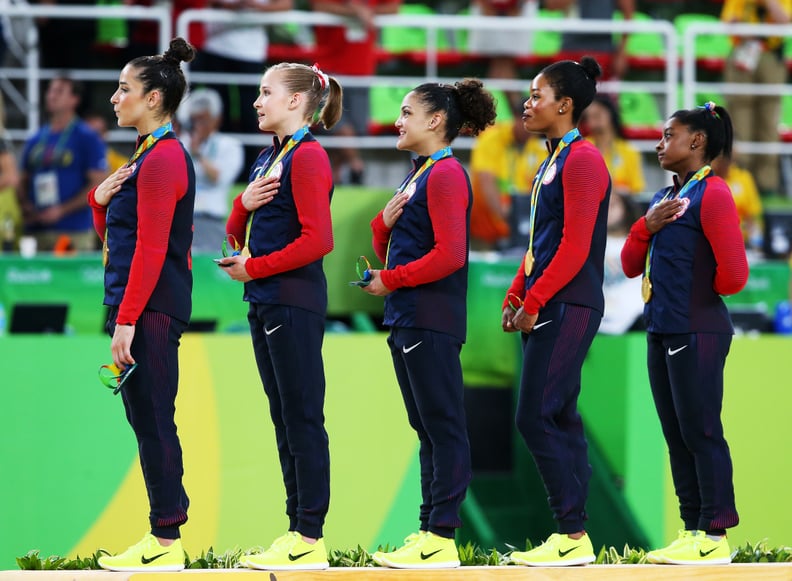 Regardless of her intentions, Douglas still apologized to those who were offended. "In response to a few tweets I saw tonight, I always stand at attention out of respect for our country whenever the national anthem is played. I never meant to disrespect and apologize if I offended anyone," she said on Twitter. But the sour commentary about her continued.
A particularly distressing thread of tweets suggested that Douglas's hair was "unkempt." Not only is this offensive because black women have been historically criticized for the appearance of their hair texture, but why does it even matter? Many Twitter users seemed to forget that Douglas was competing in the Olympics and not a beauty contest. It's outrageous that somehow Douglas "owes" viewers looking good while she competes at a level most people could never dream of. In this game, her skills are the only thing being assessed.
Too often, young women are knocked down for not being enough, when they are already superstars.
The trolls didn't stop there, either. Much like strangers who tell women they should smile more, Douglas's enthusiasm for her teammates was evidently not satisfactory for some social media critics. When judges announced Simone Biles's score for her all-around final, giving her gold, Douglas was criticized online for having a "salty" reaction. Commenters were upset that she didn't stand up and cheer for her teammates, even though she clapped for them sitting down. First of all, telling a woman how she should look or act is no one's place. Secondly, although Douglas didn't always look as animated as her other cheering teammates, it didn't mean she was any less enthused for Biles. While people have speculated Douglas is upset because she is not the star she was in the London Olympics, Biles said Douglas was one of the first people to congratulate her after the win.
After her last press interview of the games, and potentially her Olympic career, Douglas reportedly broke down in tears. When asked about her internet critics, she told ESPN how she reacted to the criticism, saying, "Either it was about my hair or my hand not over my heart or I look depressed . . . It was hurtful. It was hurtful. It was. It's been kind of a lot to deal with." Douglas's gut-wrenching admission sparked at least one social media silver lining: when reports of her tears surfaced, the hashtag #LOVE4GABBYUSA quickly started trending. Leslie Jones, an actress and an NBC Olympic commenter who was also the victim of distressing Twitter insults, shared her own appreciation for Douglas.
It's astonishing that anyone could find something to criticize an Olympic athlete who has done no wrong about, let alone one who is as history-breaking as Douglas. After her disappointing finish in the uneven bars event, Douglas told the LA Times, "For me, when you go through a lot and you have so many difficulties and people against you, sometimes it just determines your character." She added, "Are you going to stand or are you going to crumble? In the face of everything, still stand."
While it might be hard for Douglas to deal with the hateful criticism, we will always think of her as an icon to young women, particularly for her bravery. Gabby's mother, Natalie Hawkins, also called out the cyber commentary for what it is: bullying. Hawkins told Reuters, "You name it and she got trampled. What did she ever do to anyone?"
If we learn one lesson from Douglas's ordeal, it's that young women are too often knocked down for not being enough, when they are already superstars.