9 Stories That Prove 2016 Wasn't as Sh*tty as Everyone Thinks
A constant barrage of bad news certainly made it seem like 2016 was quite possibly the worst year in history. Seriously, if you are active at all on social media, you'll know there are an overwhelming number of memes comparing 2016 to a flaming dumpster. But amidst all the negative headlines, tragedies, and letdowns, there are a few stories that prove this year was not entirely terrible.
Below are nine stories to read if your faith in humanity was nearly drained in the last year.
1. The Standing Rock protesters successfully halted construction on the North Dakota Access Pipeline.
After months of militarized standoffs with police, protesters at the Standing Rock reservation in North Dakota successfully halted the construction of an oil pipeline that would have traversed their land and threatened their water supply. The Army Corps of Engineers announced in early December that they would not be issuing a crucial permit to Energy Transfer Partners, the company building the controversial pipeline.
While the decision could ultimately be overturned by the incoming administration, it is still a victory as the protesters were about to weather a harsh Winter — and a potentially fatal mandatory evacuation request that was negated by the announcement.
2. Patagonia donated $10 million in Black Friday sales to charity.
On top of breaking sales records for one day, making $10 million, Patagonia donated all of the profits to environmental charities. Instead of donating to just one charity, however, Patagonia will give money to "hundreds of grassroots environmental organizations." The activewear company only projected $2 million in sales and they were "humbled" by the actual number of sales.
3. The Cubs won the World Series for the first time in 108 years.
The Cubs have not won a baseball World Series in over a century, but the curse was broken this year. Beating the Cleveland Indians in a nail-biting series where they overcame an 3-1 series setback, the Cubs won the series in the final matchup in early November.
4. India opened the largest solar plant in the world.
At a capacity of 648 megawatts, an Indian company funded by the Adani Group opened the largest solar plant at a single location. The plant will power 150,000 homes and is a step closer to making the country fully sustainable. Facing unparalleled population, India set a goal to produce 40 percent of its energy through renewable resources by 2030.
5. Colombia reached a peace deal with the FARC rebels, ending 50 years of conflict.
Socialist guerrilla rebels in Colombia who have been fighting the government for over 50 years struck a peace deal after years of negotiations and at least one setback when the popular vote struck down an initial deal. Juan Manuel Santos, who won the Nobel Peace Prize for his efforts, led the peace talks. Under the agreement, which was ratified in late November, rebels who have confessed to war crimes will not go to jail and members of the FARC party are guaranteed representation in Colombia's Congress.
6. Two Olympic runners reminded everyone what sportsmanship means.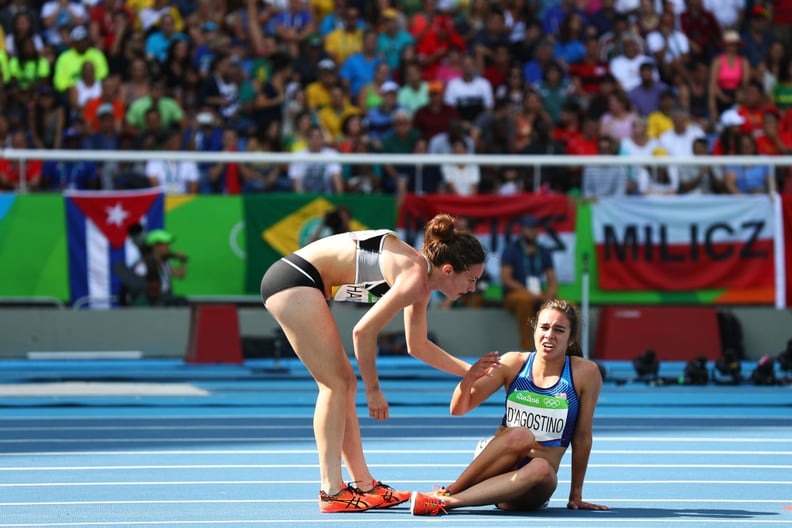 In August, countries around the world competed in the Olympics — but two runners demonstrated how the games are less about winning and more about compassionate sportsmanship. When American Abbey D'Agostino tripped during a 5,000-meter race qualifier, she clipped New Zealand runner Nikki Hamblin and they both went down. Hamblin quickly helped D'Agostino up, telling her they had to finish the race — and they did. While neither Hamblin nor D'Agostino were able to compete in the final, they won the most prestigious award in Olympic history: the Pierre de Coubertin medal for extraordinary sportsmanship.
7. Scientists discovered an Ebola vaccine that protects 100 percent of recipients.
After an Ebola outbreak claimed the lives of 11,000 people across West Africa in 2014, doctors around the world struggled to contain the deadly virus. An experimental vaccine tested on people during that outbreak has proven to be 100 percent effective, reports The New York Times. The vaccine still requires approval from a regulatory body, but thanks to the success of the trial, a 300,000-dose stockpile has been created in case of another outbreak.