I'm From Wuhan, China, and This Is What I Wish the World Knew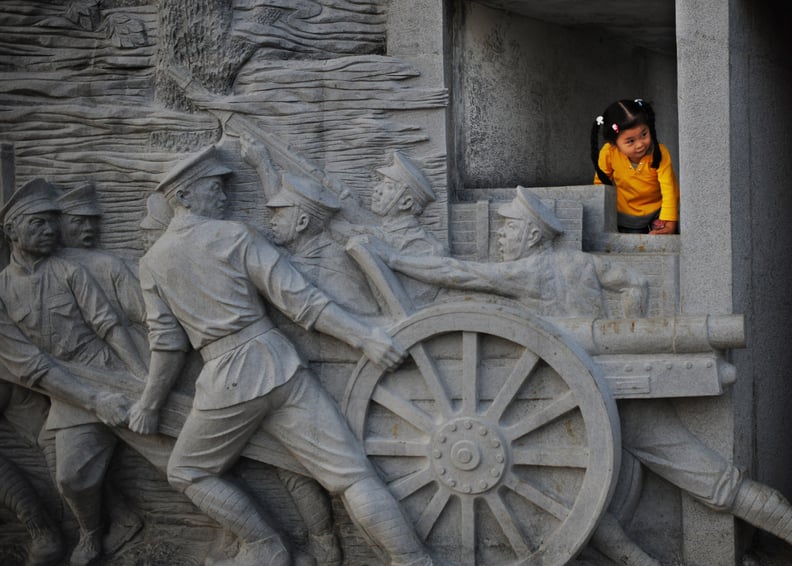 A young child plays in Wuhan. Image source: China Photos/Getty Images
For the indefinite future, the world will likely think of Wuhan, China, as the origin of the COVID-19 outbreak, and nothing more — despite the fact that the exact source of the coronavirus has not been confirmed. Wuhan is now synonymous with "virus," "disease," and "pandemic." The city conjures images of crowded hospital waiting rooms, masked citizens walking through eerily empty streets, and, perhaps most grotesquely, "bat soup" (whatever that looks like). But this couldn't be further from how I see Wuhan; I see it as home.
Wuhan is my birth city, the birth city of my parents, and still home to most of my relatives. It's where I spent the first five years of my life, before my parents moved us to Pittsburgh, PA, Wuhan's sister city in the United States. Wuhan is where I played hopscotch with my kindergarten classmates, where I got 12 stitches after an accident involving my cousin and a fruit knife, and where I said goodbye to all four of my grandparents for the last time. I'm not asking the world to muster the same kind of sentimental attachment that I have for Wuhan — I am simply offering a different view, one that is in stark contrast to the stereotype that is emerging.
It pains me to know that there are countless folks in America and elsewhere who are just learning about Wuhan now, and their only impression of it is a diseased wasteland.
I was born at Wuhan Central Hospital, where thousands of infected patients have now been treated for COVID-19. My parents and I lived with my paternal grandparents in a modest gated community comprised of eight or nine houses. I remember the uniquely floral scent of the gardenia bush in our yard, where I spent endless hours building snowmen in the Winter and marveling at the wildlife and fauna in the Summer, catching dragonflies midflight and then letting them go. I remember running with my cousins on the banks of the Yangtze River, which back then felt like an ocean, never-ending and untraversable. So imagine my pride when my mom told me and my cousins that she routinely swam across the Yangtze during high school swim practice.
It pains me to know that there are countless folks in America and elsewhere who are just learning about Wuhan now, and their only impression of it is a diseased wasteland with zoo-like wet markets. And it certainly doesn't help when our own president contributes to this false depiction by calling COVID-19 the "Chinese virus," an utterly xenophobic label that reflects, and fuels, a growing Sinophobic and anti-Asian sentiment that has contributed to a spike in discrimination, racism, and violent hate crimes across the US and Europe. Associating a global virus with a specific country is a powerful way to fan fears of foreigners and propagate racist notions that they're diseased.
Before the current coronavirus outbreak, which has now affected more than 370,000 people worldwide, Wuhan was a thriving transportation and manufacturing hub, known for its commitments to industry, technology, and innovation.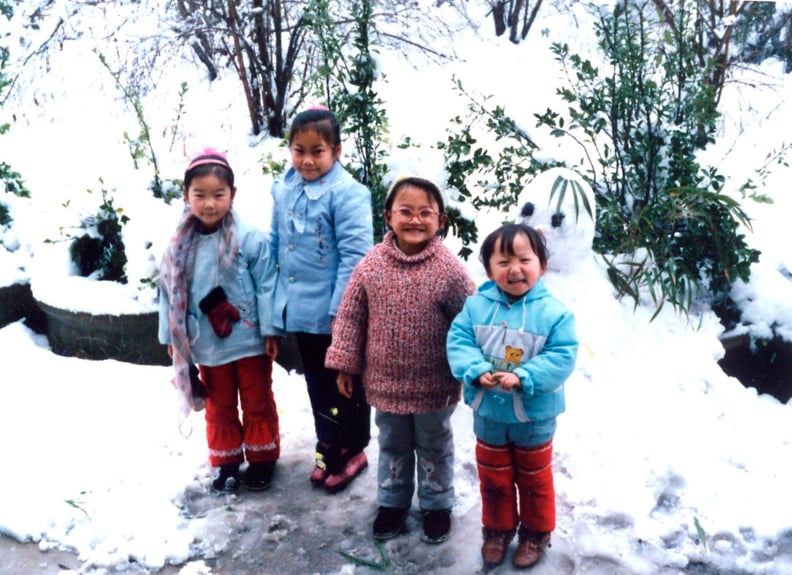 The author as a child, making a snowman with her friends. Image source: the author
Wuhan is home to more than 350 research institutes and 1,500 tech enterprises and incubators. In 2017, UNESCO named Wuhan a Creative City of Design, commending its commitment to "accelerate the development of creative industries and give a new momentum to economic growth based on culture and innovation." Last year, Wuhan hosted the seventh Military World Games. The 2016 Summer Olympics had just over 11,000 athletes from 207 nations competing in 28 sports; Wuhan's Military World Games saw nearly 10,000 athletes from 110 nations compete in 27 sports. It was an Olympic-size undertaking deserving of Olympic-size fanfare, but I'm willing to bet most of the world knew little or nothing of it.
Wuhan has been compared to Chicago in terms of relative city size and industrial significance.
Wuhan has been compared to Chicago in terms of relative city size and industrial significance. Lifestyle-wise, it's akin to any of the biggest cities in the US. You can stay at luxury hotels, browse boutiques at futuristic shopping centers, sip macchiatos, and appreciate art at both modern and historical museums. Wuhan is also home to more than 20 universities and colleges, including the renowned Wuhan University, where nearly 60,000 students are enrolled. I have gone back to visit my home city about a dozen times since I moved to the States, and each time I've witnessed remarkable change and exponential growth, rendering Wuhan almost unrecognizable from one visit to the next. "Is that another shopping district?" "What's that crazy-looking building?"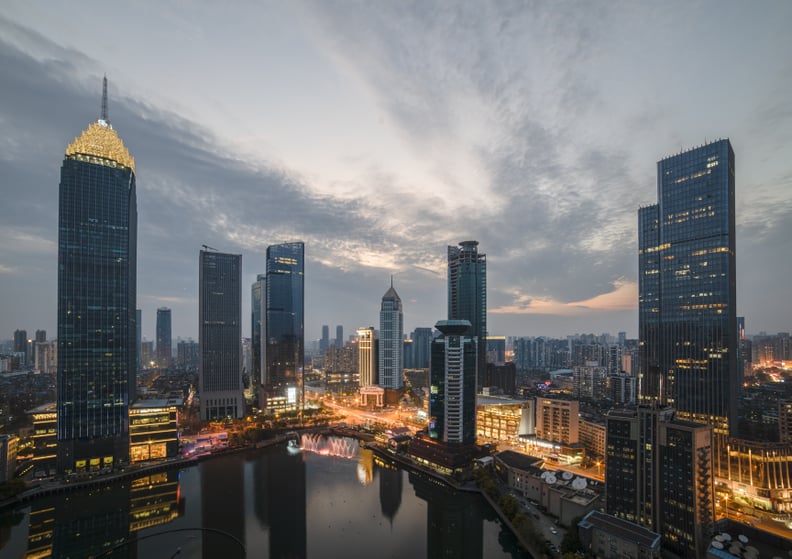 The Wuhan skyline at sunset. Image source: Duan Zhiwei/VCG via Getty Images
One enduring landmark? East Lake, a large freshwater urban lake where the city's 11 million residents flock to enjoy water activities, scenic sites, and "lake food." Within the lake area, there is a bird forest, a cherry blossom garden, and several tree-lined causeways that make driving through an almost cinematic experience. Think of it as Wuhan's lake equivalent of Central Park.
Perhaps the most powerful testament to Wuhan's strength and character is its very response to the outbreak.
My association with the lake is bittersweet. In 2008, my mom became sick and was admitted to Zhongnan Hospital, where she would undergo surgery and remain in recovery for three weeks. The hospital is situated practically on top of East Lake, with picturesque views more befitting a five-star hotel. When I got the call from my mom, I left Brooklyn and went straight to Wuhan. For 10 days, I stayed at my aunt's apartment, a 15-minute walk from the hospital. Every morning, I would make my way down the hilly, windy roads from my aunt's apartment complex along the lake to the hospital, taking in the undeniable tranquility of the scene before switching mental gears until nighttime. Each day, I wished that my mom could join me for those morning walks. Eventually, she did.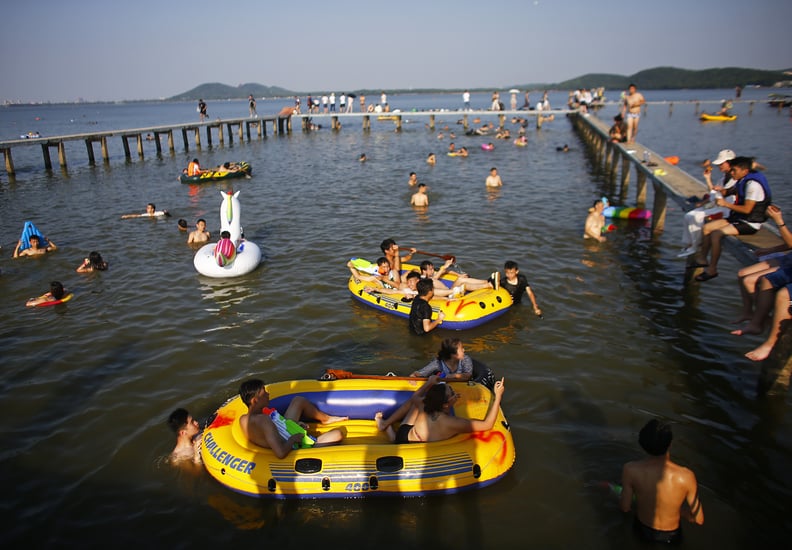 Wuhan residents enjoy a Summer day on East Lake. Image source: Wang He/Getty Images
Now, once again, I'm fearing for her health. Luckily, the curve has been flattened in Shanghai, where she resides, and even in Wuhan, where my extended family still live. I've been WeChatting regularly with my aunt, who has been in home quarantine for two months. Throughout this crisis, she's remained steadfastly positive, sending me messages like, "Greater Wuhan will not fall!" But after about a month of being indoors, she sent me a message that was noticeably more somber. It was a link to an article called "23 Dishes I Want to Eat When I Can Take Off My Mask."
I would be daydreaming about food if I were her, too, because Wuhan cuisine is still my favorite. Everyone has a different definition of home cooking, and for me it's lotus and minced pork sandwiches (lotus grows abundantly underneath the lily pads on East Lake), rice-covered meatballs, sautéed amaranth greens, and garlicky smashed cucumber salad. As far as I'm concerned, next to "home cooking" in the dictionary is a photo of my maternal grandmother, who stood at just under 5 feet tall but could feed an army of hulking men with ease. Every week, she cooked for her entire family — three daughters, one son, and everyone's respective spouses and kids. On a typical Sunday, there would be at least 12 people sitting around the dining table, slurping and clamoring with conversation over the distinct sound of wooden chopsticks.
This is the Wuhan that I know. And though these memories and associations are deeply personal, they are also typical. My short life in Wuhan was ordinary at best, identical to millions of others' lives; the lives of regular people who want nothing more than to make an honest living and feed their families. The lives of regular people, who, characteristic of Wuhan's essence, contribute to advancing society so that the future might be a little more welcoming for their grandchildren. But perhaps the most powerful testament to Wuhan's strength and character is its very response to the outbreak. Despite being forced into a citywide quarantine by the Chinese government, a move that many view as sacrificing one province for the greater good of the world, the people of Wuhan have maintained their signature spirit.
But life in Wuhan won't be ordinary for the foreseeable future. And Wuhan's name and legacy will forever be marred by this tragic outbreak. So if I may offer a small slice of differing perspective on my home city, then it's the least that I can do for a city that gave me life — and continues to give me hope.