Halloween is upon us, and while you may have already finalized your best-ever costume and planned out every evening from now until November, chances are you probably haven't spent a whole lot of time figuring out what your favorite apps are doing to get in on the fun. The good news? We've spent a whole lot of time figuring out exactly what features are appearing on our phones and devices, and we've broken it all down just for you.
Ahead you'll find a rundown of the best of the best that Facebook, Instagram, Snapchat, Lyft, and Uber have to offer. From filters to games to promotions and more, we've got you covered — and promise you won't miss a single one of those limited-time-only goodies that will disappear just as quickly as they came.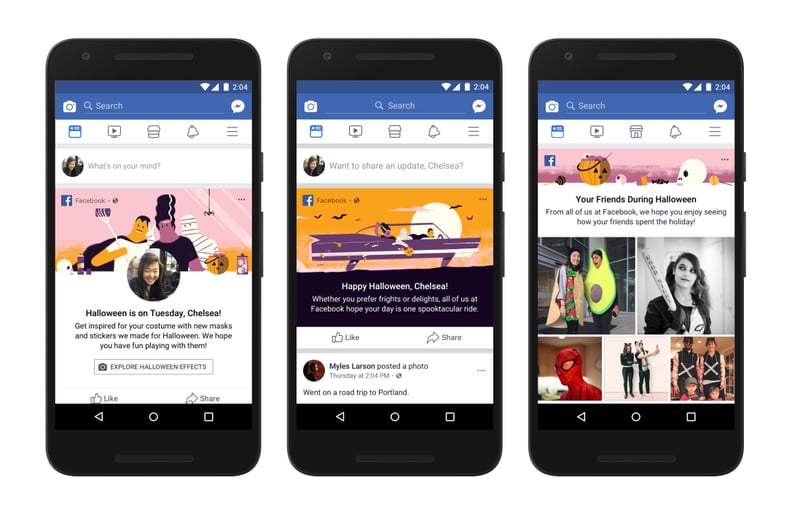 Facebook
Facebook is going all-out this year, offering a whole range of ways to get into the Halloween spirit. Many users should expect to see the message in their feed that they've become accustomed to seeing when they open the app on a holiday, but by swiping right into the Facebook camera there will now be twelve new masks and frames to transform any photo into a spooky masterpiece. And it's not just filters that are being added to the camera: you'll also be able to try to escape from a virtual haunted house, right in the Facebook app with a brand new and super fun game. You can use a whole host of masks and filters in Messenger, too, so make sure to start up a video chat with your BFF at some point over the next few days to test out a costume that just might suit you better than the one you had planned.
Additionally, Facebook Live will have lots of fun new effects that can be dropped right into your broadcast, and if you're more into text-based sharing with friends, you'll find a bunch of new backgrounds to use on your text posts to easily share your favorite scary stories with friends.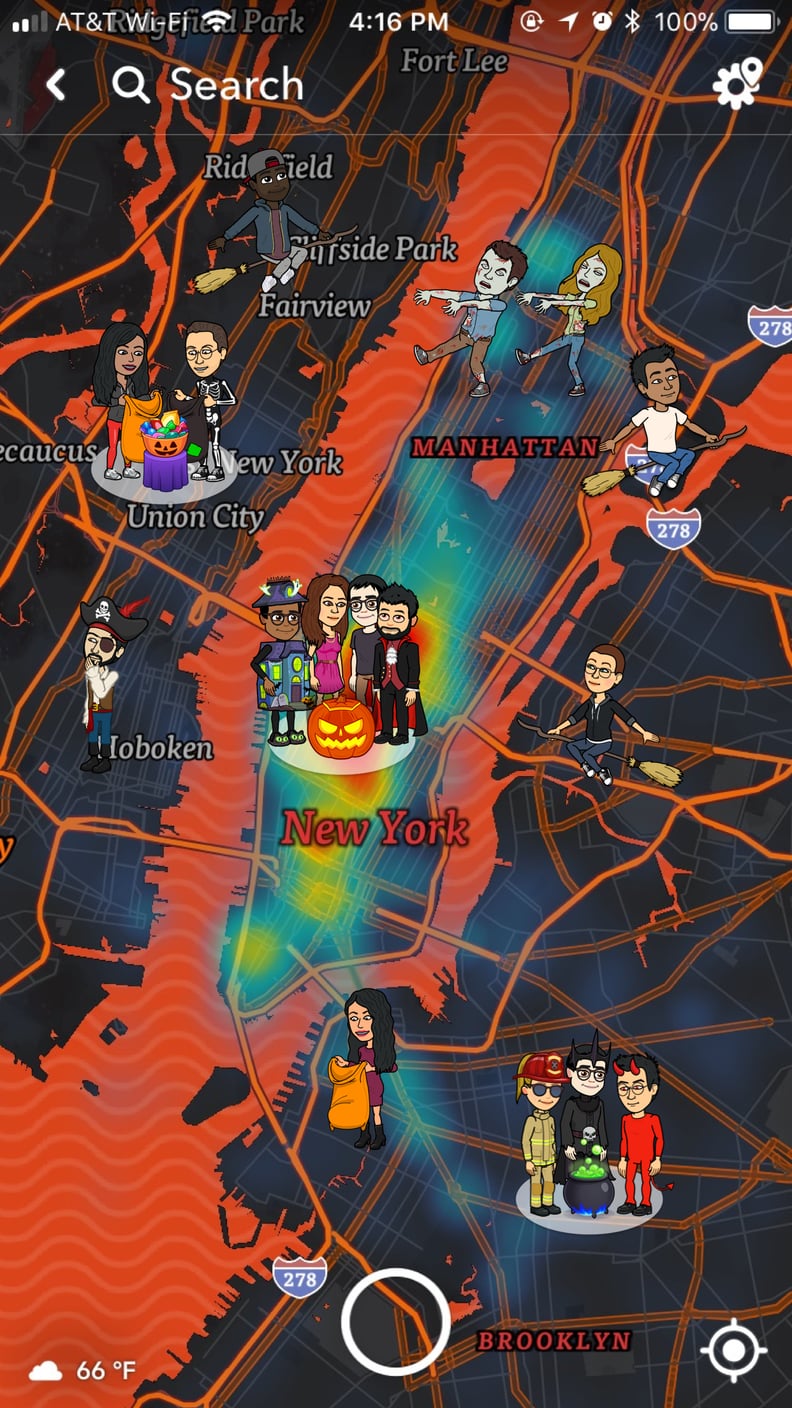 Snapchat
Everything on Snapchat is getting a Halloween makeover. New bitmoji costumes – including a witch, black cat, and pirate – will be landing in Snap and Bitmoji today, along with a dozen new Halloween Stickers. The Emoji Brush has also been updated with some fun themed items – just tap the doodle tool, then tap the new emoji icon to kick off the fun.
On Halloween Day, expect a brand new haunted Snap Map! Zombie walkers will be walking around the map, as will trick-or-treaters – and if you're driving around town, you'll be riding on a broomstick. Expect props like bowls of candy, cauldrons, and Jack-o'-Lanterns to be aplenty. October 31st will also unlock some super awesome lenses and filters, so be sure to check in that morning to pick your favorite before the evening's festivities kick off!

Instagram
Instagram's newest feature, Superzoom, just launched to get in on all the Halloween fun – it's a quick zoom that's perfect for making that photo surreal and foreboding, without a whole lot of work. Just tap the Superzoom logo in the app – it's right next to Boomerang – and let the fun begin. The app even provides the perfect music for you!
Instagram also released spooky new face filters and stickers, all available now, that allow you to do things like turn yourself into a zombie or from a vampire to a flying bat – and, most notably, help you get lost in a mysterious fog.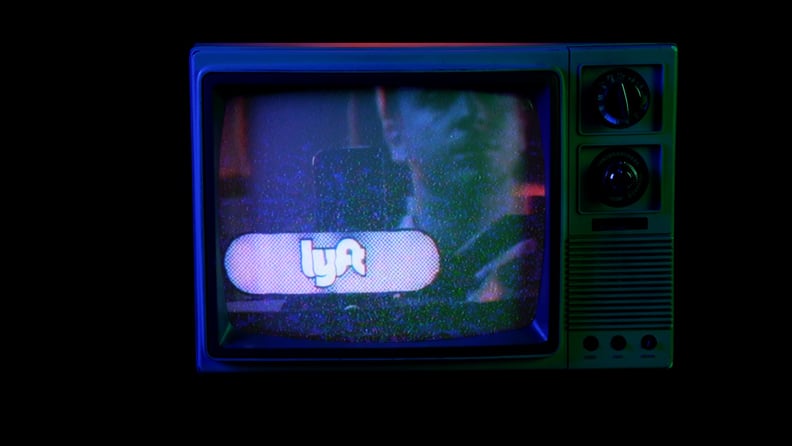 Lyft
For those in Philadelphia, PA and Los Angeles, CA: head immediately here to read more about Lyft's "Strange Mode," which we highly recommend you check out if you have the ability to do so!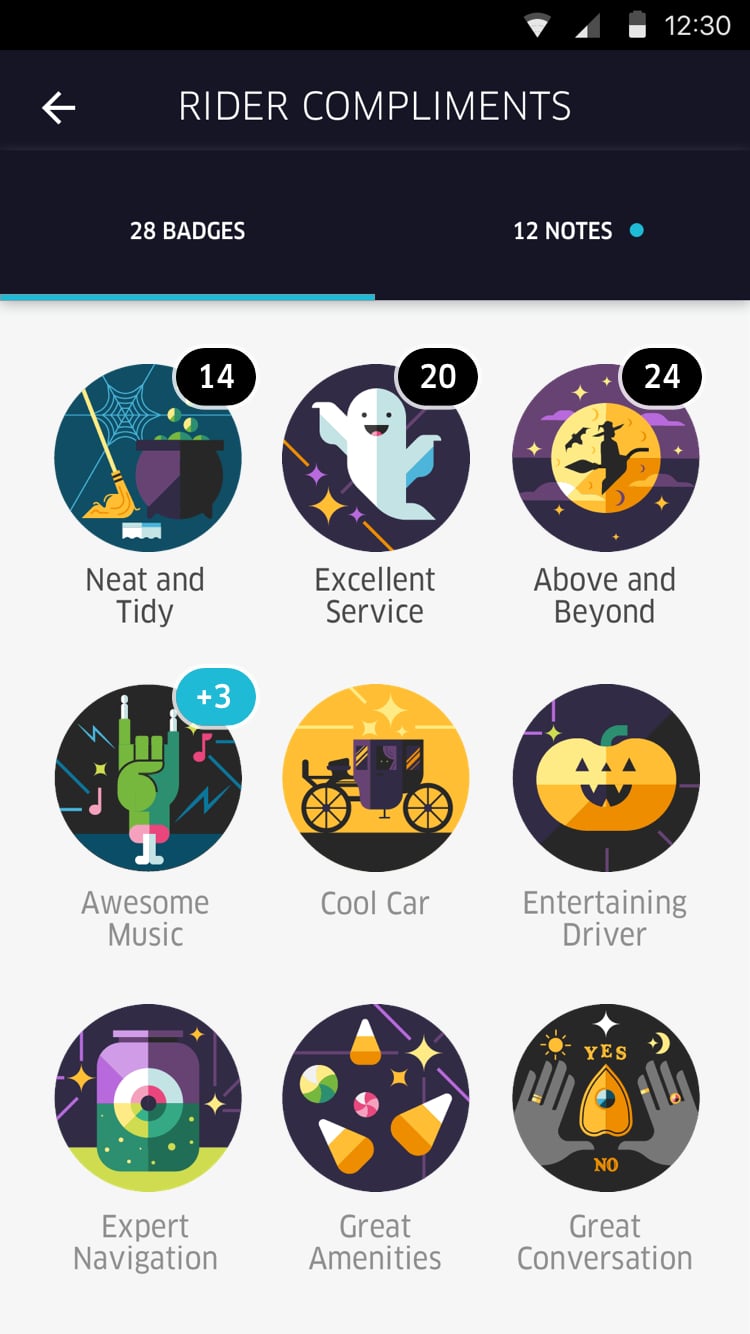 Uber
This year Uber is going all in on the spirit of giving – giving spooky feedback, that is, as the rider compliments section of the app has been thematically updated with Halloween-y icons for things like "awesome music" and "cool car." The ride-sharing app has also partnered with Miller Lite and Coors Lite to offer discounted rides to reduce drunk driving in the following cities:
Columbus, OH
Charlotte, NC
Dallas, TX
Louisville, KY
Minneapolis, MN
Pittsburgh, PA
Philadelphia, PA
New York, NY
Miami, FL
Atlanta, GA
Denver, CO
Houston, TX
If you're in one of these cities, an automated pop-up in the Uber app will alert you to being eligible and apply a $10 credit to the cost of your ride.
And finally, Uber launched Multiple Destinations this week – so be sure to keep in mind that you no longer have to wait for multiple cars when you're headed to (or from) a Halloween party!