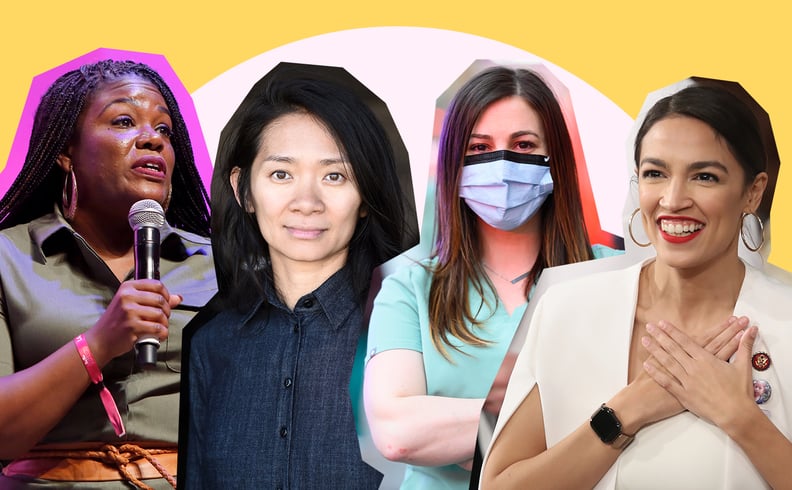 On an otherwise ordinary day at work in July 2020, Rep. Alexandria Ocasio-Cortez had an exchange with a male colleague on the steps of the Capitol Building that took an all-too-familiar turn. The two discussed differing viewpoints on the possible link between high unemployment rates and the rise in petty crimes in New York City, but as he turned to leave, her colleague, under his breath, called the congresswoman a "f*cking b*tch." Ocasio-Cortez tweeted about the incident shortly after, noting how inappropriate, unprofessional, and out of line the comment was. Her tweet famously included this unbothered kicker: "Hey, 'b*tches' get stuff done."
That is resilience. That is grit, gumption, and guts in the face of an incident that should have never happened in the first place. As news spread, Ocasio-Cortez addressed the incident in a speech on the House floor. "I want to be clear that Representative Yoho's comments were not deeply hurtful or piercing to me, because I have worked a working class job. I have waited tables in restaurants. I have ridden the subway. I have walked the streets in New York City, and this kind of language is not new," she said. "This is not new, and that is the problem."
Women are accustomed to facing immense obstacles — harassment, discrimination, wage gaps, objectification — and still show up the next day for work, for their communities, for their loved ones, and for themselves.
And there is no shortage of obstacles during this time we're living in. The ongoing pandemic has uniquely overburdened women, who make up over 52 percent of all essential workers and a staggering 90 percent of nurses. The gender poverty gap is widening, gender-based violence is worsening, and with in-school learning constantly in flux, many moms have become virtual teaching assistants, taking on more unpaid labor than ever before. In fact, a staggering number of women are putting their careers on pause to survive it all. All of these horrifying stats are compounded for women of color, who fight for racial justice and gender equality simultaneously.
Somehow, despite it all, women have still triumphed in so many ways. A record-breaking 141 women were sworn into Congress this year, with 26 Black women holding seats in the House of Representatives. Fresh off their Women's World Cup win, the US Women's National Soccer Team refused to give up in the fight for equal pay. Women filmmakers are leading award season, including Nomadland director Chloé Zhao, Promising Young Woman director Emerald Fennell, and Regina King, who made her feature-length directorial debut with One Night in Miami. And, of course, Kamala Harris made history as the nation's first woman vice president.
In honor of Women's History Month this year, we're applauding unstoppable women: women who changed their industries, women who comforted the sick, and women who created beautiful art. We're celebrating women who cooked delicious things, took care of their households, and got out of bed all those mornings when it seemed impossible — as well as women who stayed in bed, showing themselves kindness.
Through our curated selection of personal essays, interviews, and features, POPSUGAR will spotlight the perspectives, successes, and realities that make women who we are. You can expect to read about women with household names and women who make their households run. And ultimately, we hope to offer women everywhere a reminder of all the wonderful attributes that make you unstoppable. Now let's get stuff done.