Global Girlhood's Pranjal Jain on the Power of Social Media
Updating Your Status: Pranjal Jain on Using Social Media as the Ultimate Tool For Change
Image Source: Alisha Barday
As long as you have a voice, you have power. Every comment, post, text, and video you share puts a piece of you into the world, and 19-year-old activist Pranjal Jain is using her social media to create a community where the voices of women globally can be heard.
Jain, now a sophomore at Cornell University, was 15 years old when she discovered she'd spent the first seven years of her life as an undocumented immigrant. After reconciling the truth about her past, Jain decided to fully embrace her identities as an immigrant and a woman by sharing her experiences online. Conversations with friends quickly snowballed into open dialogues around taboo topics — including menstruation equity, sexuality, and gender equality — which inspired her to found Global Girlhood, a womxn-led organization encouraging women empowerment via storytelling.
"I think that was sort of my awakening of how rhetoric shapes so much of what happens in the world," Jain told POPSUGAR of her experience learning she was formerly undocumented. "Before that, I never really thought about what media portrayals, media representation, does to my own understanding [of undocumented immigrants]. It really helped me understand that the picture that's been painted is not what's actually seen."
"At the end of the day, I think being your most authentic self is a really powerful way to make change."
Through Global Girlhood, Jain has emboldened women around the world to rewrite the narrative around what it means to be an immigrant, a woman, a feminist, and an advocate for change. "The main way that we use social media is really just to disrupt narratives around power to decolonize," she said. "And also to lower the geographical, cultural, and social biases that we've placed on each other." Specific examples of this work include highlighting the stories of inspirational women internationally, recruiting contributors and journalists from diverse backgrounds, and sharing infographics about birth control, mental health, representation, and more through a feminist lens.
By creating this content and building digital connections, Jain — and the 15 other core Global Girlhood leaders — are able to foster long-lasting relationships worldwide that enable women in various communities "to understand what other parts of the world look like and to also understand how they fit into this larger narrative of global citizenship," which includes being conscious that your actions affect people globally. "We really try to encourage women to ask for what they want, to reach out to build those friendships, to build those relationships, because they deserve it," she said. "And because we deserve to explore and practice that sort of confidence and assertiveness."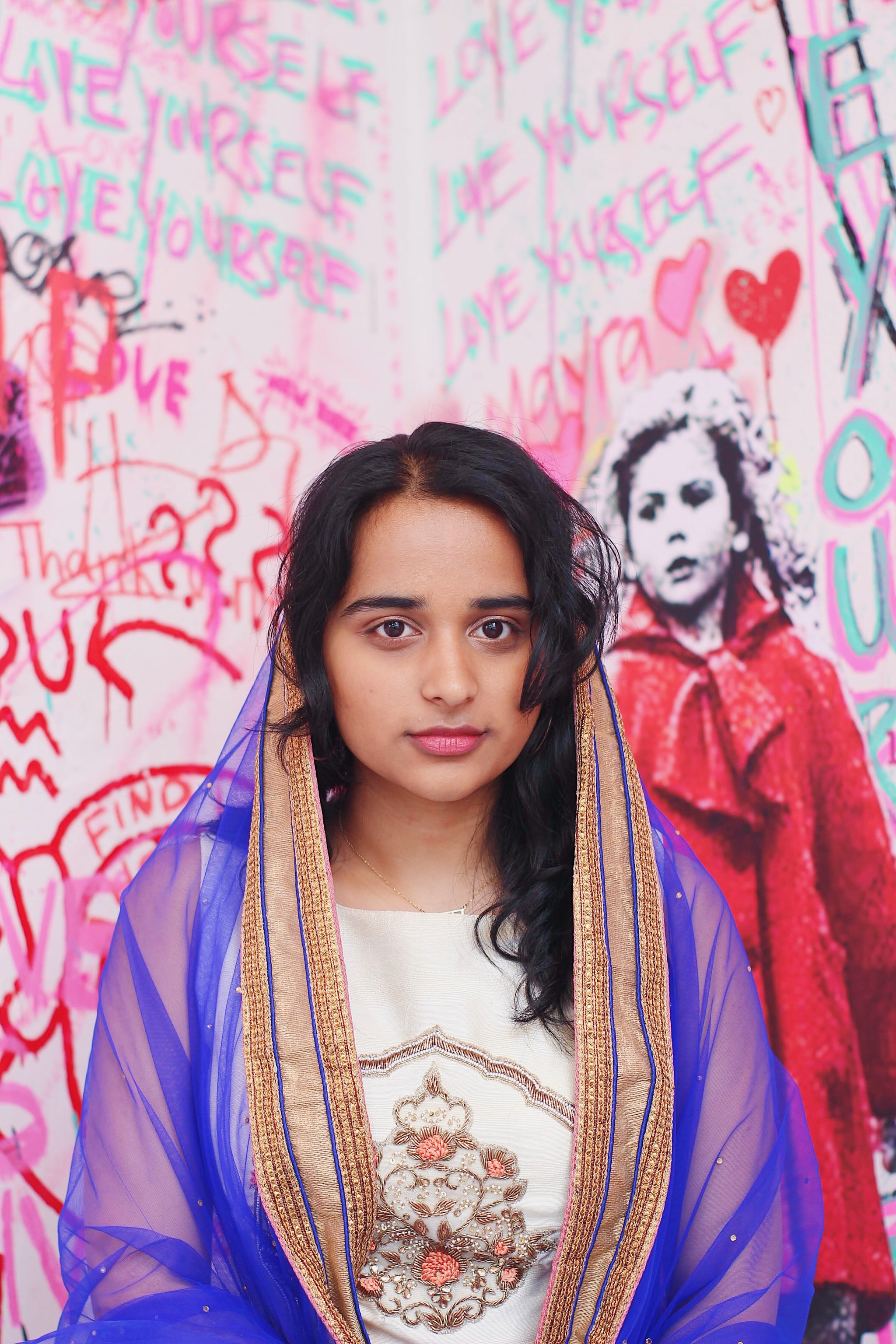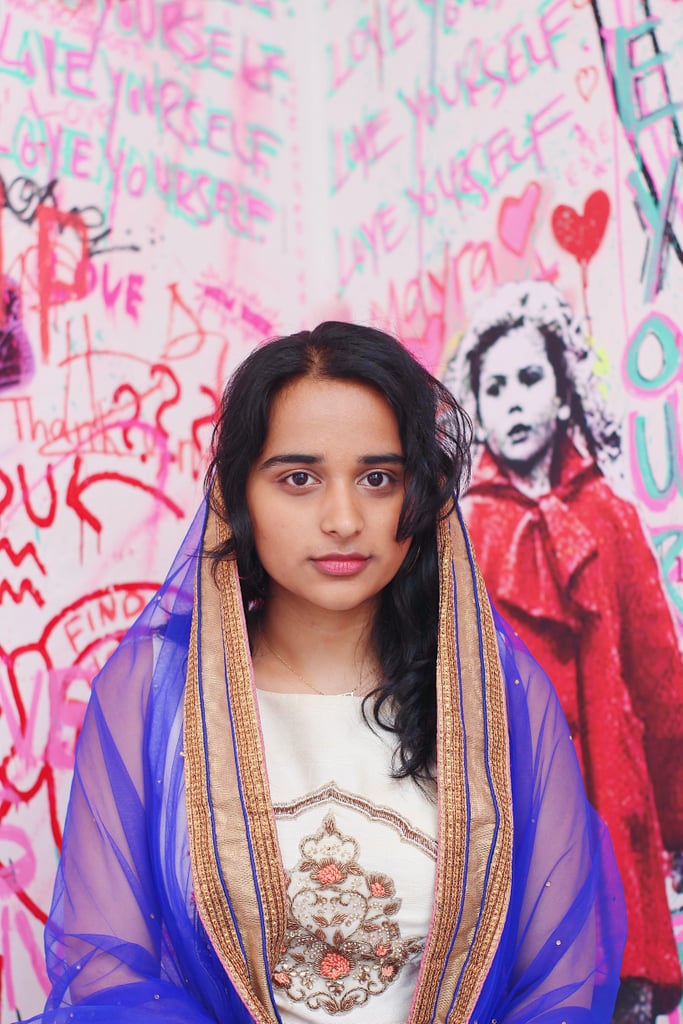 Image Source: Alisha Barday
Regardless of your follower count, Jain encourages social media users to practice authenticity and vulnerability online, even if that means stepping out of your comfort zone sometimes. "At the end of the day, I think being your most authentic self is a really powerful way to make change," she said, adding that the "block" button is your best friend when it comes to curating your social media experience so that you can safely speak your mind.
On her personal Instagram account, Jain highlights the power of being diasporic, sharing both sides of her culture and insights into the two understandings she has of herself as a South Asian woman and as an American woman. "I think being diasporic, being an immigrant, has made me more worldly," she said. "I also think that I'm able to relate to all different kinds of people in different ways because I have these different identities." During her time in India, Jain has seen the needs of international communities firsthand and developed a deeper understanding of what it means to be connected to people around the globe.
"In 2021, I'm hoping that South Asians, specifically, in the AAPI community, can continue to exist boldly."
Today, some of her greatest inspirations are women in India fighting for change, her friends on TikTok, who teach her patience and compassion, and her grandmother. "When I was little, I hated [my grandmother] because she was a housewife, she was uneducated; I didn't think she fit into the ideas and narratives behind power," Jain said. "But she practiced agency while in those patriarchal societies and patriarchal conditions in India, and I'm realizing that she was powerful in her own way . . . I'm really inspired by all the women that go out of their way to live boldly and exist boldly, knowing all the costs that come with it, and inspire me to do the same."
As a South Asian woman, Jain — who also hosts Brown Sugar: The Podcast about sex and relationships with her friend Malavika Kannan — continues to grapple with her Asian American identity in the US. "Often, I think South Asians aren't seen as technically Asian [in the US]," she said, adding that East Asian women are often hypersexualized, while South Asian women are often hyper-desexualized. "I think in both ways there's harm. For example, navigating a college environment knowing that a lot of people don't understand my culture or identity. And a lot of people, also because of that, are a little bit averse to the way I look, the language I speak, my culture."
Experiences like this are why it's so important to foster an online community where South Asian women and women of color can support each other. "In 2021, I'm hoping that South Asians, specifically, in the AAPI community, can continue to exist boldly," she said. "I'm excited for us to be able to ingrain ourselves more into the identity of the United States and to build a unique diasporic identity that still, hopefully, will keep our roots and culture intact as we also take the best bits of American culture."